NASCAR Countdown: Drivers Most Likely to Win Their First Cup Race in 2011
Bayne became the youngest winner of the Daytona 500 in 2011.
Jared C. Tilton/Getty Images
For some drivers, winning their first race comes easy. Just ask Trevor Bayne, who won the 2011 Daytona 500 in just his second career Cup Series start. Then you have drivers like Michael Waltrip, who needed 463 races to secure a Cup Series win.
There are plenty of quality drivers that have yet to visit Victory Lane. However, a few of these drivers that could join Bayne and take their name off the winless list in 2011.
David Ragan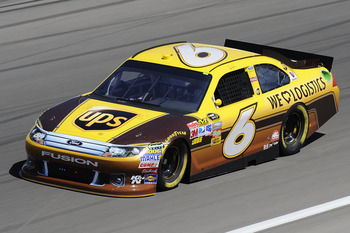 Ragan is trying to recapture his 2008 magic.
John Harrelson/Getty Images
The forgotten member of Roush Fenway Racing has struggled the past two seasons. Even so, he has shown in the past that he can be a contender. He barely missed making the Chase in 2008 and had six top-five finishes that season. The talent is there, even if he is mired in a slump, and Roush Fenway Racing equipment is some of the best in the series.
Daytona or Talladega would be the easiest tracks for Ragan to win simply because of the unpredictable outcomes produced by restrictor-plate racing. He has been pretty good at those tracks as well, finishing as high as fifth at Daytona and as high as third at Talladega.
Michigan would be another possibility. Ragan has finished as high as third at MIS. Other than plate tracks, 2.0-mile tracks like Michigan and Fontana have historically been his best.
Regan Smith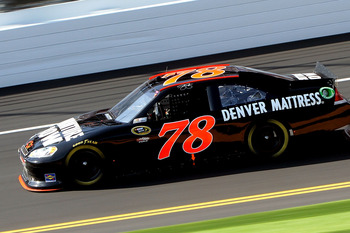 Smith impressed in the Daytona 500.
Jerry Markland/Getty Images
His career has been a roller coaster ride, but Smith has finally found some stability with Furniture Row Racing. Having a secure ride seems to be paying dividends for the former Rookie of the Year, and he scored his first career top-10 finish in the 2011 Daytona 500. As strong as his car was in that race, a victory in one of the three remaining restrictor-plate events wouldn't be a complete surprise.
A lot of people forget that Smith actually crossed the finish line first in the 2008 fall event at Talladega. He was credited with a 14th-place finish after being penalized for passing below the yellow, but the point is that Smith was up front and in the mix for the win.
He was every bit as stout in this year's Daytona 500, and if it weren't for a late wreck, Smith could have been the media darling that Trevor Bayne turned out to be.
Paul Menard
Menard is primed to succeed in 2011.
Jared C. Tilton/Getty Images
With just two top-five finishes in 150 career Cup starts, Menard hasn't exactly had a lot of opportunities to win. That being said, he is coming off the best year of his career and is looking very strong following his offseason move to Richard Childress Racing.
Menard recorded six of his nine career top-10s last season, and has opened 2011 with career-best finishes at Daytona, Phoenix and Las Vegas.
The progress is obvious, particularly at 1.5-mile tracks where six of his nine top-10 finishes have occurred. Armed with RCR equipment this season, a victory at one of the 1.5-mile speedways isn't out of the question.
Atlanta is the most likely track after his strong fifth-place run there in 2010, but don't be surprise if he is a real threat at various times throughout the year.
A.J. Allmendinger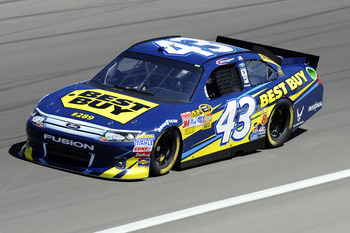 Allmendinger signed a long-term deal to drive the No. 43 in 2010.
John Harrelson/Getty Images
The up-and-coming Richard Petty Motorsports driver has been tabbed as a potential breakout star in 2011. He is only adding fuel to the flames by securing a spot in the top-10 in points after the first three races of the season. He has established himself as a consistent top-15 performer, and the only thing missing from his resume at this point is a Cup Series victory.
Dover has to be atop the list of tracks where he is likely to score his first win. Allmendinger was dominating the fall event at the track, leading more than 100 laps, until a cut tire knocked him off the lead lap. He managed to get his lap back and still record a top-10 finish, but he lost a golden opportunity to grab a win.
Homestead Miami-Speedway is another potential site. While the Chasers were busy fighting for a title, Allmendinger finished a strong fifth in the season finale. Of course, he could win just about anywhere if he continues to improve at his current rate.
Marcos Ambrose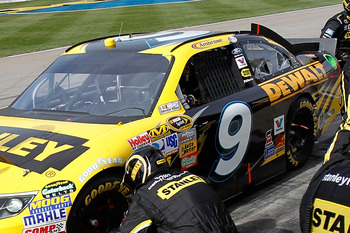 Ambrose is one of NASCAR's road course experts.
Todd Warshaw/Getty Images
If not for a bizarre set of circumstances at Infineon Raceway last season, he wouldn't even be on the list. Ambrose had his first Cup Series win in the bag until a late yellow flag. He was turning his engine on and off during the caution laps to save fuel, but his car failed to re-fire as it approached one of the road course's many hills. His car came to a stop, allowing him to be passed by five other cars because he was unable to maintain pit road speed under caution.
If you are a little confused, it's okay. The chain of events was so rare that it is unlikely to ever be seen again.
Despite the disappointment last season, Ambrose has been a dominant road course driver since joining the Cup Series. He has five top-10 finishes in six road course starts, including four top-three finishes. It is only a matter of time before he cashes in and finally gets to Victory Lane.
Don't rule out an oval track victory, either. He has finished as high as third at Bristol and as high as fifth at Richmond. Not to mention his fourth-place finish at Las Vegas earlier this year.
Keep Reading