20,000 Women Heard About Wilt's 100 Point Game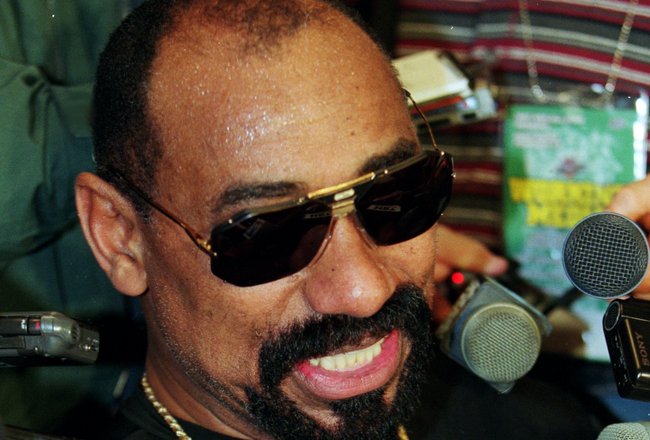 Brian Bahr/Getty Images
March 2nd was the 49th anniversary of Wilt Chamberlain's 100 point game against the Knicks in 1962.
If you were one of the 38,000 people who claim to have seen the game or one of the million who saw it on television, send me a card.
Oh, wait a moment. The game was never televised and the little gym in Hershey, Pennsylvania only held about 4000 people.
Whew, for a moment there, I thought my mailbox was going to be inundated with cards.
However, if you're one of the 20,000 women Wilt entertained while describing his high point exploits, I do want to hear from you.
Especially if you're lady number 9030. I've seen the notches on his headboard and notch number 9030 seems extremely significant. I'm not sure if it's the groove or the wiggly action in the scribing of the notch, but that particular notch seems to distinguish itself from the other notches.
If this notch had it's own special night, like say the night of Passover, people would ask "Why is this Wilt Chamberlain conquest notch different from all other notches?"
If you haven't guessed, this article contains, as my Tulsa comedian friend Jay Dee likes to say "A butt load of numbers." We may set a Silliman on Sports record.
After all, you can't write a Wilt Chamberlain story without loads and loads of numbers, butt loads, in fact.
Check out our slide show. It has videos and numbers (there's that word again) of fun facts.
Not a Butt Load of Defense Played in This Game
In his third season (1961-62) Wilt averaged 50.4 points and 25.7 rebounds per game. And about 2.8 women per day.
His normal average of 1.36 women per day (20,000 divided by 14,600 days) was greatly exceeded during his most productive year.
Can you say dominate? Sure, you can.
Did I mention 50.4 points per game? Average, average. Let's repeat. On a day when you held Wilt to five points below his average, he still dropped 45 on you.
The Knicks starting center, Phil Jordan was battling the flu, so subs Darrall Imhoff and Dave Budd were given the honors of guarding Wilt. Imhoff got in foul trouble quickly, playing only twenty minutes in the game.
We think both Imhoff and Budd ate too many candy bars before the game. This is a problem when playing a game at Hersheypark Arena in Hershey: chocolate delights are very enticing. Some of those Ghiradelli chocolates—lip smacking delicious.
Anyway, Wilt abused the Knicks centers like they were groupies in a conga line. Or a daisy chain. Forgive me if I'm unaware of the favorite dance of the groupie.
After a 41 point first half, Wilt went on a terror of a third quarter scoring 28 points. Here's the kicker—Wilt was hitting his free throws. Normally he was a poor free throw shooter, but on March 2nd, he shot 32 free throws and hit an NBA record 28 of them.
In the fourth quarter the Warriors gave it to Wilt on every possession. They even fouled the other team to stop the clock, put them on the line to get the ball back so Wilt could get his 31 point final quarter.
Here's a video:
Wilt Is Toast of the Town
Back then, basketball wasn't the big deal that it is now. You could get three Wilt Chamberlain cards and a Bill Russell for one Mickey Mantle card.
Still, a 100 point game was ridiculous and worthy of TV pub and 28 notches for the weekend.
Here's Wilt on the Ed Sullivan show.
Wilt Wasn't Just a Scorer (and of Course We Mean That Two Ways)
Wilt wasn't just a scorer. He was the leading rebounder, shot blocker and when he wanted to, he could dish out assists. He led the NBA in assists one year just to prove he could.
Here's a great old film of Wilt doing things besides scoring.
Gary Pomerantz Is One of Best Wilt Fans Alive
Gary Pomerantz wrote the book on Wilt's 100 Point Game. It's called "Wilt, 1962: The Night of 100 Points and the Dawn of a New Era." Buy it if you can find it.
Pomerantz felt the game had special meaning, and not just that nobody played defense with one team scoring 169 points. He said this particular game helped usher in the modern era of basketball.
In the book, Pomerantz argues that the game and in particular, the opposing centers, Chamberlain and Imhoff "symbolized pro basketball's accelerating generational shift writ large: the agile black athlete, swift and strong, moving freely against a white opponent who, though young, earnest, and determined, seemed ...a handsome blond shrine to a bygone era when all the players were white."
Here's Gary with some great old audio from the game:
Examing the Game from Wilt's Perspective
Some people will try to lessen the accomplishment of the 100 point game, saying the Knicks were giving less than an all out effort.
That idea could not be further from the truth. The Knicks did not wish to go into the record books in this fashion. They did everything possible to keep Wilt from scoring at the clip he was scoring.
They fouled him, which usually works, but on this night Wilt was better than Bill Sharman hitting 28 out of 32 shots.
This game was before the three-point-shot. Not a big deal, you might think, since Wilt wasn't hoisting three pointers, but it did mean the floor was more crowded. The Knicks could collapse and double team Wilt, and they did.
The Knicks also held the ball, sometimes even letting the 24-second-clock run out. Wilt says "It just wasn't right the way they were behind by 25 points and then they're told to hold the ball."
He also says "They were willing to do anything to stop me." This included double and triple-teaming Wilt.
The Warriors countered that strategy by finding new ways to get the ball into Wilt. When Wilt came into halftime with 41 points, it wasn't that big a deal. He had already had fifteen games in which he exceeded 60 points, so 30-35 points first-halves were commonplace. But during halftime Warriors coach Frank McGuire told the players to feed Wilt. And by that he meant even more than normal. Wilt says "It was a challenge to my teammates to help me."
Wilt credits the entire record to them by saying "I couldn't have come close without my teammates' help because the Knicks didn't want me to make 100."
Guys gave up easy shots to pass to a cutting Wilt. Warriors guard Guy Rodgers recorded 20 assists in the game, almost all to Wilt.
Video by VeoShock. Lots of good footage.
Wilt's Six Bedroom Mansion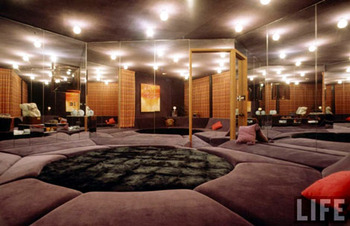 Only 4028 people attended the Hershey, Pennsylvania historic game.
I know what you're saying: "Only 4028? Don't more people than that attend the W.C.G.F.C.(Wilt Chamberlain Girl Friend Convention)?
And yeah, there is such a thing, and they all get together and exchange recipes.
Here's another question I bet you're asking: How did he do it? And, of course, we're referring to the 20,000 women, not the 100 point game.
Here's the short answer. Oops, let me rephrase because when we're talking about Wilt, nothing is short.
Here's the more succinct answer. Besides having natural gifts, Wilt also practiced extremely hard. And, please, don't ask me to rearrange that answer in a more risque manner.
Wilt became so adept at practicing, he surrounded his bedroom with mirrors (see above), so he could critique his techniques.
You don't become a world class athlete by leaving anything to chance.
The above picture is just one of his six bedrooms. We figure he had a bedroom for each night of the week, and then on Sunday, like God, he rested.
The above bedroom had mirrors on the ceiling, which Wilt could clean by merely standing on his tiptoes, mirrors on the walls and mirrors for his mirrors. Just in case a few of his mirrors got lonely.
You will note the 8' diameter circular water bed has eight upholstered cushions surrounding his bed. This is so when he's entertaining an octet of girl friends they will all have comfortable surroundings in which to sit... or lie. Wilt is nothing if not a gentlemen.
Let's restate that. Wilt is nothing if not a womanizing giant of a gentleman.
Please again note the eight cushions surrounding the circular bed. They represent a nice feature for the wealthy giant womanizer. When he presses a button and the bed spins, little energy is wasted as Wilt goes from gal to gal. And believe me, after scoring 100 point games, you don't have a lot of energy to waste.
Wilt's Library/Bedroom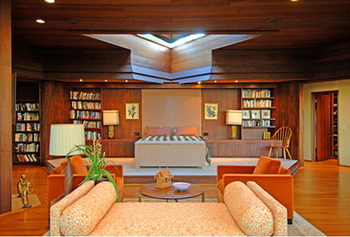 Here's another of Wilt's six bedrooms.
Do you remember questioning how Wilt could bed two women a day?
Now you see. It's a matter of inventory, stockpiling and just in time delivery. All modern production plants use similar principles.
The room, the library bedroom, combined two of Wilt's favorite pastimes—sex and reading... about sex.
We could show you more of Wilt's house and his other bedrooms. BUT after you've heard everything you wanted to know about the 100 point game and Wilt's other activities aren't you a little worn out?
I thought so.
Remember, every time you look up in the night skies and see Ursa Major, which by the way, was the name of Wilt's house, think of the Big Dipper.
Keep Reading