WWE's Best: Power-Ranking the Top 25 Finishers of All-Time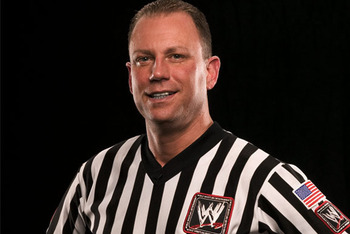 "1....2.....3!"
Whenever you hear the name of a finisher or signature move, whether it be the Cobra or the Attitude Adjustment, you know the match is over.
I'm here to give you the top 25 finishers of all time.
25. Cobra Clutch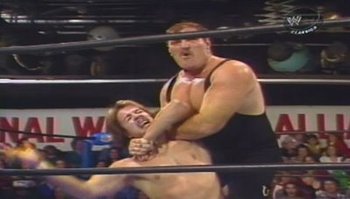 The cobra clutch was originally used by Sgt. Slaughter, who used it to win the WWE Championship. It was later used my "Million Dollar Man" Ted DiBiase.
This move was used by two of the most influential wrestlers of all time. Unlike a lot of moves, the victim really looks like he is in pain!
24. Choke Slam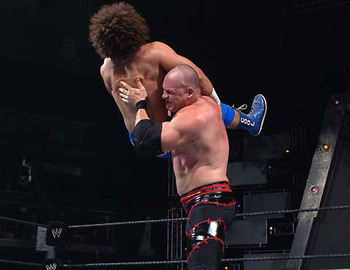 If you are a big wrestler, but don't know what your finisher should be, all you have to do is look for the chokeslam.
Kane, The Undertaker, Diesel, Giant Gonzalez, and Kane are all wrestlers who are over seven feet tall and use this devastating move.
23. Swanton Bomb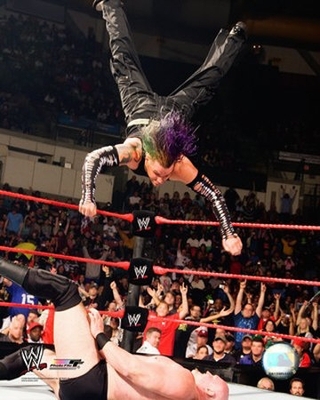 Jeff Hardy never failed to use this move to its full potential. If there wasn't a huge crowd pop after this move, I'd say the arena was dead.
It really doesn't get a lot better than a simple, perfectly executed flip from the top rope.
22. Frog Splash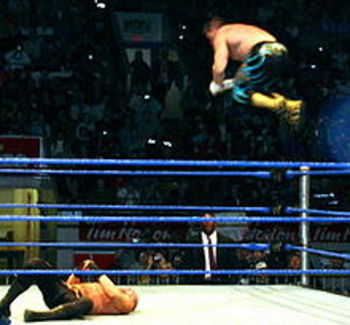 This is another move that has been used by multiple wrestlers. Rob Van Dam used it to win the WWE and TNA Championships, and Eddie Guerrero has used it to win the WWE Championship. Even Hornswoggle has his own version: the Tadpole Splash.
21. 619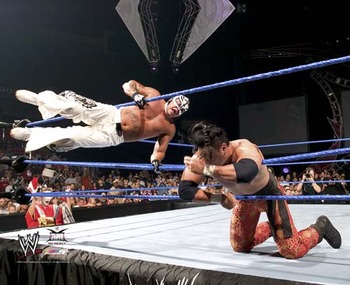 It's only fitting that this move is named after Rey Mysterio's birthday, for the crowd pops as if it were his birthday when this move is performed.
Although it takes a long time to set up and isn't too believable, I always love Rey Mysterio's athletic ability.
20. Crippler Crossface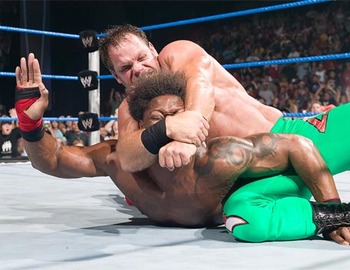 I was torn between this and his top rope head dive, but I feel this is a much less risky move, and the victim looks tortured.
Chris Benoit was one of the greatest technical wrestlers in WWE history, and this move is a perfect example. It has been adopted by another amazing wrestler, Daniel Bryan.
19. Gorilla Press
The Ultimate Warrior has used the Gorilla Press to win championship after championship in the WWE. While I don't really know much about the Ultimate Warrior, I do know that he was extremely successful and this move was a big part.
18. Go to Sleep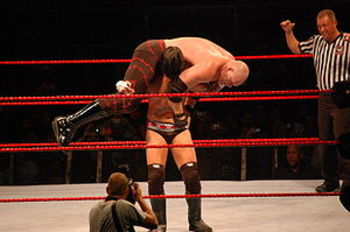 Ouch. As the first finishing move that I ever witnessed in the WWE, there is a special spot in my heart for it. I knew from the first time I saw it that it does not feel good to have a knee in your face as you are falling down.
Ouch!
17. Ankle Lock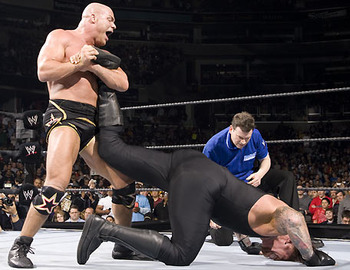 Kurt Angle was the first big name to adopt this move. As he twists the ankle around, the victim appears to be in excruciating pain, and makes me glad I don't perform as a wrestler.
This move has been adopted by Jack Swagger.
16. Hell's Gate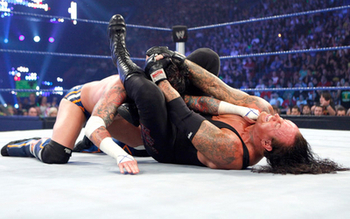 As the Undertaker's signature submission move, it's no wonder this move was banned for years. It wreaked havoc on WWE's top names as they suffocated and had no choice but to tap out.
15. Codebreaker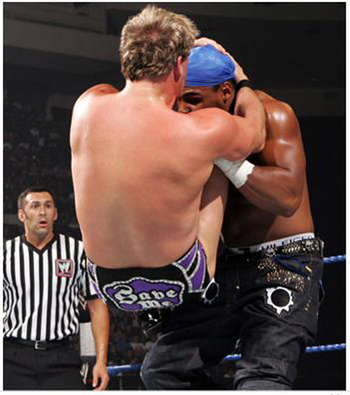 This is what a finisher should be. It looks like it hurts, it can come from within anywhere, and it's believable. Although it was prone to botches, it was never Jericho's fault. Carlito and Primo do a reverse version called the backstabber.
14. Atomic Leg Drop
13. Jackhammer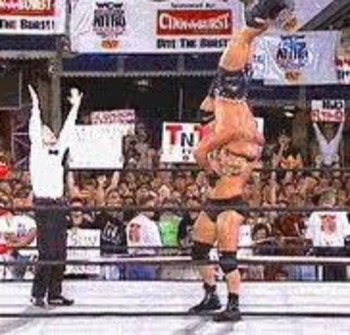 This was probably the main reason why Goldberg had his huge streak. A suplex/slam combo? That's powerhouse wrestling for you.
12. F5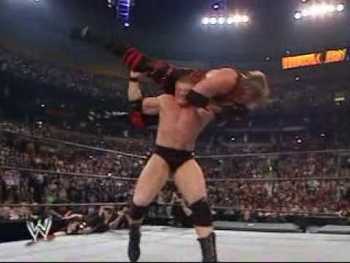 Brock Lesnar, when carrying a victim, throws him around like a ragdoll. The fact that the opponent looks helpless adds even more to the Lesnar's status as a powerhouse.
Also, he has perhaps the most intense look of any wrestler ever.
11. Attitude Adjustment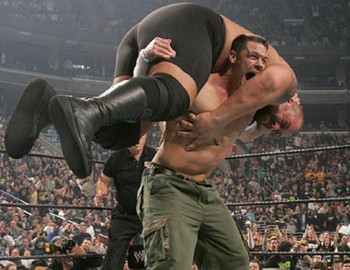 I am going to get tons of heat over this. But look at how many wrestlers this move has put down. How can you deny a move that has defeated Edge, Randy Orton, Chris Jericho, CM Punk, Kurt Angle, Shawn Michaels, Triple H, and many more?
10. Shooting Star Press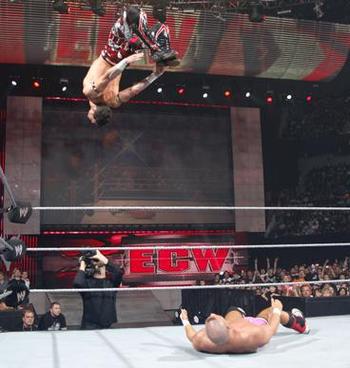 I don't care how many superstars have used this move. It never ceases to amaze me when a wrestler gets 20 feet in the air and lands without a scratch.
9. RKO
Randy Keith Orton. I wonder how long it's been since there was a two-week period between RKO's? The Viper can strike at any moment with this move.
It's relatively little-known that this is an adaptation of Diamond Dallas Page's "Diamond Cutter".
8. Figure Four Leglock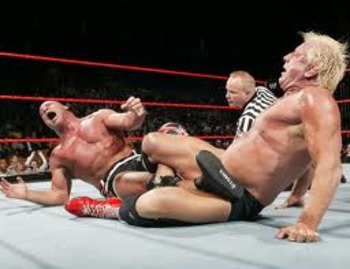 For many people, Ric Flair is the greatest entertainer in the history of WWE. And as his primary finisher, he really showed what he could do in the ring.
This move has been adapted by both Triple H and Shawn Michaels.
7. Pedigree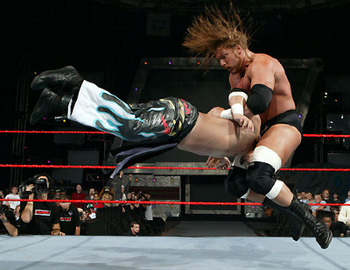 Triple H is, in my opinion, the best powerhouse in WWE ever. He has been used as a comedy wrestler a few times, and when the victim's head is between his legs, it makes it seem like he's gonna "suck it".
6. Spear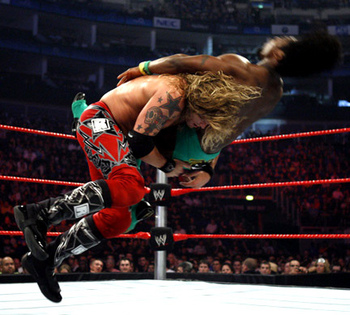 The spear is perhaps the most-used finisher in history. Edge, Big Show, Goldberg, Triple H, among others, all used this move.
I can't help but think that the victim has the breath taken out of him after a spear.
5. Rock Bottom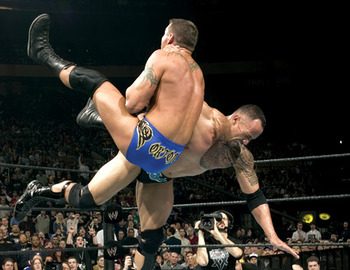 "And if you smell what the Rock is cookin'..."
Apparently, the Rock is cookin' a fresh pile of hurt after he uses this move. Just driving the opponent's back into the ground looks painful.
4. Tombstone Piledriver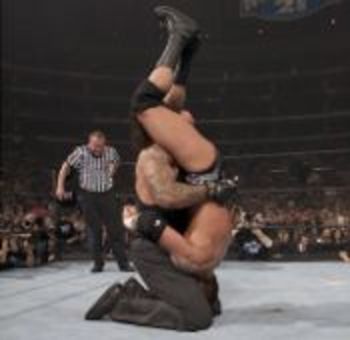 This is the reason the streak lives. While we've already had two of the Undertakers' moves, this is the true reason behind his success.
This is the only piledriver allowed in WWE currently, and for good reason.
3. Sharpshooter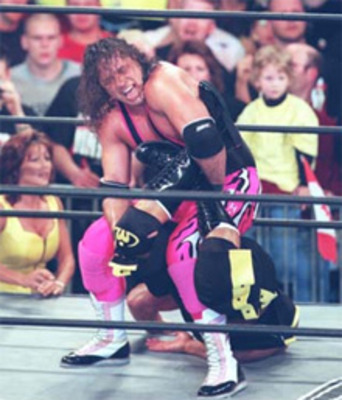 The highest-placing submission move on this list, the Sharpshooter was the downfall of countless wrestlers in the 90's. I was glad that this move wasn't his downfall, either, because Bret Hart returned to bury the hatchet earlier last year.
2. Stunner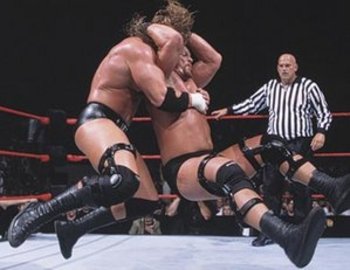 The Stunner was probably the move that was most associated with its user. Of course, it helps that part of his name is in the title, but whatever.
"Stone Cold" Steve Austin wreaked havoc, and he will be returning as the host for WWE Tough Enough.
1. COBRA!!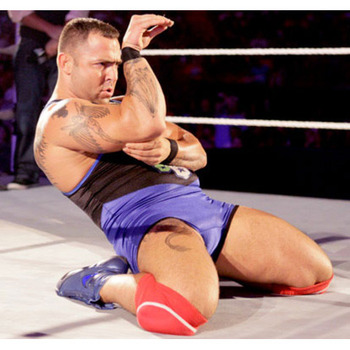 1. Sweet Chin Music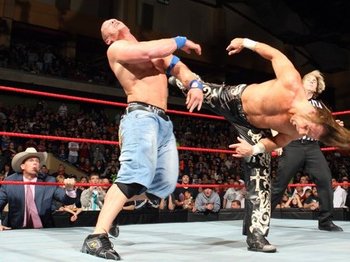 This move had it all. It had the "come-out-of-nowhere" form, the "tune-up-the-band" form; it was great.
The smack of the heel to the face of countless wrestlers was music to my ears.
So, What Did You Think?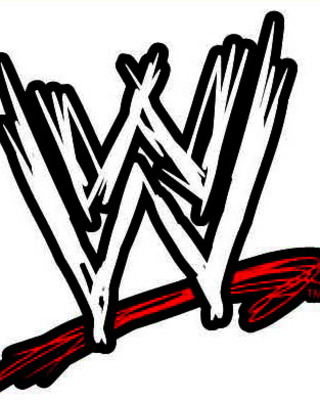 Please keep all comments relevant and constructive.
Thanks for reading!
Keep Reading