NASCAR: How to Give Stock-Car Racing's Declining Popularity a Kick in the Butt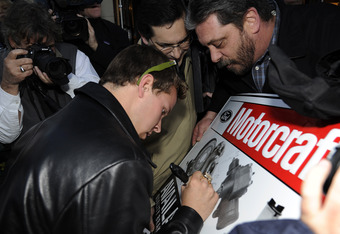 Thearon W. Henderson/Getty Images
Two races into the 2011 NASCAR Sprint Cup Season, it appears that there has been a spike in interest in the sport. Television ratings for both the Daytona 500 and this past weekend's Subway Fresh Fit 500 in Phoenix were up over last year. With a storybook ending in Daytona that saw 20-year-old Trevor Bayne put the Wood Brothers in Victory Lane after many years, and Jeff Gordon's first win in 66 races, there has been plenty of drama.
But what does NASCAR need to do to keep the momentum going and also attract new fans to the sport? The past several years have seen a drop in attendance at the track and, until the last two races, a steady decline in television viewers. The drop in interest can be partially attributed to the economic weakness of the past two or three years, but what else is keeping the sport from growing?
One major issue for a lot of fans is the fact that, at least in NASCAR, people don't like dynasties. Jimmie Johnson's dominance over the past half decade has people saying the sport has become boring. Some have even stopped following because they see a conspiracy by NASCAR that gives Johnson and the Hendrick Motorsports organization an advantage.
Many sports correspondents have written volumes on why a "fix" makes no sense whatsoever. First, there would have to be complicity among every other team in the garage. Drivers, crew chiefs, pit crews, owners, sponsors—anyone with any place in the garage—would have to go along with the "fix." It also would have to have some benefit to NASCAR before there could be a logical reason to script results. And be honest, can you ever see someone like Kyle Busch or Tony Stewart participating in such a scheme?
Which television network does the best job of covering NASCAR races?
So, one of the first things NASCAR needs to do to generate greater interest is to become more transparent. They have long reserved the right to distribute the rule book only to owners and drivers. It would improve their credibility if the rules for all of the national touring series were made available to anyone who wants them. If nothing else, charge $25 a copy and donate the money to some of the charities NASCAR supports.
When it comes to decisions made during a race—late-race cautions, or driver penalties for infractions—be very clear and concise about what the decision was and why it was made. When illegal parts are found on a race car, NASCAR has long put those items on display for anyone in the garage to take a look at. Do the same for debris that brings out cautions, especially late in the race. And on those occasions where NASCAR makes the wrong call, be completely honest about it and make official statements as soon as possible. Don't leave room for speculation and innuendo.
Another thing that would increase interest in the sport would be for NASCAR to work with broadcast partners to improve the quality of broadcast coverage. One item of note recently has been the brevity and poor quality of post-race coverage. At Daytona, for instance, former champion Bobby Labonte had the best finish he has had in several years but was not interviewed. Instead, in the brief coverage after the race, Dale Earnhardt Jr. was interviewed about his disappointing finish.
One of the biggest complaints about television coverage has been the high frequency of commercials and the failure to come back to the race when something significant, such as a restart, or a caution, is taking place. The best race of the season for television coverage is TNT's annual July coverage of the Daytona race when they never leave the action on the track. Commercials are shown split-screen with no loss of race coverage.
It seems to me that TNT's approach guarantees that more commercials are seen with the split-screen approach than any other race. Don't many people raid the refrigerator or avail themselves of the facilities during commercial breaks normally?
NASCAR made a lot of points with fans by making changes to the points system for 2011. It is simple to understand, and was in response to fan recommendations.
It remains to be seen what effect the changes will have to the final standings in the three top series, but initially it seems to have been a good move. With the final two spots in the Chase for the Sprint Cup being determined by wins, it looks like the emphasis has been put back on getting to the checkers first. Picking up two or three wins in the first 26 races will provide insurance in case a team has bad luck in a couple of other races.
Finally, the biggest thing NASCAR can do to kick-start fan excitement is to continue listening and responding to the fans. For several years, it seemed as if the people making the decisions were running things in spite of how the fans felt, or in spite of what the fans wanted. The obvious result was fans voting with their feet.
Changes to the look of the cars in Sprint Cup competition have them starting to look more like what is on the dealer's floors—something fans said they wanted. Having the emphasis placed on winning races instead of running for "a good points day" was also a fan preference. These things are headed in the right direction, and a little more tweaking couldn't hurt.
Changes to car design, introduction of SAFER barriers, resurfacing and reconfiguring tracks were all necessary to address several needs. The idea of taking a car from the showroom floor, installing roll bars and padding and putting it on the track died a long time ago. We can't go back, just from a safety standpoint. But if NASCAR starts listening to fans and responding, the sport will not only survive for decades to come, it will attract new and enthusiastic fans.
This article is
What is the duplicate article?
Why is this article offensive?
Where is this article plagiarized from?
Why is this article poorly edited?