UFC 127 Results: Is There a Hidden Agenda Behind Dana White Trashing the Judges?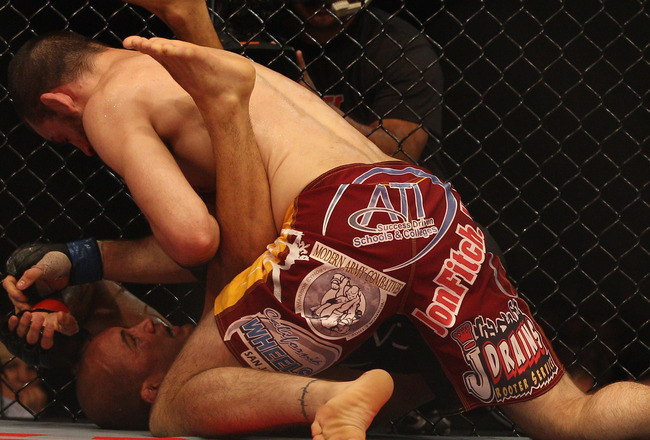 Jon Fitch pounds away on BJ Penn at UFC 127 on the way to a Majority Draw decision. If this wasn't a 10-8 round, how else could he have earned one?
Mark Kolbe/Getty Images
Is Dana White gunning for the judges that score UFC bouts?
In the wake of the main event of UFC 127: Penn vs. Fitch, UFC president Dana White indicated that he didn't agree with the decisions reached by the judges in the match, insisting that B.J. Penn should have been awarded the victory.
The ringside judges scored the contest 29-28, 28-28 and 28-28 to leave the bout a majority draw, but White, a known advocate of fighters finishing off their opponents decisively, claimed that the fight should have been scored in Penn's favour.
Despite this, in his post-fight interview, Penn acknowledged that he hadn't done enough to get the victory.
The fight went the way of the veteran in the early stages, with him taking Fitch down with relative ease in both the first two rounds.
Whilst it was clear that Penn had won those rounds, Fitch was not without his own successes in turning Penn back up against the cage on occasion and twice managing to spin in Penn's guard and gaining top control once the former champion at two weights had taken his back.
In the final round, though, Fitch completely dominated Penn, controlling him on the ground and landing strikes throughout the whole round with Penn pinned underneath him and unable to shift Fitch. Two judges scored the final round 10-8 to Fitch, which White clearly had an issue with, claiming "that wasn't a 10-8 round."
Welterweight Champion George St. Pierre. If he moves to Middleweight who will be in a position to take up his mantle, and were UFC positioning BJ Penn to be the next Champion?
Jeff Zelevansky/Getty Images
The result of the match, originally billed as a welterweight title eliminator, leaves the UFC with something of a quandary for who should next challenge current champion George St-Pierre.
Whilst Fitch indicated after the match that he felt he was still the primary challenger, Penn's possible retirement has left things up in the air, with a rematch between the two still a strong possibility.
St-Pierre still has a title defence against Jake Shields to come at the end of April, but the expectation is that he will win that bout to set up a possible challenge to dominant middleweight champion Anderson Silva. If he has to vacate the title to do that, the question will be, who deserves a shot at Welterweight?
Perhaps this goes some way to explaining why the UFC president was so adamant that Penn had won the fight—he needs a viable contender for the title in this division and had pinned Penn to be that guy.
Whilst White might struggle to assess the round as a 10-8, it leaves the question as to what he would consider a 10-8.
Had Fitch done much more, he might well have had the fight stopped and only Penn's wriggling movement enabled him to avoid two or three fight-finishing strikes. Does White think rounds should only ever be scored 10-9?
Dana White. Courting controversy again by questioning the Penn-Fitch decision, but he has a history of tweeting his displeasure at the scoring judges.
Isaac Brekken/Getty Images
According to Compustrike, "Fitch out-landed Penn by an incredible 134-0 in Round 3—42 of which were power strikes landed. Fitch out-landed Penn 191-15 in total strikes in Rounds 2 and 3. Penn had one dominant position and one takedown in Round 2."
It isn't the first time that White has taken issue with the judges appointed by the State Athletic Commissions.
At UFC 106, he was unhappy with the verdict rendered in the headlining Tito Ortiz vs. Forrest Griffin match.
At UFC 114, he claimed that Jason Brilz should have been awarded the fight against Antonio Rogerio Nogueira and has decried any responsibility for the quality of the judges being appointed.
So, it isn't a surprise that he would also be raising the issue after UFC 127.
Not surprisingly, White was also astonished at the judges' decision in Riki Fukuda's unanimous decision loss to Nick Ring, tweeting "Judges [expletive] suck again!!" and, "Fukuda got robbed!!!"
This was a much more blatant distortion of the action in the Octagon than the Penn-Fitch matchup, but, of course, the main event drew much more attention, despite being a much more understandable result.
The question remains whether White has an underlying agenda—having claimed that he can't do anything about the judges and imploring fans to contact the athletic commissions directly, he seems to be making their job ever harder by criticising or questioning their decisions.
Having heard Penn's own take on the fight, why was it necessary for the UFC president to query the decision?
Perhaps it is his penchant for self-promotion taking over, or a desire to generate additional controversy, but either way, it still leaves the welterweight division dominated by the potentially departing St-Pierre, with no obvious successor, and White and the UFC need to plan how to fill that possible void rather than complaining about the results they are dealt.
This article is
What is the duplicate article?
Why is this article offensive?
Where is this article plagiarized from?
Why is this article poorly edited?