MLB 2011: San Francisco Giants Miss the Playoffs and 14 Other Bold Predictions
Ronald Martinez/Getty Images
If someone had told you 12 months ago that the San Francisco Giants would have won the World Series, you would have laughed at them.
If you predicted that Joey Votto would win the NL MVP award, you would have been slaughtered by your peers who denounced your baseball knowledge.
And if you wrote in a March blog that Jose Bautista would slug 54 homers, readers would have called you crazy.
The point is, at the start of the year, everything is fair game. Predictions can be outlandish and lighthearted, as long as you don't claim the Pirates will win it all.
With that in mind, here are 15 predictions for the 2011 season. They're not all going to be popular, and they're not all going to come true. Still, now is the time to be bold and throw it all out there.
Pittsburgh's Losing Season Streak Hits 19, but Team Not Worst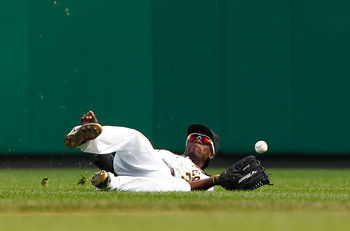 Jared Wickerham/Getty Images
The Pirates stink, we get that, but they won't be the worst club in the league.
They'll win 65 games, and they'll have a better record than Baltimore, Seattle and Arizona.
Andrew McCutchen is about to explode as a star, and he is an awesome combination of power and speed. He'll carry this team for the next decade until Pirates management trades him in typical Pirate fashion.
Similarly, Evan Meek has great stuff and will be an admirable setup man for Joel Hanrahan, and both Ross Ohlendorf and James McDonald are much, much better than their record implies.
Eric Chavez's Body Literally Falls Apart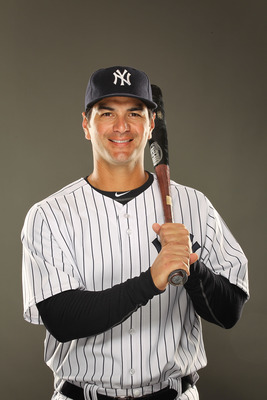 Al Bello/Getty Images
2011 will be the year that Chavez's limbs drop one-by-one to the floor.
He has spent 569 days on the disabled list over the last four years, and it seems that every part of his upper body is ruined.
He missed more than two months in '07 with lower back spasms and five months in '08 with right shoulder inflammation. He then spent 163 days on the DL with right elbow and forearm problems in 2009 and a further 20 weeks in 2010 with neck spasms.
We should run a sweepstake on who hits the DL first...the clean-shaven Chavez or big fat Bartolo Colon.
Freddie Freeman Will Be This Year's Buster Posey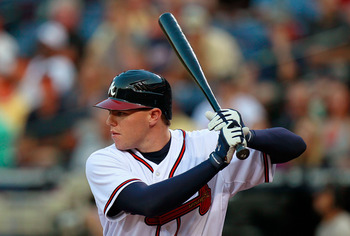 Kevin C. Cox/Getty Images
Freeman came into his own at Triple-A Gwinnett in 2010, flashing a power bat to the tune of 18 homers and 87 RBI.
He projects as a .275 hitter with 20-homer power, and while he's probably two years away from becoming a superstar, this 21-year-old heir apparent to the first base job in Atlanta has breakout written all over him.
He's one of the better players you've probably never heard off.
Jose Bautista Goes from 54 Home Runs to 27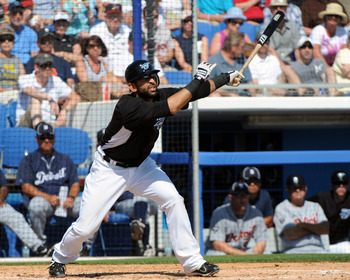 Al Messerschmidt/Getty Images
Bautista was the talk of 2010 after a monster year that came out of nowhere.
Neither his power nor his fly ball rate are legitimate, and he's going to come crashing back down to earth.
He'll get more respect from opposing pitchers than he deserves, but there's a good chance he'll also see fewer pitches to hit. His batting average is the only thing that's going to see an improvement in 2011.
Anything between 30 and 35 homers will be considered a massive success because he simply isn't that good.
Jose Canseco Wins the Celebrity Apprentice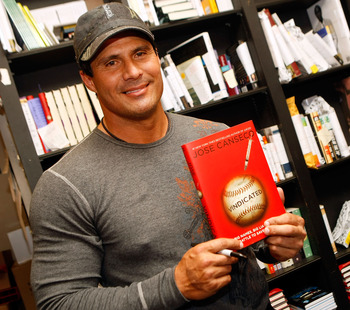 Michael Buckner/Getty Images
Canseco is a beast, and there's nothing he won't do to succeed. You think he cares about throwing Meatloaf or La Toya Jackson under the Donald Trump bus? Exactly.
Former Met and Yankee great Darryl Strawberry did well in the last series, but he lacked that cutting edge needed to shine in the cut-throat business world.
Canseco speaks the truth, and he says he doesn't want to be "Mr. Nice Guy." He's competing for charity, and I can't wait to see the train wreck that ensues.
As a side note, I expect Nick Lachey to look like a slimmer Canseco by 2015.
Fantasy Fall from Grace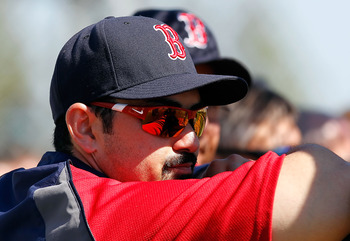 J. Meric/Getty Images
At least three or four players who fantasy owners select in the first round of the draft will be outside of the top 30 producers when the season ends. Most of these players will be guys who were drafted way too high to begin with.
Every year, there are players who don't live up to the preseason hype for one reason or another. Last year, it was A-Rod, Chase Utley, Mark Teixeira and Matt Kemp. In '09 it was Jose Reyes, David Wright and Grady Sizemore. Three years ago, it was Jimmy Rollins and Miguel Cabrera.
The fact is, every single year there are players who come from nowhere into fantasy relevance. For men like Carlos Gonzalez and Joey Votto to jump into the elite category, others must drop down the chart.
Evan Longoria and Adrian Gonzalez head the list in 2011, but the likes of Ryan Howard aren't too far behind. I don't see any of them out-producing the Miguel Cabreras and Ryan Brauns of the game.
Three-Time All-Star Carlos Guillen Gets Fewer Than 100 At-Bats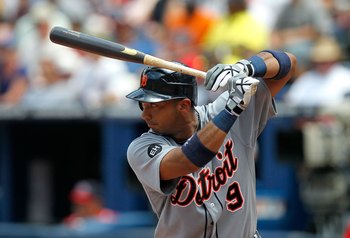 Kevin C. Cox/Getty Images
It's a surprise Guillen can even run down the line to first base any more. His knee, his hamstring and his calf all sent him to the DL in 2010.
He has seen his playing time get eaten up with health problems ever since his last full season four years ago, and this will be the year it plummets into free-fall.
Once a 20-20 threat, Guillen will be lucky to hit three homers and swipe two bags.
Repeat? The Giants Won't Even Make the Playoffs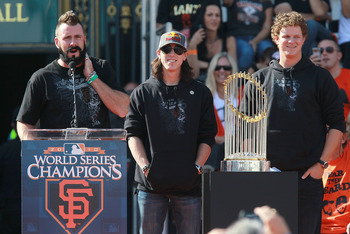 Justin Sullivan/Getty Images
San Francisco shocked every baseball fan not wearing orange and black and living in the Bay Area in 2010 when they scooped the World Series crown. It's not happening again in 2011, and it's not going to be particularly close.
The Giants are going to lose the NL West to the Rockies, and they will get beat to the Wild Card spot by the Braves.
The Giants simply aren't that special. Yes, Tim Lincecum and Matt Cain are studs, and Brian Wilson really blossomed last year, but that's where it ends. Jonathan Sanchez had a fluke season and will see his ERA spike back into the 4.00 range. Zito turns 33 this spring and hasn't been close to elite for half a decade.
And while Bumgarner was great down the stretch, don't let that color your judgement...he'll be lucky to post 10 wins and a sub-3.50 ERA in 2011. They're an injury to an ace away from being an afterthought. With all the innings those five have logged, that could be a very real issue.
Add a distinctly average lineup that has gone virtually unimproved this offseason and you'll see a year of struggles from a Giants team that could struggle to win 85 games.
Philly's Rotation Best Ever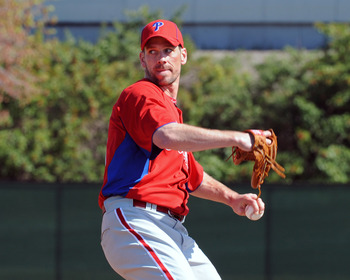 Al Messerschmidt/Getty Images
The starting pitchers for the Philadelphia Phillies will combine for at least 80 wins and an ERA below 3.30.
Every compliment leveled at the core of Halladay, Lee, Oswalt, Hamels and Blanton is well deserved, and they are the reason this team is expected to saunter to the National League crown.
Well, maybe not big fat Blanton. Just imagine how sick they could be if they had a new guy in the No. 5 spot.
There's a great chance this Blanton-less quartet will boast two 20-game winners and a Cy Young Award winner come October. They could throw another 20 shutouts, and that's ridiculous. It will be the strongest rotation we've seen in this era.
Jeter Makes History Versus Rivals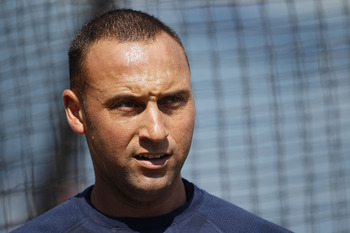 Leon Halip/Getty Images
Everyone knew that, whatever the cost and PR nightmare surrounding the negotiations, Jeter would re-sign with the Yankees and collect his 3,000th hit in pinstripes.
Jeter has averaged 1.27 hits throughout his 2,295-game career. That means it should take him 58 games to reach his milestone. For those with a schedule in hand, that means June 4 in Los Angeles against the Angels.
If he wants to wait to do it at home, the first homestand after that West Coast road trip pits the Yanks against the Red Sox. Jeter is a notoriously slow starter, so that is very possible.
Now wouldn't that be something? My bet is June 8.
Dunn Wins Home Run Crown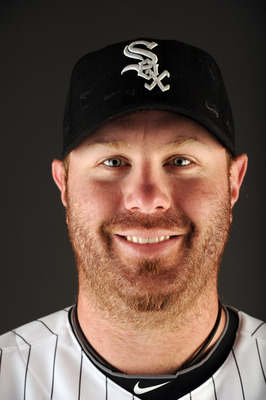 Harry How/Getty Images
Adam Dunn is as predictable a power hitter as they come, and he will lead the league in home runs in 2011.
In a new era dominated by pitching, every one of the big sluggers are vulnerable to a slight slump—except Dunn.
Fielder has hit anything from 32 to 50 homers in the last four years, and Howard has seen his tally fluctuate from 31 to 58 since 2006. Even the great Pujols can have down years by his lofty standards, as shown by the 32 homers in 2007.
And Dunn? His numbers speak for themselves: 40-40-40-38-38. The NL leader's total has dropped in each of the last four years, and the AL leader has won with fewer than 40 for each of the past two years. If you want a flier, have a punt on the ever-reliable and free-swinging Dunn with 39.
Drew Runs Rampant, Swipes 30 Bases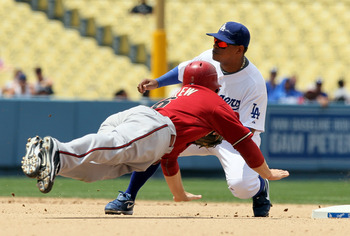 Jeff Gross/Getty Images
Stephen Drew has ridiculous speed—speed that is virtually unmatched in the game today. Unfortunately for Drew, interim manager Kirk Gibson—who averaged 30 swipes a year between 1984 and his MVP season in '88—is more content with shutting down other teams' running games.
That stops in 2011, and Drew runs wild to the tune of 30 bases, three times more than ever before.
The former first-rounder is right in his prime, and he stole a career-best 10 bags in 2010 after posting his highest OBP of his first four seasons.
Drew has been healthy ever since he came up, now he just needs the opportunity.
A lot of things can happen: He could get traded to a club that loves to run, the Diamondbacks could replace Gibson with a manager who isn't afraid to let him loose, he could help himself by learning to hit left-handed pitchers and get on base more, his growing power numbers could see pitchers walking him more.
The point is, there are a bunch of ways his stock can rise. He'll be flying around those basepaths this season.
Kyle Drabek Wins AL Rookie of the Year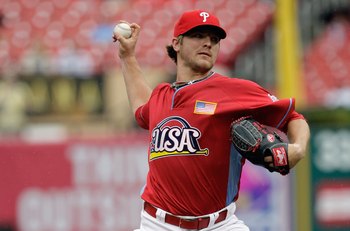 Jamie Squire/Getty Images
Drabek is the son of former Cy Young Award winner Doug Drabek, and he is an amazing talent.
He was 30-1 in high school, including a perfect 10-0 in 10 starts his senior year. He spent the majority of 2010 with Double-A New Hampshire in the Eastern League before being promoted to Toronto on Sept. 15.
Drabek was the Eastern League Pitcher of the Year, recording a 14-9 record with a 2.94 ERA in 27 starts. His 14 victories led the league, and he finished third in ERA (2.94), IP (162) and strikeouts (132). He also tossed a no-hitter on Independence Day against New Britain.
Baseball America rated him the third-best player in the Eastern League, and Drabek finished the year in the major leagues as a late-season call-up.
He has good command, he's a groundball pitcher and he has a great opportunity to secure a spot at the back end of the Toronto rotation this spring.
Oliver Perez Gets Cut Before Opening Day, Still Gets Big Payday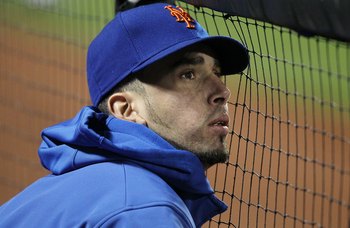 Jim McIsaac/Getty Images
Perez is set to earn $12 million in the third and final year of his contract with the Mets. There's no way the Mets re-sign him after this season, but I fully expect them to cut him before the calendar turns to April.
He has been a massive distraction to the team, and his performances have been terrible, so far removed from his 15-win 2007 season.
The Mets will dump Perez in the following month, but some team somewhere will take a chance on him, with the hope that a change of scenery brings new results. Perez will get paid, and he'll then sign one more big contract to the tune of $35 million for the final four years of his pitching career.
Jason Kendall Flips out at Journalists at Least 3 More Times
Jamie Squire/Getty Images
Did anyone else hear the clip of Kendall reaming out a reporter, totally unprovoked, at spring training on Wednesday?
Nick Wright was asking prospect Mike Moustakas about the importance of character and the possibility that he may be asked to start the season in the minor leagues because of eligibility rules.
Kendall, who was not even part of the interview, jumped in, saying: "No, he wants to stay in the minor leagues all fucking year. Are you shitting me right now?"
Wright tried to explain, but Kendall told him to "rewind himself." It was bizarre and funny and the latest soundbite from a man who described his right shoulder this week as "complete mashed potatoes."
Kendall has very little value outside of his leadership. His bat is poor, his arm is weak and he's as bad on offense as he is on the other side of the ball. He'll flip out at least two or three more times this season, providing fans with viral internet material at regular points throughout the year.
Keep Reading