ICC World Cup 2011: Ticketing Fiascos and Lathi-Charges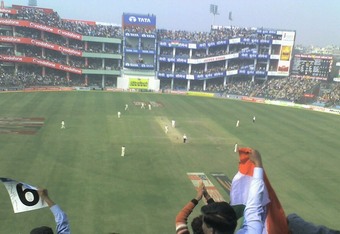 Feroz Shah Kotla Ground (Image via Wikimedia)

Cricket fans across India are left aghast and appalled by the CWC ticketing fiasco that culminated in a lathi-charge on eager fans at the Chinnaswamy stadium in Bangalore on the 24th of February, 2011.
Over 30,000 fans queued up to snap up 7,000 tickets for the India-England tie scheduled for Sunday, February 27.
The crowd grew restless and impatient when passes began to be issued around 8:30 a.m. The police resorted to crowd control tactics resulting in several people injured and carried away in stretchers.
The latest ticketing disaster follows the inability of the ICC's online ticketing partner Kyazoonga.com to anticipate the surge in traffic when it put passes up for sale. Their servers crashed on several occasions.
The ICC seems to have anticipated the controversy.
David Becker, the ICC's legal head, in a missive to ICC president Sharad Pawar, recommended that 4,000 passes to the final be allocated to associated cricket fans and not at the box office because of the chaos and violence that could ensue.
Becker seems to have made the right call.
Some of the complaints about the issue of passes include poor coordination between multiple state associations and the ticketing partners. Spectators who have bought tickets months earlier have yet to receive them in physical form. Online partners are unaware of the number of passes to be put up for sale.Since printing of tickets falls to the individual state associations, it is the sponsors and commercial partners who are at their mercy.
Sharad Pawar will have to take the rap for this.The ICC is concerned. Its commercial partners are baying for blood, if not passes.
Former India fast bowler and current Karnataka State Cricket Association (KSCA) secretary appeared distinctly uncomfortable responding to questions from the media as to how matters had quickly gotten out of hand.
"There is a limit to how much we can fulfil people's expectations," Srinath said. "It is a big challenge but even our hands are tied. For a match of this stature, even if you double or triple the amount of tickets for the public, it won't be enough. That's the tradition in India and we expected this mad rush."
Mr. Javagal Srinath, if you expected this mad rush, surely you could have done something about it. A lottery system would have been a viable option.
When asked what was more challenging, his on-field career or his present one, Srinath said,"I think bowling at the dirt track was the easiest."
In a verdict that could have far-reaching consequences, the Delhi High Court directed the Delhi & District Cricket Association (DDCA) to limit the number of complimentary passes for each of the four World Cup games to be played at the Feroz Shah Kotla stadium to 10,000.
The remaining tickets are to be made available to members of the general public.
The case was filed by Jai Karan Singh, one of the DDCA's oldest members,who argued that the executive committee issued whimsical free passes foregoing much needed revenue when it was operating at a loss.
The court also decreed that 3,000 passes were to be made available on match-days to cricket lovers.
Feroz Shah Kotla stadium has a capacity of 41,000.
Quote of the day:
Humor is also a way of saying something serious. – T. S. Eliot
This article is
What is the duplicate article?
Why is this article offensive?
Where is this article plagiarized from?
Why is this article poorly edited?