Tennessee Basketball: Tyler Smith at Home on Rocky Top
January 11, 2008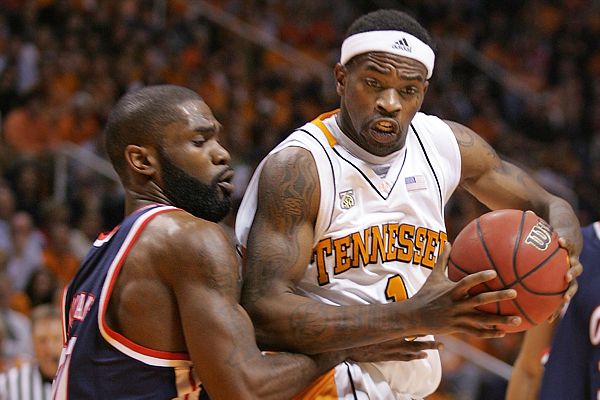 Tennessee's Tyler Smith drives past Mississippi's Kenny Williams to score the game-winning bucket with just 4.2 seconds remaining.
AP Photo/Wade Payne
Tyler Smith's journey to Knoxville should have been as simple as jumping on Interstate 40 from his hometown of Pulaski, TN. 
It was supposed to be an easy three-hour trip down the road—but has since turned into a odyssey lasting nearly three years, complete with two different stops along the way.
As a sought-after recruit in high school, Smith chose to sign with Tennessee, eagerly anticipating the chance to play for head coach Buzz Peterson. 
But soon after Smith's signature was on the letter-of-intent, Coach Peterson was fired.
Smith still wanted to play for Tennessee, but he wasn't sure about committing four years to new head coach Bruce Pearl—not yet anyways.
Pearl and the Vols wouldn't release Smith from his letter-of-intent, and Smith wasn't ready to commit to Pearl.
So off to Virginia Smith went—to the Hargrave Military Academy. 
After his year at Hargrave, Smith failed to be accepted by Tennessee's admissions office, so he headed to Iowa to play for Steve Alford and the Hawkeyes.
There he proved ready for Division I basketball, averaging nearly 15 points per game as a freshman.  But, wouldn't you know it—after just one year, Steve Alford was out as Iowa's head coach.
By then, though, Smith's basketball dilemma had taken a backseat to more important issues.  His father was battling lung cancer back in Tennessee, and Smith's young son was also living in the Volunteer State.
So Smith decided to transfer to his original first choice—the University of Tennessee. 
Smith, center, celebrates with teammates after Tennessee's win over Gonzaga earlier this season.
AP Photo/Elaine Thompson
The Vols had just made a run to the Sweet 16, and looked primed to improve upon that success in '07-'08. 
Only Dane Bradshaw would be missing from the puzzle, and Smith hoped to fill part of that void.  
And thanks to an NCAA hardship ruling, Smith would be automatically eligible to play—there'd be no sitting out a year once he arrived in Knoxville.
After three years, Smith finally landed at UT—where he originally hoped to play.
He's now close to his father and son, and playing for the No. 8 team in the country.  Smith and Pearl have since made nice, and Smith's father—who openly questioned Pearl's decision to prevent his son from being released—has apologized as well.
In 2005, one could've never guessed all that Tyler Smith would have to go through just to end up at Tennessee.  It seemed like a sure thing. Anticipating all the obstacles would have taken psychic powers.
It's funny how things work out sometimes.  For Tyler Smith, life has literally come full circle.
Tennessee recently beat undefeated No. 16 Ole Miss—as Smith made the game-winning shot with just 4.2 seconds on the clock. 
As Thompson-Boling Arena's sea of orange erupted in excitement, one couldn't help but wonder if Tyler Smith finally felt at home.
Robert H. Spain is an Alabama-based columnist for BleacherReport.com.  His entire archive can be found here.