2011 MLB Power Rankings: The Best Pitchers on the Houston Astros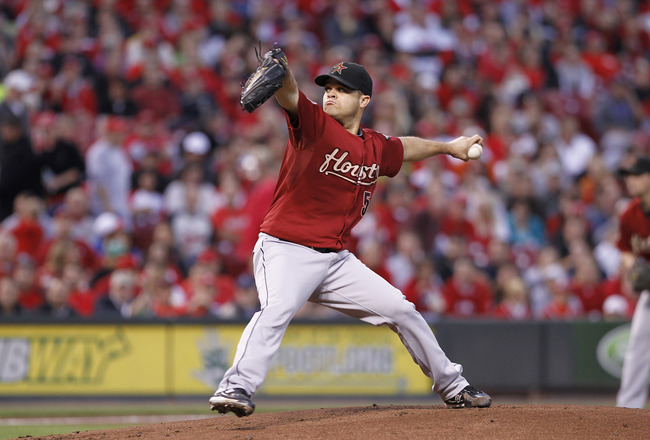 Joe Robbins/Getty Images
The Astros have a lot of questions entering spring training in 2011. Who is going to hit for power, will signings and trades for Bill Hall and Clint Barmes pay off, will the lineup even be able to score runs? Another big question the Astros must confront is: Who is pitching for the Astros this year, and how will they perform?
There are mixed feelings about the reliability and ability of the starting rotation. The Astros made an interesting signing this year with Ryan Rowland-Smith, who went 1-10 last season with the Mariners; he could either go for the fifth slot in the starting rotation or a spot in the bullpen. Other competitors for the final spot in the rotation are Nelson Figuerora, Aneury Rodriguez, Lance Pendleton, and it's also possible that highest-ranked Astro prospect Jordan Lyles could come up and sustain the position.
A young Mark Melancon, who came over in the Lance Berkman trade with the Yankees, is hoping to make a big mark in the bullpen in his first full season with the squad. Other probable pitchers in the bullpen for the Astros this season will be projected closer Brandon Lyon, Wilton Lopez, Wesley Wright, Jeff Fulchino, Enerio Del Rosario, Fernando Abad, Henry Villar and Alberto Arias.
In total, there are 21 pitchers on the current active rosters for the Astros. These arms have plenty of potential, but many are unsure of what they will be able to accomplish in 2011. This list ranks all of the pitchers on the Astros active roster from worst to best.
Non-Roster Invitees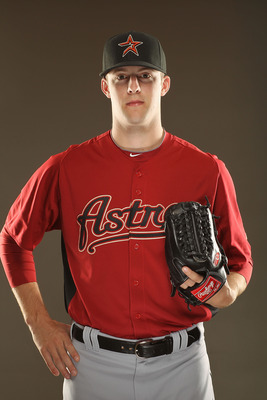 Al Bello/Getty Images
21: Cesar Carillo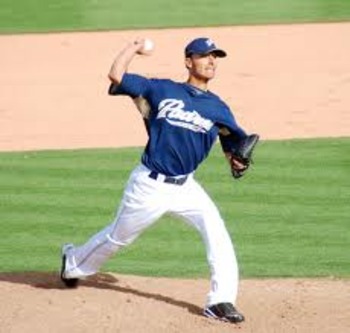 Cesar Carrillo was drafted in 2005 by the San Diego Padres in the first round. Although he isn't fully developed yet, from the looks of things, he was a waste of a first-round pick. He has spent all of his six seasons in professional baseball in the Padres organization but was selected off waivers by the Philadelphia Phillies during the offseason. Seven days later, the Astros also claimed him off waivers and were able to keep possession.
The team is hoping that his unimpressive 22-33 record and his ugly 5.06 ERA won't reflect on how he will perform in Houston. He is currently on the 40-man roster, but if he doesn't deliver in spring training, then I'm sure that will change. In one short stint in the major leagues with the Padres, Cesar pitched 10.1 innings in three games started and went 1-2 and had a 13.06 ERA.
20: Arcenio Leon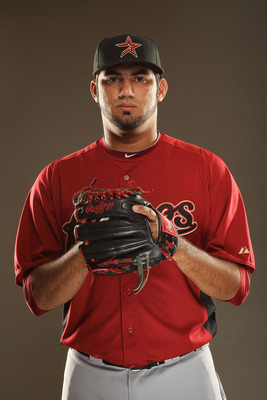 Al Bello/Getty Images
Arcenio Leon was signed as an amateur free agent out of Venezuela in 2005 by the Astros. He has been primarily a reliever in his six-year career relieving 139 games out of 154. In his career, he has recorded 12 wins, 20 losses, a 4.31 ERA, with a 1.557 WHIP and averaging 7.4 strikeouts per nine innings.
Considering he is only 24 years old, the Astros have high hopes for Leon hoping that he will shine if given a shot in the big leagues or even just more time to develop in the minors.
19: Sergio Escalona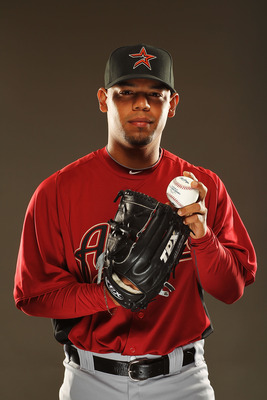 Al Bello/Getty Images
Sergio Escalona is a 26-year-old southpaw who was signed as a free agent out of Venezuela in 2004 by the Philadelphia Phillies.
He has played in the minors for six seasons and also had a short stint in the majors with the Phillies in 2009 where he, in 14 games, pitched 13.2 innings, recorded 10 strikeouts and had a 4.61 ERA. In his career in the minors, he had a 18-24 record, a quality 3.47 ERA to go along with a 1.391 WHIP.
The Astros are hoping that he will come around and be able to pitch well on the big level and become a quality reliever.
18: Henry Villar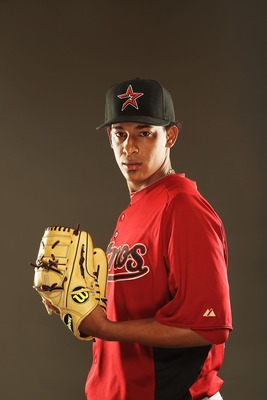 Al Bello/Getty Images
Henry Villar's future is looking up.
Signed out of the Dominican Republic in 2005, Villar is only 23 years old and has little major league experience. In five minor league seasons, Henry had a 15-22 record, with a quality 3.26 ERA, a nice 1.116 WHIP and averaged 8.3 strikeouts per nine innings. He has started a good number of games, however, he is primarily a reliever. This past season, he pitched six innings in eight games, all in relief, and recorded a 4.50 ERA and a 1.333 WHIP while striking out three batters.
He is still very young and has plenty of time to develop into a much stronger reliever than he already is today. Even if he doesn't do fantastic at the major league level this season, it's more than likely that he will get more chances to improve in the future due to the Astros' rebuilding process. He should be able to move up this list in years to come.
17: Wesley Wright
Ronald Martinez/Getty Images
Wesley Wright was selected by the Los Angeles Dodgers during the seventh round of the 2003 draft.
Then in 2007, he was acquired by the Astros in the Rule 5 draft. He has been able to stay in the majors for a good amount of time for the past three seasons but hasn't pitched so great. In 130 games, in relief, to go along with four starts, Wright has 8-9 record, an ugly 1.553 WHIP, an unimpressive 5.33 ERA and averaging a good nine strikeouts per nine innings.
At only age 26, Wesley still has plenty of potential and room to grow. However, with the crowded pitching staff that the Astros have, it might be difficult for him to get a slot in the bullpen. If he can pitch consistently in spring training, then me might be able to rely on his major league experience to edge out some other young player.
16: David Carpenter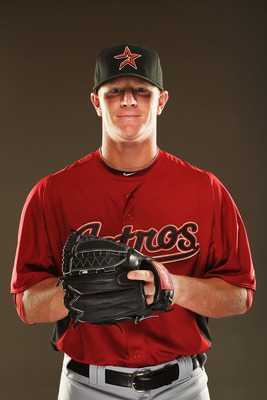 Al Bello/Getty Images
David Carpenter was picked by the Los Angeles Angels in the seventh round of the 2009 amateur draft.
Although he has only pitched in two seasons, he has made a big mark. In his two seasons in the Angels minor league system, Carpenter has pitched in 62 games, all in relief, and has a 4-6 record, 16 saves, a great 10.6 strikeouts per nine innings, a quality 1.155 WHIP and a great 2.49 ERA.
The huge upside of him is that he is only 23. At such a young age, not making the roster doesn't matter considering that he'll have such a better chance the following year. He seems to have a pretty bright future in front of him in the Astros organization, nonetheless, he is going to have to pitch very well in spring training if he wishes to break camp.
15: Enerio Del Rosario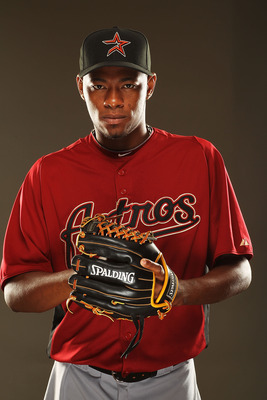 Al Bello/Getty Images
Another young pitcher at 25, Enerio Del Rosario has been in professional baseball since 2006.
He was a starter in the beginning of his career but then switched to being a reliever. He has pitched good baseball in the Cincinnati Reds organization since his debut. In 160 minor league appearances, Del Rosario has a mediocre 23-20, an okay average of six strikeouts per nine innings, a pretty good 1.181 WHIP and a really good 2.72 ERA.
Enerio also has a small amount of major league experience. Last year, he pitched 8.2 innings with the Reds and 1.1 with the Astros. In the few innings he pitched, he had a 1-1 record, a 4.50 ERA, a 2.100 WHIP and only 3.9 strikeouts per nine innings. All of those are pretty unattractive stats, but it's only a small sample size of his talent, and hopefully, that won't reflect his career in the majors.
He shows great promise at such a young age, but again, as previously mentioned, the current situation with the Astros pitching staff, it might be difficult for him to start out the season on the roster. However, if an injury comes down on a player in the majors, and Enerio is playing well in AAA, he might get the call to pitch in the majors.
14: Jeff Fulchino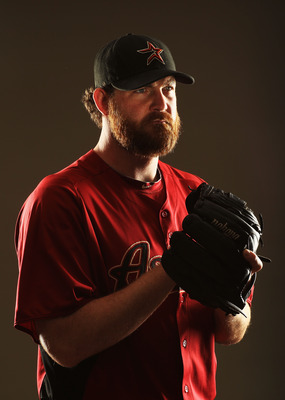 Al Bello/Getty Images
Jeff Fulchino is 31 years of age and has been in the majors every year since 2006 save 2007.
After pitching two pretty bad seasons with the Royals and the Marlins, he was selected off waivers by the Astros in 2008. He began pitching for the team in 2009 and found some mild success, by going 6-4 with a quality 3.40 ERA in 61 games. The Astros then gave him a chance the following season but struggled with a 5.54 ERA and a 1.585 WHIP until he went down for the season in June with an elbow injury.
He's hoping to recover from surgery and beat out some of the younger guys with his experience and major league success to win a spot on the roster.
13: Ryan Rowland-Smith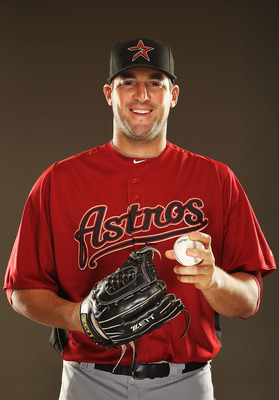 Al Bello/Getty Images
Signed as an international free agent in 2000 by the Seattle Mariners, Ryan Rowland-Smith was expected to be a really good pitcher.
In his first three seasons in the majors, Smith relieved 61 games, started 27, in which he had an 11-7 record and a respectable 3.62 ERA. However, he seemed to have hit a wall last season, going 1-10 in 27 games to go along with an ugly 6.75 ERA.
Astros' management appears to believe in Rowland-Smith for some reason, and he started out battling for the fifth slot in the rotation but was unable to contend with Jordan Lyles and Nelson Figueroa, which means that he will almost definitely start the season in the bullpen. There is a bright side to him. He is 28 which means that he's entering the prime years of his baseball life. However, he doesn't seem to have what it takes to stay in the big leagues and might be sent down to minors later this season if he doesn't perform.
12: Aneury Rodriguez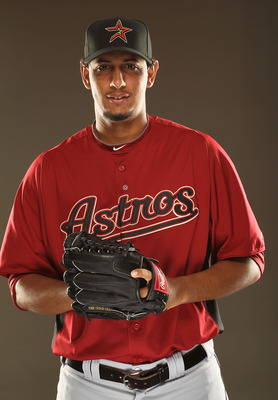 Al Bello/Getty Images
Aneury Rodriguez was signed as an international free agent by the Colorado Rockies, and after four seasons in their organization, was acquired by the Tampa Bay Rays.
However, he was left unprotected by the Rays in this year's Rule 5 Draft and was snatched up by the Astros who were looking for more candidates for the fifth slot of the starting rotation. He has a losing record in his six years in the minors and has an only mediocre 4.56 ERA but is a pretty good strikeout pitcher.
He's only 23 which means plenty of time to gain experience and skills, but according to the rules of the Rule 5 Draft, the Astros have to keep Rodriguez on their roster all year or else he gets sent back to the Rays.
11: Fernando Abad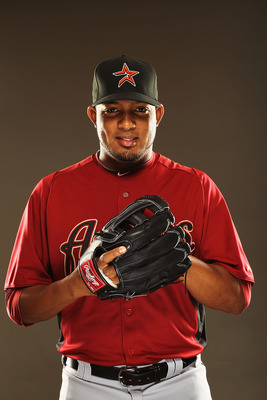 Al Bello/Getty Images
Fernando Abad has a fantastic shot at making the Opening Day roster this year.
Not only has he been posting a 3.16 ERA and 1.119 WHIP in the minors since 2006, but he already has major league experience under his belt. In 19 innings pitched last season, Abad had a 1.000 WHIP, had 12 strikeouts and a 2.84 ERA.
At the age of 25, the future appears to be very bright, especially on a young rebuilding team like the Astros. Hopefully, he will be able to pitch in what little clutch situations that will occur this season.
10: Lance Pendleton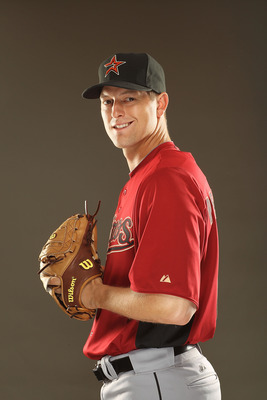 Al Bello/Getty Images
Lance Pendleton was drafted by the New York Yankees in the fourth round in 2005, then selected in the Rule 5 Draft by the Astros in 2010. Since 2005, Pendleton has been pitching quality baseball in the Yankees organization, going 32-22, with a 3.39 ERA and 421 strikeouts.
The Astros are hoping that he'll be able to bring that quality pitching to the starting rotation, or else, he will be sent back to the Yankees according to the regulations of the Rule 5 Draft. He's basically missed his shot at the slot in the rotation and doesn't have a great shot at making the bullpen so he's pretty much locked up to be sent back to New York after spring training.
9: Alberto Arias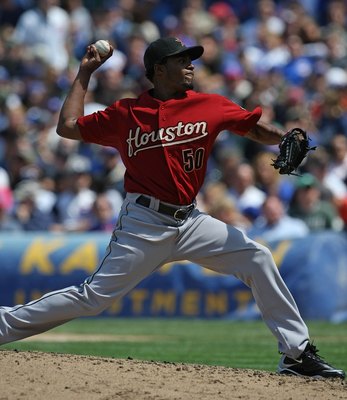 Jonathan Daniel/Getty Images
Alberto Arias is one of the better arms that Brad Mills has in his bullpen this season. He has been in professional baseball since 2003 and even poked through to the majors with the Rockies for the first time in 2007.
He was then selected off waivers by the Astros in late-July in 2008, and during that season, he only pitched eight unimpressive innings for the team. However, the following season is when he established himself as a steady reliever that could be relied on day in and day out. In 2009, Arias had a 2-1 record, a nice 3.35 ERA and 7.7 strikeouts per nine innings—all quality stats.
However, he injured his knee and was out for the entire 2010 season which was a big year for him to prove himself as a stronger reliever. He will have to recover well in spring training to prove that he still has the ability to take charge of games late in the day.
8: Nelson Figureroa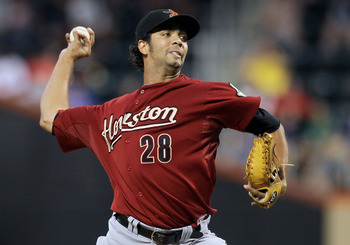 Jim McIsaac/Getty Images
Nelson Figueroa has been around for a while and should be able to show some veteran presence in the clubhouse this season.
He is up against top prospect Jordan Lyles for the final slot in the pitching rotation. It has been neck-and-neck so far in spring training, so I think that Astros' management will side with Figueroa since he has major league experience and still give time for Lyles to develop.
Last season Figuereoa made a couple of appearances out of the bullpen and some spot starts to fill in for the regular starters. In those 18 games that he pitched in, he recorded five wins and three losses, 58 strikeouts and a quality 3.22 ERA.
Based on these stats and the aforementioned experience that he has, the Astros will most likely select him to be the fifth starter to start out the season over Jordan Lyles
7: Bud Norris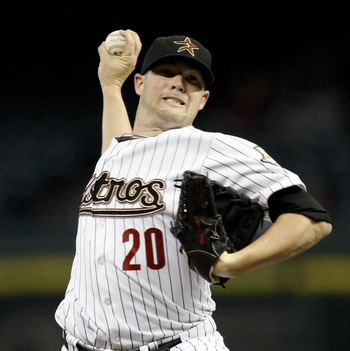 Bob Levey/Getty Images
Bud Norris was drafted in the sixth round in 2006 by the Astros and has been impressing managers and coaches ever since.
He had an impressive rookie season in 2009, when he went 6-3 with a 4.53 ERA. In his first three and final four starts that year, he was 6-0 with a 2.20 ERA. His 2010 reflected exactly how the team played that year. He had an atrocious first half and then followed up with a fantastic second half. In all, he had a 9-10 record with a 4.92 ERA and a beautiful 9.3 strikeouts per nine innings.
He is only 26 which gives time to improve but a lot of the Astros' success this year will ride on Norris' production. Management and the fans are hoping that the second-half Norris will shine through and become the full-time star that everyone hopes he will become. He is another young pitcher who should be able to move up this list in time.
6: Brandon Lyon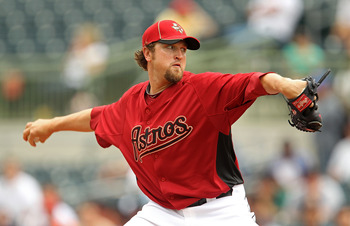 Mike Ehrmann/Getty Images
Lyon only narrowly beat out Norris for this spot, and I'm almost positive somebody is going to have a problem with his high ranking.
There are mixed feelings about Brandon Lyon being the closer for the Astros this season. He has some very mild success with different teams and last season filled the closer role quite well to finish out the season. He was able to save 20 games last season after Lindstrom was out of the role.
He also recorded a 3.12 ERA which is okay for a starter but not so good for a closer. Another problem is his 6.2 strikeouts per nine innings which is respectable but not good enough to be qualified as a closer. Also, in the past four seasons, he has been among the league leaders in either holds or saves.
If he is unable to perform this season, it is very possible that Wilton Lopez or newly acquired Mark Melancon will take over. The 31-year-old should feel threatened for his job and should be trying as hard as possible to impress management.
5: Mark Melancon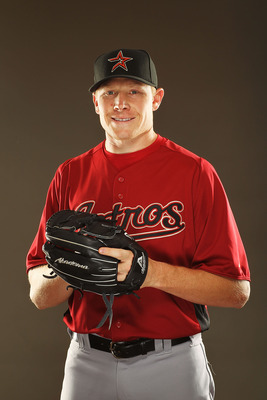 Al Bello/Getty Images
Mark Melancon was acquired by the Astros right before the trade deadline for long-time slugger Lance Berkman who had been one of the icons of the franchise for the past 10 years.
He has to be able to fill in the holes that Berkman left by being able to pitch very well which he has been able to do in his short stint with the squad. In his 20 games pitched in relief last season, Melancon went 2-0 and had a quality 3.12 ERA to go along with an impressive average of 9.9 strikeouts per nine innings.
If Brandon Lyon doesn't work out as closer this season, he could very well be selected to fill the spot. At the age of 25, he has a promising career as a reliever, and many hope that he will be able anchor the bullpen for years to come.
4: Wilton Lopez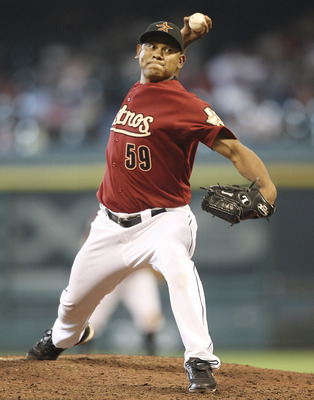 Bob Levey/Getty Images
Wilton Lopez was selected off waivers by the Astros in 2009.
That season was unimpressive for him in eight appearances. It was last season where Lopez began to shine. As a rookie, Wilton relieved 68 games in which he had a 5-2 record, an impressive 2.96 ERA, 50 strikeouts and a 1.060 WHIP. In the middle of the season, he also had a scoreless streak of 19.2 innings in a row.
He is only 27 and should be entering his prime and is the another candidate for the backup closer slot behind Lyon. Until then, he is most likely going to be a setup man along with Melancon. He certainly seems ready for the position considering his impressive numbers last season.
3: J.A. Happ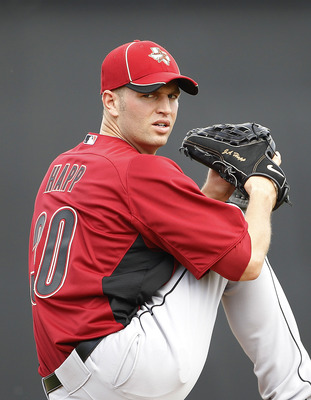 Leon Halip/Getty Images
The centerpiece of the Roy Oswalt trade with the Phillies this past summer, J.A. Happ has huge shoes to fill this season.
He is entering his prime at the age of 28, but it might be hard to fill the vacancy of one of the best pitchers in franchise history. The former Rookie of the Year runner-up was shifted well to his new atmosphere in Houston. He started off okay last season, going 5-4 with a quality 3.75 ERA and 61 strikeouts.
The Astros are hoping that he will pay off and become the ace of the future for the squad. He is another key for the Astros' success this year, if the southpaw can pitch with an ERA around 3.00 and pull out 13-15 wins, the team will be well off.
2: Brett Myers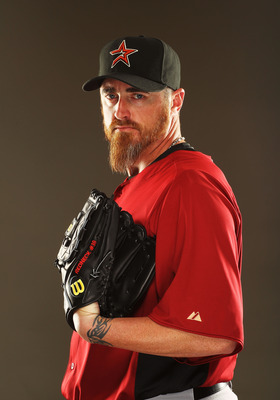 Al Bello/Getty Images
After jumping back and forth from bullpen to the starting rotation for the Phillies, Brett Myers found a home in Houston and settled down in the starting rotation.
Myers was the ace of staff last year after Roy Oswalt was shipped to the Phillies. He led the team with 14 wins and had an impressive 3.12 ERA and a 1.243 WHIP. Not to mention that he threw 32 straight quality starts to start off the season which was every start except the last. It was no doubt the best season of Myers' nine-year career.
At age 31, Myers still should be able to produce, however, I like most people, am doubtful that he will be half as good as last season. He should still be a reliable arm in the rotation going to the mound every fifth day. In a couple of seasons, he should be passed up by both Norris and Happ.
1: Wandy Rodriguez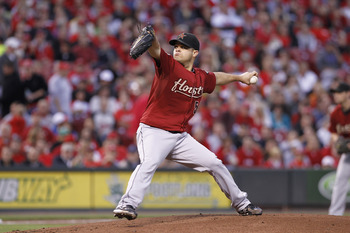 Joe Robbins/Getty Images
Wandy Rodriguez has become a late bloomer finding his stride as of late in the past three years.
In those seasons, Wandy has a 34-31 record, which is a great record considering he's been on teams with absolutely terrible run support, a nice 3.34 ERA and an average of 8.4 strikeouts per nine innings.
No doubt, out of these three seasons, 2009 was his best. His 193 strikeouts led all left-handers in the National League, and his 14 wins were the best on the squad. Although he didn't pitch so great during the first half of the year, his second half reflected the 2009 Wandy when he recorded a fantastic 2.19 ERA, a 1.030 WHIP and a 9.9 strikeout rate in 16 starts.
If he is able to keep using his fantastic curveball to baffle hitters, he should be able to duplicate his second half stats of 2010 and reel in a big season this year. He will be the co-ace along with Myers going into this season and will hopefully be able to lead the team, being the most tenured player on the roster.
Keep Reading

Houston Astros: Like this team?