UFC Buys Strikeforce: Will Strikeforce Be Missed?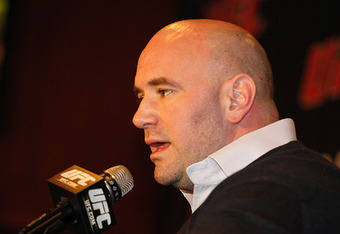 And like that, there was one.
In the wake of Zuffa's epic acquisition of MMA promotion Strikeforce, observers are forced to speculate on the limited details forthcoming from the UFC.
Of course, plenty of writers are pointing out how this could potentially hurt the sport in many ways—most notably that there is no longer competition in American MMA promotion, thus meaning every fighter, sponsor and manager will have little choice but to make a deal with the UFC.
But for every pessimistic writer—or realistic, you decide—there are a thousand fans that love the change. And why shouldn't they?
The top fighters from Strikeforce will now get to meet the top fighters from the UFC.
After all, fans want results and don't care about the means it took to get them, right? As a fan, shouldn't your interest be in the product—interesting matchups—and not what's behind the curtain?
Well, watch any episode of SportCenter and then answer that question.
Maybe 25 percent of the hour-long show will be about the day's sports results, the rest is focused on negotiations, in one form or another. And SportCenter didn't become the flagship of ESPN for no reason; people watch it.
In Major League Baseball, following the GM's moves is a major part of the entertainment.
MMA is no different.
So, while I should never underestimate the blind loyalty of the UFC fanbase, following the acquisition, I did expect to see more anti-UFC sentiments from the hardcore fans.
I mean, when the UFC bought out its only legitimate competition in Pride Fighting Championships back in 2007, it felt like the MMA world was torn completely in half. But this purchase of Strikeforce seems to be met with more curiosity than actual disappointment.
Then, in the midst of my pondering, it hit me: Ya know, Strikeforce kind of sucks.
Sure, they have plenty of stellar fighters and have put on their fair share of memorable fights, but something was always off.
The production was stale, the matchmaking was questionable, the broadcasting team was a complete train wreck on a regular basis and every fighter on the roster was consistently facing unexplainable layoffs between every fight.
In 2009, when Strikeforce rose from the ashes of EliteXC, the MMA community had such high hopes for it to be the Apple to UFC's Microsoft.
Strikeforce came out of the gate with so much potential and did put on a series of good shows. But as time went on, the momentum just seemed to slip away.
The people at Strikeforce didn't seem to have the focus or sense to capitalize on what the UFC wasn't doing. Over the course of 2010, CEO Scott Coker appeared to lose his gumption and be in over his head.
The people at Showtime have no background in MMA, but were still allowed to have the majority of the control in Strikeforce's production.
Strikeforce never gave the fans something to grab onto. In reality, there are no loyal Strikeforce fans, just MMA fans that don't like the UFC as much as everyone else.
And Strikeforce certainly didn't win them over now by selling out to the perceived enemy.
Honestly, cashing out like they have is probably the best thing the people at Strikeforce could have hoped for.
While Dana White assures us that Strikeforce will continue running "business as usual," let's not forget that we have seen this movie before.
The same was said when Zuffa bought Pride back in 2007, and they had no intention of continuing on with Pride, just as they have no intention of wasting energy running Strikeforce. There is no point.
And will Strikeforce be missed when it is gone?
My guess is, as long as any other promotion can rise to take its place, absolutely not.
Will Strikeforce be missed?
There will always be MMA fans that don't like the UFC's way of doing things, especially Dana White's way of doing things.
But for every one of those MMA fans, there are a thousand loyal UFC customers that don't care if it is Dana White, Lorenzo Fertitta or George W. Bush pulling the strings, as long as the big fights get made.
And those fans probably never bothered to order Showtime and check out Strikeforce in the first place.
Strikeforce's legacy is the first female MMA fight to headline a major card, Gina Carano vs. Cris "Cyborg" Santos, and being the place where Fedor Emelianenko started losing.
Will it be missed?
I'm not sure anyone even cares for it while it is here.
This article is
What is the duplicate article?
Why is this article offensive?
Where is this article plagiarized from?
Why is this article poorly edited?