Tiger Woods & Elite Eight Predictions at the World Golf Championships-Accenture
Stuart Franklin/Getty Images
This week is one of my favorite weeks of golf. Getting to see match play. Nobody can deny how much more fun it is to watch or to play it—especially for a pro. I honestly wish this was one of two or three match play events, but unfortunately, field size and cuts make it a more complicated thing.
But anyway, imagine this: you can take a driver and swing at it as hard as you want, not worrying because if you blow it, it's one hole. You can go for the green whenever you want if you have the guts. You have no fear, as long as you aren't just trying to get out with a split.
Match play brings out the best in the most confident golfers.
So which golfers have the swagger to take it to their opponents this week?
Dark Horse: Henrik Stenson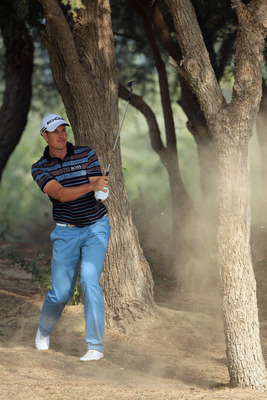 Andrew Redington/Getty Images
I'm not only a believer that he could go deep in this tournament, I thoroughly hope it happens.
Lee Westwood did not get a kind draw, despite being the top seed in the tournament. To compare it, it would be like Duke being the top seed and drawing Butler as the 64 seed. Just a tough draw.
The toughest matches for Stenson are his first two, obviously. But from there, he doesn't face anyone who's been a big force this year.
To be honest, the only person he could face, that to me is a serious contender, would be the winner of the Watney/Kim match. From there, it wouldn't be hard to see Stenson in the Elite Eight or even the Final Four.
The 2009 Players Champion is a very strong last seed, make no doubt that I have my upset alert on high for his match.
Graeme McDowell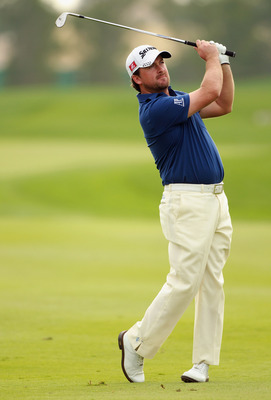 Andrew Redington/Getty Images
At the end of last year, Graeme McDowell was on fire. He delayed the comeback of Tiger Woods by taking him down at the end of the year and did it in dominant fashion.
McDowell is in what I consider the easiest portion of the bracket for his first three matches. Of all the names in half of the Hogan bracket, Ian Poulter is the only other person who I even see as a potential road bump.
That's where I see McDowell losing out. Just like an NCAA team, the competition in those first few rounds just isn't going to be like Matt Kuchar (or Phil Mickelson, if I were to be wrong). I think McDowell loses a close match in the Elite Eight of this week's match play.
Paul Casey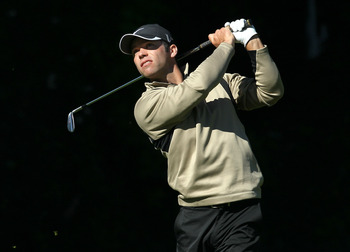 Stephen Dunn/Getty Images
Another man that is in an easier spot in the bracket, Paul Casey, has no excuses this week of falling short of the Elite Eight.
Barring any unforeseen debacles, and with no offense towards the other golfers in his half of the Snead bracket, Casey should breeze into the Elite Eight, and from there, I am not completely sure of how he fairs.
Unfortunately, I have him stopping there.
Nick Watney
Stephen Dunn/Getty Images
While I would actually be willing to put more money on my dark horse, Nick Watney is my pick for the Elite Eight, from the top half of the Bobby Jones bracket.
Watney is playing exceptionally consistent and just seems to be in the right place at the right time.
Whoever he faces, they won't get a win out of Watney until 18. And that's where I see his week ending—on 18, in his fourth match.
Martin Kaymer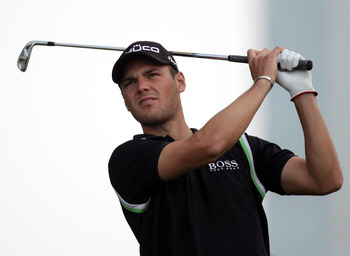 Ross Kinnaird/Getty Images
Of all the top seeds this week, Martin Kaymer wins the best draw award.
However, I don't see it pushing him to a final four position. I do see him in the Elite Eight, for good reasons. First off, all of his first matches are against players who are more in a downturn than an upswing.
Second, he is just playing good golf. I can't believe I don't have Kaymer going Final Four, but he is going to fall victim to an upset.
Dustin Johnson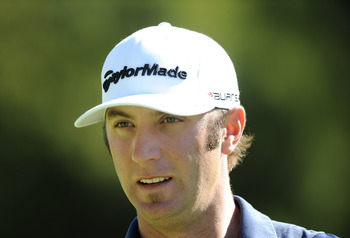 Harry How/Getty Images
DJ has been quite the story as of last week.
With all the issues that Dustin Johnson had last week, coming into match play this week is good. Because a two-stroke penalty would only affect him for one hole, he'd lose it, and move forward.
In all reality, Dustin Johnson is going to be a force. I stuck him in here because I see him moving through a few rounds, and if he can get through Tiger, he could win this with his power.
I don't see all those stars aligning, but hey, you never know.
Luke Donald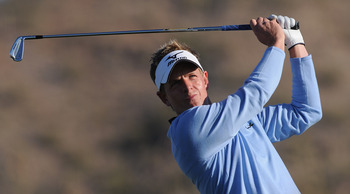 Stuart Franklin/Getty Images
I had him penciled in to win last week, but a horrid day seemed to derail all of my hopes.
Luke Donald is one of the shortest driving players on tour, but he still manages to keep his game at an extremely high level. How? Accuracy. There is no question he has that over almost anyone.
Despite the fact I even said this is a bomber's dream, it is by no means a death sentence to a short hitter. In fact, I see it as an opportunity for him to force that bomber's hand and make him play reserved, knowing that any mistake will cost him.
Luke Donald is my pick from his half of the Bobby Jones bracket to make the Elite Eight.
Adam Scott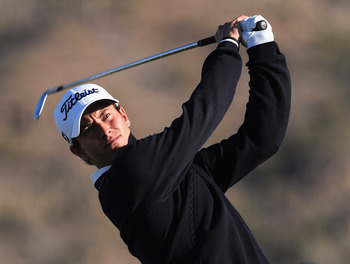 Stuart Franklin/Getty Images
Big story of the tournament. Adam Scott returns to the face of the golf world.
Well, he was already on his way back, but my projection of his third place finish certainly would improve Scott's world ranking.
I don't know what it is, but I see Scott as the perfect guy to bring down Martin Kaymer and cruise into the Final Four as the worst seed left. Unfortunately, I don't see him in a final match, but the consolation is certainly nothing to scoff at.
Contender: Tiger Woods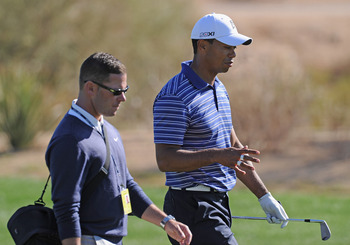 Stuart Franklin/Getty Images
And you thought I was gonna pick Tiger to win. Nope, I just couldn't.
I know what everyone is saying about Thomas Bjorn. But that's only adding fuel to the fire better known as Tiger Woods. He feeds off the doubt of others right now. And trust me, he is feasting on everyone who is predicting an early upset.
After Bjorn, Tiger has an easier match against either Geoff Ogilvy, the man only relevant for about the first six tournaments of the year, or Padraig Harrington, the three-time major winner who decided the swing that won him those tournaments wasn't good enough.
Through that, Dustin Johnson, Bill Haas, Mark Wilson or Bubba Watson awaits. Not a single easy matchup there, but I see Tiger breezing through, riding a stream of momentum.
After this, Paul Casey will fall, and then Tiger will fall in the final match to none other than...
Winner: Matt Kuchar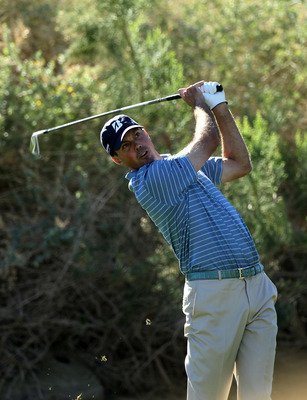 Stephen Dunn/Getty Images
MATT KUCHAR!!!
I don't know how you can't include Kuchar in any prediction for any tournament his name is near. It's just impossible. He is too consistent.
His first finish outside the top 10 came last week, ending his streak of 3-for-3.
Matt Kuchar is continuing his charge in golf and wasn't even on the radar of this event last year. This year, I have him as my upper-half winner of the Hogan portion, priming him for an Elite Eight showdown where I see him walking through.
It's all looking good for any Georgia Tech fans out there in the golf world this week.
Bracketology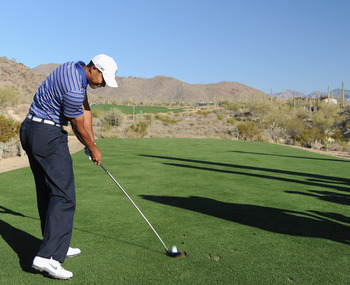 Stuart Franklin/Getty Images
Just because every article has basically divulged their predictions, I'm doing it too.
Here's a look at Round 1:
(Just to make it easy, an asterisk means this is an upset prediction.)
Bobby Jones:
Stenson over Westwood**
Watney over Kim
Goosen over Choi
Moore over F Molinari**
Manassero over Stricker**
Schwartzel over Ishikawa
Donald over Hoffman
E Molinari over Laird
Ben Hogan:
Mickelson over Jones
Fowler over Hanson
Kuchar over Hansen
Oosthuizen over Van Pelt
McDowell over Slocum
Fisher over Allenby**
Poulter over Cink
Quiros over Yang
Gary Player:
Kaymer over Noh
Z Johnson over Rose
Karlsson over Fujita
O'Hair over Mahan**
McIlroy over Byrd
Scott over Crane
Palmer Over Furyk**
Jimenez over Ikeda
Sam Snead:
Woods over Bjorn
Ogilvy over Harrington
D Johnson over Wilson
Haas over Watson**
Casey over Green
Day over K Kim**
Overton over Els**
Holmes over Villegas**
Bracketology Continued...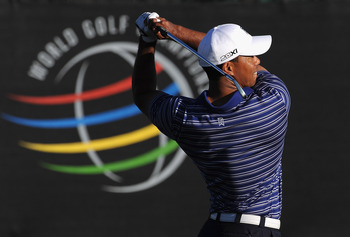 Stuart Franklin/Getty Images
Round 2:
Bobby Jones:
Watney over Stenson
Goosen over Moore
Manassero over Schwartzel**
Donald over E Molinari
Ben Hogan:
Mickelson over Fowler
Kuchar over Oosthuizen
McDowell over Fisher
Quiros over Poulter**
Gary Player:
Kaymer over Z Johnson
Karlsson over O'Hair
Scott over McIlroy**
Palmer over Jimenez**
Sam Snead:
Woods over Ogilvy
D Johnson over Haas
Casey over Day
Overton over Holmes
Final Bracketology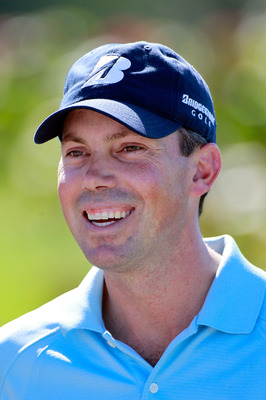 Sam Greenwood/Getty Images
Here are the last few rounds:
Bobby Jones:
Watney over Goosen**
Donald over Manassero
ELITE EIGHT: Donald over Watney
Ben Hogan:
Kuchar over Mickelson**
McDowell over Quiros
ELITE EIGHT: Kuchar over McDowell**
Gary Player:
Kaymer over Karlsson
Scott over Palmer
ELITE EIGHT: Scott over Kaymer**
Sam Snead:
Woods over D Johnson
Casey over Overton
ELITE EIGHT: Woods over Casey
Final Four:
Kuchar over Donald
Woods over Scott
Final and Consolation:
Kuchar over Woods
Scott over Donald
Keep Reading