NBA Spreads and ATS Pick and Preview: Hawks vs. Lakers Basketball Handicapping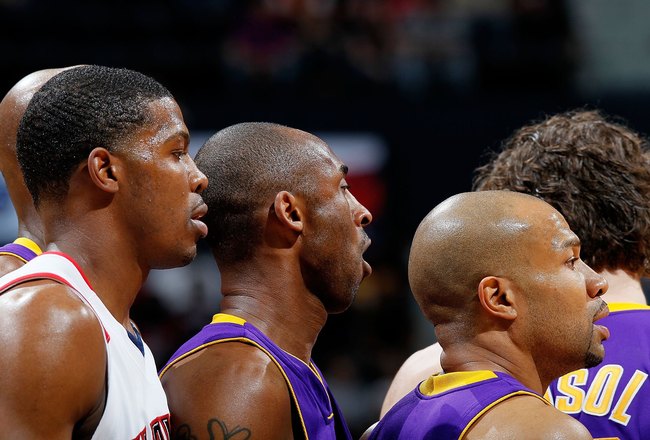 The Lakers and Hawks play close tonight says expert
Kevin C. Cox/Getty Images
OffshoreInsiders.com Senior Sports Handicapper Matt Rivers has a winner Tuesday on the Atlanta Hawks (+7.5) at the LA Lakers.
Sure I'll grab around a touchdown with the boys from Hotlanta. The Hawks are good enough to compete with anybody in this league, and that includes the Lakers at Staples. I'm not really afraid of Kobe and the struggling big, bad Lakers.
With three straight losses, something is just off right now with Phil Jackson's squad. Los Angeles has played some questionable games of late, and after all of the hoopla of the All-Star game—including Kobe earning another MVP award—I can see some of fatigue plaguing the defending champs.
The Hawks aren't going to win the championship, but they are a tough squad that very well may better the 53-win season from a season ago. Joe Johnson and Al Horford were All-Stars, and throw in a guy that plays like an All-Star in Josh Smith plus Jamal Crawford and a few others? I 100 percent expect the visitors to come after the defending champions.
Teams get up for big games like this. Therefore, I can see the Hawks hanging up a little extra giddy in the tank. This is the Lakers in front of all of the celebrities and stars in LA. What more motivation can a team draw? Maybe playing at Madison Square Garden, but that is about it.
Kobe and the gang have dropped three in a row, and that included the shocking upset loss in Cleveland to end the first half. One could say that the break came at a right time for the champs, but I'm not so sure. I believe this team may be just a little bit off and, break or no break, will continue to be a little bit off.
Chris Trotman/Getty Images
Top expert pick on this game: Atlanta from Matt Rivers
For more information: It was a terrible call on UTEP on Monday, no excuses. I was as wrong as wrong could be in that thing. It happens. Moving forward and continuing the domination of the Crookie here and now as I Raise that Bar with a 400,000* major release from Minnesota in this semi elimination game between the Spartans and Golden Gophers. Both squads have struggled and one more loss for either could spell doom. Who shows up? One team for sure that I can tell you. Also get a bonus 300,000* from the Big East involving Louisville and Rutgers. 2-0 sweep and another 700,000* of profit, end of story! Rivers redemption comes tonight
Now to the rest of the NBA odds:
Toronto Raptors

+7 -110

OVER 195.5 -101

Charlotte Bobcats

-7 +100

UNDER 195.5 -109

Indiana Pacers

-1 -105

OVER 207.5 -105

Washington Wizards

+1 -105

UNDER 207.5 -105

Houston Rockets

-1.5 -105

OVER 201.5 -105

Detroit Pistons

+1.5 -105

UNDER 201.5 -105

Sacramento Kings

+13 -103

OVER 204 -105

Matthew Stockman/Getty Images

Miami Heat

-13 -107

UNDER 204 -105

Los Angeles Clippers

+8.5 -101

OVER 208 -105

Oklahoma City Thunder

-8.5 -109

UNDER 208 -105

Minnesota Timberwolves

+8 -103

OVER 196 -105

Milwaukee Bucks

-8 -107

UNDER 196 -105

Memphis Grizzlies

-1 -107

OVER 204 -103

Denver Nuggets

+1 -103

UNDER 204 -107

Atlanta Hawks

+7.5 -107

OVER 188.5 -110

Los Angeles Lakers

-7.5 -103

UNDER 188.5 +100

Boston Celtics

-4.5 -103

OVER 198.5 -103

Golden State Warriors

+4.5 -107

UNDER 198.5 -107
This article is
What is the duplicate article?
Why is this article offensive?
Where is this article plagiarized from?
Why is this article poorly edited?