Daytona 500: Trevor Bayne and the Wood Brothers Win One for the Ages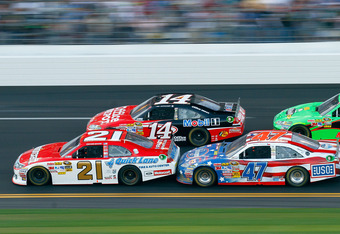 Jason Smith/Getty Images
It was a Daytona 500 for the ages—more appropriately, it was for all ages.
The youngest driver ever managed to win driving a car fielded by the oldest team in the field.
On Sunday, Trevor Bayne proved to every child with a dream to win the Daytona 500 that anything is possible.
On the same day, the Wood Brothers proved that decades won't necessarily marginalize a team in a sport that separates the haves and have nots by fractions of a second.
Bayne was just 19 years old when he climbed in the cab of his Ford pickup last week and came to Daytona to make only his second start in the Sprint Cup Series. He turned 20 the day before the race.
Just weeks before, the car he would drive in the Daytona 500 was adorned with a sticker celebrating David Pearson, the 2011 Hall of Fame inductee who last piloted a Wood Brothers entry to victory lane in the Daytona 500 35 years ago.
Back in 1976, the sport looked a lot different than it does now:
Richard Petty still had Daytona 500 wins ahead of him.
Richard Childress was a driver in the field in 1976.
Joe Gibbs was a nameless assistant coach for the St. Louis Cardinals.
Rick Hendrick was the youngest Chevy dealer in America at 27 years old.
Dale Earnhardt had yet to make his first Daytona 500 start.
Trevor Bayne wasn't even born yet.
Jason Smith/Getty Images
The sport has changed. The Wood Brothers haven't.
They can still find the magic.
The Wood Brothers had become a feel good part of the sport over the last three decades, fielding cars for veterans like Bill Elliott and guiding Dale Jarrett to his first win in 1991.
They hadn't had a moment like this since that glorious day in 1976 when David Pearson limped his No. 21 to the checkered flag after a last lap duel with Richard Petty.
When Pearson rolled into Victory Lane that day in '76, it was 13 years after the Wood Brothers first struck gold at Daytona in 1963 with Tiny Lund.
Just a scant 48 years after Lund's win, Trevor Bayne took that ride in his pickup to a date with destiny and Victory Lane .
Bayne's arrangement with the Wood Brothers was a one-off deal while he competed for the Nationwide title.
To win that crown, he'll probably need to win a race. He hasn't yet on NASCAR's junior circuit.
Take a look at the top of the unofficial points standing after the Daytona 500. Next to Bayne's name there are two dashes.
Thanks to NASCAR's new rule that requires competitors to declare a series where they'll collect points, Bayne checked Nationwide.
Matthew Stockman/Getty Images
Better to start small—always crawl before you walk.
The journey of a thousand miles starts with the first step.
In Bayne's case, he launched himself into the stratosphere nearly at NASCAR birth.
Bayne shuffled between two teams in the Nationwide Series last year, making the move from Michael Waltrip Racing to Roush Racing before the 29th race.
To date though, his biggest move was the day he signed on to drive for the Wood Brothers.
The spell that brought Sunday's magic was cast that day.
"I never expected to be in here. I still don't think it's real."
Bayne still sat dumbfounded in the Daytona Media Center after the race.
It's real.
If you're old enough to read this, and young enough to dream, anything is possible.
A ride in the truck to the race could be the first step on a journey into history, so pack nice clothes.
Trevor Bayne didn't.
He's picking out suits and shiny shoes for the obligatory media tour and his dance with America that comes with winning the biggest prize in NASCAR.
Enjoy the music.
This article is
What is the duplicate article?
Why is this article offensive?
Where is this article plagiarized from?
Why is this article poorly edited?