The Best Baseball Movie Of All Time Is????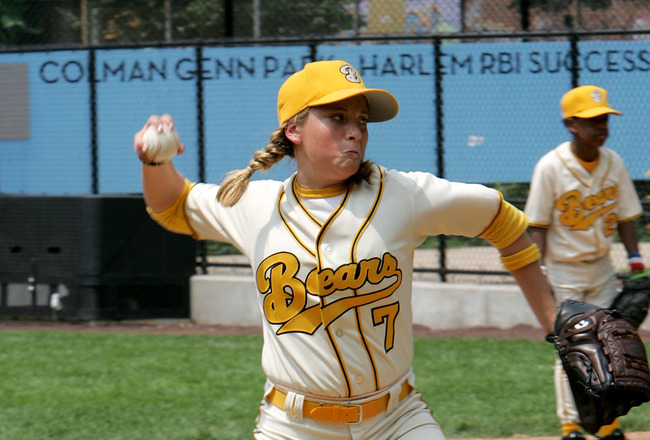 Amanda Wurlitzer- 2005 version
Paul Hawthorne/Getty Images
OK Diamond Fans, Here's your chance to sound off on this incredibly important subject.
Baseball Movies- Good or Bad. Join me tonight at 11 for a 7 part expose...
Wait, I'm writing...
But I CAN include videos here, so get some popcorn and watch some movie clips :) Field Of Dreams or Rookie of the Year? The Babe or The Bad News Bears Go to Japan?
Maybe none of these at all...
I am going to present my top 5*, which could completely change at any moment.
Trust Me, My list is NOT your list..
* Nominated for Worst List of All Time, Thank you, Thank you...
5: The Naked Gun: Baseball at Its Most Absurd

How about that...

So its not really a baseball movie- It's the best baseball scene of all time.
Any veteran small ball fan who knows the game can appreciate the Hall of Fame row of announcers, or what may be the worst and funniest version of the National Anthem ever. Worse than Christina Aguilara's anyways.
Here is a nice long clip for ya...
Leslie, there will never be another one like you...
4: The Bad News Bears In Breaking Training: Let Them Play

Let Them Play

Tanner Boyle is one of my heroes. Just Like Captain Kirk, Or Dan Fouts. People that refuse to quit. Or at least characters that show off that quality.
Watching TBNBIBT takes me back to who I was when I left the house to play ball on a sunny day, back when I was more nimble.
Tanner is everything a ballplayer should be, semi talented, covered in dirt, and meaner that a junkyard dog who just had his bone stolen.
Even with no chance to win, you would have to drag Tanner of the field before he would quit. Every ballplayer should care so much...
This movie, while not academy award wining material, shows off the game in a positive light, culminating with a trip to the DOME. Remember when the Houston Astrodome was the 8th wonder of the world?
Wherever you are Tanner- Thanks man... Never Quit...
3: Major League: Dont Mess With Jobu
Once again, not a classic, but there is something about watching the Indians climb out of nowhere to take the division that just gets the blood pumping. I usually root for the underdog.
Willie Mays Hayes waking up outside the fence, and beating everyone to the line in the 100 yard dash while barefoot. That's hustle. Too bad Wesley Snipes could not run that fast when the cops showed up...
The second one has the best fan, one Randy Quaid, who spends his time tormenting Wild Thing mercilessly. "Back up the Truck Vaughn..."
2: The Natural: The Legend Of Roy Hobbs
The Natural was almost number one here.
Roy Hobbs story is one every kid who ever wanted to play ball dreamed of. My favorite scene is when Hobbs gets his first crack at the batting cage, and proceedes to pound the ball into the stratosphere like 10 times in a row.
Someone at game development needs to put in the exploding lights sequence into a video baseball game, it's a natural...
1: A League Of Their Own: Chicks Rock

Thers no crying in baseball

What? A Chick Flick?
No way, A League Of Their Own is as pure a baseball movie as you will ever find.
The scene that really sold on its merits is when Tom Hanks stumbles into the women's locker room and takes a huge leak in front of the whole team. What can I say, it makes me laugh...
Classic Baseball comedy.
Hanks is perfect as the former star ballplayer who has hit the skids.
Watching the excruciatingly painful restraint that Hanks exhibits when NOT yelling at the girls after an error is watching a volcano cap itself.
Geena Davis is perfect as the best player out there, with Lori Petty as the pesky kid sister who needs to win one against her elder very badly.
Any ballplayer relates to wanting to finally beat your older brother or sister.
If you don't get pumped for the end of this movie's baseball sequences, you just don't love the game.
.
Please feel free to post your own lists, I am always ready to learn what you guys think:)
Leaving the original Bad News Bears out of my top 5 hurt, but Tanner captures the spirit of both of the first 2 films nicely.
The remake of BNB is also a lot of fun, having a strip club as the sponsor was a natural progression from Chico's Bail Bond's.
Bull Durham? I never cared that much, the same for The Babe. Stuff like Brewsters Millions or Angels in the Outfield, kids stuff.
The one I really need to mention is the 1979 version of The Kid From Left Field, where Gary Coleman leads the Padres to a World Series Title. True Sci fi...
There are lots of other good ones, jog my memory ;)
Play Ball:))))))))))))))
Keep Reading