Daytona 500 2011: 10 Reasons Tony Stewart Is the Driver to Beat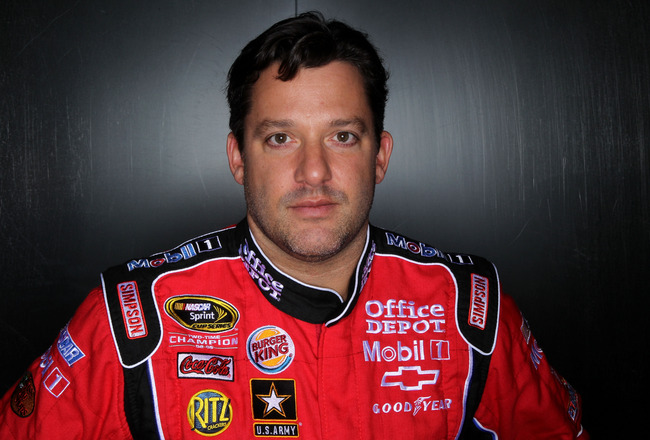 Nick Laham/Getty Images
2011 marks the third year Tony Stewart will start the Daytona 500 as owner/driver of the No. 14 Office Depot/Mobil 1 Chevrolet Impala. This will also be Stewart's 13th attempt to win the Great American Race and add one more milestone to an impressive NASCAR career. Here are ten reasons why 13 could very well be a lucky number for Stewart.
Stewart Eighth In Total Laps Led at Daytona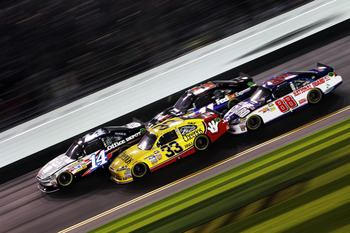 At the front of the pack.
Nick Laham/Getty Images
When looking at the record books, Tony Stewart is eighth among all-time lap leaders in Sprint Cup events at Daytona, and first among current drivers in total laps led. He has led a total of 640 laps in 13 races at the track.
Third In Fastest Laps Run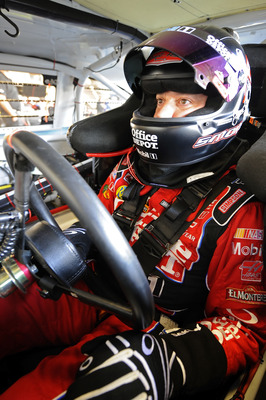 All strapped in.
Jared C. Tilton/Getty Images
Another mark in the record books is running the fastest lap on the track, which he has done for 57 laps, which places him third over all other drivers in the past six years. In other words, Tony Stewart knows how to be fast at Daytona.
Being Fast When It Counts: Average Green Lap Speed

Getting the win.

Over the past six years, Stewart has had an average green flag speed of 185.709mph which places him fifth over all drivers in the period. With only four other drivers running faster average speeds on green flag laps, Stewart is among the elite at being able to run Daytona's 2 1/2 mile oval at the front of the pack.
With a Little Help From His Friends: Drafting Partners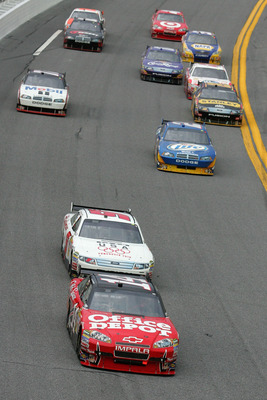 Stewart drafting with Kasey Kahne.
Todd Warshaw/Getty Images
It is impossible to win at super speedways without help, and not the assistance that come from a pit crew or the crew chief. Having a drafting partner is the only way to get to the front and stay there. Stewart can count on a number of experienced drivers with fast cars to help him move to the lead. He has been known to run with Dale Jr., Jimmie Johnson, Jeff Gordon, Ryan Newman and others. With his experience and talent there aren't many drivers that would refuse to run with him, at least up until the final lap.
Tony Stewart Finishes What He Starts

"A Whale of a Ride"

In 48 restrictor plate starts, Tony Stewart has failed to finish only nine times. As the old saying goes, "In order to finish first, you have to first finish." The ability to run at the front of the pack has usually kept Stewart out of "The Big One" at both Daytona and Talladega, giving him a shot at crossing the finish line first. There are exceptions, of course, and Stewart has ended up with donations to the salvage yard a few times. But being able to finish 81 percent of the races he's run on restrictor plate tracks is not a record many drivers can equal, let alone beat.
To add to the argument, Tony has finished 20 of 24 races he has started at Daytona in the Cup Series.
Rating The Best: Leads All Drivers In Rating at Daytona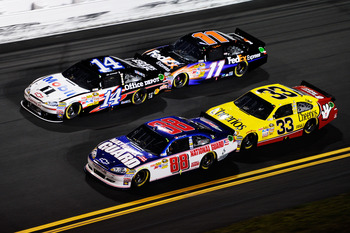 John Harrelson/Getty Images
Tony Stewart has a series-best driver rating of 100.7. While not guaranteeing a victory, the statistic does show that the potential for getting the checkered flag first is pretty high. The next highest driver rating at Daytona is 99.0 and is held by Kyle Busch. We all know what happened the last time these two drivers battled for a win at Daytona.
Championship Ways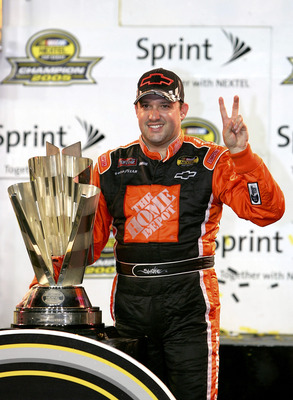 2005 Sprint Cup Champion
Streeter Lecka/Getty Images
Tony Stewart has an advantage that only a few other current drivers share: he has won the NASCAR Sprint Cup championship twice. Winning races was part of what it took to put his name in the record books as series champion, and Daytona could be the first step in adding a third championship to his credentials. Competing for a championship also demands the ability to perform under pressure, and with speeds exceeding 200 mph in the Bud Shootout, this year's 500 will have plenty of pressure.
Winning Major Races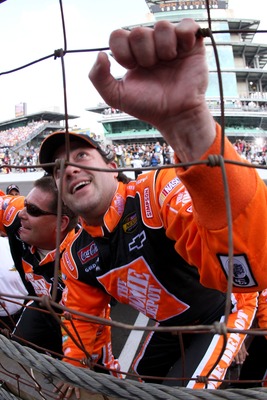 Climbing the fence at Indianapolis.
Chris Graythen/Getty Images
Stewart has been successful winning some of the major races on the NASCAR Sprint Cup Circuit. Perhaps his biggest accomplishment, at least in personal terms, was winning the Brickyard 400 at Indianapolis in 2005 and then repeating the feat in 2007. Stewart has also won the Coca Cola 600 in 2003. Having won the July race in Daytona three times, all that's left to round out his resume is a first-place finish in the Great American Race.
Fielding a Winning Team: Experience Should Pay Dividends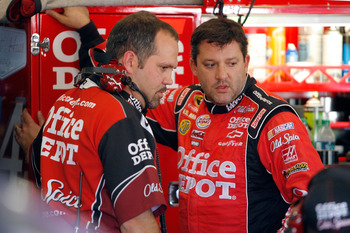 Darian Grubb and Tony Stewart
Tom Pennington/Getty Images
As Stewart begins his third season as an owner/driver, he has the advantage of having an experienced team behind him. Darian Grubb returns to the top of the pit box as crew chief and the pit crew for the No. 14 Chevrolet Impala performed extremely well through most of 2010. In fact, several times the team was the fastest on pit road in getting Tony back on the track.
A Competitive Nature

Tony vs. Billy Bad Butt

Much has been said about the change in Tony Stewart's demeanor since taking on the owner's role in 2009. One thing that hasn't changed is his competitive nature, which gives him the ability to perform regardless of the circumstances.
The new track surface at Daytona, the evolving rules implemented for the 500 in 2011, and the change in tactics needed to run at the front will require every competitive advantage Stewart can muster. If he can channel the fire in his nature, Stewart could be hoisting the Harley Earl Trophy after the checkers fly on Sunday.
Keep Reading