Sergei Kharitonov: His 5 Best Knockouts, Including Alistair Overeem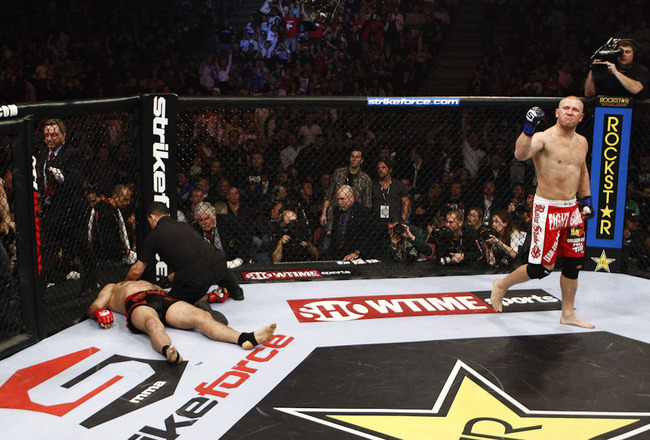 Sergei Kharitonov is 18-4 in MMA and is the only fighter in the Grand Prix Tournament to hold wins over both Alistair Overeem and Fabricio Werdum. Half of his wins have come via knockout.
Known for his knockout power and technical boxing, Kharitonov has impressed audiences since his days fighting for Pride Fighting Championship. The Russian fighter, who has trained with the fighters like Fedor Emelianenko, will be taking on the winner of the upcoming bout between Josh Barnett and Brett Rogers. His chances in the tournament will depend on one thing: Can he knock them all out?
This is a look back at Kharitonov's five greatest knockouts.
No. 5 Alistair Overeem (Rematch)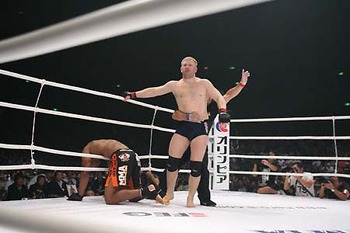 Kharitonov was looking for redemption in this fight against an opponent that had previously beaten him. This was Overeem's last defeat in MMA, and it was also one of the oddest.
Overeem attacked Kharitonov's body with vicious knees and dirty boxing, but Kharitonov pushed through it and eventually connected on solid uppercuts while Overeem fell against the ropes. After a short barrage of punches, Overeem turned his back and ran away from Kharitonov, falling through the ropes soon after.
It isn't the most clean knockout you will ever see, but it's one of the more important ones of his career.
No. 4 Semmy Schilt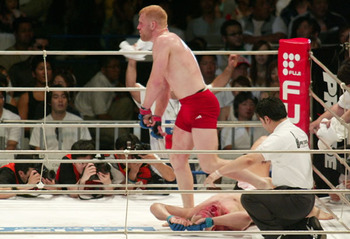 It was the semifinals of the Pride Fighting Championship Heavyweight Grand Prix. Kharitonov was taking on Dutch kickboxer Semmy Schilt, who stands at 6'11" and possesses some of the most devastating body kicks a fighter could imagine.
The game plan was to take him down and pound him out. It took nine minutes, but that is exactly what Kharitonov did.
It wasn't a brutal one-punch knockout, but Kharitonov delivered several minutes of ground-and-pound and got into mount late in the first round. From there, he delivered hammer fists and punches, opening cuts and bloodying the eyes of Schilt. Everyone who watched could see the damage being done as it happened.
No. 3 Pedro Rizzo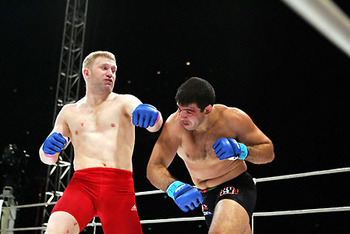 From the staredown, fans knew this was going to be an all-out war. It didn't last long, and it was brutal.
Kharitonov connected on almost every punch and kick he threw for two minutes before landing a series of right hands and following up with a soccer kick to the face of Rizzo that dropped the Brazilian. One punch later, and the referee was jumping in to rescue the beaten fighter.
This was the first of many knockouts Rizzo would go on to suffer later in his career. Everyone has been calling for his retirement ever since.
No. 2 Andrei Arlovski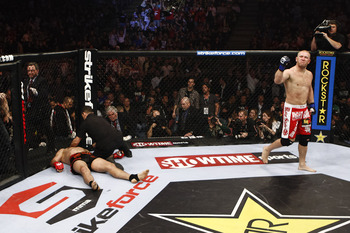 His most recent performance versus the former UFC heavyweight champion, Andrei Arlovski, reminded everyone what he is capable of. His previous knockouts have suddenly come back to life after knocking Arlovski out cold in the first round of their fight.
It was the first round of the heavyweight Grand Prix and Kharitonov was considered the "dark horse" in the competition. He seemed to be in trouble early, but eventually found his range and connected on Arlovski's chin. He followed up with a right hand that put Arlovski down and delivered very accurate strikes to his opponent, putting him to sleep.
If Arlovski's fragile chin is good for one thing, it's that we can always see a knockout.
No. 1 Murilo Rua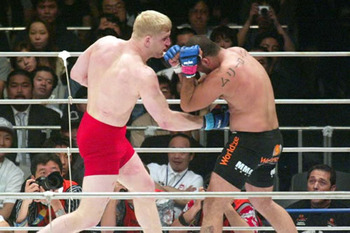 This was Kharitonov's best display of striking. His body attack was perfect, and he countered effectively with right hands and left hooks on Rua.
After landing a right hand to the head of Rua, Kharitonov wasted no time in knocking his overmatched opponent out with more right hands and an uppercut that landed right on his chin as he went to sleep against the ropes. The replay shows Rua's eyes roll back in his head before the final punch was delivered, knocking him unconscious.
It is one of the most brutal knockouts in the history of Pride Fighting Championship and the most brutal of Kharitonov's career.
Keep Reading