Strikeforce: Fedor vs. Silva, Ranking All 8 Strikers in the World HW Grand Prix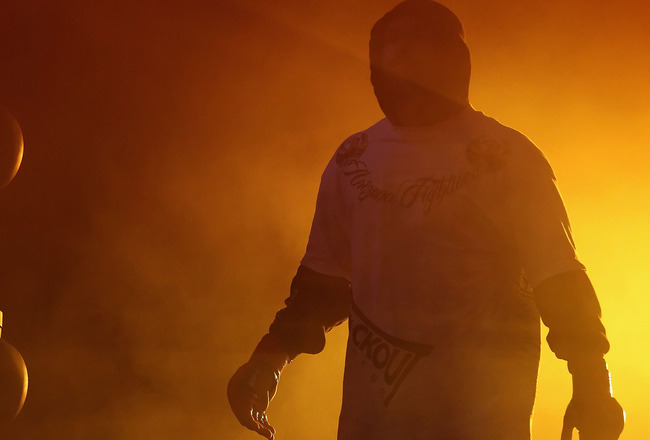 Christian Petersen/Getty Images
The Strikeforce World Grand Prix Heavyweight Tournament begins in earnest this Saturday when Fedor "The Last Emperor" Emelianenko steps into the cage against Antonio "Bigfoot" Silva.
Not only will the bout feature the Russian's first trip back to the arena since the monumental upset he suffered at the hands of Fabricio "Vai Cavalo" Werdum, but it will also mark the debut of one of the grand prix's favorites.
Along with Vai Cavalo and Alistair "Demolition Man" Overeem, the Last Emperor must be considered one of the top three choices to emerge from the scrum with hand held high.
His legend may have lost a little luster thanks to his first legitimate defeat, but only a little. Anytime Emelianenko makes an appearance on the mixed martial arts landscape, it is still BIG news.
Of course, Saturday's contest will throw some extra sizzle because of Strikeforce President Scott Coker's recent and numerous pronouncements that his organization's 265-pound division is the best in the world.
I'm not sure Coker ever directly referenced the three-letter 800-pound industry gorilla, but the implications of the statements are obvious.
The best of the biggest boppers call San Jose their headquarters, not the UFC's home turf of Las Vegas.
Whether that is true remains to be seen, but the best laid plan lists the upcoming eight-man tournament as the first line in Strikeforce's theorem.
Given the possible significance of the octet's imminent future, the group bears a closer examination and could there be a better place to start the inquiry than the striking department?
Answer: Nope.
Honorable Mention: Shane Del Rosario
Record: 10-0 (8 KO, 2 Submissions)
Notable Knockouts: Lolohea Mahe
Yes, I'm being generous when I say a technical knockout of Mahe is "notable," but that's as close as Rocky Rosario has gotten to one thus far in his young MMA career.
The 26-year-old (although he may have already turned 27) will get a chance to add a more prestigious pelt to his wall when he faces Lavar "Big" Johnson in the appetizer portion of the Fedor vs. Silva card, but until then, he's gonna have to settle for honorable mention.
An undefeated record is fantastic as are the eight knockouts, but caliber of competition counts in spades on this list, and del Rosario simply doesn't have enough big names on his resume to squeeze into the running.
Frankly, he doesn't have enough medium names...
Honorable Mention: Lavar Johnson
Record: 15-3 (13 KO, 2 Submissions)
Notable Knockouts: Lolohea Mahe
Poor Lolohea Mahe, huh?
Not only does he get lit up by a pair of intriguing heavyweight prospects, but he also absorbs insult to injury since he's the only semi-impressive name on either hit-list.
Lavar "Big" Johnson gets an honorable mention because (A) he's got 13 knockouts in 15 fights; (B) he's tough enough to make a triumphant return after getting shot three times (forearm, hip and abdomen); and (C) I've interviewed him.
The man dubbed the Black Superman in high school has never seen a decision since going pro—for better or worse, all 18 contest have ended in stoppages so you know Johnson comes to scrap.
Once he adds a few more reputable names to his resume, expect to find him higher on similar rankings.
Honorable Mention: Ray Sefo
Record: 2-0 (2 KO, 0 Submissions)
Notable Knockouts: None
I guess you could call Kim "Mr. Shark" Min-Soo a notable knockout since the Korean judoka's been dismantled by a veritable who's who of MMA heavyweight attractions—Brock Lesnar, Bob Sapp, Semmy Schilt, Don Frye, Mighty Mo and Henry Armstrong Miller (American sumo wrestler). But that's not the right kind of "notable."
In other words, "Sugar" Ray Sefo ain't on this list because of his mixed martial arts exploits.
Also known as Sugarfoot, Sefo is a decorated kickboxer with a record of 56-21-1 with 38 knockouts. Almost all of those matches came in the blue water of K-1 where he dispatched familiar names like Melvin Manhoef, Sapp, Gilbert Yvel and Mark Hunt.
So it's clear the New Zealander can bang when that's the only option.
Against Valentijn "The Python" Overeem on Saturday, we'll see if he can do it in the face of stiffer competition and the threat of a takedown.
No. 8—Josh Barnett
Record: 26-5 (6 KO, 16 Submissions)
Notable Knockouts: Pedro Rizzo, Randy Couture and Gilbert Yvel (submission due to strikes)
It's debatable whether Josh "The Baby-Faced Assassin" Barnett is the worst striker in the Grand Prix Tournament, but he gets my vote.
The Americans is known as a supremely dangerous grappler and, though he's not afraid to trade on the feet, you can see he's better on the ground. Complicating matters is his history with performance-enhancing drugs—Barnett is the only MMA practitioner to have tested hot on three different occasions.
In fact, his most glittering knockout (over Couture) must be taken with a grain of salt since Josh subsequently had his UFC heavyweight belt stripped due to steroid abuse.
So the former PRIDE superstar's most credible displays of stopping power come against Pedro "The Rock" Rizzo in 2008 to "avenge" a KO delivered by Pedro at his height in 2001 and the verbal sub of Gilbert "The Hurricane" Yvel in 2009.
Yawn.
Barnett will get a chance to prove me wrong (or play to his grappling strength) against the next heavyweight on the list.
No. 7—Brett Rogers
Record: 11-2 (9 KO, 1 Submission)
Notable Knockouts: James Thompson and Andrei Arlovski
I give credit where it's due and Brett "The Grim" Rogers deserves to be kept out of the cellar simply by virtue of his first round against Emelianenko. Yes, the bout ended in a brutal defeat for the Grim, but there's no question he roughed up the Last Emperor in those initial five minutes.
Toss that performance in with his knockout of Andrei "The Pit Bull" Arlovski and you've got a 29-year-old who can throw a little leather.
His career is still too raw to tell for sure and the dismissal of James "The Colossus" Thompson does very little to shed further light on the situation, no argument there.
Nevertheless, I'm comfortable will his landing spot at No. 7—his quicker than your average heavyweight and Rogers obviously has power. The question will be whether he can add polish and toys to a nice foundation.
We'll get our next glimpse when he shares the cage with Barnett.
No. 6—Antonio Silva
Record: 17-2 (10 KO, 3 Submissions)
Notable Knockouts: Justin Eilers and Wesley Correira
Don't be fooled by that gaudy number in the KO column.
Bigfoot has finished 10 fights by sending his adversary off to the Land of Nod, that much is undeniable. But check the names next to the KOs and TKOs on his career hit-list and you'll see what I see—a whole lotta fluff.
You can't totally miss the 31-year-old Brazilian because anyone who actually crumples Wesley "Cabbage" Correira has serious thump and Justin Eilers isn't a total can. Plus 10 knockouts are 10 knockouts, any way you slice 'em, and his highlight reel speaks for itself.
Of course, I'm not gonna get carried away either.
Silva lacks a signature knockout and he has never walked into artillery fire like he will see from the Russian Experiment. Expect it to be over quickly.
No. 5—Andrei Arlovski
Record: 15-8 (11 KO, 3 Submissions)
Notable Knockouts: Roy Nelson, Ben Rothwell, Jake O'Brien, Paul Buentello, Justin Eilers, Wesley Correira and Vladimir Matyushenko
Welcome to the next level.
Say what you want about the Pit Bull, you cannot deny this was once one of the most terrifying strikers in the heavyweight division.
I understand that Rogers drubbed him via TKO and Bigfoot Silva handed him a unanimous decision loss; that's why Arlovski falls all the way to No. 5—he's clearly lost a little bit of his edge and his suspect chin has become a full-blown catastrophe.
Regardless, you still must respect the Belarusian's history because he's only 32.
That's getting old in MMA's brave new world, but it's not so ancient that a second career wind for Andrei is out of the question.
And even if it never does arrive, the power is still there.
Look at that slate of victims and consider just how rugged some of them are—Roy "Big Country" Nelson just proved his stones against Junior "Cigano" dos Santos, "Big Ben" Rothwell isn't a daisy, we've already sung the cement-headed praises of Cabbage and Vladimir "The Janitor" Matyushenko eats babies for breakfast.
No. 4—Fabricio Werdum
Record: 14-4-1 (4 KO, 8 Submissions)
Notable Knockouts: Brandon Vera and Gabriel Gonzaga (twice)
Vai Cavalo owns a triangle armbar submission of Fedor Emelianenko, an arm-triangle choke submission of Aleksander "The Grim Reaper" Emelianenko and a sick kimura submission of Alistair Overeem off his back. In other words, it's easy to focus on his Brazilian jiu-jitsu to the disservice of his other fighting facets.
I was guilty of just that when I started writing this as I had him ranked all the way down at No. 7.
Upon closer inspection, however, Werdum is far more than a one-trick pony...as delightful as that first trick may be.
Brandon "The Truth" Vera has fallen on rough time of late, but Fabricio handled him almost three years ago when Vera wasn't quite the pushover he appears to have become.
Additionally, Gabriel "Napao" Gonzaga showed how horrific his striking can be against Mirko Filipovic. Neither the Truth nor Napao will be confused with a world champion, but they are legitimate notches on Vai Cavalo's belt.
Werdum will be facing a different Demolition Man than the one he saw in 2006 and an even more ferocious striker, so you'd expect him to settle the issue on the ground if given the chance.
But he's already surprised us once.
No. 3—Sergei Kharitonov
Record: 17-4 (8 KO, 8 Submissions)
Notable Knockouts: Alistair Overeem, Pedro Rizzo and Semmy Schilt
Here is the wildest of the wild cards—if Sergei "The Russian Mercenary" Kharitonov survives his Strikeforce debut jitters and Andrei Arlovski, you might very well see him chuck a monkey wrench into the whole shebang.
The 30-year-old has stared down the Demolition Man twice and each contest ended in a knockout, one for each. Kharitonov also owns a split-decision victory over Fabricio Werdum along with his other accolades so he's no stranger to elite competition. Though it's true that the rest of his feats don't have quite the same snap as the aforementioned.
Regardless, the man is an accomplished and versatile striker who is a threat with all eight points (fists, feet, knees and elbows times two) and is battle tested.
Sergei's only fought three times since 2007, so there might be a ring-rust factor. But if he can shake it, the American audience should be ready to familiarize itself with the Russian Mercenary.
Because he'll be a player in the grand prix.
No. 2—Fedor Emelianenko
Record: 32-2 (8 KO, 16 Submissions) and 1 NC

Notable Knockouts: Brett Rogers, Andrei Arlovski, Gary Goodridge and Heath Herring
The Last Emperor's biggest detractor from his striking is his fluid approach inside the ring and/or cage.
Those who've watched him closely over the years know he's replaced more than a couple technical knockouts with submissions.
Fedor transitions so easily from once facet of MMA to the next that he pounces on a submission opening just as quickly as he does a striking one. You might argue he prefers or is more adept at stopping fights through the sub, and you'd be right.
Which is why Fedor is No. 2.
Back to the point—experience has shown time and again how dazed gladiators leave windows for rear-naked chokes, armbars and guillotines.
So you can look at those 16 submissions as a reflection of Emelianenko's striking prowess as well as his grappling expertise.
And you should because it is the Russian's striking that is truly terrifying.
Some say it's unorthodox while others say it's textbook sambo, but only his delusional skeptics say it's ineffective.
Even in his loss to Fabricio Werdum, Fedor drew first blood through a standing engagement.
No. 1—Alistair Overeem
Record: 34-11 (14 KO, 19 Submissions) and 1 NC

Notable Knockouts: Todd Duffee, Brett Rogers, Kazuyuki Fujita, Paul Buentello (submission due to strikes) and Sergei Kharitonov
Talk about fluff.
The Demolition Man has 15 stoppages due to striking, I listed every one that's even remotely worth mentioning and I made it to five (and three of them are borderline). I've said it over and over—if you're talking about Alistair Overeem in the context of mixed martial arts, he's incredibly overrated.
Now, as far as a pure striker?
Dear GOD, there are few if any better at 265 pounds and none in this tournament.
The Dutch monster just took the K-1 World Grand Prix 2010 Tournament in December by winning three matches in one day.
The trio took less than 13 minutes of actual hostility as two of his opponents were sent packing after a grand total of 3:27. Inside that organization, Alistair is riding a five-fight win streak that dates back to December of 2009.
His kickboxing capabilities are beyond reproach.
But MMA is not kickboxing, or I should say it is more than kickboxing.
And that's why to date, MMA has been more than Overeem can handle at its highest level.
To date...
**Click Here To Learn More About the Paralyzed Veterans of America**
Keep Reading