Strikeforce Fedor vs. Silva: Strengths & Weaknesses Of All 8 HW Tourney Foes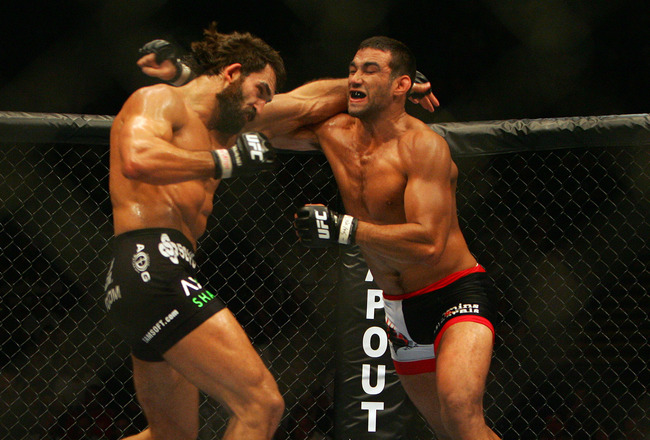 Gary M. Prior/Getty Images
Strikeforce's Heavyweight Grand Prix is ready to kick off with this weekend's Strikeforce: Fedor Emelianenko vs. Antonio Silva event, which is sure to showcase some of the world's best MMA talent in the Heavyweight division outside of the UFC.
The participants may be somewhat familiar with their adversaries within the tourney, as many of them have squared off against one another at some point within their careers.
Yet, this Grand Prix is sure to excite fans globally with a sense of freshness in the air, and every fight expected to display fireworks in some fashion or another.
And where there's fireworks, there's usually one man getting a beat down, while the other gives it. So what better way to breakdown the chances of the eight men competing in the Grand Prix than to see who's got the upper hand when it comes to strengths and weaknesses?
Fedor's Strengths and Weaknesses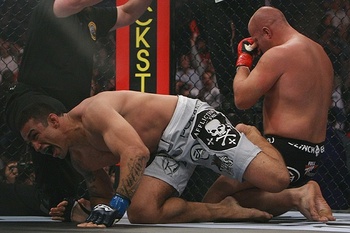 Photo by Dave Mandel courtesy of Sherdog.com
Strengths
The list could go on and on for the man they call "The Last Emperor." Emelianenko's well-roundedness and tough chin highlight his list of many strengths, but perhaps his biggest strength lies in his intelligence.
His ability to deal out so much damage without taking nearly as much is comparable to other MMA greats such as Anderson Silva, Lyoto Machida and Jose Aldo. And after all, isn't a mind a terrible thing to waste?
Though Emelianenko's style differs widely from those aforementioned warriors, one thing they all have in common is the great knowledge to know how to counterpunch effectively, which is very underrated in the sport science of MMA.
Emelianenko always will have a chance, if not with his ground game, as a puncher and counterpuncher.
Weaknesses
While this is a much shorter list for Emelianenko, his last few fights have shown him vulnerable to strikes, which was a question in many fans' minds over the last seven or so years.
Yet, in his last three fights, all of which have been dogfights with his opponents, he's gone 2-1, with what may still yet be a fluke loss to Fabricio Werdum.
He did take some damage in his fight against Brett Rogers, and Andrei Arlovski proved to be formidable before Emelianenko landed one of those famous counterpunches.
The key to Fedor's success lies in his ability not to get caught up in a slugfest, but to take the fight where he's most comfortable.
"Bigfoot" Silva's Strengths and Weaknesses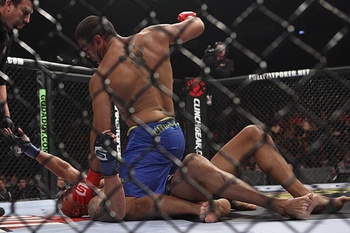 Photo by Dave Mandel courtesy of Sherdog.com
Strengths
Antonio Silva has the size, power, and skill to be one of the world's best Heavyweight fighters ever. The question that will be answered starting this Saturday night is whether Silva will live up to the billing.
In his last fight against Mike Kyle, Silva displayed a never-before-seen composure after being brutally beaten in the first few minutes of the first round.
He kept himself alive on the mat for the remainder of the round, before coming back in the second half of the second round to return the favor and emphatically dispose of Kyle.
No doubt about it, Silva's hands are his biggest strength coming into the tournament, boasting 10 (T)KO's out of his total 15 wins.
Weaknesses
Many people saw it in his last fight with Kyle, as Silva's chin appears to be the biggest weakness on "Bigfoot."
He likes to throw down with his opponents, which leaves him susceptible to eating punches, even from a fighter like Kyle.
He has Fedor Emelianenko in the quarterfinal fight, and I promise you if he hits Silva like Silva got hit in his last fight, Emelianenko has the capability of finishing the fight, unlike Kyle.
Alistair's Biggest Strength and Weakness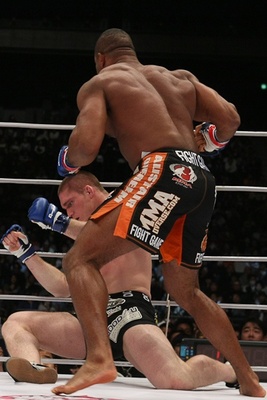 Photo by Taro Irei courtesy of Sherdog.com
Strength
At 6'5" and 253 lbs., Alistair Overeem sure does look like a man on a mission if his last fight against former UFC rookie Todd Duffee was any indicator, sending Duffee packing less than 20 seconds into the first round less than two months ago.
Prior to the win, Overeem was already on an eight-fight win streak that was extended to nine with his win over Duffee.
Overeem has worked on his stand up game in recent years, because, though you wouldn't know it by his stature, 19 of his 34 career victories have come by way of submission.
He ran through Kazuyuki Fujita and Brett Rogers before dispatching Duffee, and is looking to blow past Fabricio Werdum in the quarterfinal matchup, hopefully to face off against Fedor Emelianenko, a fight that I'm sure Overeem has salivated over for quite some time now.
While many might disagree with me on this one, I'd have to say the other seven participants in the Grand Prix may want to focus slightly more on Overeem's ever-improving standup rather than his always good submission skills.
Weakness
Inconsistency. That is Alistair Overeem's biggest problem since he somewhat officially arrived on the MMA scene back in 2003, losing to "The Iceman" Chuck Liddell via KO in the first round.
Since that time, Overeem's record is riddled with uncertainty, winning and losing fights at inopportune times, and losing many big time fights within that time frame.
If Overeem is to have any chance of winning this tournament, he is going to have to keep his nine-fight winning streak alive, while finding ways to win, possibly against two of the tournament's favorites in Werdum and Emelianenko.
Not a single easy task ahead for the Strikeforce heavyweight champion.
Werdum's Biggest Strength and Weakness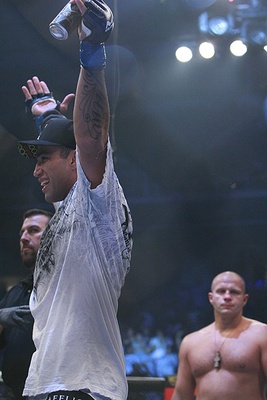 Photo by Dave Mandel courtesy of Sherdog.com
Strength
Since his early days in the UFC's heavyweight division, "Vai Cavalo" has always, and will always be first and foremost a BJJ expert with a second degree black belt in the specialty.
Fans saw it on display in the submission heard around the world, and he'll get his chance to earn another win over the current Strikeforce heavyweight champion, Alistair Overeem, in the quarterfinal matchup of the Grand Prix.
Look for Werdum to use his top-tier BJJ to his advantage in the tournament, as it will likely be his only route to securing a trip to the finals.
Weakness
Werdum tends to get lazy later on in fights, and you needn't look further than his UFC 70 loss to fellow tournament competitor Andrei Arlovski to see his lackadaisical style. While UFC 70 was so long ago, old habits die hard, and this remains true with Werdum.
I'm personally interested to see how he follows up his win over Fedor, and he won't have it easy against Overeem, who is a monster powerhouse looking to tear through this tournament and make a mark on the heavyweight P4P rankings.
Werdum will have to avoid a brawl and push for submissions to make it clear out of the first round.
Andrei "The Pit Bull" Arlovski's Biggest Strength and Weakness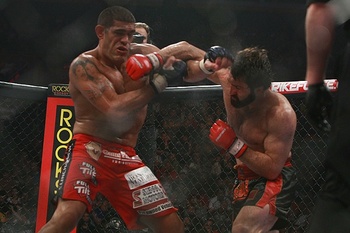 Photo by Dave Mandel courtesy of Sherdog.com
Strength
Andrei Arlovski has always been one to stand up, and nothing should change in the Grand Prix. If Arlovski comes out swinging against Sergei Kharitonov in the quarterfinal fight, it could be an early night for Kharitonov.
Training with legendary boxing coach Freddy Roach has been a blessing in disguise for "The Pit Bull", allowing him to advance his already crisp striking to another level.
Arlovski likes to weave as if it were a boxing match, and uses his uppercuts and jabs effectively because of Roach.
In his fight with Fedor Emelianenko, Arlovski looked very good at the onset, completing combinations that had Emelianenko backing up rather than typically pushing forward as the Russian does.
Unfortunately for Arlovski, his weakness outweighed his strength in that bout.
Weakness
Do you hear that? (Crash) That's the sound of Andrei Arlovski's jaw hitting the ground after punches from Tim Sylvia, Fedor Emelianenko, and Brett Rogers. There are many things you can fix in your career as a Mixed Martial Artist, but a glass jaw ain't one of them.
Arlovski has shown time and time again that when he takes minimal damage, he is successful in imposing his strategy.
Conversely, if he takes a few punches, he goes down faster than a balled-up Tito Ortiz did against Chuck Liddell circa 2004.
To make it past Kharitonov and the winner of Rogers/Barnett, Arlovski will need to remain steadfast in his ability to move and protect his chin. Or else...nighty-night.
Sergei Kharitonov's Biggest Strength and Weakness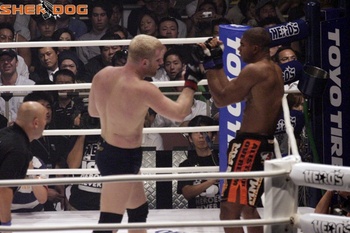 Photo by Stephen Martinez courtesy of Sherdog.com
Strength
I suppose being the underdog of the tournament could be considered a strength, but I'm sure Sergei Kharitonov doesn't mind donning that distinction.
Relatively unknown by the common MMA fan, Kharitonov has had an illustrious career with wins and defeats that make him if nothing else, well-experienced in the sport of MMA.
He boasts wins over Alistair Overeem, Fabricio Werdum, and Pedro Rizzo, and is primarily known as a finisher. By that, I mean many of his fights don't go to the judge's scorecard; in fact, only two of his 21 career fights have gone to decision.
Kharitonov is evenly balanced with equal wins coming via (T)KO or Submission (8) and can finish the fight wherever the fight may go, whether it be standing or on the ground. Translation, Kharitonov is a dangerous opponent not to be taken lightly.
Weakness
Kharitonov will have a disadvantage when compared to many of his peers within the Grand Prix when it comes to talent and skill level.
He may not have the patented 'Fedor Punch' or Overeem's freakish unnatural physique, nor will he have the boxing prowess Arlovski will try to impose in their first round matchup.
These are some of the things that an underdog must overcome to survive such a torrid tourney.
However, if Kharitonov can somehow find a way to make it past Arlovski, he would only be one fight away, albeit a tough fight against the winner of Josh Barnett vs Brett Rogers, from a coveted finals spot.
It will take some doing though, as Kharitonov faces an uphill battle against some of the best heavyweights in the world.
Brett Rogers' Strengths and Weaknesses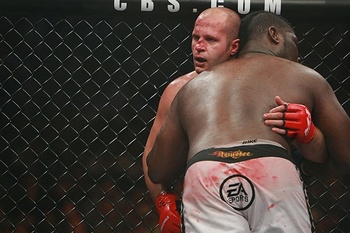 Photo by Dave Mandel courtesy of Sherdog.com
Strengths
Brett Rogers is a question mark to me in this Strikeforce HW Grand Prix tournament. Rogers is a hard man to predict when it comes down to it.
His fights are almost always intriguing to diagram beforehand, and almost even harder to breakdown afterwards. Yet, if you were to ask Rogers himself, he might tell you that he just goes out there and fights as it comes to him.
One thing for sure about Rogers is his power. That is an undeniable asset that may ride Rogers into the finals of the eight-man tournament.
It is an asset that he used to nearly defeat Fedor Emelianenko in 2009, and one that needs to be used appropriately at the risk of being knocked out otherwise for Rogers.
Rogers will need to make sure he is properly prepared for this Grand Prix, because otherwise, he might find himself watching the finals rather than participating in them.
Weaknesses
Rogers' defense is very relaxed, and makes him open to easy knockouts from KO artists like Overeem or Emelianenko.
While Josh Barnett may not go into there with the idea of knocking off his head, Rogers would do himself a world of good if he stays to the outside of the cage, and circles away from his opponent's power.
While Rogers has been one of the more pleasant, up-and-coming fighters for Strikeforce's heavyweight division, he will need to make a statement against Josh Barnett to be seen as a formidable foe to win it all.
Josh Barnett's Biggest Strength and Weakness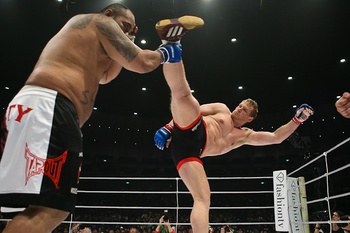 Photo by Daniel Herbertson courtesy of Sherdog.com
Strength
Josh Barnett has always been known as a great catch wrestler with an imposing physical style that is tough to counter. When Barnett first began, he almost solely relied on his wrestling and submission skills to win fights.
However, that all changed when he defeated UFC legend Randy Couture via strikes at UFC 36 back in 2002, though that is when controversy started to consume Barnett's MMA career and ultimately tarnish his reputation as a clean fighter.
Since his departure from the UFC, Barnett has fought for DREAM, Affliction, PRIDE, Sengoku, and even professionally wrestled for Antonio Inoki's famed New Japan Pro Wrestling.
If Barnett can hope to see success come from this tournament, he will have to impose his wrestling skill on Brett Rogers, and any possible opponents after him.
Weakness
A big part of me likes to think that Josh Barnett's biggest obstacle has been, and unfortunately will always be, himself. Should Barnett decide to fight at his best, it is tough for many to beat the former UFC heavyweight champion.
If Barnett wants to creep his way back into the conversation of MMA relevance, he'll have to begin by putting on one heck of a display against Brett Rogers.
Otherwise, fans may be left wondering whether or not the glimpses of greatness in Barnett's career can be attributed solely to artificial enhancement.
Overall Assessment of Strikeforce's Heavyweight Grand Prix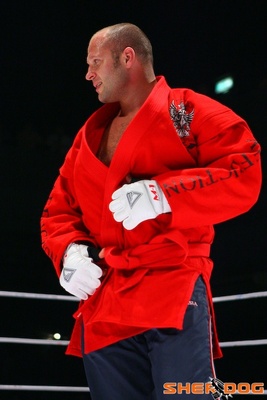 Photo by Daniel Herbertson courtesy of Sherdog.com
When it's all said and done, the world will once again know the name Fedor, and he will again be surrounded with rumors of leaving Strikeforce for the UFC.
Emelianenko could go two ways with this tournament, and though I am picking him to go all the way, the sad reality is that Fedor needs to win this tournament to prove that he is still amongst the best heavyweight fighters in the world.
Anything less than winning the tournament will simply not do for Emelianenko, who turned 34 in September, and has been the focus of retirement talk in recent months.
What happens from there will remain to be seen, if seen. But with a win in the Strikeforce HW Grand Prix, Emelianenko will again pose a threat to Anderson Silva's P4P status amongst the best in the world.
Keep Reading