Chicago Bears: 10 Reasons Jay Cutler Needs To Go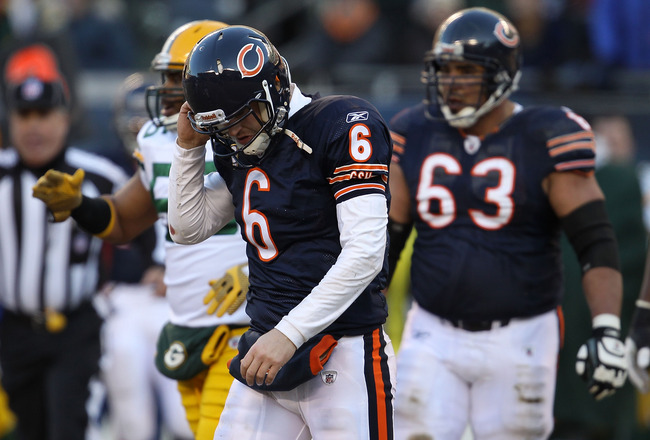 The Green Bay Packers beat the Chicago Bears to win the NFC and go to the Superbowl.
The last time they met in the playoffs was on December 14, 1941.
It was the first game played after the attack on Pearl Harbor.
Chicago played at home, and Green Bay was on the road for the third week in a row.
Chicago was coming off a home victory over the Seattle Seahawks, and Green Bay was coming off a surprising win over the Atlanta Falcons.
Number 1: Jay Cutler Was The Third Best Player For Green Bay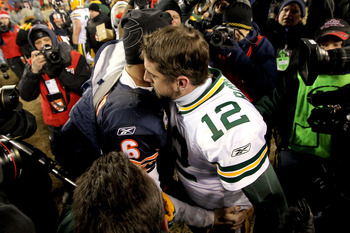 Aaron Rodgers thanking Jay Cutler.
Andy Lyons/Getty Images
The Green Bay Packer most valuable players in order:
1. Aaron Rodgers
2. Clay Matthews
3. Jay Cutler
Number 2: Jay Cutler Is The Weakest Link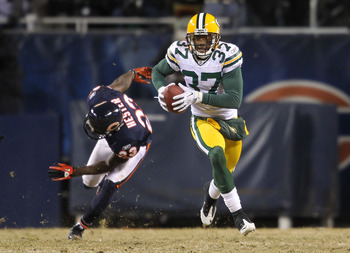 Jay Cutler completes a pass to Sam Shields
Andy Lyons/Getty Images
Normally, teams are built around quarterbacks.
However, the Chicago Bears have a proud history of awful quarterbacks.
It's hard to stand out in a group that includes Rex Grossman, Henry Burris, Jonathan Quinn, Shane Matthews, Moses Moreno, Rick Mirer and Steve Stenstrom.
Any of those names sound familiar? They all started for the Bears.
Sadly, Rex Grossman is probably the best quarterback in that list.
Number 3: Why Use Up Wide Receiving Talent Like Johnny Knox, Devin Hester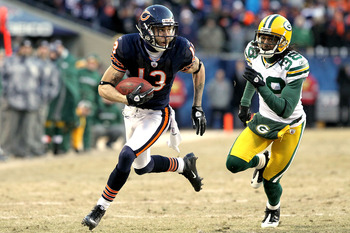 Here is half of Johnny Knox's production in the NFC Championship
Doug Pensinger/Getty Images
The Chicago Bears have two of the best receivers in the NFL. Johnny Knox and Devin Hester.
Offensive coordinator Mike Martz is worried that wide receivers are like toothpaste. They are most effective if used twice a day.
Johnny Knox had two catches, Hester had zero.
The leading receiver was running back Matt Forte.
Number 4: Make Running Back Matt Forte The Leading Wide Receiver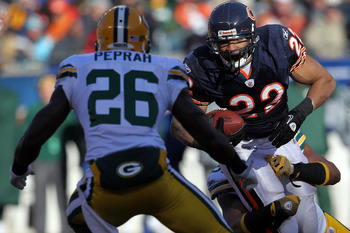 Matt Forte with another small gain
Jamie Squire/Getty Images
Matt Forte is an excellent running back. But why is he the leading receiver with 10 catches? And why did the best wide receiver have only 2 catches?
Because Jay Cutler likes to throw short passes. The easiest way to do that is to throw to the running back.
And Matt Forte has the best wide receiving performance of his season.
And the Bears lose another game they should have won.
Number 5: Here's a List Of Current NFL Quarterbacks Worse Than Jay Cutler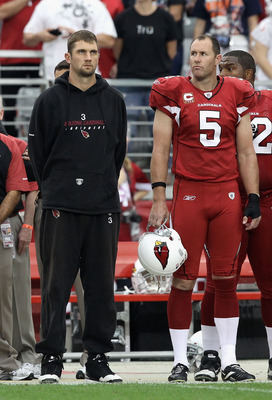 Derek Anderson in the holster. Ready for another pick.
Christian Petersen/Getty Images
Here are a list of quarterbacks with worse passer ratings than Jay Cutler (minimum 14 attempts per game).
1. Eli Manning - New York Giants
2. Jason Campbell - Oakland Raiders
3. Carson Palmer - Cincinnati Bengals
4. Kerry Collins - Tennessee Titans
5. Alex Smith - San Francisco 49ers
6. Ryan Fitzpatrick - Buffalo Bills
7. Shaun Hill - Detroit Lions
8. Donovan McNabb - Washington Redskins
9. Sam Bradford - Saint Louis Rams
10. Mark Sanchez - New York Jets
The three worst quarterbacks in the NFL were Brett Favre, Derek Anderson and Jimmy Clausen.
Number 6: Caleb Hanie Says Jay Cutler Is Not a Quitter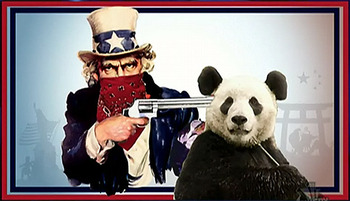 Caleb Hanie doesn't think Jay Cutler is a quitter
Caleb Hanie says 'He's not a quitter'.
Except Jay Cutler quit in the biggest game of the season, when his team needed him most.
Hanie stepped up and had the best game of his career. During the regular season he played in two games. He went 5-7 for 55 yards. He was thrown in the NFC Championship game as the third string quarterback and went 13-20 for 153 yards. He did a great job.
Hanie should be the starting quarterback next year. But he's also smart enough to know that he won't get there by bashing Jay Cutler. Unfortunately. So he says things like 'he's not a quitter', when, in fact, Cutler quit.
Cutler may have been injured, but if he can walk, he can play.
Number 7: Look at Charles Woodson On The Sidelines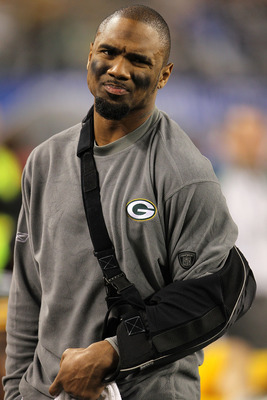 Charles Woodson on the sidelines
Jamie Squire/Getty Images
Here's a picture of Charles Woodson on the sidelines during the second half of the Super Bowl. There are some lessons to be learned here.
1. Put on a sling, or get on crutches. Get a medical device and wear it for the remainder of the time your team is on the field. The least you can do is put on a brace of some kind. And ice.
2. Stand and cheer, but show pain every time you move.
3. WATCH THE GAME!!
4. Don't wear earbuds. You look silly. The soothing sounds of Justin Bieber can wait until after the game.
Number 8: You Are Following Jim McMahon and Dennis Rodman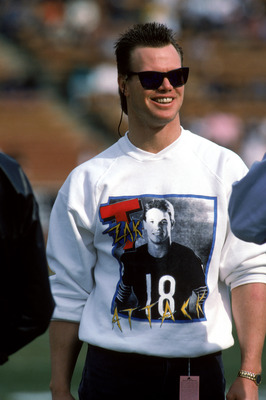 Jim McMahon with quarterback hair
George Rose/Getty Images
Chicago has a long history of great athletes who were alternatively motivated.
Players like Jim McMahon and Dennis Rodman. The last great Chicago Bear quarterback was Jim McMahon. His secret was the mullet, but it got out. And then someone cut his hair. If you want to be a great quarterback in Chicago, you need quarterback hair.
Grow a mullet. And get rid of your California girlfriend.
Number 9: The Chicago Cubs Aren't Going To Win a Title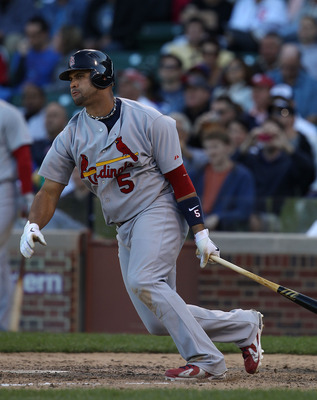 Jonathan Daniel/Getty Images
Here's a picture of Albert Pujols getting ready to run around the bases as the St. Louis Cardinals win another game against the Chicago Cubs.
The Chicago Cubs are the worst professional sports franchise in history, as measured by championships over the last 100 years. They have won a total of zero.
The Cubs are not going to bring a title to Chicago. The Bears have to.
And they won't with a bad quarterback.
Number 10: Because Rex Grossman Took The Bears To The Super Bowl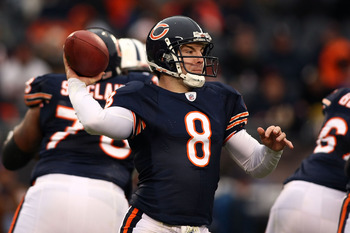 Rex Grossman surprised he's in a game
Jonathan Ferrey/Getty Images
Rex Grossman is a terrible quarterback. Awful. Words don't begin to describe how consistently bad he is.
He won an NFC title game and led the Bears to the Super Bowl. Where he put on one of the worst performances of all time.
By losing the NFC title game, Jay Cutler has proven he is a worse quarterback than Rex Grossman. Therefore we are going backwards not forwards.
Chicago Bear fans DESERVE a fresh start.
Keep Reading

Chicago Bears: Like this team?