Ten Matches That Make Liverpool FC: Part Three
September 22, 2008
In this part of my series I will look back on one of the most historic nights in Liverpool FC's illustrious history.
May 30, 1984, European Cup Final
AS Roma 1-1 Liverpool (Liverpool win 4-2 on penalties)
This was truly a match where Liverpool FC defied all the odds. At Roma's home stadium, against Roma; the lion's den. Three-quarters of the Stadio Olimpico was packed with home fans and the atmosphere was immense.
Joe Fagan's Liverpool team were on a high, however. Champions of England once again and League Cup winners in his first season in charge. There was just one more trophy to go, to complete an elusive treble.
Liverpool had a dream start to the game, scoring after 17 minutes. Craig Johnston's cross from the left deflected off Roma 'keeper Tancredi, and defender Phil Neal was on hand to gratefully stab the ball into the net. 
The underdogs were on top; it was the perfect start.
It could have got even better when Graeme Souness scored soon after, but the goal was ruled out for offside. 
Roma began to pressure Liverpool, and it paid off when Conti headed in an equaliser just before half time.
The second half was dominated by Roma, however the Reds were resolute and stood firm, soaking up whatever the Italian side threw at them. 
So into extra time, where both teams placed more impetus on avoiding defeat rather than scoring a goal. Kenny Dalglish struggled to get into the game and was replaced by Michael Robinson, as penalties loomed.
Youngster Steve Nicol was first to step up for Liverpool, but the intimidation of the Roma fans and the presence of Tancredi put him off and he blasted over the bar. Di Bartolemi converted his penalty to put Roma in front.
After Liverpool scored their next penalty, goalkeeper Bruce Grobbelaar jogged over to the goal. As Conti placed the ball down to take the spot kick, Grobbelaar began to dance and wobble on the line, as if his legs were buckling underneath him. This obviously put Conti off, who missed. 
The clowning around had worked and Joe Fagan's side had a new found confidence.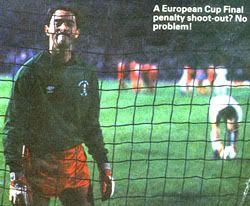 Phil Neal, Graeme Souness, and Ian Rush all scored their penalties, and the "wobbly legs" routine of Grobbelaar caused Grazioli to miss.
This left Reds full-back Alan Kennedy to take the decisive penalty. 
A few of the Liverpool players had to look away as Kennedy stepped up, as it was well known throughout the camp how poor he was from the penalty spot.
There was no need to worry though, as Kennedy's shot flew into the top corner of the net. He ran away ecstatic and tried to do a somersault in celebration, which turned out to be just a little jump. Only the jubilant cheers of Liverpool fans could be heard in the Stadio Olimpico, as Kennedy was mobbed by his team mates. 
They had succeeded in the impossible; they beat Roma in their own stadium, they secured the European Cup for the fourth time and they achieved a (then) unprecedented treble. 
Joe Fagan did all of this in his first season in charge.
The "wobbly legs" routine of Grobbelaar is something that has gone down in Anfield folklore, and was of course emulated in the 2005 Champions League Final by Jerzy Dudek. The outcome of that one, was again successful.
Joe Fagan retired the year after this triumph, after the tragedy of the Heysel disaster.  Trebles have of course been completed since his reign, but he was the first manager to do it in English football. 
Team vs AS Roma:
Grobbelaar, Neal, Kennedy, Lawrenson, Whelan, Hansen, Dalglish (Robinson), Lee, Rush, Johnston (Nicol), Souness.
Attendance: 69,693.
Other articles in the series:
Part One: Liverpool 3-1 St Etienne, European Cup Quarterfinal 1977
Part Two: Liverpool 7-0 Tottenham Hotspur, Division One 1978