Baseball Is Back: 10 Things To Love and Hate About Major League Baseball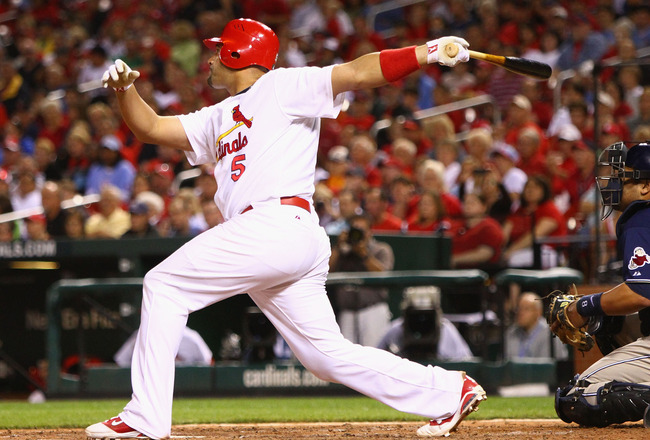 Dilip Vishwanat/Getty Images
With pitchers and catchers set to report next week and full workouts to take place a week later, it's time to turn our attention to the boys of summer.
Baseball is America's past time—a game that spans more than a century of tradition and excitement. No other sport in America can claim that kind of longevity and devoted following.
The best sports movies are about baseball (with apologies to "Hoosiers" and "Rudy"), and if you haven't seen "The Natural," "Bull Durham," or "The Sandlot" you are just letting the best in quality sports movies pass you by.
That is not to say baseball doesn't have it's issues. Steroid scandals, greedy owners and players, and competitive balance are all areas where baseball can improve.
So here are five things that could use a little tweaking and five things to love about baseball.
Thing To Hate About Baseball No. 1: Bud Selig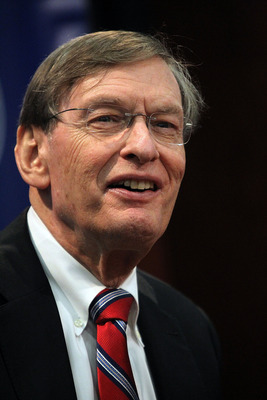 Ronald Martinez/Getty Images
Perhaps no one in major sports history has been so well-intentioned, but so completely clueless, as the current commissioner of Major League Baseball.
Baseball has a grand history, more than 100 years long. During that history, baseball commissioners have guided the game into new eras by clever marketing, rules changes, and adaptation to the evolving world around them.
Not Mr. Selig.
In his effort to keep the "human element" in the game, he has refused to come into the 21st-century and embrace technology that would clearly make the game better. The human eye can see things moving so quickly only so well.
Why should we be subjected to the lunacy of Amando Galarraga being denied a perfect game last year because of the "human element"?
Why can't a camera be used for balls and strikes? Because Mr. Selig has decided he doesn't like these things in the game.
By refusing to accept that performance enhancing drugs, like steroids, could be used to obtain a competitive advantage, he was forced to be reactive instead of proactive. The result was one of the worst steroid scandals in the history of American sports before testing protocols could be implemented.
To be sure, Mr. Selig is a lover of the game, but he has to adapt quicker and be more willing to accept change.
He may want the game to be played like it was in 1930, and admittedly, I would like to only pay a nickel for a loaf of bread. But this is 2011.
It's time to catch up.
Thing To Hate About Baseball No. 2: The Designated Hitter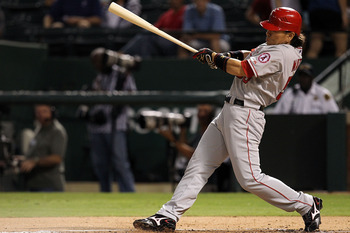 Ronald Martinez/Getty Images
How much fun would it be to watch Tiger Woods bring in a chipping specialist every time he had a difficult shot around the green?
What if the Patriots pulled Tom Brady out of the game and put in a replacement on every third-down?
What if these were not simply boring incidents, but were part of the rules of the game? It would be a completely different game, wouldn't it?
That is what baseball has with the designated hitter.
The DH is a crutch allowing pitchers and hitters to extend their careers. It should be abolished immediately.
It is because of the DH that certain players are being called "compilers"—players who have simply played long enough to reach the numbers necessary to be considered for the Hall of Fame.
Some of the "unwritten rules" of baseball exist because the DH exists. Would a pitcher be likely to plunk a guy on the other team if he knew he would have to face their pitcher the next inning?
That is not to mention the inherent wrongness with someone who either plays in the field or makes plate appearances, but does not do the other.
Thing To Hate About Baseball No. 3: Unwritten Rules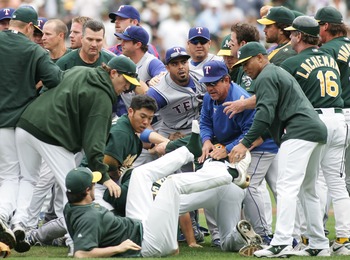 Sara Wolfram/Getty Images
Ridiculous. Utterly, completely, and totally ridiculous.
That is what "unwritten" rules are. Half the time, you can't follow one unwritten rule without breaking another.
A few of the classics are: You shouldn't bunt to break up a no-hitter; if you give up a home run, you should hit the next batter; if the opposing pitcher hits one of your batters, you have to hit one of his.
If you don't like that a guy just took you downtown, make a better pitch. Don't endanger the next guy up to bat and possibly end his game, or season, or career.
Is that what we are all about? It's okay to intentionally throw a baseball at another human being?
And if you don't want the guy to get on base with a bunt, how about you field your position? You are making hundreds of thousands, sometimes millions of dollars to chase that ball around.
Maybe you should be ready for that guy to lay down a bunt to try to reach base.
The rules are written. Follow them, and use a little common sense. The world, and baseball, will be better for it.
Thing To Hate About Baseball No. 4: No Salary Cap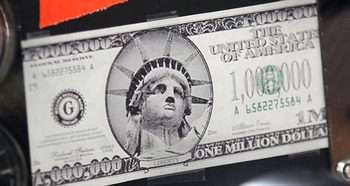 Jason Smith/Getty Images
With apologies to the Tampa Bay Rays and our free-market economy, the lack of a salary cap in baseball is the single biggest contributor to the lack of competitive balance in the game today.
Riddle me this: Who is going to win the NL Central? If you said Chicago or St. Louis, you have an 81 percent chance of being right (based on the last 11 seasons).
How about the AL East? If you said the Yankees or the Red Sox, you would be right 82 percent of the time (over the last 17 seasons).
If it seems to you that all you need is an unlimited amount of money and you can be a competitive baseball team, you are right.
Putting aside the flash-in-the-pan success of the Rays and the Colorado Rockies (who have both appeared in and lost the World Series recently), the way to succeed in baseball is with money.
What hope do the Pirates, Royals, and Brewers fans have when clubs like the Yankees, Red Sox, and Mets routinely spend more money on one player than other teams do for their entire rosters?
Luxury taxes will only do so much. It's time for full revenue sharing and a salary cap on rosters. Honestly, how much money do the Steinbrenners need? When is enough, enough for these owners (and players)?
Restore the competitive balance so fans in Pittsburgh and Kansas City can hope to one day see their teams bring a trophy home.
Thing To Hate About Baseball No. 5: Indoor Ballparks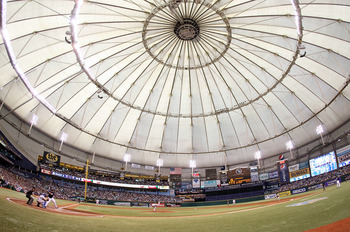 Mike Ehrmann/Getty Images
Baseball is meant to be played outdoors. We call them the boys of summer, not the boys of the dome.
I understand that the weather doesn't always cooperate. You get rain-outs, and the occasional snow-out. (Right, Denver?)
But some of these problems could be solved by leaving space in the schedule for a double-header or two.
We all get that it is about the money. The games have to be played on individual days so that the owners can get their gate money. If there were more double-headers, they might lose some of that money.
Please.
With the sums we are talking about, each team playing a few double-headers a year is not going to break the bank. Plus, it will show fans that it's not all about money.
Tear down these monstrosities (a dome in Tampa, FL? Really?), or at least spend the extra money to put a retractable roof on it.
As the song goes, "Let the sun shine!"
Thing To Love About Baseball No. 1: Outdoor Ballparks

The Glorious New Citi Field
They are shrines to the game, purpose built for one thing: Playing baseball.
No two are alike and they all have their own character.
And there is nothing like the sights, sounds, and smells around and in the park on game day.
Baseball is played in some of the most amazing buildings in the country. From the New Yankee Stadium, an enormous monument to the 27-time World Series champs, to old Fenway Park where the Red Sox have been playing for nearly 100 years (where they have won seven championships of their own).
From the generic (Sun Life Stadium), to the charming (Oriole Park at Camden Yards, PNC Park), every park has its own feel and dimensions.
And this simple fact makes baseball unique amongst major team sports and sports in general.
A football field is always 120 yards long (remember the end zones). A basketball rim is still 10 feet off the floor. Tennis courts, soccer pitches, hockey rinks—they are all the same size.
But in baseball, a home run in one park is a long fly out in another. And that is great.
As we all know, variety is the spice of life.
Thing To Love About Baseball No. 2: The Weather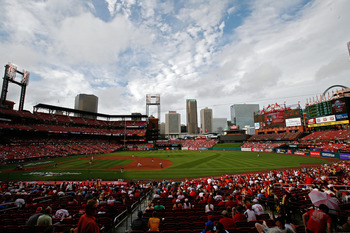 Dilip Vishwanat/Getty Images
Even the heartiest of football fan would rather sit in the sun on a warm spring day in Fenway than huddling in the cold of an upper deck seat in Lambeau Field in December.
Shorts and a T-shirt are more fun to wear than thermal underwear, jeans, a sweatshirt, a light coat, and then a heavy coat. (You have to dress in layers, you know).
Having less clothing means showing more skin. Ladies, wouldn't you rather look at trim men in shorts and short sleeves, their legs and arms rippling with powerful muscles?
And do I even have to ask the men if they would rather look at a beautiful woman showing her long, tan legs, or if they would rather watch her shivering and bundled up in nondescript snow pants and a parka?
Summer weather is better. If it weren't, no one would ever move to California, Florida or Texas.
We spend enough time indoors, between work and sitting in front of our televisions. If you have a team, and don't have the misfortune of living in a city with a permanent dome, go to a game. You will be glad you did.
Thing To Love About Baseball No. 3: Home Runs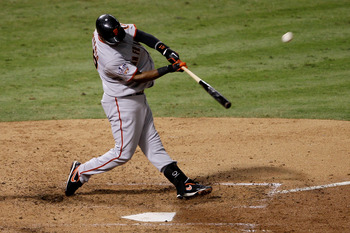 Elsa/Getty Images
The pitcher winds up and delivers. The batter swings and...
CRACK!
The ball is sailing through the sky, into the waiting hands of an adoring fan as the batter rounds the bases in his "home run trot."
There is nothing in sports like the sound of a home run. You know it as soon as he hits it that the ball is gone, never to be hit again.
The home run is the great equalizer in baseball. Not only does it put runs on the board and drive pitchers from the mound into the showers. Home runs put fans in the seats. Need proof?
After a strike eliminated most of the 1994 season, including the World Series, and part of the 1995 season, baseball only began seeing a resurgence in attendance during the home run chase of 1998 when Mark McGwire and Sammy Sosa chased (and eventually caught) Roger Maris for home run immortality.
In a game where fans can take home dozens of souvenirs in the forms of foul balls or third outs tossed from players as they trot off the field, the home run ball is the souvenir every fan wants.
Thing to Love About Baseball No. 4: Numbers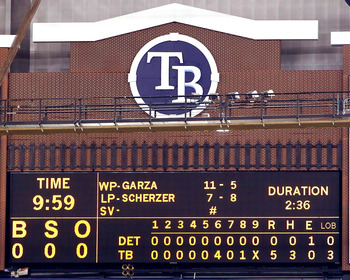 J. Meric/Getty Images
As Kevin Costner's character, Billy Chapel, remarks in "For Love of the Game," they count everything in baseball.
You do not have to like numbers to enjoy the appeal of being able to quantify everything a player does from the most basic thing (Hits) to the most obscure (Wins Against Replacement).
Other sports have stats, but baseball has an entire field of mathematics devoted to statistics for the game. (Check out Moneyball: The Art of Winning an Unfair Game by Michael M. Lewis for how some GMs use Sabermetrics to find talent).
Because they have been keeping stats about baseball for decades, you can compare the numbers of the great old players to the great players of today and make convincing arguments why either is better.
Football cannot claim this level of record-keeping. Heck, they have only been keeping track of a defensive player's sacks since 1982!
If you want to know how often a player gets a hit in the second inning with two outs when he is batting left-handed against a right-handed pitcher in Miller Park on Thursdays after his team has just lost the first game of a double header and the count is 2-2, there are numbers to give you that information.
How can you not love that level of detail?
Thing To Love About Baseball No. 5: The Perfect Game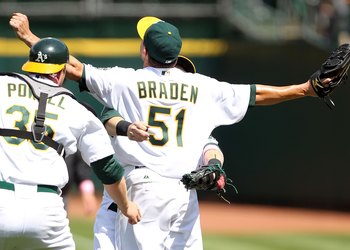 Jed Jacobsohn/Getty Images
27 up, 27 down.
That is perfection and no other sport has that. No other sport has anything even close.
There are no shut-outs in basketball. Football, hockey and soccer all have shutouts, but a perfect game goes so far beyond a shutout that you can barely mention them in the same sentence.
Martin Brodeur of the New Jersey Devils had nine shutouts in the 2009-10 NHL season by himself. No pitcher has ever recorded more than one perfect game.
The drama builds as inning by inning, batter by batter, they step to the plate and are dismissed, sent back to their dugout shaking their heads while their manager says, "Get him next time."
Watch as the pitcher's teammates begin to distance themselves from him, sensing that immortality is knocking and anything they do might scare it away.
It is pure athletic drama unfolding before your very eyes.
Since 1901, there have only been 18 perfect games—that is an average of one every six years or so.
The rarity of the feat is what makes it great, and in 2010 we got to see two of them. Dallas Braden threw one on May 9, and Roy Halladay pitched his on May 29. (Halladay would go on to pitch a no-hitter in the playoffs).
Of course, that means we might have to wait 12 years for another one. That would be our loss.
Keep Reading