The Funniest Videobombs in Sports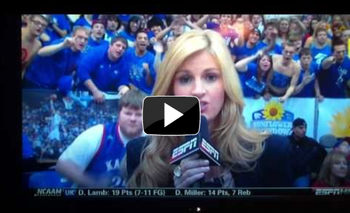 Sometimes the best show in sports happens off in the distance. It may come during a timeout or an interview. It may be an overzealous fan trying to get on camera or a fat kid expounding on the merits of Erin Andrews' beauty.
Whatever the case might be, the rule is simple. Never take your eyes off the television. The funniest moments may happen in the distance. It is usually followed by a buddy exclaiming, "Did you see that?"
These are the moments that make Tivo and recording devices so valuable. Sure there is a game going on, but that videobomb made the day for me. So here are the best and brightest from the wild world of sports.
15. Sky Sports Reporter Gets Mocked
You are just trying to do your job and put food on the table when a little brat has to come in and make you look like a fool.
I guess you already did that by reporting about soccer. Never mind, carry on.
14. Claudia Rivero Gets Air Molested
This is getting out of hand, folks. Can we please clear all the guys that just went through puberty from behind the camera before going to a live feed?
Claudia Rivero is giving a report on Phillies fans and safety measures for the ensuing crowd after a big game. I don't know what would give them the idea that Phillies fans can't handle themselves in public.
13. Czech Reporter Gets Messed With
The fun begins at the 38-second mark. That is when an onslaught of drunk football fans attack this reporter.
At one point, it seems that the entire stadium was notified that he was giving a report and needed to be jacked with.
Normally you have one person acting up behind the reporter—this guy had the entire group of fans from the cheap seats trying to annoy him.
12. Bilbao Fan Can't Help Himself
What is on the mind of a typical male sports fan is limited to two things. Both of those things happen to be sex.
So it is no surprise that any female reporter covering a live sporting event will have a bevy of supporters behind her making humping motions.
Just think, her parents must be so proud. "Honey, our daughter is on live TV and she is...wait a minute."
11. UK Reporter Bombed by a Guy Who Appears to Be Bombed
When Andy Murray lost in the Australian Open, news crews went to his hometown to get the reaction from fans. I wish I could tell you more, but I don't speak tennis.
The best part of the video is the woman who tried to corral her boyfriend from making an ass of himself on national TV. But in the end, beer will always win.
10. Natalie Pirks Gets Smooched
Imagine you are sitting in your cubicle or office at work. The day is going famously, until a drunk fellow comes up and gives you kisses on the cheek.
This is a normal, everyday hazard when you are an attractive sports reporter. The soccer fan got to lay lips on one of the cutest reporters in the world.
The fact that he was only dealt an awkward smile from Pirks proves that the sports world is the greatest place on earth.
9. Reporter Gets a Kiss From Burliest Man on the Planet
Here we have a Greensboro reporter going live from a professional wrestling match. All is going according to plan. That is if we ignore the precious way she exclaims, "Boogie Woogie Man."
But then the scariest man I have ever seen in my life comes into view and kisses the reporter. Her face is priceless after the kiss. She is not mad. She seems almost grateful to be alive.
8. Shane Victorino Fan Loves Himself the Ladies
The crowd is full. The game is on the line. What better venue to expound on your most treasured item in the world.
Here a man I am only assuming has had one too many tall cans, stands to show his shirt emblazoned with the word "vagina" on it.
That's great dude. I am glad you like that. How about your shirt entitled "food" or "air." Way to step out on a ledge with your beliefs.
Roughly half of the world's population shares your sentiment.
7. Tiger Woods and Green Man
If you blink you will miss this one. There is Green Man throwing down some funky moves on the links. This was taken from the Buick Open in 2009.
Back then, this Tiger Woods character was considered the best golfer in the world. Not sure what he is doing currently, all I know is it isn't playing world-class golf.
6. Pedro Pinto Gives Up on Report
Pedro Pinto takes his job very seriously. You can tell by the way the fumes from his forehead become visible as his anger hits an all-time high.
The reporter tries his best to maintain journalistic decorum, but it is hard when you are getting beer dumped on you.
Finally a hooligan steals the microphone. Instead of fighting for it, Pinto just gives up.
That was the correct call. The only thing tougher than talking sense to a drunkard is talking sense to a drunkard who loves soccer.
5. Erin Andrews Gets Freaked From Behind
I really feel for Erin Andrews. When she isn't being stalked by crazy fans, she has to deal with uncouth athletes that have no regard for social borders.
Here Rey Maualuga completely ignores better judgment and decides to nearly dry-hump a reputable ESPN reporter. Creepy? Yes. Funny? Okay, a little.
4. Seattle SuperSonics Mascot Gets Fed Up With Lakers Fan
This video is taken from the Sonics' Jumbotron feed. The team was hoping to applaud one of their most loyal season ticket holders. Enter annoying Lakers fan.
Look, I understand how annoying Lakers fans can be, I am one of them. But I take no ownership of this dude in a Shaq jersey.
He deserved to get the cake and whatever else Squatch deemed worthy for retribution.
The fan got the last laugh as the Sonics are regrettably no more.
3. Kim Jones Throws Yankees Fan a Bone
Kim Jones thought she could do a simple plug for the stadium's genius food stuff, a pork chop on a stick. The Yankees fan is my hero.
You can't just wave a succulent chop like that around without someone chomping down on that. That is like rule No. 5 in Gabe's Sure Fire Ways to Happy Living, copyright pending. The commentators state that no Minnesotan would demean themselves in such a way.
Well good to know, Minnesota, we will keep all the good meat products for the rest of the country that likes to live it up and have fun, stuffy Northerners.
2. Erin Andrews and Her Admirer
Erin Andrews was recently covering the Kansas vs. Kansas State game for ESPN. I wish I was able to listen to her description of the night's events.
I was distracted by the rather large kid that got on camera behind her. There is something empirically hilarious about a fat kid.
Whether they are slipping on an icy sidewalk or eating an ice cream cone, I never look away from the possibility of chubby hijinks ensuing.
This is what took place when the plump fan rose to declare that Erin Andrews was "hot." Yes kid, we all are very aware of her sizzle. Now get back to your Red Vines and Dr. Pepper.
1. Animal Gets a Face Full of Fanaticism
WWE was all set to introduce a pumped up Animal (Dave Batista) for their coverage of Raw Tonight. That is when a fan who was extremely more pumped up came into the picture.
Hilarity ensues when the kid runs off followed by portly security guards. Something tells me those guys are not going to run him down.
How can this not be the all-time best videobomb? The bomber had to work his way back to the locker rooms to accomplish this scene-stealing feat. I tip my hat to you, sir.
Honorable Mention: A Warm Embrace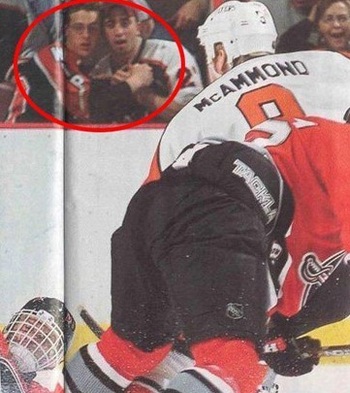 Getting your photo taken at a sports game is exciting.
Just make sure it is not of you and your friend in a warm Bro-mantic hug
Honorable Mention: The Hoff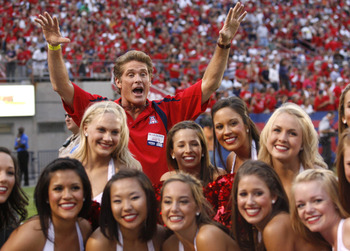 Excuse me, David, but I believe the girls have the stage at the moment.
Honorable Mention: MJ Is Mad...and Hungry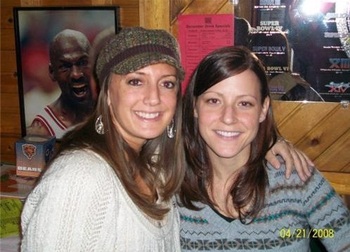 I am not quite sure what these ladies did to draw the ire of the best the NBA has ever known.
All I know is that is the scariest picture of MJ ever taken.
Honorable Mention: Um, Who Invited The Champ?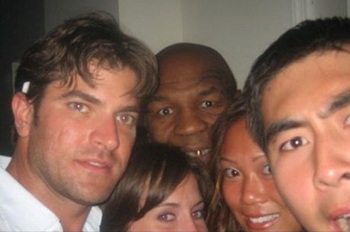 I imagine the discussion the next morning went something like this:
"So last night was kind of crazy."
"Yeah, do you remember Mike Tyson showed up and just sort of creeped around for an hour and left?
"Where are my shoes?"
Honorable Mention: Alex Rodriguez Gets No Respect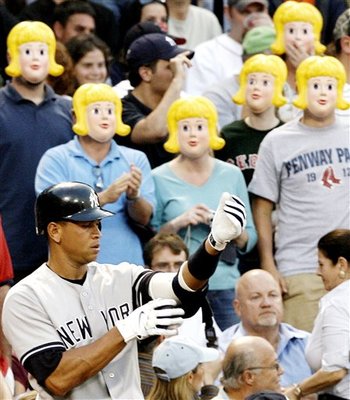 They may not respect you now Alex, but...Okay, Red Sox fans will always hate your guts. So will the majority of baseball fans.
But at least you have a smoking hot girlfriend.
Keep Reading