2011 NFL Mock Draft: Post Super Bowl Edition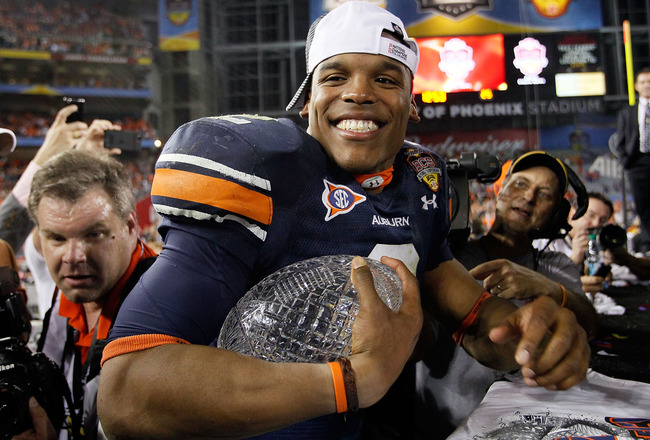 Kevin C. Cox/Getty Images
With Super Bowl XLV now in the books, the next thing NFL teams will focus on is scouting the prospects for the annual NFL Draft in April.
The draft is one of the most important processes in building a successful NFL franchise. Teams that put a lot of time and effort into the scouting process, such as the Green Bay Packers and Pittsburgh Steelers, are usually the more successful teams.
There are many different scenarios that play out during the draft that can affect the future fortunes of multiple franchises. With the uncertainty of the NFL labor situation, this draft could turn out to be one of the more intriguing drafts in recent memory.
So without further adieu, I give you my most recent first round, 2011 NFL mock draft:
1. Carolina Panthers: DT Nick Fairley, Auburn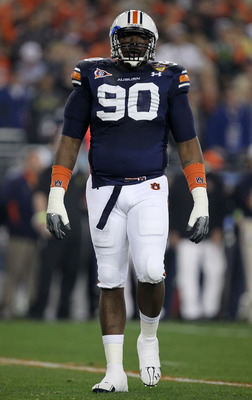 Ronald Martinez/Getty Images
It will be very interesting to see what the Panthers do with this pick come April. I think that a lot of Panther fans were really hoping for Andrew Luck to declare, as he would've most likely been the top selection.
I think now the most likely scenario is for the Panthers to select a defensive player at this spot. I went with Nick Fairley, who had a downright dominant junior season for the Auburn Tigers. He would be a big upgrade over one of the Panther's current defensive tackles, Nick Hayden and Derek Landri, and he is the type of player who can single-handedly wreak havoc in an opponent's backfield. He has a nice package of pass rush moves, and he is also very stout against the run. The main knock on Fairley is that he has only had one season where he put up good stats, but I don't think consistency will be a problem for him at the next level.
The Panthers could also go with DE Da'Quan Bowers, WR A.J. Green, or possibly even CB Patrick Peterson. Bowers would help replace the void that Julius Peppers left when he went to Chicago, while A.J. Green would team with Steve Smith to give QB Jimmy Clausen two legitimate options at wide receiver. Peterson would only be the pick if the Panthers decided to go best player available.
2. Denver Broncos: DE Da'Quan Bowers, Clemson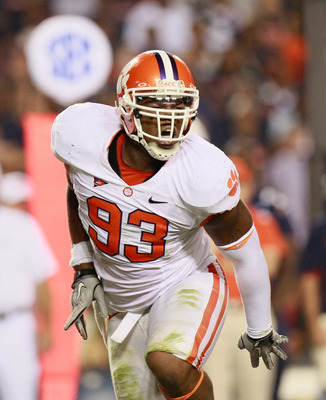 Kevin C. Cox/Getty Images
I fully expect the Broncos to switch back to the 4-3 defense now that they hired John Fox as head coach. The Broncos need to acquire players who are better fits for this new defensive system than the players they currently have.
Da'Quan Bowers had a very impressive junior season for the Clemson Tigers and he is considered to be the best pass rusher available in this year's draft. He is a very good athlete who is a very technically sound pass rusher. He would make a great defensive end pairing with Elvis Dumervil at the two defensive end spots. The Broncos do have former first rounder Robert Ayers who they could use at defensive end, but he hasn't proven himself so far. Bowers has also had his consistency questioned, as he didn't exactly put up great stats in his first two seasons at Clemson.
The Broncos will most likely go defense with this pick no matter what, but they may also consider drafting CB Patrick Peterson or CB Prince Amukamara to pair with, and/or replace Champ Bailey. If the Panthers don't take DT Nick Fairley, he would most likely be the pick here at No. 2 overall.
3. Buffalo Bills: CB Patrick Peterson, LSU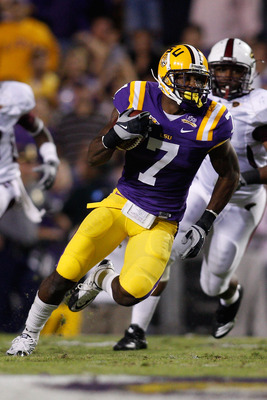 Chris Graythen/Getty Images
I have been somewhat torn on who to give the Bills here, as I think if Bowers and Fairley are gone, it would be the worst case scenario for them. I think if that is the case, the best move for the Bills to make would be to take the best player available.
Patrick Peterson is my current No. 1 overall prospect for the 2011 NFL draft. He has a great combination of size and speed, and is one of the better athletes available for this draft. He is outstanding in man to man coverage, and he also has great return abilities. Now this isn't the Bills biggest need, but he is the type of game changing cornerback who is in a similar mold to Charles Woodson. He would make an instant impact for the Bills defense, and would make a solid trio with Terrence McGee and Leodis McElvin. Peterson's main weakness is that he can struggle at times when playing zone defense.
If they pass on Peterson, I think WR A.J. Green would be an option, especially if Lee Evans is traded or released. DE Robert Quinn and OLB Von Miller would provide them with a pass rusher that they currently lack. I wouldn't be completely shocked if the Bills reached on a quarterback at this spot either.
4. Cincinnati Bengals: WR A.J. Green, Georgia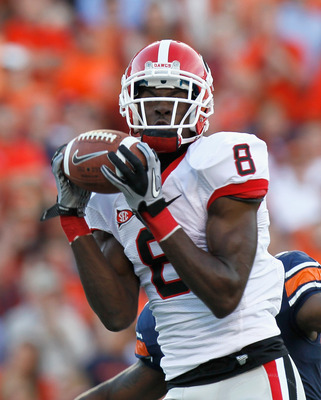 Kevin C. Cox/Getty Images
The Bengals were somewhat of a surprise in 2010, but just not in a good way. They struggled to generate much offense despite the presence of QB Carson Palmer, RB Cedric Benson and WR's Terrell Owens and Chad Ochocinco.
A.J. Green is the top rated wide receiver available, and some experts have said that he is the top receiving prospect to come along since Calvin Johnson. Green has great size, hands, and he knows how to control his body to adjust to the ball. Owens and Ochocinco could both be with other teams next season, and they need to get Palmer a top weapon to throw to. Jerome Simpson and Jordan Shipley are nice young players, but I don't see either as the number one type, game changing receiver that Green is. The thing that Green needs to improve most on in the NFL is his route running.
A lot of people think the Bengals will go with a defensive end, so DE Robert Quinn could be considered here. I doubt the Bengals go with a quarterback here, but they could shock us and take QB Blaine Gabbert here.
5. Arizona Cardinals: OLB Von Miller, Texas A&M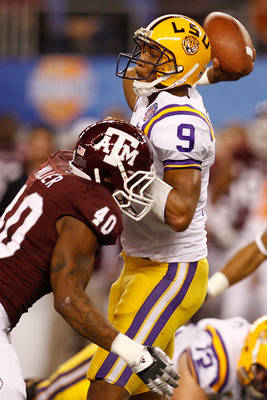 Chris Graythen/Getty Images
The Cardinals were a completely different team this past season after losing a lot of key contributors from their 2009 season. I think that the Cardinals could go in a number of different directions here, as they have a lot of needs to fill going into the 2011 season.
Von Miller has been a top pass rusher in college for the past couple of seasons and has been climbing draft boards of late. Miller is a very good pass rusher, who has very good quickness while closing in on the ball carrier. Joey Porter and Clark Haggans didn't play well at all in 2010, so getting Miller would provide a boost for the Cardinals pass rush. I think a combination of Miller and OLB O'Brien Schofield would be a good pass rushing duo for the Cardinals for the foreseeable future. Miller isn't a great run defender, and he is going to have to improve in that area if he doesn't want to become just a situational pass rusher.
The Cardinals really missed Kurt Warner last year, so QB Blaine Gabbert will get a lot of looks at this spot, even though he's a bit of a reach here. They could also go with CB Prince Amukamara to pair with CB Dominique Rodgers-Cromartie.
6. Cleveland Browns: DE Robert Quinn, North Carolina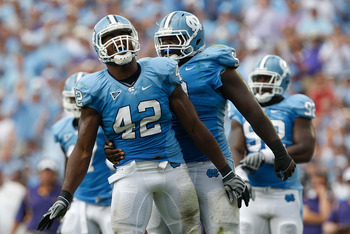 Streeter Lecka/Getty Images
It appears as though the Cleveland Browns are going to switch to a 4-3 defensive scheme for the 2011 season. They are going to need to find players who will be a better fit for their new scheme, as I don't think a few of their current players are a good fit in a four-man front.
Robert Quinn was suspended for the entire 2010 season due to NCAA violations, yet he is still considered a top 10 prospect. Quinn is a very athletic player who also possesses a nice blend of height and speed. The Browns don't currently have any players who are starting material at the defensive end spot, now that they're switching to a 4-3. Quinn is the type of player who would make a big impact for the Browns in his rookie season, and he'd be a starter from day one. He needs to add a little more weight, which should also help him to become better at defending the run.
The Browns need defensive help here, and the only other player I think they would consider here would be CB Prince Amukamara, who would create a monster duo at corner with Joe Haden. DT Marcell Dareus may still be considered, and they would probably jump all over WR A.J. Green if he somehow falls to them.
7. San Francisco 49ers: CB Prince Amukamara, Nebraska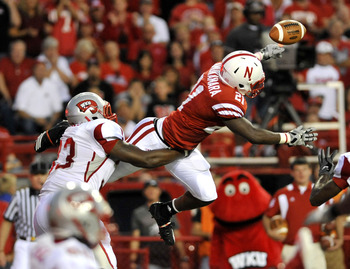 Eric Francis/Getty Images
The 49ers were another team that was a bit disappointing in 2010, as many people predicted them to win the NFC West. It'll be very interesting to see which direction new head coach, Jim Harbaugh does with this pick.
Prince Amukamara would be the top rated cornerback in most years, but he is only a slight notch below Patrick Peterson. Amukamara is a very physical player, who excels in man to man coverage. He is a good athlete, and he is very solid in run support. CB Nate Clements isn't the same player he used to be, and the other starter, Shawntae Spencer could stand to be upgraded. Amukamara has good, but not great speed, and he can play a little too aggressive at times, which sometimes will lead to him being beat by the receiver.
QB's Alex and Troy Smith could both be gone next season, and Jim Harbaugh will think about going with QB Blaine Gabbert here at this spot. DE Marcell Dareus could be the choice to upgrade the defensive end spot, and a pass rusher like Aldon Smith would also be a solid addition for the 49ers defense.
8. Tennessee Titans: QB Blaine Gabbert, Missouri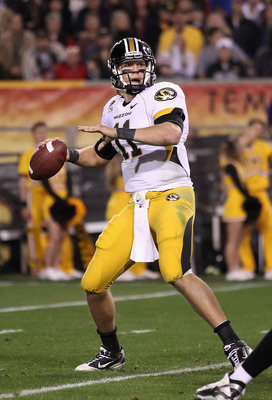 Christian Petersen/Getty Images
I was somewhat surprised that Jeff Fisher was let go, especially considering that owner Bud Adams had said that Vince Young would be traded. I think that whoever the new coach is will want to bring in their guy at quarterback for next season.
Blaine Gabbert is a little overrated if you ask me, but I think that he just may be the best of the bunch in this year's quarterback class. He has pretty good size for a quarterback, and he has a pretty impressive arm. The Titans need to find their new quarterback of the future if they actually do trade Vince Young. They can draft Gabbert to sit for a year or two behind QB Kerry Collins, giving him time to further develop his all around game. Gabbert's accuracy and footwork can be a concern at times, which is why he isn't really considered a finished product yet.
The Titans also need some help on defense, so DT Marcell Dareus or OLB Akeem Ayers would be good additions as well. I think that it would be very hard to pass up on CB Prince Amukamara if he fell, but quarterback seems like the most likely option at this point.
9. Dallas Cowboys: DE/DT Marcell Dareus, Alabama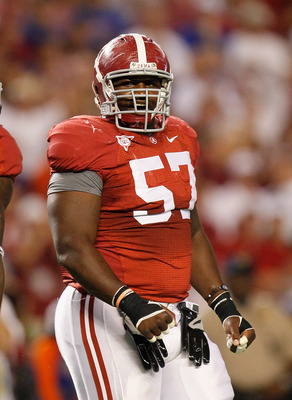 Kevin C. Cox/Getty Images
The Cowboys had aspirations of being the first ever team to play in the Super Bowl at their home stadium, but they fell well short of that goal. They struggled on defense, which ultimately led to Wade Phillips being fired during the season.
Marcell Dareus would be a good fit for the Cowboys' defensive line. He is a very disruptive player, who has the size that would make him a good fit in the Cowboys 3-4 defense. Current defensive end Igor Olshansky is best served being a backup, and DE Stephen Bowen and DE Marcus Spears are both free agents. It remains to be seen if either of them are brought back, although it's very likely that Bowen will be brought back. Dareus isn't great in any one area, but he does a lot of things well.
The Cowboys need to protect QB Tony Romo better, and OT Nate Solder would be a good pickup for them. They badly need a safety and a corner, but there aren't any worth taking at this point. CB Prince Amukamara would not get past this point if he is still available.
10. Washington Redskins: QB Cam Newton, Auburn
Christian Petersen/Getty Images
It will be very interesting to see whether or not QB Donovan McNabb is a Redskin once the 2011 season starts. If he isn't, they can't afford to move forward with Rex Grossman as their starting quarterback for an entire season.
Cam Newton had a great season at Auburn and he has the potential to be a very, very good starting quarterback in the NFL, but he isn't a finished product yet. He has very good size and speed, and he has the arm strength to make the deep throws. If they do take Cam Newton, they can't allow him to start in his rookie season, so they may either have to bring McNabb back, or sign a veteran free agent to start next season. Newton is far from a finished product, as he needs to improve his mechanics and footwork before he takes over starting for an NFL franchise.
The Redskins defense was terrible last season, so they will strongly consider taking a defensive player here. DE's Cameron Jordan and J.J. Watt could be options, especially if they find a taker for DT Albert Haynesworth. DE/OLB Aldon Smith or OLB Akeem Ayers may also be considered for the spot opposite OLB Brian Orakpo.
11. Houston Texans: DE Cameron Jordan, California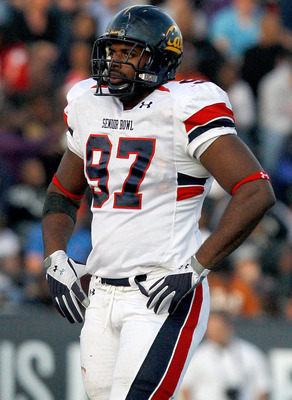 Sean Gardner/Getty Images
The main problem with the Houston Texans in 2010 was that their defense just wasn't up to par. They will need to look for upgrades at multiple positions this offseason if they plan on contending for the franchise's first playoff game.
Cameron Jordan has really had a great offseason thus far, especially a dominating Senior Bowl performance that has really increased his draft stock in the past week or so. Jordan is a very complete player, who can get after the quarterback, but he also is very strong against the run. My bet is that Mario Williams will play one defensive end spot, and a combination of Williams and Jordan would be very formidable. The Texans have always lacked an impact lineman opposite Mario Williams, and Jordan can be that guy. Jordan is really turning a lot of heads, and he should see his draft stock continue to rise in the coming months.
The Texans also need help at rush linebacker, so Akeem Ayers or even Aldon Smith may be good options for them at this point. The secondary really needs a lot of help, unfortunately there isn't really a guy worthy of this spot, unless they want to reach on a guy like CB Brandon Harris.
12. Minnesota Vikings: QB Ryan Mallett, Arkansas
Matthew Stockman/Getty Images
The Vikings really disappointed throughout the 2010 season, which led to Head Coach Brad Childress losing his job. The Vikings still have a lot of talent on their team, but they are most likely going to be without QB Brett Favre this next season.
Ryan Mallett is a prospect who is difficult to figure out exactly where he is going to go in the draft. He has a great arm to go along with very good size, which is why he is so highly thought of by some people. Joe Webb looked good at the end of the season for the Vikings, but his he really their long term answer at quarterback? He may be, but I think that he doesn't have the ability to be a starter long term in this league. Mallett has some character concerns heading into the draft, and he needs some work on his mechanics before he becomes a quality starter. He has had trouble with accuracy in the past, which may cause him to drop in the draft.
The Vikings may go with Joe Webb as their quarterback for the present and future, and if they do, they could take an outside linebacker here, such as Akeem Ayers. Ben Leber and Chad Greenway are both free agents, and they both might not be brought back, which is why they could consider Ayers here.
13. Detroit Lions: OT Nate Solder, Colorado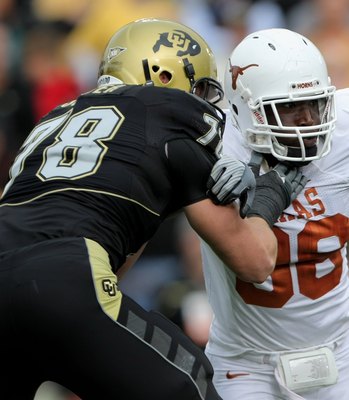 Doug Pensinger/Getty Images
The Detroit Lions are a team on the brink of being very good, but they still have a few more needs to fill before they can start thinking about making the playoffs. Their main concern has got to be getting QB Matt Stafford healthy, and then putting the pieces in place to help keep him healthy.
Nate Solder has the most potential of any offensive lineman in this draft. He has the ability to become a dominant left tackle in the league. He is a very good athlete for a man of his size. He has good strength, and he is a very solid pass protector. LT Jeff Backus has been a favorite of Lions' management, but he really needs to be moved to right tackle or guard, where he'd be more effective. The Lions have to think about keeping Stafford healthy in the long run, and Solder can be the answer to that problem. Solder isn't great in run blocking, and he really needs to improve his footwork before he can perform at a pro bowl level, but the potential is there.
The Lions may not fall in love with Solder, and if they don't they will strongly consider taking OLB Akeem Ayers, as they could stand to upgrade both of their outside linebacker positions. Cornerback is another concern so they could reach for CB Brandon Harris, but I don't think it's in their best interests to do that.
14. St. Louis Rams: OLB Akeem Ayers, UCLA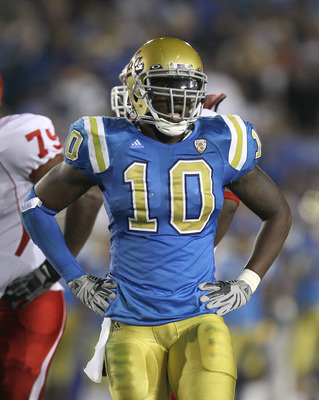 Stephen Dunn/Getty Images
The Rams made big strides last season, and they look to have a franchise signal caller in Sam Bradford. They still have a few holes to fill, but I think it's entirely possible that they may be the favorites in the NFC West heading into next season.
Akeem Ayers is the type of impact linebacker that the Rams could pair with James Laurinaitis to form a solid linebacking corps. Ayers has a very good combination of size and speed, and he is solid rushing the passer, and stopping the run. The Rams could really use an upgrade over current starter Larry Grant, so Ayers should be highly considered if he is still available. The future is looking up for the Rams, and improving their defense should be a priority this offseason. Ayers isn't real aggressive when he plays, and he isn't as great of a pass rusher as I've seen a lot of people say he is.
The Rams have a big need at receiver, but I personally think both WR Julio Jones and WR Jon Baldwin are both big reaches at this spot. The Rams may also look to improve their defensive tackle position, so don't rule out a defensive lineman here either.
15. Miami Dolphins: RB Mark Ingram, Alabama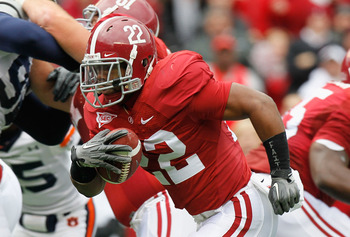 Kevin C. Cox/Getty Images
This pick was difficult for me to figure out, and I know a lot of Dolphins fans probably won't be too happy with this pick. I will say that this pick will not happen if the Dolphins re-sign both RB Ronnie Brown and RB Ricky Williams, but I don't know if they are going to at this point.
Mark Ingram is still a very good prospect who should end up being the top running back taken in this draft. Ingram has very good size for a running back, and he runs with great balance. The thing I like the most about him is that his legs never stop moving. The Dolphins would really benefit from having a running back like Ingram, even if they do bring back one of their current running backs. Ingram has the ability to be a great player in this league, and he would be an upgrade over both of the Dolphins running backs. Ingram doesn't have great speed which is my biggest concern for him. His yards were down this year, but that was due more to RB Trent Richardson really emerging as a good running back than it was to Ingram having a bad year.
The Dolphins may consider a quarterback here if they don't think Chad Henne is their long term answer. They could use another receiver to pair with Brandon Marshall, so I wouldn't be surprised to see WR Julio Jones here either. Another option could include upgrading the offensive line.
16. Jacksonville Jaguars: DE Ryan Kerrigan, Purdue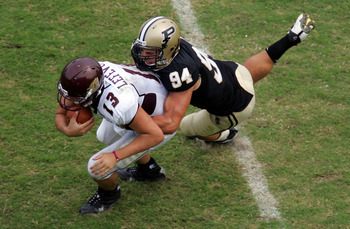 Ronald Martinez/Getty Images
The Jaguars were close to making the playoffs in 2010, but they came up just short in the end. They need a lot of talent on the defensive side of the ball, even though they took a lot of defensive players in last year's draft.
Ryan Kerrigan had a dominant senior season, and he really put himself into the top 20 discussion. Kerrigan is very good at getting after the quarterback, using his speed and quickness to get by opposing offensive linemen. Aaron Kampman went down with his second serious injury in as many years, and his long term ability is in doubt. Derrick Harvey has been a bust, so the Jaguars really need a player who can get after the quarterback. They should have plenty of options at their spot, so I expect them to go defensive end early in this year's draft. Kerrigan may need to add some more weight to be most effective in the Jaguars' 4-3 defense.
The Jaguars also have some issues at safety, but they would have to reach for one here. A quarterback isn't out of the realm of possibility, as I don't think David Garrard is the best long term option. That means that QB Jake Locker could get a long look here at this spot.
17. New England Patriots (from Oakland): DE/OLB Aldon Smith, Missouri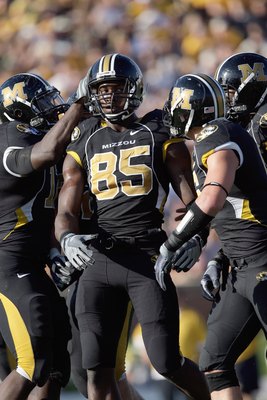 Jamie Squire/Getty Images
The Patriots came up short in the playoffs this season, and they were exposed in a few areas during the loss to the Jets. This pick was what they got in return from Oakland when they traded Defensive lineman Richard Seymour a few seasons ago.
Aldon Smith is a very intriguing prospect who, even though he stands a good chance to be a top 15 pick, he could've been a top 5 pick in the 2012 NFL Draft if he went back to school. Just a redshirt sophomore, Smith has great athletic ability to go along with a great burst off the line, which is the reason he is so highly thought of. The Patriots drafted OLB Jermaine Cunningham in the second round last season, but they still need another good pass rusher to compliment him. He has a lot of potential, but he may need to add some more pass rush moves to his repertoire to be a more effective pass rusher.
With a lot of picks in the first few rounds, the Patriots may be looking to trade up here. If not, a DE such as J.J. Watt, or an OT such as Tyron Smith or Derek Sherrod could be possibilities for the Pats. They should be able to get a very good player at a position of need with this pick.
18. San Diego Chargers: DE J.J. Watt, Wisconsin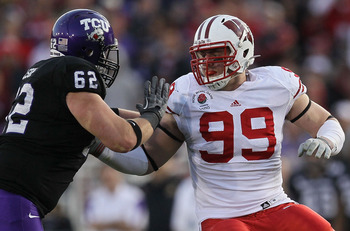 Stephen Dunn/Getty Images
The Chargers really took a step back last season, and this will be an interesting offseason for them with all of the free agents that they have to figure out what to do with. The Chargers have a lot of positions that they need to upgrade moving forward into next year.
J.J. Watt really had a great season this past year, and he is now one of the more intriguing options for teams looking for a 3-4 defensive end. He has very good size and length for his position. He has enough strength to be effective against the run, and he is very technically sound. The Chargers need to find a replacement for DE Jacques Cesaire, who I don't expect them to bring back next season. Their needs could change based on their free agent decisions, but this is one of the spots that badly needs an upgrade. Watt isn't the best athlete in the world, but he is the type of player who should be able to come in and start right away.
The Chargers could use a receiver if Vincent Jackson and/or Malcolm Floyd aren't brought back, so they could consider Julio Jones here. The Chargers' starting inside linebackers are free agents, but they'd have to reach on Martez Wilson if they want to take an inside linebacker here.
19. New York Giants: OT Tyron Smith, USC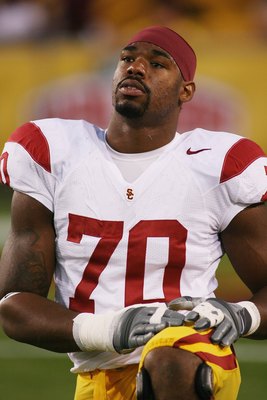 Jeff Golden/Getty Images
The Giants have a lot of talent on their team, but they really haven't been able to put it all together the past few years. They are a team who may consider going in a number of different directions this year, but offensive tackle might be their best long term option.
Tyron Smith is another tackle who has a lot of potential to be a very good left tackle in the NFL. Smith is a very athletic player who is solid against both the run and the pass. He is very quick and he has long arms, which allows him to get really good extension on his blocks. William Beatty was drafted in the 2nd round a few years ago to be the left tackle of the future, but he hasn't really been that impressive when he's gotten to play. The Giants are getting older along the offensive line, so they are going to have to think about getting some long term replacements. Smith needs a little work on his technique, but he has the ability to be a blindside protector for years to come.
The Giants could look at a linebacker here, and Justin Houston could be an option, but I don't think he's the greatest fit. They could use an offensive guard and a center too, but it's still a bit too early for Mike Pouncey or Stefan Wisniewski at this point.
20. Tampa Bay Buccaneers: DE Adrian Clayborn, Iowa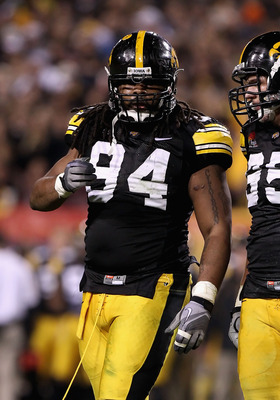 Christian Petersen/Getty Images
The Bucs were one of the pleasantly surprising teams in the 2010 season, with an impressive turnaround from the 2009 season. The Bucs have a lot of good young talent, and they are going to have to continue to draft talented players if they want to have a chance in the very tough NFC South.
Adrian Clayborn didn't have as good of a season as many people thought that he was going to have. That was partially due to the fact that he was double teamed a lot of the time. Clayborn can terrorize opposing quarterbacks with his wide variety of pass rush moves and his quickness. The Bucs took their two defensive tackles of the future in last year's draft, and I think that their defense would really take off if they select two good pass rushers in this year's draft. Clayborn can get pushed around a little bit by opposing offensive linemen, so he may have to add some more bulk at the next level.
The Bucs may look at getting an offensive tackle to play on the right side, so Anthony Costanzo and Gabe Carimi are options here, but may be a bit early. The Bucs may also look at a linebacker, as both Barrett Ruud and Quincy Black are free agents. Justin Houston could be the choice if they go that route.
21. Kansas City Chiefs: OLB Justin Houston, Georgia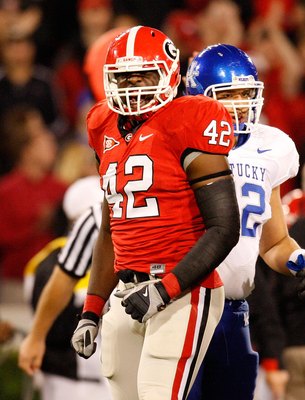 Kevin C. Cox/Getty Images
The Chiefs really look to have a bright future based on their play in the 2010 season. They still have a few key positions to fill though, with outside linebacker being one of the most important, as they haven't been able to generate much of a pass rush opposite Tamba Hali.
Justin Houston has proven himself as one of the top pass rushers available with a very successful season for Georgia in 2010. Houston has very good size for an outside linebacker, and he has superior pass rush skills. He is a very hard worker, and he gives his full effort on every single play. Mike Vrabel just isn't as good as he used to be, and he really needs to be replaced going into next season. I think that the Chiefs will most likely bring back Hali, but if they don't, then this position becomes the unquestioned number one need. Houston must work on his coverage skills to improve his chances of being an every down linebacker.
The Chiefs could use another receiver across from Dwayne Bowe, so Julio Jones may be considered here. A left tackle is another big need, so drafting OT Derek Sherrod or OT Anthony Costanzo would allow current left tackle Branden Albert to move to right tackle, where he would be more comfortable.
22. Indianapolis Colts: OT Derek Sherrod, Mississippi St.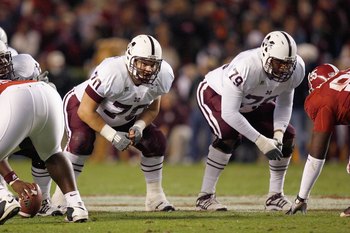 Kevin C. Cox/Getty Images
The Colts missed out on the 12-win mark last year for the first time in almost a decade. Injuries were a big part of it, but the Colts really need to find some more protection for QB Peyton Manning, because if he goes down with an injury, their season would be lost.
Derek Sherrod may just be the best all around offensive tackle available in this draft. He is a great athlete with impressive size. Sherrod is technically sound, and he does a good job in both pass and run blocking. He could work out well at either right or left tackle, but he may be needed at left tackle right away. Current left tackle Charlie Johnson is a free agent, and he really needs to be upgraded so I don't expect the Colts to re-sign him. The offensive line was a big problem for the Colts last year, so I expect them to take a few linemen in this draft. Sherrod's main problem is that he doesn't seem to play with a lot of aggression, but his technical skills can make up for that.
The Colts also need help at defensive tackle, as Daniel Muir really needs to be upgraded. Christian Ballard and Drake Nevis could both be strongly considered at this spot to replace Muir. A guard could be another option, as Mike Pouncey would be an upgrade over Mike Pollack.
23. Philadelphia Eagles: CB Brandon Harris, Miami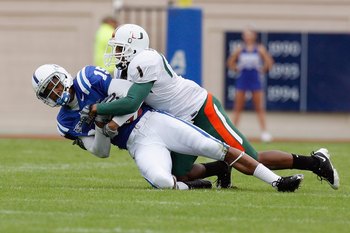 Kevin C. Cox/Getty Images
The Eagles had a good season in 2010, but they still have a lot of holes to fill, especially on the defensive side of the ball. They were really beat up in the secondary last year, but they still need to improve over some of the current players on the roster.
Brandon Harris really put himself into the first round discussion with a very solid senior season at Miami. Harris is a very good man to man corner, to go along with good speed. He has very good body control, and he really goes after the ball when it is in the air. The Eagles still have Asante Samuel, yet they really don't have anyone else besides him, especially now that Ellis Hobbs has announced his retirement. Harris would come in and start right away, and he should be a big help in preventing opposing teams from beating the Eagles through the air. Harris needs to work on his zone coverage skills to become a more complete cornerback.
The Eagles could also use help at offensive tackle, where they might pick up Gabe Carimi or Anthony Costanzo to replace Winston Justice. Outside linebacker is also a big concern for the Eagles, so they may look at one here, especially if Justin Houston were to drop here.
24. New Orleans Saints: DT Christian Ballard, Iowa
Gregory Shamus/Getty Images
A lot of people, including myself, were very surprised to see the Saints ousted from the playoffs in the first round. They are still a very talented team, and I fully expect them to be back in the playoffs for many years to come.
Christian Ballard has been high on my radar for awhile now, and he has really rose on a lot of other people's boards recently. He has an extremely explosive burst off the line of scrimmage, and he'll give you great effort on every play. He is a very versatile player, as he has a lot of experience playing both defensive end and defensive tackle. The Saints have really needed a better play next to Sedrick Ellis on the interior of the line for awhile now. The Saints also have a need at one defensive end spot, which makes Ballard a very good option, as he can help out at both spots. His main issue is that he hasn't been overly consistent throughout his career.
The Saints, as I mentioned, could use a defensive end, so someone like Allen Bailey or Jeremy Beal could be considered here. They've also needed help at linebacker too, and Martez Wilson may also be considered by the Saints here.
25. Seattle Seahawks: QB Jake Locker, Washington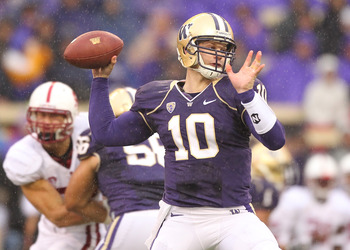 Otto Greule Jr/Getty Images
Seattle made the playoffs in 2010, but they still have a lot of holes to fill before they will ever be considered a viable contender for the NFC title. They surprised everyone by upsetting the Saints in the wild card playoff round, but they need a lot of help at this point.
Jake Locker had a very disappointing season, which is going to end up costing him a lot of money. He was considered a very viable option for the first overall pick at one point, but now he's barely hanging on to being a first round pick. He still has the potential to be a very good starting quarterback, but he will need at least a season to sit on the bench and learn. Locker has a very strong arm, and he's a good enough athlete to where he can really hurt you while on the run. Matt Hasselbeck doesn't have many years left in him, and I personally don't see Charlie Whitehurst as a viable long term solution, despite the fact that they gave up a third round pick for him. Locker's accuracy has always been a question, and it is something he will have to improve upon before taking over the reigns from Hasselbeck.
The Seahawks could go a number of directions here, as I see cornerback, a wide receiver, and a defensive lineman as pretty big needs as well. WR Julio Jones, DE Allen Bailey, and CB Aaron Williams would all fit well at this spot, but Locker may be just too intriguing to pass up at this point.
26. Baltimore Ravens: DE Allen Bailey, Miami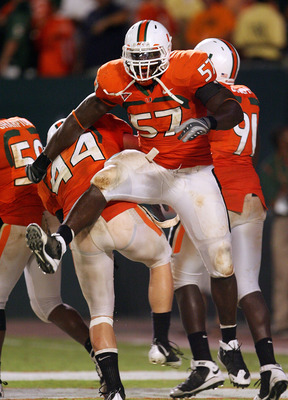 Doug Benc/Getty Images
Baltimore basically had the Steelers beat at halftime of that playoff game, but they just couldn't finish the deal. The Ravens don't really have any huge needs, but there are a lot of positions that could use some slight improvements.
Allen Bailey has been a much debated prospect because he has all of the physical abilities to be a great player, but he hasn't really had a dominant career at Miami. Bailey is an incredible athlete, and he has very good strength. I get the feeling that he will dominate at the combine, so he may be gone at this point. The Ravens could use an upgrade at defensive end opposite Haloti Ngata, where Cory Redding was solid, but unspectacular. Bailey would make a lot of sense for them here, as he would fit well along the defensive line in the Ravens three-man front. Bailey is considered to be somewhat of a "tweener" and there are a lot of mixed opinions on what his best position would be.
The Ravens have a lot of free agents at the cornerback position, so if one or more aren't brought back, the Ravens may look at CB's Aaron Williams, Brandon Burton, or Jimmy Smith here. The Ravens may also need a right tackle if Jared Gaither struggles to come back from his injury.
27. Atlanta Falcons: WR Julio Jones, Alabama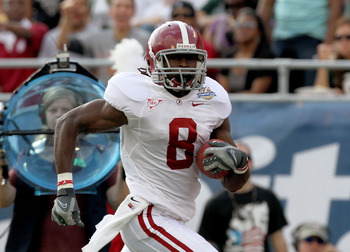 Mike Ehrmann/Getty Images
The Falcons have a real solid foundation, and they look like they will be championship contenders for many years to come. One main problem that I have noticed this season is that they don't really have a viable option at receiver opposite Roddy White.
Julio Jones is a very good player who would be a great compliment to Roddy White. Jones has a great combination of size and speed. He is a very good route runner, who can get great separation from the defensive back downfield. The Falcons do have TE Tony Gonzalez as a receiving option, but he's not going to be around much longer. They are going to need someone to draw the double teams away from White, and they can no longer hope for Michael Jenkins and Harry Douglas to do that for them. The one problem with Jones is that he has had some trouble at times hanging onto the ball, but I think he needs to learn to catch the ball with his hands instead of his body.
The Falcons may need some help at cornerback, as their depth was really exposed in the playoff game against the Packers. CB Aaron Williams may be an option at this point in the draft. They may also take a look at TE Kyle Rudolph, as they'll be looking to find a long term replacement for Tony Gonzalez.
28. New England Patriots: OT Anthony Castonzo, Boston College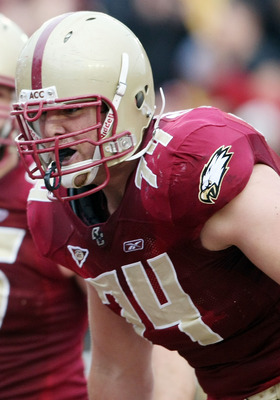 Elsa/Getty Images
In this mock, I had the Patriots taking Aldon Smith with the 17th overall pick. The Patriots now will most likely look to find some more protection for Tom Brady, as they could look to find a replacement for both of their current offensive tackles.
Anthony Castonzo would be a very good fit along the Patriots offensive line. Castonzo has very good athletic ability, and he plays with good technique. He would make a very solid right tackle now, with the potential to be a very solid left tackle in a few years. Matt Light is a free agent, and he may not be brought back as his skill set is really starting to decline. The Pats may also want to upgrade the right side, where Sebastian Vollmer really underperformed this past season. The main knock on Castonzo is his lack of strength, but that is something that he can improve on over the next year or so.
The Pats could go a number of directions here as well, with a need at wide receiver and defensive end. I think that both WR Jon Baldwin and DE Cameron Heyward will get a long look at this spot if they are still available.
29. Chicago Bears: DT Drake Nevis, LSU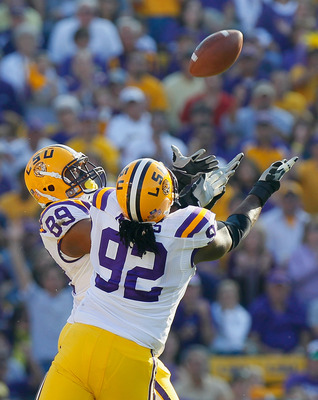 Kevin C. Cox/Getty Images
The Chicago Bears have a couple of glaring needs at certain positions, but I don't really think that this past season was a fluke for them. A lot of people may be shocked not to see an offensive lineman here, which don't get me wrong, I fully expect them to take multiple offensive linemen in this draft, but defensive tackle is also a big need for them too.
Drake Nevis is a very good lineman who I think would be a pretty good fit for the Bears. He is very athletic for a man of his size, and he is extremely explosive off the line. He is extremely active and he has been very disruptive throughout his career at LSU. DT Tommie Harris has been declining for a few years now, and I think that it is finally time for the Bears to find a replacement for him. The Bears could use a player like Nevis to really wreak havoc on opposing quarterbacks from the interior of the line. Nevis doesn't have great size, but he makes up for that with his aggressiveness and athleticism.
Offensive line isn't the only option in round one, but if they do want a lineman they could look at OT Gabe Carimi or OG Mike Pouncey. A big time receiver is also needed, and WR Jon Baldwin has the size and speed combination that Jay Cutler would love to have on his team.
30. New York Jets: DE Cameron Heyward, Ohio St.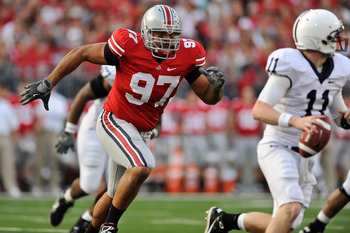 Jamie Sabau/Getty Images
The New York Jets just missed out on the Super Bowl for the second straight year, and I fully expect them to be right back in the hunt next season. They don't have a ton of weaknesses, but things could be very different for them based on what they decide to do with their current free agents.
Cameron Heyward has been a top prospect for a couple of years now, and he has had a very consistent career at Ohio State. Heyward has very good size, and he has had experience playing both the defensive end and defensive tackle positions. Shaun Ellis is a free agent, and he is on the downside of his career so it wouldn't be a surprise if they decided not to bring him back. Heyward is the type of player who will fit best as a 3-4 defensive end, and he would be a logical replacement for Ellis. Heyward has been very inconsistent throughout his career, and he has games where he doesn't make much of an impact, but he really showed how well he can play in Ohio State's bowl game.
The Jets have a couple of other needs; one in particular seems to be outside linebacker, where they need to be able to get some more pressure on the quarterback. Jeremy Beal could work well as an outside linebacker, so he could be an option here. A receiver, such as Jon Baldwin, would fit well here if Santonio Holmes and/or Braylon Edwards aren't brought back.
31. Pittsburgh Steelers: CB Aaron Williams, Texas
Ronald Martinez/Getty Images
The Steelers had a very successful season, despite coming up just short of their third Super Bowl title in six seasons. There were a couple of needs that became pretty apparent in their Super Bowl loss, one of which was at cornerback.
Aaron Williams didn't exactly have the greatest season for the Longhorns, but he is still a prospect who could end up in the bottom of the first round. Williams has nice size and speed, and he has fluid hips to stay with the quicker receivers. The Steelers could really use another starting cornerrback opposite Ike Taylor, as Bryant McFadden is more suited for the nickel back role. Plus, Ike Taylor and William Gay are both free agents, so this position will become a much bigger need if those guys aren't brought back. Williams needs to bulk up at the next level, but he has the basic skills to become a very good cornerback.
The Steelers could also use some help along the offensive line, where OT Gabe Carimi and OG Mike Pouncey could both be considered. I think that the Steelers will most likely just focus on the offensive line and cornerback positions in the early rounds of the draft.
32. Green Bay Packers: OT Gabe Carimi, Wisconsin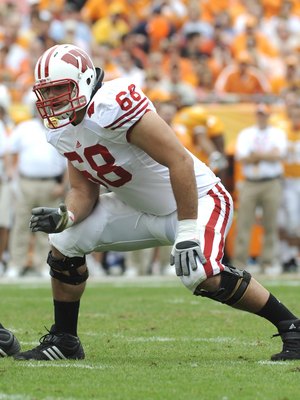 Al Messerschmidt/Getty Images
Green Bay has the talent to be a very formidable team for the near future, and they really don't have a lot of immediate needs. They may be in a good position to either trade down at this spot, or go ahead and take the best player available.
Gabe Carimi could be arguably the top player available here, and he fills one of the few needs that the Packers actually do have. Carimi is an all around good prospect, who is solid in pass protection, and he can also perform well in the run game. The Packers drafted Bryan Bulaga to be the left tackle of the future, and I think they get their future at the right tackle spot with this pick. Chad Clifton played well, but he doesn't have much left in the tank. Once he moves on, Bulaga will slide to the left side, and Carimi should be a good fit on the right side of the Packer line. Carimi really needs to work on his footwork, so he may need a year before he is ready to play full time, which is why Green Bay is a very good fit for him.
The Packers could also look for a future replacement for CB Charles Woodson here, so Jimmy Smith or Brandon Burton would be options here too. DE's Johnny Jolly and Cullen Jenkins are free agents, so defensive end would be a big need if they don't bring those guys back. Muhammad Wilkerson and Corey Liuget could be defensive line options here.
Keep Reading