Super Bowl 2011: Something for Everyone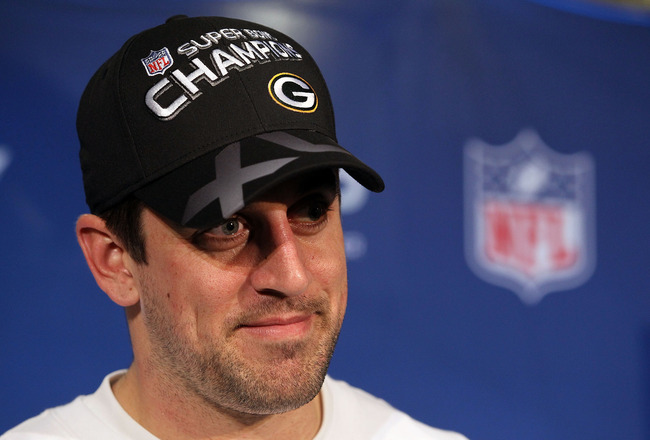 Ronald Martinez/Getty Images
Fans of both the Packers and Steelers were treated to weather they are more used to back home.
The game was as tight as Jerry Jones' face.
Terrible Towels were waved so hard that the "ble" came right off them.
Christina Aguilera flubbed the National Anthem.
The Black Eyed Peas were electric, although many weren't pleased with the Peas.
The Brett Favre monkey jumped off Aaron Rodgers' back and texted pictures of himself throwing feces.
Joe Buck's man love for Troy Aikman was crystal sharp in HD for all to see.
We got to see what Ben Roethlisberger looks like shaven.
The E-Trade baby got upgraded to toddler.
Yes, Super Bowl XLV had something for everyone.
Follow these stories with pics and videos on the slideshow.
Pack and Steelers Fans Made To Feel at Home
What more could fans want? You get to enjoy the game in an indoor covered stadium, but outside it's like back home.
You don't even have to pack any beachwear. You can bring your Snuggie.
If cold weather teams are going to win their conferences, they should have the game in Dallas every year.
Four-hundred fans got kicked out of their temporary seats by the fire marshal and will receive triple their purchase prices as refunds.
Best of both worlds: You get to say you were at the game but missed the Black Eyed Peas.
The video shows what Arlington and the rest of Dallas was like during Super Bowl week.
The roads were so bad Big Ben couldn't carouse.
Christina Flubs the Anthem
You knew the Steelers were in trouble when their hometown gal, Christina Aguilera, made a boo-boo on the anthem.
I'm not totally critical of her because lots of us flub the anthem. If they didn't have the words scrolling on the big screen at the ball game, more of us would miss it.
Some can't forgive her because she's a millionaire songstress who has sung the anthem in big crowds dozens of times before, maybe hundreds.
Nervousness, maybe?
The Glee Gal throwing her off her game?
Finding unexpected snow, ice and hail in Dallas? Maybe that's it. Hail might make her forget we hailed something.
You certainly couldn't hail a cab in this Dallas weather.
Aguilera issued this apology: "I could only hope that everyone can feel my love for this country and that the true spirit of its anthem still came through."
She went on to say "I've been going through a divorce. I haven't had sex in a while. I can't even get Big Ben to fondle me."
The sympathy card! Well played, Miss Christina.
Terrible Towels Whipping in a Game As Tight As Jerry's Face
The game had something for everyone: Defense, offense, hard hits, great catches, tradition from teams with Super Bowl heritage.
It had "Terrible Towels" made in Wisconsin. And Cheesehead hats made in Penns...no, no one but Wisconsinites would make "cheesehead" hats.
It had Black Eyed Peas cooking in their electric futuristic Tron-like suits.
It was so warm Fergie's scheduled wardrobe malfunction was aborted due to nipple retreat.
One nipple was heard to say, "'I Got a Feeling' you ain't going to see me, Babe."
The other one quipped, "'Let's Get it Started?' How about let's not."
Troy Aikman and Joe Buck: A Cute Couple
I think they do a good job, but I have a hard time trying not to compare Joe Buck's hand size to Troy's.
They do a stand-up where they are commenting while gesturing, and Joe Buck's gestures seem to be so muted (tiny hand muted) compared to Troy's big booming big-hand gestures. It's like Troy has man hands.
The E-Trade Baby Gets Cuter and Bigger
Super Bowl XLV had some good ads. I always like the E-Trade baby. Two years ago when the Dow dropped below 6,700, I was very worried about him. All his investments tanked. I heard he really took it in the shorts.
But now he seems a little older and maybe a little wiser.
Randy Krallman, the director of the film, is the voice of the baby. Plus, he writes the bits.
He also directed the dancing baby and dozens of other short, hilarious films.
Here's one of my favorite E-Trade baby commercials.
Like I say, Super Bowl XLV had something for everyone.
Keep Reading