NASCAR Power Rankings: Rating Hendrick and the Major Teams in the Sprint Cup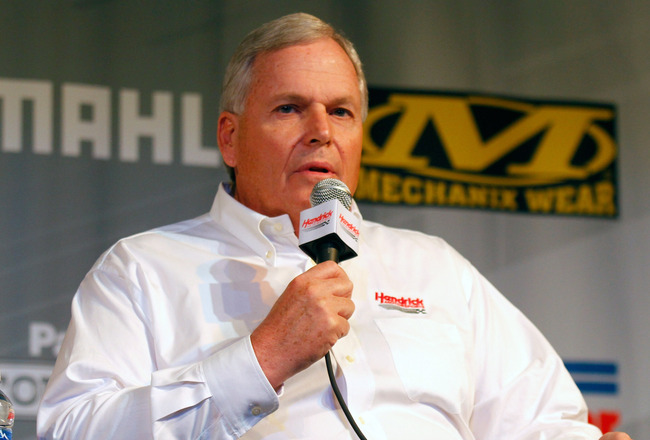 Jason Smith/Getty Images
Some would argue that the key to success on the Sprint Cup level isn't on an individual driver's performance or the work of a team's pit crew. To that end, those same fans might ignore the race-to-race progression of a team throughout the season.
Instead, success may lie in how teams under the same ownership umbrella operate with each other. Over the past five seasons, we've seen Jimmie Johnson and the No. 48 Chevrolet win championship after championship while Jeff Gordon and the No. 24 Chevrolet faced lengthy winless droughts—working together at the same Hendrick Motorsports shop.
With this in mind, here's how the top teams in the NASCAR Sprint Cup Series rank as the 2011 season draws closer.
What Is a "Major Team?"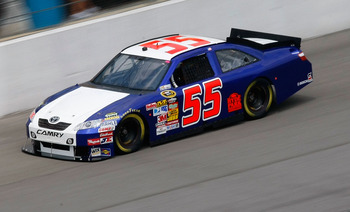 Geoff Burke/Getty Images
For the purposes of this article, a "major team" is one that fields at least two cars on a consistent, competitive basis throughout a full, 36-race schedule.
As a result, this excludes the No. 55 and No. 66 Toyotas of HP Racing (formerly Prism Motorsports), infamous for their start-and-park tactics with a variety of drivers last season.
10. Richard Petty Motorsports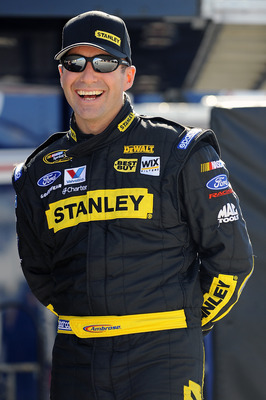 Jared C. Tilton/Getty Images
While Richard Petty Motorsports continues on for another season, it is still a two-car shell of the four-car team previously funded by George Gillett until financial issues nearly put RPM out of business before the end of the 2010.
However, with "The King" back under the helm after leading an investment group to purchase the team over the offseason, things already look to be improving.
Gone are Kasey Kahne, Elliott Sadler and Paul Menard; in their place, a concentrated effort with Marcos Ambrose—coming over from JTG-Daugherty Racing—in the No. 9 Ford, while AJ Allmendinger returns to the No. 43 machine.
Both drivers and crews are looking for their first career wins in the Sprint Cup circuit, and it's possible that pooled resources could help the No. 9 and the No. 43 reach Victory Lane sooner rather than later.
9. Michael Waltrip Racing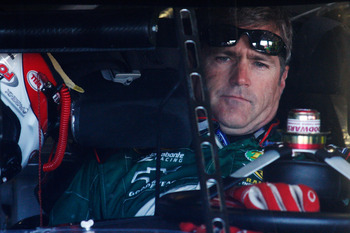 Justin Heiman/Getty Images
Over the past four seasons, Michael Waltrip Racing has gone from the struggling flagship Sprint Cup team for Toyota to a competitive, winning operation.
After winning one race each in 2009 and 2010, David Reutimann returns to the No. 00 Toyota with a desire to give MWR its first-ever Chase participant. Meanwhile, Martin Truex Jr. will start his second season at the wheel of the No. 56 Toyota with hopes of matching Reutimann's success by giving another MWR team a taste of victory.
Additionally, MWR brings another driver into the fold this season under the JTG Daugherty Racing umbrella as 2000 Sprint Cup champion Bobby Labonte will replace Ambrose in the No. 47 car. For Labonte, it marks the first time the Texan will have a steady ride since the 2008 season after driving for five teams at various points in 2009 and 2010.
8. Red Bull Racing Team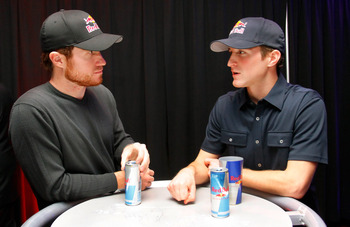 Jason Smith/Getty Images
After a chaotic 2010 campaign—one filled with health issues and poor performances from both regular and relief drivers—Red Bull Racing will look vastly different when the green flag flies at Daytona later this month.
Kasey Kahne moves from the No. 83 Toyota in which he finished the 2010 campaign to the No. 4 machine, formerly known as the No. 82 with Scott Speed behind the wheel in 2009 and 2010. Kahne's stay is temporary, as the Enumclaw, WA. native will move to the No. 5 Chevrolet for Hendrick Motorsports in 2012; however, longtime crew chief Kenny Francis reunites with Kahne for the upcoming season.
Free from the health issues that ended his 2010 season in May, Brian Vickers returns to the No. 83 Toyota under the guidance of crew chief Ryan Pemberton.
Both cars could see Victory Lane this season, as Kahne and Vickers have experience in doing so.
7. Penske Racing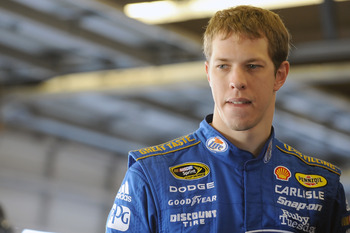 Jared C. Tilton/Getty Images
Another team to feel the effects of downsizing in 2011 is Penske Racing, as the No. 77 Dodge was eliminated due to a lack of viable sponsorship. Additionally, Sam Hornish Jr. has been demoted to a limited Nationwide schedule with the organization.
Kurt Busch moves from the No. 2 to the No. 22 Dodge for the 2011 season, a team changed in number and sponsor only. Crew chief Steve Addington returns to guide Busch and his crew towards another Chase berth.
Meanwhile, Brad Keselowski moves from the No. 12 to the No. 2 machine for the upcoming campaign with new crew chief Paul Wolfe guiding "Special K" in the "Blue Deuce."
6. Earnhardt Ganassi Racing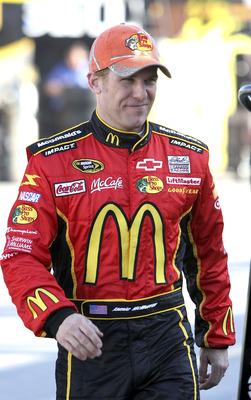 Jerry Markland/Getty Images
EGR's elevated position on this list is based on the fact that the team houses the defending Daytona 500 and Brickyard 400 champion, Jamie McMurray and the No. 1 Chevrolet. With virtually everyone returning for the 2011 campaign, including crew chief Kevin Manion, the key will be to propel McMurray towards a first career Chase berth with a few wins sprinkled in.
Following a disappointing 2010 season, Juan Pablo Montoya and crew chief Brian Pattie return to the No. 42 Chevrolet. Montoya's contract could be up at the end of the season, so the Colombian is undoubtedly looking towards an oval-track win and another trip to the Chase.
5. Stewart-Haas Racing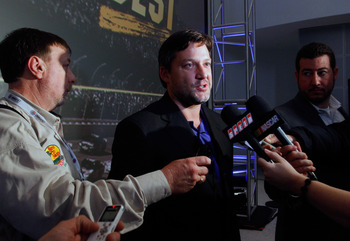 Jason Smith/Getty Images
Another strong two-car operation, Stewart-Haas Racing will look to take advantage of its technical partnership with Hendrick Motorsports in order to propel both Tony Stewart and Ryan Newman into the Chase in 2011.
Stewart, co-owner of the operation, returns to the No. 14 Chevrolet with crew chief Darian Grubb calling the shots from atop the pit box. Meanwhile, Newman and crew chief Tony Gibson will look to return the No. 39 Chevrolet into Chase prominence.
4. Richard Childress Racing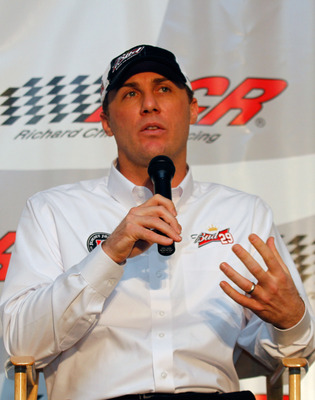 Jason Smith/Getty Images
Last season, Kevin Harvick and the No. 29 team gave RCR its best chance at a Sprint Cup championship since the days of Dale Earnhardt. While he wound up third in the Chase standings, hopes are high for the Gil Martin-led Chevrolet operation, running with the prestigious Budweiser sponsorship in 2011.
Alongside Harvick is Clint Bowyer in the No. 33 Chevrolet. After claiming victorious at New Hampshire to begin the Chase, a severe penalty during post-race inspections crippled his chances at winning his first championship. This season, the Emporia, KS. native will undoubtedly look for a Chase return.
In the No. 31 Chevrolet, Jeff Burton will return for what may be his final season in an RCR machine. The Virginian hasn't seen Victory Lane in over two seasons and would like to earn a series championship over a decade in the making.
New to RCR is Paul Menard in the No. 27 Chevrolet, likely to be a non-factor as the season wears on.
3. Roush Fenway Racing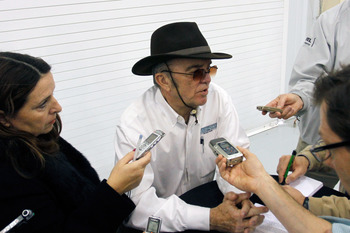 Jason Smith/Getty Images
While the goal for Roush Fenway Racing is to bring home the team's first Sprint Cup title since Kurt Busch did so in 2005, the prevailing storyline may be the contract status of both Greg Biffle (No. 16) and Carl Edwards (No. 99). Both drivers' deals end after the 2011 season, and it would be imperative for co-owner Jack Roush to lock both drivers up long-term.
Matt Kenseth returns to provide his always-consistent results as driver of the No. 17 Ford with crew chief Jimmy Fennig, while David Ragan may be under pressure to perform after continuous struggles as driver of the No. 6 Ford.
2. Hendrick Motorsports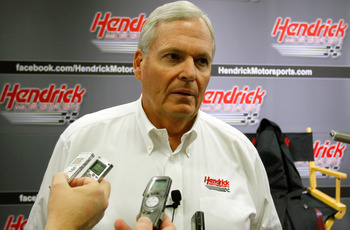 Jason Smith/Getty Images
At one point in the 2009 season, owner Rick Hendrick admitted that Joe Gibbs Racing had surpassed his own Hendrick Motorsports as the dominant organization in the sport. Even though Jimmie Johnson has won the past five titles under Hendrick's umbrella, HMS is far from a dominant team these days.
Jeff Gordon is still in search of his first win since April 2009 at Texas, Dale Earnhardt Jr. is nearing three years without a win and Mark Martin went winless in 2010 after five wins the year before.
The elixir for the other three teams may be in the rearrangement of crews and shops this season, as I covered earlier this offseason.
1. Joe Gibbs Racing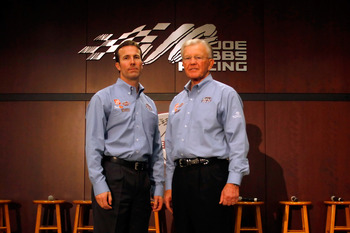 Jason Smith/Getty Images
2011 may be the season in which Joe Gibbs Racing dominates in the Sprint Cup level.
A hungry Denny Hamlin returns to the No. 11 Toyota to avenge a Sprint Cup title that he, along with crew chief Mike Ford and the rest of the team, let get away by blowing a 33-point in the final two races of the Chase.
A focused Kyle Busch—with a lessened emphasis on the Nationwide and Camping World Truck Series after new rules allow him to earn points for only one series—seems primed to win more than the three races he did last season.
Additionally, Joey Logano finished the 2010 campaign with five top 10 finishes in the final six races. The 20-year-old seems primed to breakout and win multiple races in 2011.
Thoughts? Comment below.
Ryan Papaserge is a junior journalism/mass communication student at St. Bonaventure University and a Featured Columnist at Bleacher Report.
Keep Reading