Pittsburgh Steelers: A Tribute To the Best Offensive Players of All Time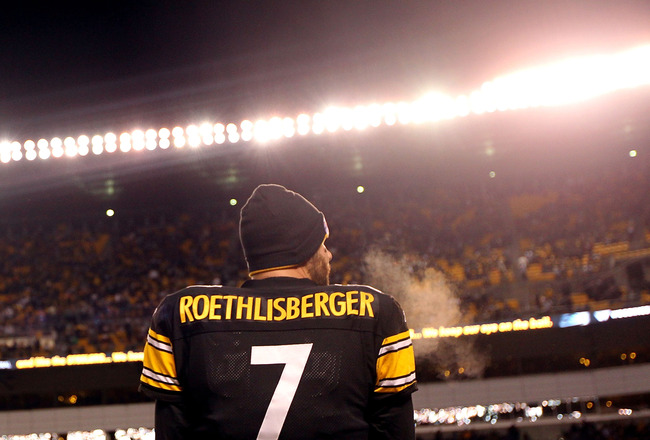 Nick Laham/Getty Images
The Pittsburgh Steelers have had some great Hall of Fame players over the years on both the offensive and defensive sides of the ball.
People tend to forget about the Steelers offense because of the dominant defenses the team has had from the Steel Curtain of the 70's to its current day form.
In this article I will attempt to compile the 10 best offensive players to ever have played for the Pittsburgh Steelers.
10. Gary Anderson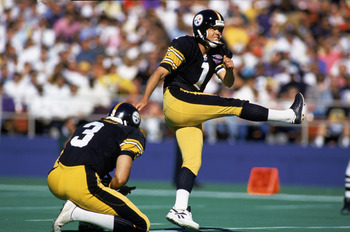 Doug Pensinger/Getty Images
Some people might not think a kicker deserves to be on any all time best list however, you can not just overlook the impact of a really great kicker.
Gary Anderson was an undrafted free agent coming out of college and is the Steelers all time leading scorer by a large margin with 1343 yards and made 309 field goals in his tenure with Pittsburgh.
Anderson ended his career as one of the best kickers in NFL history and is currently second all time with 2434 total points.
9. Mike Webster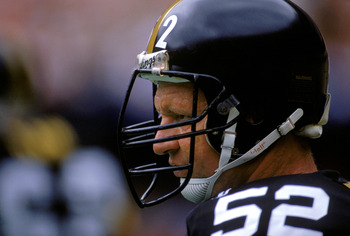 Mike Powell/Getty Images
A 5th round draft pick in 1974, Mike Webster is in my opinion the best offensive lineman the Steelers have ever had.
He split time his first two seasons before starting 150 consecutive games at center and playing in a Steelers' record 15 seasons and 220 games.
Offensive linemen do not get the publicity they deserve especially since the offense would not go anywhere if not for the guys up front.
Webster was the Steelers offensive captain for 9 seasons and was elected to 9 Pro Bowls in his career on route to his Hall of Fame enshrinement in 1997.
8. Lynn Swann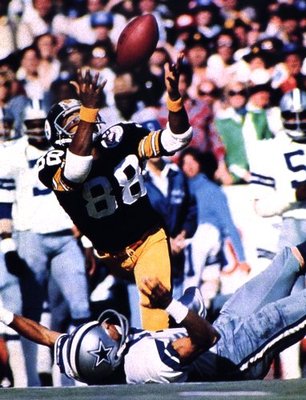 Lynn Swann was selected in the first round of the 1974 draft, and in his first season, set the team record for punt return yards at the time with 577.
With great speed and an amazing leaping ability, Swann was one of the most exciting players in NFL history.
He was enshrined in the Hall of Fame in 2001, not for his regular season numbers, which do not really pop out at you, but for his play in the postseason.
In his career, Swann amassed 907 yards and 9 touchdowns in the playoffs with 364 yards and 3 touchdowns coming in the four Super Bowls he participated in.
7. John Stallworth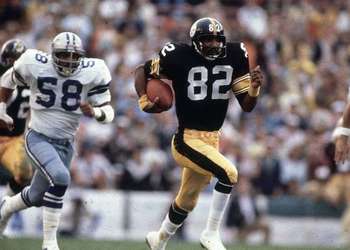 Taken in the 4th round of that great 1974 draft for the Steelers, John Stallworth was also known more for his postseason play early in his career.
During the Steelers great run in the 70's, Stallworth set the Super Bowl record for career average per catch and also caught 12 touchdowns in the playoffs.
When Stallworth retired in 1987, he was the Steelers all time leader in receptions, receiving yards, and receiving touchdowns.
Then in 2002, John Stallworth was inducted into the Hall of Fame.
6. Ben Roethlisberger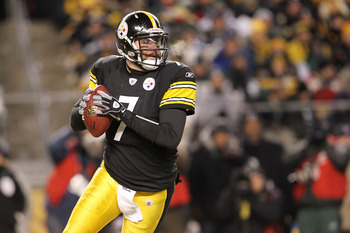 Ronald Martinez/Getty Images
Ben Roethlisberger was the 11th overall pick in the 2004 draft and led the Steelers to the championship game along with accruing the best record for a rookie quarterback at 13-0.
He followed that up in his second season by leading the Steelers to their 5th Super Bowl win against the Seahawks and has since won a second and has a chance for a third this season.
Ben is now 2nd in team history in yards, touchdowns and wins as a starter and is 2nd in NFL history in win percentage with a 10-2 postseason record.
People can say what they want about Ben and his style of play but he already has 2 Super Bowls, possibly a third, and is not done winning in his career and not done moving up this list.
5. Kordell Stewart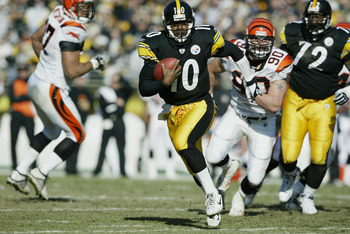 Tom Pidgeon/Getty Images
Kordell Stewart or "Slash" was drafted by the Steelers in the 2nd round of the 1995 draft and was given his nickname by the late Myron Cope because of his ability to play pretty much any position on the offense.
In his prime, Slash was one of the most exciting players to watch on the field and actually has the longest rushing touchdown for a quarterback at 80 yards.
Kordell ended his career 2nd in career passing yards, touchdowns, and wins as a starter, 14th in rushing yards, 3rd in rushing touchdowns, 9th in total touchdowns, and 16th in total points.
4. Hines Ward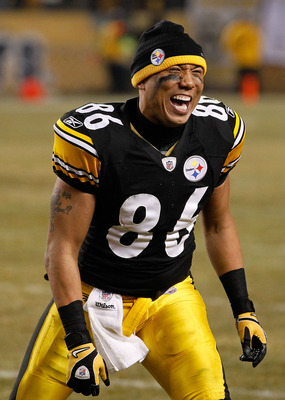 Gregory Shamus/Getty Images
Hines Ward was a 3rd round pick in the 1998 draft and has become the most prolific receiver in Pittsburgh Steelers history.
He is 46 receptions from 1000 and is the Steelers all time leader in receptions, receiving yards and touchdowns, along with being 5th all time in overall scoring.
Hines is generally considered as the best run blocking receiver in the league and in 2010 had his 186 game streak of at least one reception snapped which was 3rd longest in NFL history.
Hines Ward was the MVP of Super Bowl XL and deserves to be in the Hall of Fame when he retires.
3. Terry Bradshaw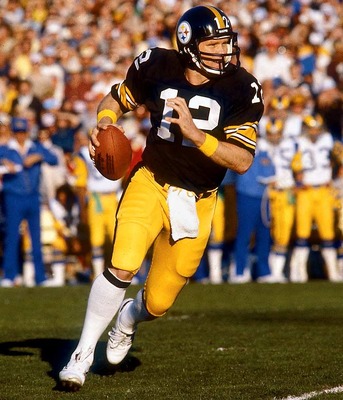 Terry Bradshaw was the number one overall pick in the 1970 draft and led the Steelers to 4 Super Bowls.
He was named MVP of two of those Super Bowls and amassed 932 yards and 9 touchdowns in total in the postseason.
Terry is the Steelers leader in passing yards, touchdowns, and is 4th all time in rushing touchdowns.
Bradshaw was the passer in the famed "Immaculate Reception" and was inducted into the Hall of Fame in 1989.
2. Jerome Bettis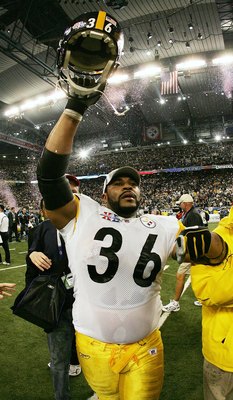 Harry How/Getty Images
The Steelers have always loved the big back and Jerome Bettis was a perfect fit when he came over from the Rams in 1996 with his power and nimble feet.
He put up 6 straight 1000 yard rushing seasons and rushed for a career total of 10571 yards and 78 touchdowns with Pittsburgh.
Bettis finished his career 2nd in both rushing yards and touchdowns in Steelers history and 5th all time in NFL history in rushing yards.
Jerome retired following the Steelers Super Bowl XL win and will be in the Hall of Fame.
1. Franco Harris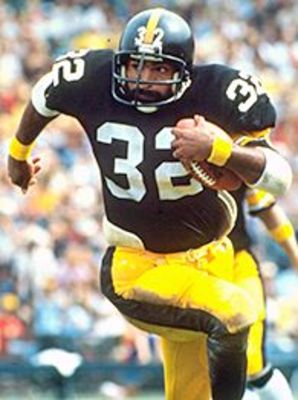 Franco was the Steelers first round pick in the 1972 draft and was really the driving force in the offense in the 70's.
The Steelers identity has always been to pound the rock and Franco Harris rushed for more yards than any other Steelers player.
He is 13th all time in NFL history in rushing yards and tied at 10th overall in the NFL in rushing touchdowns.
Franco Harris was inducted into the Hall of Fame in 1990 and is the Steelers best running back and best offensive player of all time.
Keep Reading

Pittsburgh Steelers: Like this team?