NBA Role Players Who Have Fallen From Relevance Into Obscurity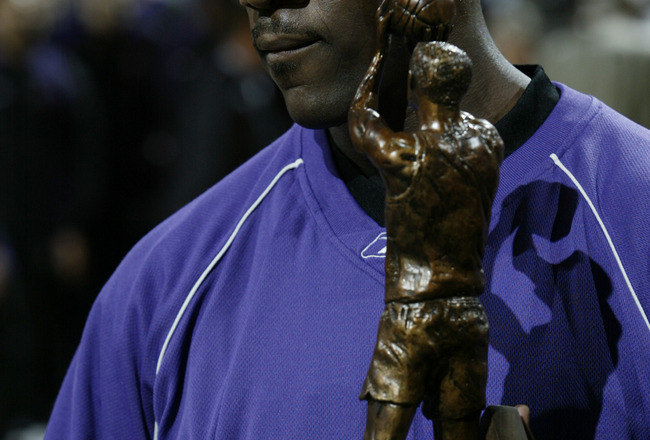 Jed Jacobsohn/Getty Images
The NBA is most often noted for its superstar players. Names like LeBron, Kobe, Shaq, Carmelo, and CP3 resonate loudly in the heads of many common Americans.
NBA teams, however, can only be successful with solid contributions from role players. They may not end up on SportsCenter, but role players definitely contribute to a team's winning (or losing) ways.
Some role players have exceptional years, but shortly after fall into obscurity. Why is this? Sometimes, it can be a change in scenery, whether it be within their own organization or moving teams. Others simply lose their abilities with age.
Regardless of reason, these following players all made significant contributions to their teams in past years, but have seemingly fell off of the NBA map.
Be sure to check out the last slide, and most importantly, enjoy.
On a basketball-related side-note, I am chairing a basketball tournament to raise money for Autism awareness. To donate online, go to www.firstgiving.com/fundraiser/joel-levine/alley-oop-for-autism, or email me at backboy13@aol.com for further info. Donations of any size are appreciated, and this tournament combines a love of basketball and assistance to those in need.
Josh Childress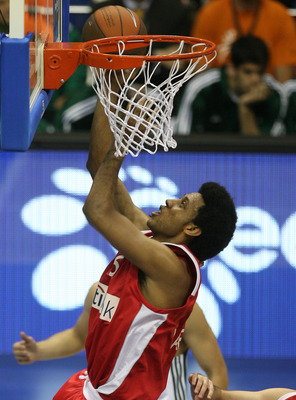 Matthias Kern/Getty Images
Josh Childress made a notable leap from the NBA to Europe after the 2007-08 season. Not to much of a surprise, however, Childress returned to the NBA this season, joining the Phoenix Suns. Aside from the $20 million, the move did little good for Childress.
After being a very efficient player on the moderately successful Atlanta Hawks, averaging between 10 and 13 points per game in all four of his seasons there, Childress signed a deal with Greek powerhouse Olympiacos. Now with Phoenix, Childress is finding the readjustment to NBA life to be difficult.
This season, he is averaging a measly 5.2 points per game, also seeing a dip in rebounds and assists. The extended vacation the Stanford alum embarked on is turning out to have adverse effects on his playing career, and he has gone from being a solid contributor on a solid team to being a benchwarmer on a team currently not in the playoff picture.
Erick Dampier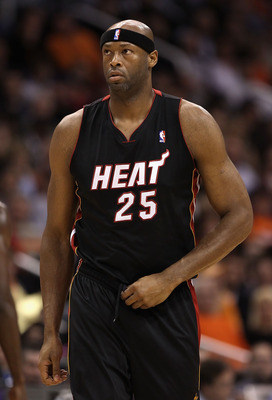 Christian Petersen/Getty Images
The Good News: Erick Dampier is on the Miami Heat, an NBA title contender.
The Bad News: Erick Dampier gets off the bench just about as often as Dane Cook sits still.
The Worse News: Erick Dampier left the Dallas Mavericks, a team that he started for the past six seasons, and were and still are an NBA title contender.
Dampier is the epitome of a bruising center, a tough guy, a guy who does the little things on the basketball court that go unnoticed. On the Miami Heat, however, there is nothing to go unnoticed, because he is hardly ever on the court.
Dampier averaged more than 7 rebounds per game in all six of his years in a Dallas uniform; in Miami, he is averaging just over 3. Along with that, his field goal percentage is just above 40 percent, hovering around the Mendoza Line of basketball. If he gets a ring this season, so be it, but he will have done very little compared to how he contributed in Dallas.
Chris Duhon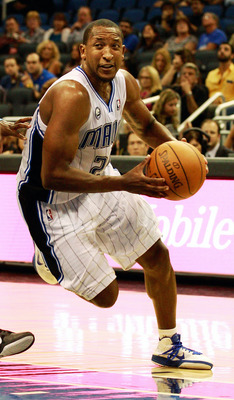 Sam Greenwood/Getty Images
After starting his career out of Duke as a Chicago Bull, Chris Duhon moved on to the New York Knicks. Was he guilty of a little Mike D'Antoni stat-inflation? Perhaps. But since when was there a Stan Van Gundy stat-deflation?
As a member of the Orlando Magic, Duhon has struggled to see much playing time, and his stats have declined significantly. Now only playing 16 minutes per game, Duhon might wish he was back in New York. Especially now since they are firmly in the playoff picture with the leadership of Amare Stoudemire.
Playing on a winning team is what all players (Minus Kobe from 2004-2007) dream of. Sadly for Duhon, playing is the operative word in that sentence.
Jason Kapono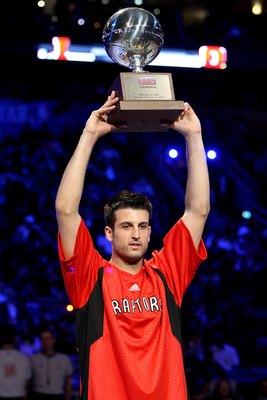 Chris Graythen/Getty Images
Does anyone remember the 2007 and 2008 Three-Point Shootouts? If so, then you definitely remember Jason Kapono shooting the lights out in both years, winning consecutive titles.
Those moments seem a long ways off for Kapono. After making notable contributions for a handful of teams, including the Toronto Raptors, Miami Heat, and Charlotte Bobcats, Kapono has fell into irrelevancy as a Philadelphia 76er.
Kapono now averages less than 1 point per game, playing very sparingly in the City of Brotherly Love. More alarming, however, are his shooting percentages: 27.3 percent from the field and 25 percent from three-point land.
Kapono was once the most accurate three-point shooter in NBA history; now, he is just some tall dude who went to UCLA.
Roger Mason Jr.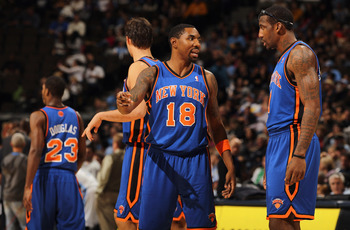 Doug Pensinger/Getty Images
Roger Mason, Jr. is an anomaly on this list. After playing two seasons for the San Antonio Spurs, one in which he averaged 11.8 points per game and started 71 games, Mason left Texas for New York.
As a member of the Knicks, Mason has infrequently come off of the bench, averaging a (stunning) .4 points per game. His future in the NBA was seemingly bright, but now things aren't looking too promising for 30 year old out of Virginia.
The Spurs are rolling along just fine this season, and it isn't too hard to believe that Mason wishes that he could Remember the Alamo.
James Posey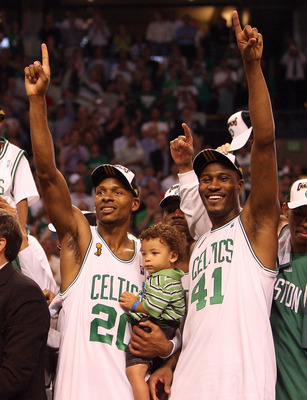 Elsa/Getty Images
The decline of James Posey has saddened me greatly. Once an extremely important piece to the Boston Celtics during their championship run in 2008, Posey now rides the pine as an Indiana Pacer.
Posey was perhaps the key to the Celtics winning the title in 2008, coming up huge on countless occasions. He also won a title in Miami two years before, but now his winning touch is gone.
After playing two mediocre seasons in New Orleans, Posey finds himself on the struggling Indiana Pacers. He is shooting a career worst from the field, and is playing only 18 minutes per game, 9 minutes shy of his career average.
Perhaps Posey will be traded near the upcoming trade deadline to a contender, for he has a championship pedigree. If not, however, he will remain in obscurity reminiscing about his glory days.
Sasha Pavlovic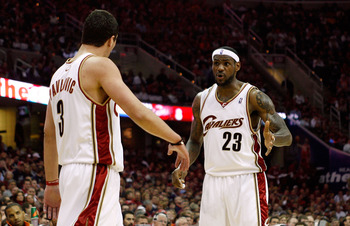 Gregory Shamus/Getty Images
Sasha Pavlovic provides a great example for the post-LeBron Effect. After playing four LeBron-filled seasons in Cleveland, Pavlovic has since found little success as a member of both the Minnesota Timberwolves and Dallas Mavericks.
While I am not the biggest LeBron James supporter (nor is LaughAtLebron), Pavlovic has undeniably found making a living in the NBA much more difficult without number 23... er, 6.
His stats have decreased, and his impact on his team has followed suit. Maybe a Miami reunion is in the future for Pavlovic. He better hope so...
Theo Ratliff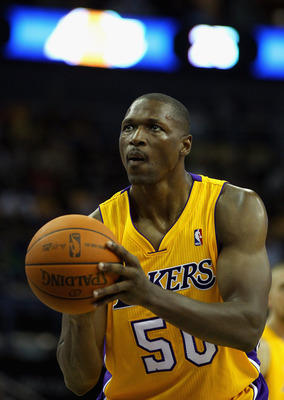 Clive Rose/Getty Images
Here's a little known fact: Theo Ratliff attended the University of Wyoming.
Here's a perhaps lesser known fact: Theo Ratliff has led the NBA in blocked shots three times. (And in the 2003-04 season, he actually played in 85 regular season games, due to trades. The regular season lasts 82 games. But now I'm just rambling).
The 37 year-old center has played meaningful minutes for four franchises: the Detroit Pistons, Philadelphia 76ers, Atlanta Hawks, and Portland Trail Blazers. But now he finds himself on the Los Angeles Lakers, suffering from injuries.
Maybe he can be healthy come playoffs, but it is doubtful. Ratliff was one of the most underrated centers of the past decade, but now is just looking for a ring in the late stages of his career. I really doubt that he will be able to improve his health and play, however. After all, he did play for the Trail Blazers, which seems to be an automatic trip to Dr. James Andrews with a knee injury.
Brian Scalabrine

What will Scalabrine do in Chicago?

Just kidding. But seriously, what is Brian Scalabrine without Boston.
And watch this video for a quick laugh.
Keep Reading

Boston Celtics: Like this team?