Cincinnati Bengals: A 10-Step Plan for Competing in 2011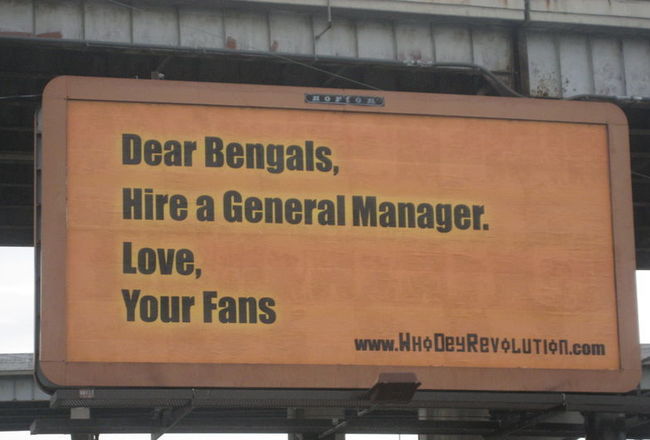 After finishing the 2009 season 10-6, sweeping the AFC North, and playing in only its second playoff game in 20 years, the Bengals organization rode a tidal wave of optimism into the 2010 season.
However, as most waves do, it didn't take long for Cincinnati's to come crashing down.
In defiance of all logic (a strong team had seemingly only added weapons), the 2010 Bengals staggered weakly through their schedule, ending 4-12 and once again taking their place as everyone's favorite laughingstock.
Yet, for all its internal dysfunction, here are ten ways the Bengals can ascend to contention in 2011.
10. Clean House
Andy Lyons/Getty Images
Common knowledge tells us that if something "ain't broke", we shouldn't try to fix it. Well, if the 2010 Bengals proved one thing, it was that something was MOST DEFINITELY broke.
In 2010, the Bengals featured veterans at the four most important offensive skill positions, all with seemingly different goals and agendas. Carson Palmer wanted to win, Cedric Benson wanted to run the ball 40 times per game, T.O. wanted every pass to go to him, and Chad wanted a little more out of his relationship with Ruby. As it turned out, only T.O. got his wish.
For Marvin Lewis' squad to come together in 2011, a youth movement is definitely in order; and it all starts with addition by subtraction. Time to cut ties with T.O., Chad, and Benson on offense, and Antwan Odom, Robert Geathers, Chris Crocker, and Roy Williams on D.
To name a few.
9. Fire Brat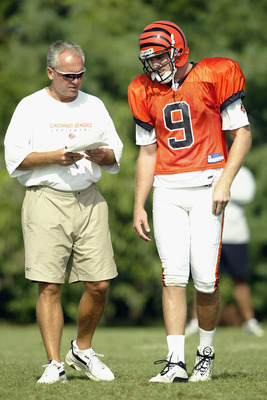 Andy Lyons/Getty Images
After the acquisition of T.O. in free agency and Jermaine Gresham and Jordan Shipley in the draft, 2010 was supposed to be the year that Carson Palmer finally had enough weapons to take the Bengals to the next level. Turns out, all that and a sack of footballs was good enough for 12 losses and a franchise record for reality shows (four).
I think we can all agree that SOMEONE has to take the fall for the Bengals' putrid offensive output in 2010. By re-upping Marvin Lewis' contract, Bengals Owner Mike Brown made it clear that Lewis would not be held accountable. And, by obstinately refusing to discuss Carson Palmer's trade plea, Brown basically put all his eggs in his quarterback's basket.
Next stop? Offensive Coordinator Bob Bratkowski. Sorry Bob. We'll always have 2005.
8. Stockpile Talent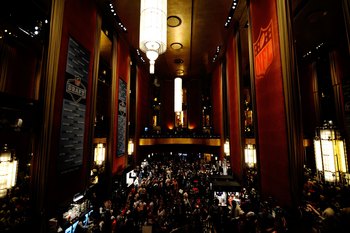 Jeff Zelevansky/Getty Images
After shipping out the majority of the old guard, the Bengals will be staring at some gaping holes in their roster. More than any other off-season, the Bengals must enter the draft with a smart draft approach.
While, in the last couple drafts the Bengals have performed reasonably well, as an organization they have been known to stuff the stat sheet with boners and gaffes. Instead of being tempted by what they deem to be "position needs", the Bengals would do well to stockpile the best available talent they can.
At 4-12, they need every bit of it they can get.
7. Tough Love For Andre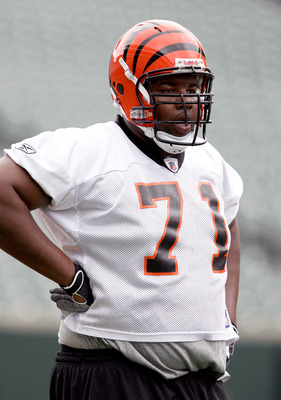 Mark Lyons/Getty Images
Speaking of the draft, it wasn't long ago that the Bengals brass used a top ten pick to select a road-grading offensive tackle from Alabama, touted as the heir-apparent to Willie Anderson. So far, the closest Andre Smith has gotten to "Big Willie" (the second best O-lineman in Bengals history and a sure-fire Hall of Famer) was when he visited Anderson's burger joint in Atlanta (And you KNOW he did.)
Yes, despite questions about his work ethic or his ability to keep his weight below 4,000 pounds, the Bengals drafted Smith sixth overall. Since then, Smith has started only five games, suffered the same injury twice, and (evidently) devoured upwards of 6,000 Whopper Value Meals.
Unless the Bengals feel like adding to their notoriously long list of draft busts (somewhere Ki-Jana Carter just indignantly re-injured his knee), they need to crack down hard on Andre. Give him a life coach/mentor. Give him a personal chef. Do SOMETHING. Just don't let the guy get any fatter.
I don't think I'm asking too much.
6. No More Divas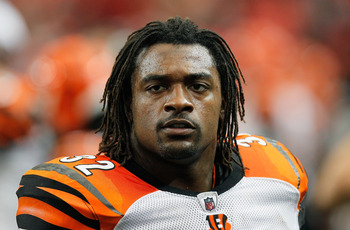 Kevin C. Cox/Getty Images
This one goes hand in hand with action item #10. By cutting loose Benson, Ochocinco, and Owens, the Bengals make way for newer, younger, more inspired blood. However, they also rid themselves of three guys who, regardless of what they may purport at press conferences, were extremely selfish.
It is no secret that in football, more than any other sport, team chemistry and camaraderie is paramount. Some would make the argument that it's what has kept New England and Pittsburgh competitive for more than a decade.
Watching the Bengals plod through games this past season, it was clear they had none.
Cincinnati needs to establish a blanket, steadfast ban on Diva-ism. Cut ties with existing divas, and avoid all selfish personalities like the plague come draft day. Team solidarity and identity is key in getting wins, and the Bengals currently have none...of either.
5. Maualuga To Mike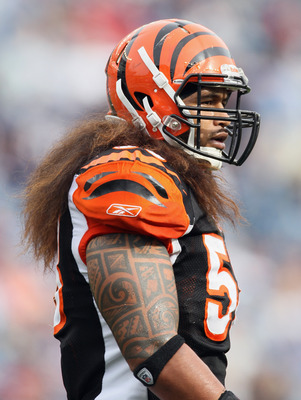 Elsa/Getty Images
Most of Bengaldom is still of the mind that Cincinnati got a steal when they drafted Rey Maualuga in the second round of the 2009 draft. However, it has become painfully obvious that "Who-Dey Rey" will never live up to his bone-shattering potential until he is moved back to his natural position.
For two seasons, Rey has been idling at the strong side linebacker position, the thought being (reportedly) that he is learning on the job from incumbent middle linebacker Dhani Jones. Unfortunately, the result has been unspectacular play from both positions.
In order to pull the best out of the 2008 College Football Defensive Player of the Year from USC (and to ensure he keeps wracking up hits like this), the Bengals need to put him where he is most comfortable. He has the potential to be the face of a great young defense for years to come (think: Ray Lewis), but only if he is put in a position to succeed.
4. Dial Up The Blitz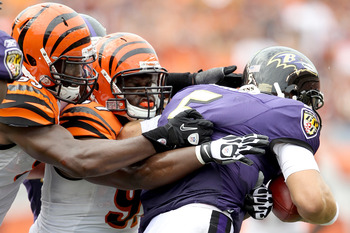 Matthew Stockman/Getty Images
Speaking of that great young defense, the Bengals have quietly put together a slew of wet-behind-the-ears playmakers on the defensive side of the ball. With Johnathan Joseph, Leon Hall, and a reborn Adam Jones at the corners and Keith Rivers and Maualuga at linebacker, the Bengals start with a great combination of youthful energy and game day experience.
However, the most intriguing unit on the roster is the defensive line, led by 2010 draftees Carlos Dunlap and Geno Atkins, as well as 2009 selection Michael Johnson. With Dunlap's strength, Atkins' quickness, and Johnson's athleticism (and with Hall and Joseph locking down opposing receivers), the Bengals have a realistic chance of being one of the better pass-rushing teams in the league.
Its important that defensive coordinator Mike Zimmer helps this unit realize its potential, by instituting a blitz-heavy, aggressive scheme.
I hate to keep coming back to this, but at 4-12, what do they really have to lose?
3. Lock Up J. Joe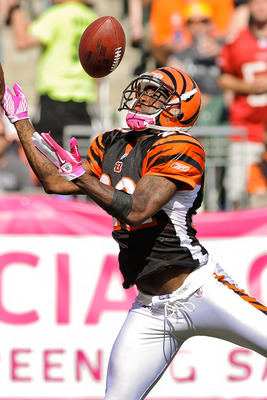 Jamie Sabau/Getty Images
The key to effectively rushing the passer is having good corners, just ask Rex Ryan.
All-World cornerback Darrelle Revis was injured for a portion of 2010, and the Jets pass rush suffered.
In order for the Bengals to be able to affect opposing quarterbacks the way they would like, they need AT LEAST two good corners. That starts with locking up their best one, free agent Johnathan Joseph.
This should be a priority.
2. Get Tough...Again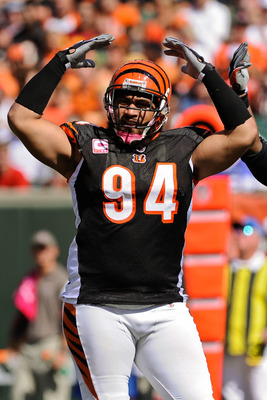 Jamie Sabau/Getty Images
There are certain requirements for winning in the AFC North. You have to be tough as nails. Your defense must be a bloodthirsty fraternity of savages. And finally, you can't turn the ball over.
Following that simple formula, the Pittsburgh Steelers and (to a lesser degree) the Baltimore Ravens have dominated the division for what seems like, oh-I-dunno, FOREVER.
In order to win in the AFC North, the Bengals need to swallow their pride, forget about 2005 (when their passing game could do no wrong), and borrow a page out of one of their most recent chapters. Indeed, it was merely a year ago that Cincinnati was hosting a playoff game, solely because they dedicated their season to playing the way an AFC North team should.
Though they lost that playoff game to the white-hot Jets last January, those 2009 Bengals went 10-6, and 6-0 in a division that usually grinds them up. I think it's safe to say that that philosophy is worth another shot, especially with the aforementioned needy receivers on their way out the door.
1. Carson Palmer: Handle With Care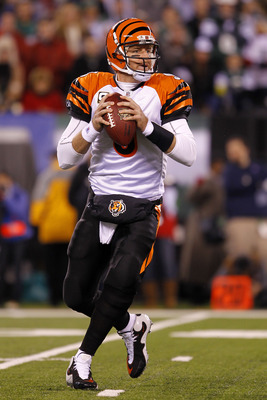 Chris Trotman/Getty Images
It's hard to predict the Bengals' intentions when it comes to Carson Palmer. Palmer says he wants out, and the fan base is ready to escort him to the door. Still, ownership won't hear of it. So, it appears there are two possible scenarios here (all CBA issues not withstanding):
In scenario one (more likely), Palmer stays a Bengal because Mike Brown would sooner hire a legitimate scout team than let a player push him around (zing!).
In scenario two (much less likely), some desperate team offers Brown an ish-load of draft picks for Palmer and he accepts.
In either scenario, if the Bengals want to compete in 2011 (and, to be fair, nothing tells me they do) they have to be careful. Quarterback is truly the most important position in sports, so if Palmer stays they need to involve him more in the direction of the offense, but they also need to draft a QB that he can begin to mentor.
If they do let Palmer go, it becomes immediately incumbent upon the organization to not only draft his replacement, but also to sign a veteran free agent QB to steer the ship while the newbie gets his bearings. Because, let's face it Bengals fans, the only thing more frightening than another season under Palmer is, well, the current alternative: another season under Palmer…Jordan Palmer.
Keep Reading

Cincinnati Bengals: Like this team?