Alistair Overeem vs. Junior Dos Santos: Who Would Win This Epic Slugfest?
When you put two amazing strikers like Junior dos Santos and Alistair Overeem together, you should expect nothing less than fireworks. I believe that this would be an explosive, fast-paced war, that would have fans on the edges of their seats.
Junior dos Santos is the best boxer in the division, whilst Overeem is about as good as it gets as a striker in MMA; he recently won the K-1 Grand Prix, defeating some of the best kickboxers in the world.
Ladies and gentlemen, I give you Junior dos Santos vs Alistair Overeem...
Begin Slideshow

»
Jon Kopaloff/Getty Images

Both guys have destructive, knockout power. I think that Junior dos Santos is the best boxer in the heavyweight division, only taken the distance by the always-game Roy Nelson.
In my opinion, Alistair Overeem is the more diverse striker of the two; when I think of Alistair Overeem, I think of his devastating knees. A great example of the Dutchman's knees is his knockout of Kazuyuki Fujita, where his opponent fell into a mini-coma.
Winning the K-1 Grand Prix is a great achievement for any kickboxer, let alone an MMA fighter.
Kneed I say more?
Advantage: Overeem
We haven't seen much of Junior dos Santos' ground game in the UFC. He earned a brown belt in Brazilian Jiu-Jitsu under Antonio Rodrigo Nogueira, so you could make the argument that he has a solid ground game.
However, people said Shane Carwin had great cardio before his fight with Brock Lesnar, although it turned out that this wasn't the case.
While Alistair Overeem is a very accomplished striker, it is worth noting that most of his MMA victories have come by way of submission. It is also worth mentioning that Alistair has a great guillotine choke—look no further than his first fight with Vitor Belfort and his fight with James Thompson for some cracking guillotines.
Advantage: Overeem
Jon Kopaloff/Getty Images

I don't think that Overeem is particularly slow, but Junior dos Santos is so friggin' fast.
In my opinion, Junior dos Santos is the fastest heavyweight in MMA history. If you want a good example of his speed, just watch any one of his fights in the UFC...the reason he knocks guys out is because they're hit with punches that they don't see coming.
Advantage: dos Santos
Although dos Santos has great KO power, Overeem has the greater physical strength.
Alistair Overeem is a colossus of a man, and if you want to see him use his strength and power to really manhandle someone, then watch his fight against Brett Rogers. Brett Rogers is a massive man who fights at 265 lbs, and Overeem completely had his way with, tossing him to the canvas and stopping him with punches.
Advantage: Overeem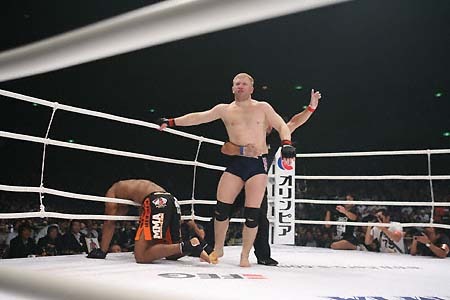 In my opinion, Junior dos Santos has faced better opponents than Alistair Overeem as a heavyweight, and has stayed undefeated in the UFC.
Furthermore, though it was his only loss since he moved up to the heavyweight division permanently, Overeem was knocked out by Sergei Kharitonov. He did display a good chin against Tyrone Spong in their K-1 fight, although due to his apparently suspect chin, I'll go with dos Santos here.
Advantage: dos Santos
This fight is so even, it's very hard to make a prediction on who would win.
I think if the fight did happen, Overeem would try to use his legs to kick and take away the movement of Junior dos Santos. However, dos Santos comes from a great camp in Black House, and I think he will be well prepared for the kicks.
I see dos Santos weathering an early storm from Alistair Overeem, and coming back to seal the victory with a late stoppage, folding Overeem with a barrage of quick, powerful punches.
Prediction: Junior dos Santos via third-round TKO