Ryder Cup 2012: Projecting the U.S. and European Teams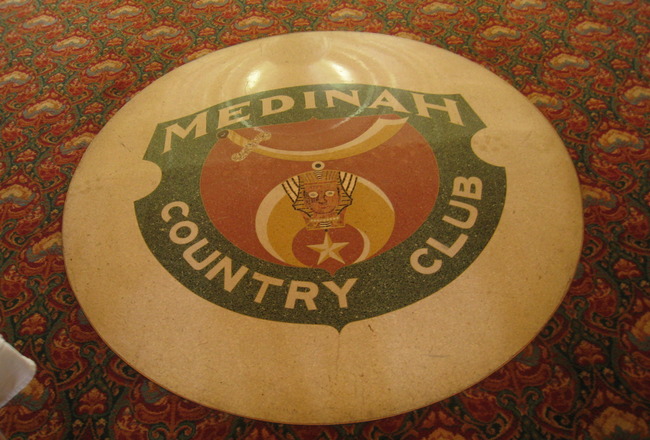 After the 2010 Ryder Cup bout at Celtic Manor came down to a final, tournament-clinching putt that crowned the European's champions, the USA team will be out for blood when the Cup returns to US soil in 2012 at Medinah Country Club.
Recently, Spain's José Maria Olazábal, a seven-time Ryder Cup competitor and two-time Masters champion, was selected to lead Team Europe in 2012, while the US elected Davis Love III, a six-time Ryder Cup competitor and 20-time winner on the PGA Tour, to guide the Americans toward attaining the Cup. But we all know that in reality, as much as the Captain's strategize the pairings and match-ups, it's the player's who must produce under the pressure of a tournament unlike any other.
Phil Mickelson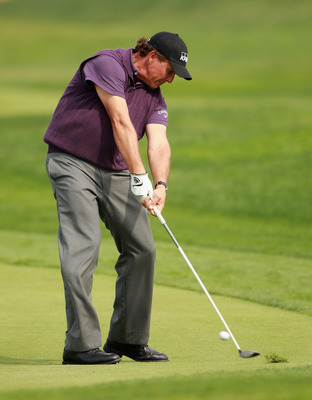 Andrew Redington/Getty Images
Between his knowledge of the event's often confusing format, intense pressure, and the overwhelmingly difficult task of representing one's country, he will, one day, make an exceptional Captain, however Phil Mickelson's still got a lot of solid golf in him.
Considering he recently landed the dubious record of most matches lost by a USA competitor, he's also played in a record-tying eight Ryder Cup's, deeming his wide-ranging experience an invaluable resource. At this past year's Ryder Cup, Mickelson notched just a single, measly point for the Americans and consequently endured a lot of heat for his lackluster performance in such a large-scale, high-pressure event.
But in the midst of criticizing his individual play, people seemed to forget how inspiring of a teammate he was to the younger players, like Rickie Fowler and Jeff Overton, who both vocalized their appreciation for Mickelson's support throughout.
Mickelson represents a conundrum, or double-edged sword scenario. His history at the Ryder Cup is by no means impressive, but he's undeniably one of the most talented players in the game today, earning a major championship victory last season to prove it. Mickelson will always be a part of my Ryder Cup squad.
Tiger Woods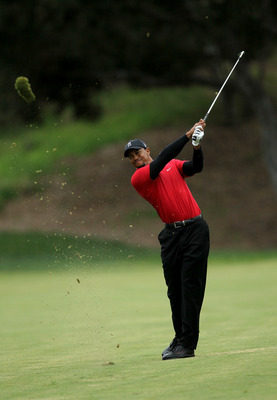 Stephen Dunn/Getty Images
Intimidation. Simple as that.
Whether it's the Ryder Cup in 2012 or the Farmer's Insurance Tournament this coming weekend at Torrey Pines, Tiger Woods will forever possess that unrivaled potential to hit that one shot that sparks a surge of electricity through his game. Make no mistake, Euro's like Graeme McDowell, Martin Kaymer, and Lee Westwood are challenging his leap to reclaim the No.1 World Ranking, as well his overall dominance in golf.
But Woods will never have a year like 2010 ever again.
What's done is done and no one is more prepared, more amped up, more concentrated, and more hungry for victory than Woods. Also, Woods has won twice in his career at the host course of the 2012 Ryder Cup, Medinah Country Club; both were these minor feats called PGA Championships, first in 1999, a foreshadowing to his 'Tiger Slam,' and then by five strokes in 2006.
Hunter Mahan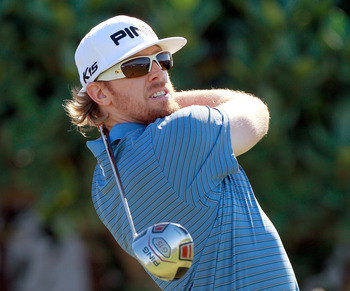 Sam Greenwood/Getty Images
The tears Mahan shed in the press conference just after losing to Graeme McDowell in tragic fashion by a single point at Celtic Manor in 2010 should not be overlooked. Mahan is not a baby, or a sissy, or a poor sport, but a seriously dedicated competitor who struggled down the stretch of what was clearly an exhaustive, mind and body consuming race to the finish.
He displayed both his passion for one-on-one competition and for the sport of golf in general at the 2010 Ryder Cup, which are absolutely essential for an athlete. Aside from his ceaseless dedication to team victory that he displayed in both 2008 and 2010, Mahan has continuously proven his skills on the course, winning twice in 2010 and finishing T8 at the Masters.
Like Sean O'Hair and Tiger Woods, Mahan works with prestigious instructor Sean Foley. Together, they have developed Mahan's terrific driving accuracy and precise iron play, and over this next season are paying serious attention to improving his putting. He's one of the leaders at the forefront of this youthful uprising on the PGA Tour and based on his play this past season, there's no signs of letting up.
Nick Watney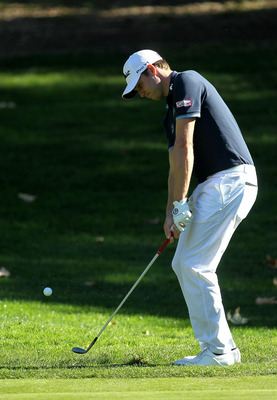 Stephen Dunn/Getty Images
Riding the momentum of a sensational 2010 season, Nick Watney has enormous potential to earn a place on the 2012 Ryder Cup Team.
Last season, Watney finished solo 7th at the Masters, a T7 at the British Open, and earned six other top-10 finishes en route to a closing T4 at the Tour Championship. Watney is a perpetual perfectionist, working tirelessly on the driving range and putting greens to become the most versatile, competitive player possible.
He ranks in the top-25 in most stats on Tour, a testament to his consistency and wide-ranging talent. 24th in Scoring Average (70.29), 20th in Driving Distance (296-yards), 8th in All-Around Ranking and 4th in Birdie Average (4.01 per round). Also, I may not know the guy personally, but he projects an image of an outgoing, jovial teammate fused with a serious, focused competitor, which is seemingly ideal for a Ryder Cup member.
Matt Kuchar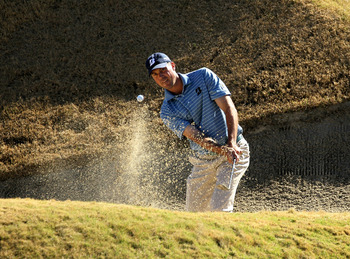 Stephen Dunn/Getty Images
Mr. Consistency, Matt Kuchar, has already begun 2011 where he left off 2010, on a top-10 hot streak.
After carding 11 top-10 finishes last season, Kuchar is now three for three in 2011 with a T6, T5, and T7 thus far this season. Though he only won once last year, he's poised to enter the winner's circle multiple times this season. If he can continue to display his reliability from tee to green and notch high finishes in significant events, he will earn another trip to the Ryder Cup in 2012.
Celtic Manor was Kuchar's debut on the Ryder Cup stage and while he faltered to Ian Poulter in the singles match on the final day, he still earned a point and halved for the USA Team.
Bubba Watson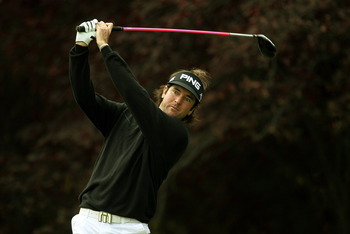 Stephen Dunn/Getty Images
For a time there, Bubba Watson was a bit of a joke on Tour.
He was swinging out of his shoes and bombing the ball off the tee as if it were shot out of a canon off to the next planet. His super-human length off the tee, averaging over 310-yards, was countered by a truly mediocre short-game that landed him in the middle of the pack after most events.
But now, Bubba Watson is only getting better.
Over the last three seasons Watson has made substantial changes to his course management, specifically with regard to his short-irons and putting. Now, when he drives the ball 40-yards past his opposition, he's that much more of a threat because he has a variety of shots within his arsenal, most commonly a sawed-off pitching wedge that stays low and spins to within ten feet consistently.
Without contention, Watson earned his place to compete for the USA Ryder Cup Team in 2010, but as a rookie definitely struggled to find his rhythm. But over the next season he will develop the kind of confidence under pressure that eluded him at Celtic Manor and be a stand-out in 2012.
Dustin Johnson
Sam Greenwood/Getty Images
Other than a personality, this guy has pretty much got it all.
Deep off the tee, aggressive and precise with his irons, and growing into the excellent putter he has the potential to become. Since 2008, he's won four times, finished in the top-10 in major championships three times, and emerged as one of the premiere young players on Tour.
Unfortunately, he underwhelmed in his rookie debut at the Ryder Cup in 2010, losing three of the four possible points. However, what's hopeful, and a sign of things to come, was who he beat to earn that single point—Martin Kaymer. Johnson overpowered Kaymer – the budding, perennial powerhouse of the European Tour – with his outrageous length that allowed him to attack vulnerable pin placements.
Dustin Johnson is the future of the American Ryder Cup Team and will grow into that leadership role over the next year.
Steve Stricker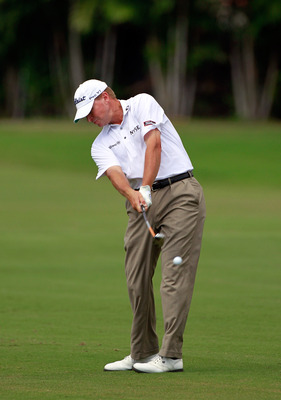 Sam Greenwood/Getty Images
Steve Stricker and 'overpowering' just don't vibe well. But that's alright because Stricker has developed the kind of simple and straight, calm and collected style of play that's catapulted him to the spotlight of the golf world over the last few seasons.
For a time, he was just Tiger Woods' good luck charm. The two were constant playing partners who seemed to bring out the best in each other. However, when they were dismantled by the Northern-Irish duo of McDowell and McIlroy in the opening match, Tiger failed to rise to the occasion, but Stricker ruled the day.
He came back to win his next three points, playing exceptionally in both the pairings and his duel against current World No.1 Lee Westwood. But realistically, Stricker doesn't receive the credit he deserves. He's 43-years-old and has won six times in two years, three per season.
He's got the experience, the game, and the heart to be an essential member of the USA Team.
Rickie Fowler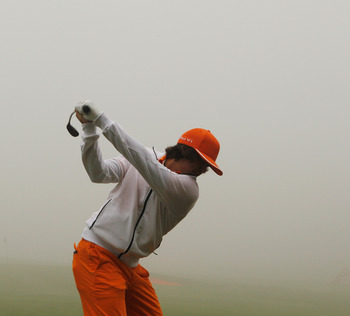 Scott Halleran/Getty Images
As a rookie at the Ryder Cup and the youngest competitor on the course, Fowler simply soared.
After losing his initial point with Phil Mickelson, who seemed to wear the cloak of defeat during the Cup, Fowler found his groove with the putter alongside Player of the Year Jim Furyk. The momentum from that halve point guided him throughout his bout with European Edoardo Molinari, who was four-up through 12 holes. But within the next six holes, Fowler played lights out golf by carding four birdies, topped off by a final, birdie putt to clinch the essential half point that kept the American hopes alive.
If his performance at the Ryder Cup wasn't enough to sway you, think about his season. At 21-years-old, he nearly won twice, but finished runner-up to esteemed champions Hunter Mahan and Justin Rose. He had five other top-10 finishes and had a sensational turnaround at the British Open where after opening with a 79, he bounced back with rounds of 67-71-67 to finish T14.
Anthony Kim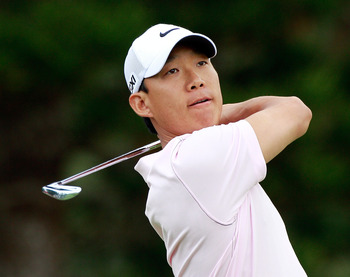 Sam Greenwood/Getty Images
"If" might be one of the most dangerous, confusing, and perplexing words in the English language. When it comes to Anthony Kim, what IF he hadn't gotten hurt last season?
After a sizzling start to 2010 – a victory and three top-10's in eight starts – Kim was sidelined by a thumb injury that cost him what may have been his most successful season Tour. When he attempted to return in hopes of regaining that initial momentum and earning a place on the Ryder Cup Team, he clearly looked unprepared and out of shape.
So far, he's bounced back this season with two top-20 finishes in his first two starts. Soon enough he will be back to full health, comfortable with the conditions of competitive golf, and concentrated on doing anything and everything it takes to win golf tournaments.
Overall, Kim is just an outstanding golfer. When he's been on – reference his record-breaking 11 birdie round at the Masters landing him a T3 finish – he's too long, too close to the pin, and too in rhythm to chase. He was a dominant force when he played on the 2008 Ryder Cup team and once he reestablishes himself on the PGA Tour, Davis Love III will recognize that he will be making a huge mistake if Kim is not on his roster.
Lee Westwood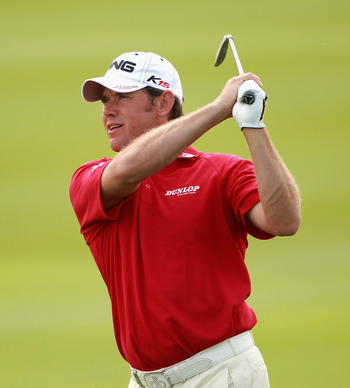 Andrew Redington/Getty Images
At the 2010 Ryder Cup at Celtic Manor, Westwood looked like he wasn't just playing for his teammates, or for Europe, but most of all, for flat out pride.
With every shot that landed close to the pin or putt that he drained, it was followed by a forceful fist pump or roaring yell that only fueled the fire that burned deep within his vision of victory. This was most apparent in his opening match playing alongside Martin Kaymer as the two railed through Americans Dustin Johnson and Phil Mickelson.
Westwood's ferocity inspired the often stoic Kaymer, who became animated as Westwood continued his surge. He seemed most emboldened to play his best golf when he and Luke Donald were paired with American powerhouse Steve Stricker and Tiger Woods. Led by Westwood, the Euro's blew down the American's house like the big bad wolf trouncing the little pigs, beating them by six strokes and having the match called after 13 holes.
His momentum from the Ryder Cup has only been intensified by his terrific and consistent play at the WGC-HSBC Champions event where he landed a solo 2nd finish that anointed him the World No.1 golfer.
Paul Casey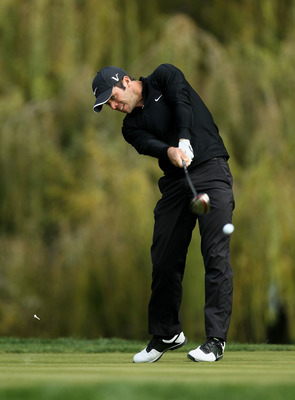 Stephen Dunn/Getty Images
If the European's refuse to allow Paul Casey to compete for their squad in 2012, they will be making a crucial mistake—again.
Prior to the Ryder Cup teams being released, rumor had it that Paul Casey, along with fellow Euro's Justin Rose and Padraig Harrington, were deemed undeserving of a position on their country's team because of their 'loyalty' and constant play within the American PGA Tour. From one perspective, one could think of it as 'Who cares? The European team still won without Casey.'
But then again, it's the European team's loss.
Casey has grown into one of the most skilled players in professional golf. No matter what tour or country he's playing for, you can bet that in any field Casey will be one of the most accurate driver's off the tee, one of the most precise with his irons, and without a doubt one of the most dependable putters.
Casey is kind of like Kuchar's European counterpart because of his amazing consistency. In the 14 cuts he made this season on the PGA Tour, he finished in the top-25 13 times, notched seven top-10's, and then in the majors, he earned a T3 at the British Open and a T12 at the PGA Championship. Since the beginning of September, Casey has played in four events and not finished worse than T6 once.
These stats amount to a player who's not good at the game, but thrives at it. It was a mistake for the European Team not to utilize his skills in 2010, so hopefully they will come to their senses in 2012.
Rory McIlroy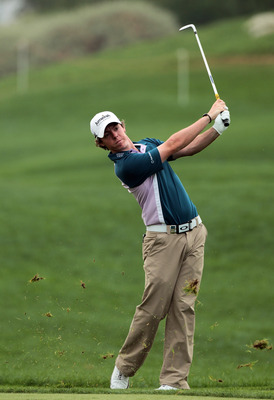 David Cannon/Getty Images
Golf lingo is hilarious. Putt's that just miss are often called 'lip-outs' and when drives are hit down the middle of the fairway, they're called 'striped.'
When it comes to Rory McIlroy, there's a new kind of golf lingo—it's called 'scary good.'
The sense of fright surrounding this 22-year-old kid, is, well, that he's still a kid, but playing like seasoned vet. Though he's been making noise on both the European and PGA Tour's over the last two seasons, it all truly came to fruition in 2010.
Not only did McIlroy cement his praise when he landed his first PGA victory at the Wells Fargo Championship, which he closed with a record-tying 62, but he broke another record in the opening round of the British Open with a 9-under par, 63. After finishing T3 at the Open Championship, he rode that momentum into a late surge at the PGA Championship, earning another impressive T3 at a major championship.
Then came his debut at the Ryder Cup. Alongside fellow countrymen Graeme McDowell, the two formed a star-studded duo and entered the spotlight of the event. McIlroy proved essential to the European victory, earning two points overall. In the case of McIlroy, kind of like Rickie Fowler and Anthony Kim, he will only get better, which is a 'scary good' thing.
Martin Kaymer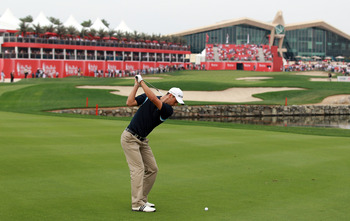 David Cannon/Getty Images
If you look at Martin Kaymer's profile picture from the 2010 Ryder Cup, he looks like a 16-year-old Sophomore in high school.
If you look at Martin Kaymer's golf swing, he looks like the living, breathing, swinging version of 'Ben Hogan's Five Steps.'
If you look at Martin Kaymer's statistics, he's won 17 professional golf tournaments, which is more than half of the time he's been on this earth.
Finally, if you look at Martin Kaymer, you can't help but think three things: 2010, impressive, and the future.
In 2010, Kaymer finished T8 at the US Open, T7 at the British Open and then won the PGA Championship. By capturing the Abu Dhabi HSBC Championship last week, the 26-year-old surpassed Tiger Woods in the World Ranking and now stands just one slot behind Ryder Cup teammate Lee Westwood—that's impressive.
Finally, this guy is the future. Since 2008, Kaymer has won nine times, which in the golf world is simply unheard of unless your name is Tiger Woods. There's been lots of talk about how young players are posing a threat to the older generation of golfers, but young or old, everybody needs to beware of Martin Kaymer.
Graeme McDowell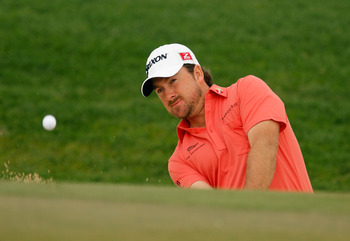 Scott Halleran/Getty Images
The dark-horse, unlikely, first time major championship winners often carry a stigma that they're somehow undeserving of the accolade. The excuse is usually that he didn't win, but the field actually lost. What's even worse is when that first major victory is also that player's first PGA Tour victory.
Enter Graeme McDowell.
When the Northern-Irishmen snagged the US Open at Pebble Beach from under the noses of three of golf's greats – Tiger Woods, Ernie Els and Phil Mickelson – no one knew what to expect, so the assumption was he'd have a rather mediocre career, like a Ben Curtis.
Then, instead of imploding, he slowly began to pick up momentum.
First with a T23 at the British Open, then a T22 at the WGC-Bridgestone, and then came the Ryder Cup. At Celtic Manor, where just a couple months prior McDowell had one the Wales Open, McDowell was one of Europe's most reliable performers. In addition to his phenomenal team play, he initiated one of the most dramatic finishes in Ryder Cup history when he sank the deceptive 15-foot putt over Hunter Mahan and effectively ended the hopes of the Americans.
Since then, it's been the Graeme McDowell show. He beat Tiger Woods at his own event in Woods-like fashion—doing the unthinkable. In Hawaii at the Hyundai Tournament of Champions, he opened 2011 with a T2 finish highlighted by a record-breaking, 11-birdie final round 62.
Luke Donald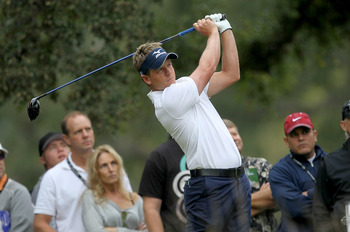 Stephen Dunn/Getty Images
Luke Donald proved his fiery, competitive edge when he grabbed three points en route to the European victory at the Ryder Cup.
Alongside Ian Poulter, Donald led the charge against the relentless American duo of Bubba Watson and Jeff Overton. The match came down to the 17th hole and was ended with a final, birdie clinching putt by Donald. In the next match, Donald, now paired with Westwood, clobbered Americans Steve Stricker and Tiger Woods. All it took was 13 holes for this European combo to dispose of the Americans, largely due to Donald's exceptional, consistent putting.
Finally, Donald faced PGA Tour Player of the Year Jim Furyk, who began a back nine surge with two birdies on the 14th and 16th holes. But Donald held off Furyk with a steady finish that was crucial to the European triumph.
His terrific play came amidst a terrific season, capturing seven top-10 finishes on the PGA Tour and then ended his drought with the victory at the Madrid Masters. Between his accuracy off the tee and unrivaled touch around the greens, he's a versatile player that needs to be on the European roster.
Ian Poulter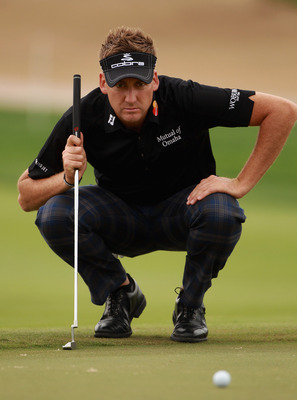 Andrew Redington/Getty Images
Whether or not Ian Poulter deserves your respect is up for dispute. What's not is that he was an essential contributor the European team.
Poulter added three points to the Euro squad, notably squashing Matt Kuchar on the final day of competition by five strokes. While 2010 wasn't Poulter's most impressive season, he's been on a hot streak over the last couple months, finishing T13 at the WGC-HSBC Champions, T6 at the Chevron World Challenge and most recently another T6 at the Hyundai Tournament of Champions.
He's a crafty player. When he hits a drive awry, he can turn the hole around by chipping back into the fairway, attacking the pin and draining his putt to save par. Also, over his last few events he's been learning how to capitalize on vulnerable pins, pulling driver on short par-4's, and never leaving his birdie putts short. His energy and relentlessness make him a force to be reckoned with on the golf course, and clearly he proved his worth at last year's Ryder Cup.
Justin Rose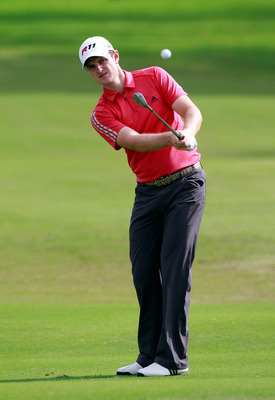 Sam Greenwood/Getty Images
When Justin Rose won two events in 2010 – The Memorial and the AT&T – it seemed like their was a collective sigh of relief let out by the golf world.
Truthfully, it's taken far too long for Rose to breakthrough. In the previous four years, he'd finished in the top-10 15 times without a single victory. There's no doubt he's a fantastic golfer, as mechanically sound as any other player, but was never quite able to make the leap to the next level.
But 2010 was a transformative year for Rose, who has only yet to blossom. Like Paul Casey, he endured the brunt of an unfortunate situation, in which his 'allegiance' to the PGA Tour cast him aside from the European Ryder Cup roster. If he continues to play with his new and improved style of golf, he won't be overlooked again.
Ross Fisher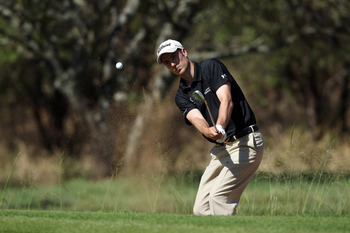 Gallo Images/Getty Images
Ross Fisher is relatively unknown on the PGA Tour, but he's also a substantial, successful player on the European Tour that played a pivotal role for the Euro's in their Ryder Cup triumph in 2010. Fisher was a standout because alongside Padraig Harrington, the two Europeans helped bring down one of the most threatening American duo's, Dustin Johnson and Phil Mickelson.
If you analyze Fisher's game, he's a great player for emulation. With regard to technique, Fisher is nearly flawless. With an iron in hand, few are more trustworthy; Fisher loves hitting knock-down and half shots, never afraid to take an extra club. On the putting greens, Fisher's fluid, rhythmic putting stroke has been his most powerful weapon in his arsenal. If you haven't heard of him or watched him play, keep an eye out because he's got the game to become a real threat in professional golf.
Padraig Harrington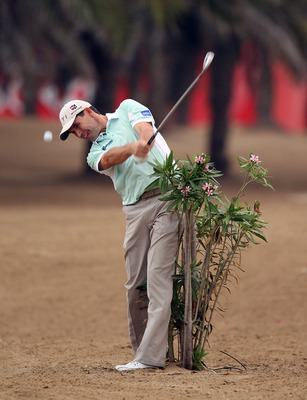 Ross Kinnaird/Getty Images
Remember when Padraig Harrington won Player of the Year?
Remember when he won two majors – The British Open and PGA Championship – in a single season (2008)?
Realistically, it wasn't that long ago, but Harrington has dropped off the radar since not winning in two seasons. The Irishmen has been plagued by inconsistency more than anything else. Though he's earned at least five top-10's over the last two seasons, he's also missed six cuts each season.
But I have faith that he will emerge out of his slump and become a real contender once again. He still has the capacity to regain his depth off the tee, exceptionally precise iron play and craftiness on and around the greens. Hopefully he will breakout in 2011 and earn his place for 2012.
Keep Reading