David Haye Exploring a Rematch With Jean-Marc Mormeck? You Cannot Be Serious!
January 25, 2011
Scott Heavey/Getty Images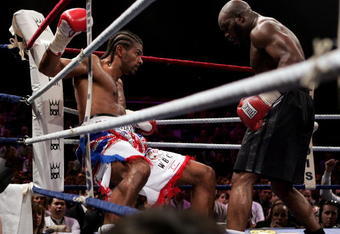 John Gichigi/Getty Images
In the "say it ain't so" boxing sweepstakes, Adam Booth, the manager/trainer of WBA heavyweight champion David Haye, is publicly musing about a rematch between his charge and former cruiserweight champ turned heavyweight contender Jean-Marc Mormeck.
In an interview with ffboxe.com, Booth seems surprised at the discovery of something that most fans of heavyweight boxing have known for some time: that Haye's mandatory challenger for the WBA crown, Ruslan Chagaev, is infected with the hepatitis B antigen (he is not ill, but is a carrier of the virus).
"Logically, David would have faced [Ruslan] Chagaev but the news about his health is not very good," Booth says in the interview.
"He reportedly suffers from hepatitis B, which makes their confrontation impossible. I then looked at the classification of the WBA ... and I saw that Jean-Marc Mormeck is now ranked in the Top 10 at seven or eight, I think, and that makes a Mormeck-Haye fight possible," Booth explains.
There are so many things wrong with this idea (as there was with the choice of Haye's previous opponent, Audley Harrison), that to enumerate them all here would take up too much space. 
But let's hit the most obvious problems:
First, Haye has already defeated Mormeck when they fought for the WBC cruiserweight title in 2007.  Mormeck did knock Haye down in round four, but is that knockdown really enough to warrant a rematch at heavyweight?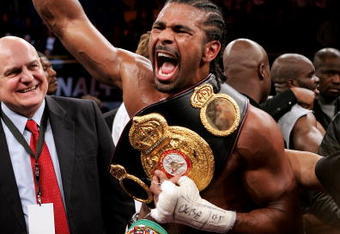 John Gichigi/Getty Images
Second, Haye insists he is retiring in October of this year.  That leaves him with probably enough time for two fights, maximum.  Beating a man he's already defeated at a lighter weight is surely going to do nothing for his legacy as a heavyweight. 
But it appears that the question of legacy is no longer a concern for Haye and Booth, if indeed it ever was.
Most of us know by now the sad inability of the British duo to negotiate a deal with either Wladimir or Vitali Klitschko, who currently hold all of the major belts aside from Haye's WBA title.
While Haye and his manager have been messing around in what seems to be non-serious negotiations with the Ukrainian champs, worrying themselves over things like who enters the ring first, or whose picture is bigger on the promotional material, top challenger Tomasz Adamek has scooted right by them and secured a lucrative deal to fight a Klitschko-brother-to-be-determined in September.
But there are still alternatives for Haye. 
If not Chagaev (and it should be noted that Wladimir Klitschko fought Chagaev in 2009 without complaint, merely taking a vaccination before the fight as protection), how about Denis Boytsov, Alexander Povetkin, Samuel Peter, Robert Helenius, Cris Arreola: these are some fighters who could give Haye a decent (and hopefully entertaining) match.
And all of them are better than Mormeck, who this writer had losing his last fight to Timur Ibragimov in Paris, only to be saved by a hometown decision.
Booth, however, doesn't seem too interested in those names, and not only dismisses the notion of a fight with Wladimir, but also with Vitali (too old and likely to lose to Odlanier Solis, according to Booth—a notion shared by almost no one outside of Solis's inner circle).
He also implies that there is public demand for a Haye-Mormeck rematch.
"In England there is no problem," Booth says. "We've sold 20,000 tickets in two to three weeks for each of David's bouts. Haye-Mormeck in England is possible." 
"But if France wants to see this fight in Paris, David is quite ready to return. It will demonstrate that his first success against Jean-Marc was not a coincidence...."
But who was really insisting it was a coincidence in the first place, Adam?