Cricket World Cup 2011: England Squad Analysis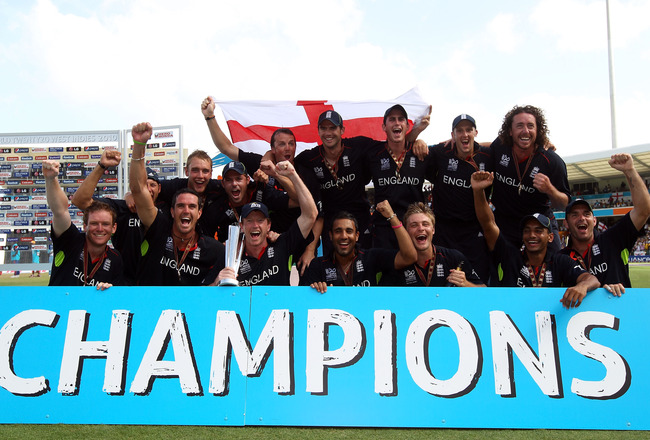 Can they add the ICC World Cup to the World Twenty20 title?
Clive Rose/Getty Images
The burning question on all England cricket fans mind: Can we win the World Cup?
Currently slugging it out with Australia having just gone 2-0 in a ludicrous seven-match series, the English players must be wishing for a chance to draw a breath, and focus on that elusive World Cup.
Never mind looking at those who have missed out due to weight problems, poor form or a change of heart amongst the selectors, here we take a look at the England 15 selected.
The Weight of Runs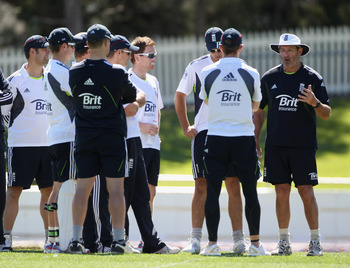 Listening to one of the hardest working England players ever - Batting Coach Graham Gooch
Tom Shaw/Getty Images
Andrew Strauss (Capt), Ian Bell, Eoin Morgan, Kevin Pietersen, Matt Prior (WK), Jonathan Trott
The weight of run needs to come from the names shown just above, the specialist batsman, no comments needed about Prior's inclusion in this category!
Andrew Strauss has quashed all comments about his inclusion in the 50 over game in, with some swashbuckling innings at the top of the order in the recent past. With a greatly improved strike rate he is half of a solid opening partnership, but where is the other half?
KP, Morgan, Bell and Prior are all certainties in the starting line up, but in which order its unsure. Prior looks to be opening throughout the Australia series, but if he fails there Ian Bell may well open. He is technically our best player, and has been in good touch all winter in Australia, I believe he should open and use the hardness of the new ball.
KP must fire at three, with Morgan and Colly (classed here as an all rounder) following leaving Prior at six. Morgan has shown his ability at closing out games, and marked himself down as an integral member of the ODI squad with already 50+ matches. Trott is a solid obdurate batsman, but with the need for bowling options he could well miss out. It might well be a straight shoot out between Bell and Trott, with "Sherman" clinching it here.
All Rounders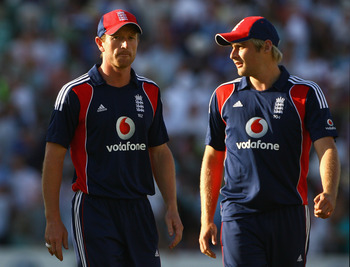 How involved with these men be?
Tom Shaw/Getty Images
Paul Collingwood, Luke Wright, Michael Yardy
These men occupy possibly the most crucial positions; they can heavily influence the game with the bat and the ball. Paul Collingwood will play, as the most experienced Englishman in ODI cricket. He brings this experience, his cutters/trundlers and fingers crossed some runs. The side looks unbalanced without him providing that extra bowling options, desperately needs to find some form in Australia first though.
Michael Yardy is a definite pick. No question. Not the most talented spinner, not a natural wicket taker like Swann, but the ability to tie down an end and with a very experienced head on his shoulders. Don't let the second ODI vs Australia fool you, he will keep an end quiet. Can also handle a bat, has a good first class average, however does not look a quality No. 7 batsman. Looks to be one spot too high.
The man who has not made it at international cricket yet, backed up by an ODI batting average of 21 and a bowling average of 51. He does however have eight first class hundreds and 2 ODI 50s. This man undoubtedly has talent, but has been shifted around the order for England, often opening. He could yet find his niche in the lower order, perhaps No. 7. The ability to bowl quick, and hit the ball hard could swing him some time in Australia, but needs to come to the party quickly.
The Bowlers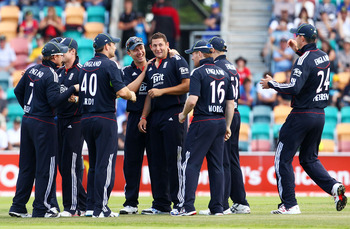 Containment is key
Mark Nolan/Getty Images
James Anderson, Tim Bresnan, Stuart Broad, Ajmal Shahzad, Graeme Swann, James Tredwell
A couple of players here could claim all rounder status, but will be relied on mainly for their bowling.
When looking for the starting eleven, James Tredwell drops out straight away. Due respect to him he is a fantastic county pro, but he will not me playing apart from an injury Graeme Swan. Swann of course is in, alongside the resting James Anderson. Stuart Broad will be back from injury and will make his way back in alongside Anderson as the new ball bowlers.
The remaining spot is a complicated decision. Tim Bresnan should be the man in possession and has done well. However the arrival on the scene of Ajmal Shahzad threatens his place, with all around energy and the ability for reverse swing, Shahzad is the wicket taking option. Bresnan provides more with the bat and has more experience; this is a close one to call.
Brining It All Together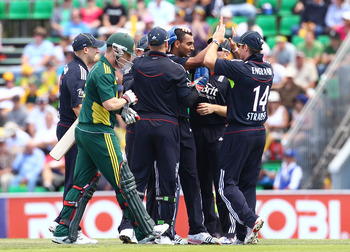 Mark Nolan/Getty Images
Time to put my neck on the line and select my starting XI for England's World Cup Party.
In this author's mind the question marks are over the No. 7 position as well as the last bowling slot.
My top six would be as mentioned on the batting slide, with Trott the man missing out. Three of the remaining five slots are taken up by the main bowling weapons of James Anderson, Stuart Broad and of course the main tweaker, Graeme Swann.
This leaves us with two slots, the troubled No. 7 and No. 8. I earlier stated my belief that Yardy would definitely play as the second spinner and I stick by this. I would place him in at No. 8. To my eyes this leaves us with two options, Bresnan or Wright at the crucial No. 7.
Many will disagree with this, but I am going to opt for Luke Wright. His bowling can be usual as well as express, and it it my feeling that the value of the extra bowler is outweighed by that extra ability for runs before we get to Yardy, Broad and Swann.
It is however my belief that the selectors will go with Bresnan and Yardy at 7 and 8, so we all pray that our top six gets a good total.
My final eleven would be: 1) Strauss 2) Bell 3) Pieterson 4) Morgan 5) Collingwood 6) Prior 7) Wright 8) Yardy 9) Broad 10) Swann 11) Anderson
Keep Reading