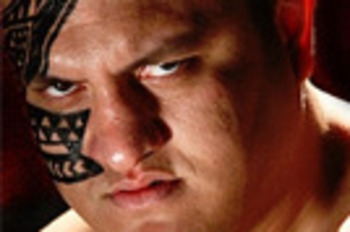 Still menacing.
John Cena is spoiled and gets all the attention.
Why?
Why is the Miz getting the push he's getting? Randy Orton should get more of a push. The Big Show is sucking wind in the heel department. OMG, the Divas five minutes is still too much.
Why is Mysterio getting slower? CM Punk...really? Can John Morrison do anything besides the Jim Morrison bit? Will Sheamus ever get a tan? Where is HHH? Is Batista ever coming back?
These are but a few questions that burn wrestling fans' brains as the same storylines keep getting pitched and the same old heel gimmicks are recycled.
The die-hard fans insist that better times are coming, but many want a few shake-ups to keep their interest.
So when the writing keeps getting stale, what do you do?
If you're Vince McMahon, you might do well to restock your stables with some familiar faces. The fact of the matter is this: Veterans (which are only a handful now) are keeping the storylines secure as the younger talent climbs the mountain of fandom, and the whole mentoring thing is...ahhehhh, sorry had to yawn.
Some old friends and acquaintances might be the answer.
Samoa Joe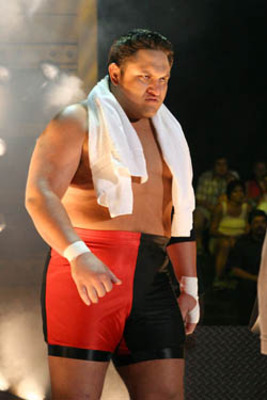 Intimidation at it's finest.
His exploits in Ring of Honor and TNA have already made him legendary. He has a permanent sneer that could rival the Undertaker's and an intimidation factor that you stack up against Randy Orton.
And oh, wouldn't it be fun to see him give a Muscle Buster on the likes of The Miz, or maybe even the Celtic Warrior?
He could drop a great storyline by coming and consolidating the Samoan wrestlers like The Usos and Tamina. He might then start using them to attack individuals that present any obstacle on his way to a title shot.
If CM Punk could put aside his ego, he could even help his good buddy by taking a few bumps for his old pal. Yep, that's right: They're rumored to be pretty good friends from way back. They still BBQ out back, I hear.
Matt Morgan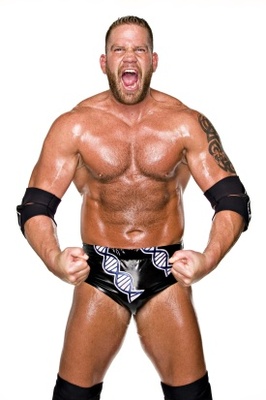 That's the end of the Show.
Matt Morgan is a big man that needs to come back.
Morgan originally got his start with the WWF promotions before being sent back down to the Ohio Valley farm team, being recirculated, and finally going back to OVW before Jeff Jarret signed him to the TNA brand where, he has enjoyed great success with his Blueprint image.
A good storyline could be him coming in and retiring the Big Show, which is already a rumor. Give Paul Wight a big man that could bring him down, or he could surface as a heel to feud with Kane or Undertaker.
At 6'11", he's got the size and bulk to damage anyone on the roster and still manage some stage presence. He would probably have to shelf his Blueprint persona in favor of a more violent antagonist.
He could even retire HHH when he does leave. The possibilities are endless for Morgan.
Chris Tuchscherer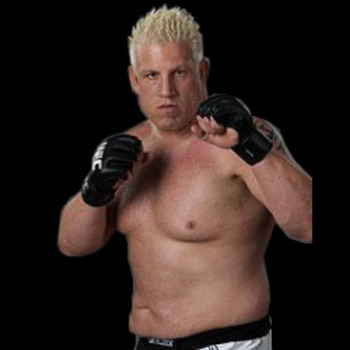 UFC gets a little lighter.
Who the (expletive) is this guy, right?
Yep, I asked that same question when I heard his name, and the next factoid was he lost to some other no-name in the UFC.
Chris Tuchscherer never gained the popularity of Tito Ortiz or Brock Lesnar, but the big man can still knock 'em out.
With a record of 18-3 he managed to compile even numbers across the board with an almost equal number of wins coming by knockout, submission and decision.
The talent surfacing in the UFC will undoubtedly push him out in competition and popularity. After two or three more cards, his time will most likely be up at UFC.
Send him down to the OVW to get a few mike skills, then send him over to mix it up with the younger WWE talent.
Let him beat the crap out of the younger guys for a few months and then send him out to blindside the Miz; his sudden beat-down puts Miz on a stretcher, then he could attack him in the ambulance like Stone Cold did the Hitman. Throw some cuffs on him back-stage, and abracadabra...instant WWE star.
Shawn Hernandez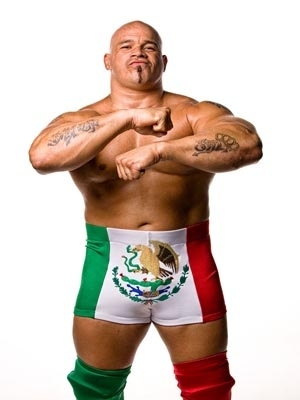 Bad ass latino.
Rey Mysterio used to be somewhat of a badass when he was challenging top talent, and actually throwing around beat-downs the way Luchadores are supposed to.
Now he's left to the old story lines of rich against poor, or blue collar against the entitled. Alberto Del Rio is a wash out from Spanish soap opera at best.
Enter stage right Hernandez, a Latino superstar you can be afraid of.
He has pummeled everyone of TNA's superstars and made most of them bleed. After he's finished demoralizing Mysterio and breaking Del Rio's back, he could give Primo a push and they could be a thorn in the side of most any veteran.
He has an arsenal of heavy-hitting finishers that includes his Border Toss, and he can punch out better than most veterans.
Put him up against Sheamus with a "Who's the legitimate immigrant?" storyline and the crowds will eat it up like potato chips.
Gary "Big Daddy" Goodridge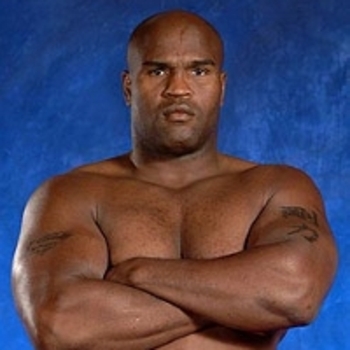 Legitimate badass.
This is the guy that Pride Heavyweight champion Fedor Emelianenko regretted getting in the ring with.
This is the guy that would clean the floor with Brock Lesnar.
His record is by no means Floyd Mayweather numbers, but he has fought some of the toughest names in MMA and inflicted terrible damage.
Gary already knows how to take a good bump, and the Canadian has on more than one occasion let slip that he might have a tendency to vere into WWE waters.
He's a little old at 44 to start in the business, but he could be a really good addition for a main event storyline, ala Hogan vs. Zeus, remember?
Give him a push at the Dead Man and see if the Undertaker can escape one of Big Daddy's leg bars.
Better yet, give it a hard push towards backstage and let them duke it out in a dressing room...that would be a ticket even I would buy.
Steve Borden "Sting"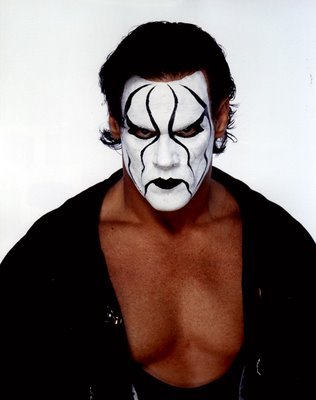 A legend.
Arguably, he is the best wrestler to have never stepped inside the WWE squared-circle. He was the franchise name of WCW from his first Splash.
If WWE is going to do it, they should strike while the iron is hot. Borden's contracts are idle and his time could be gargantuan going up against the likes of HHH or the Undertaker.
Maybe even Rock comes back for a "This is my house" storyline.
You know and I know we would all pee ourselves if he showed up in the rafters at a RAW event. Hopefully Vince would eschew past experience with Owen Hart and allow it to happen.
All this aside, at 52, Borden isn't exactly running a 4.4-40 anymore and some of his high-flying moves have somewhat lessened, but he still has a stage presence that could lift WWE ratings and give new talent a push if utilized correctly.
Merchadising alone would net in the millions for Sting, and a pay-per-view event against a veteran would finally break open my tight wallet.
Time is ticking, and letting Sting get one year older and not signing him would be a travesty. There were interviews in the past when he documented his faith prevented him from signing because of of all the risque stuff that was going on. But after Linda McMahon started her political run, Vince immediately put a yoke on that, so it shouldn't be an issue anymore.
Come on, Vince—you know it's the right thing to do. Write a big check and let the Stinger do his thing.
Keep Reading