WWE: Royal Rumble 2011 Thoughts and Predictions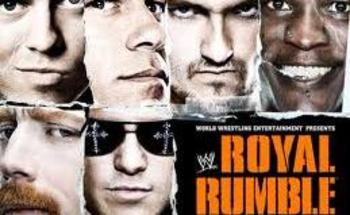 *May Contain SmackDown 01/28 Spoilers*
This is my favourite PPV of the year. The first of the Big Four and the Road to WrestleMania starts here. One of the benefits of this particular event is that the booking team is given more freedom to play around with the matchcard in comparison to other PPV that rely on a regular match to sell the event.
The Royal Rumble match is more than likely going to be the main event (unless they wanted to do a ridiculous stunt like in 2006). Less emphasis is put of the preceding two hours so more risks can be taken. Last year WWE decided to give us a heel vs heel world title match which was surprisingly entertaining.
2010 consisted of:
ECW Championship: Christian(c) Def. Ezekiel Jackson By Pinfall
US Championship: The Miz(c) Def. MVP By Pinfall
WWE Championship: Sheamus(c) Def. Randy Orton By DQ
Women's Championship: Mickie James Def. Michelle McCool(c) By Pinfall
World Championship: The Undertaker(c) Def. Rey Mysterio By Pinfall
Edge won the 30-Man Royal Rumble
Diva's Championship: Natalya(c) Vs. Lay-Cool (2-On-1 Handicap)
So the whole point of giving a title shot to Melina, having her inexplicably turn heel and finally waste the title match on a random episode of Raw was in the build up to yet another Natalya Vs. Lay-Cool match for the Diva's Championship... I am seriously going to have a violent episode if this continues.
This has typical WWE stupidity written all over it. Firstly this makes Melina's push and heel turn an entire waste. Not that it a was decent heel turn anyway. Whilst she did give Natalya a good slap there was no reason for the fans to boo her. Instead she stopped smiling and pretty much carried on as usual. Melina is now an after thought as Lay-Cool have some how managed to get back into the title picture.
I know the number of Divas in WWE that can perform at championship level are few and far between but could the creative team at least made it plausible as to why they have earned another championship opportunity and why they are allowing it to be handicap.
They have a rematch clause, you say? Last Monday saw Natalya's reign reach its 64th day. Rematch clauses expire after 30. I know this a is a fast and loose rule but still I like to think WWE occasionally live up to them. In addition to this Michelle McCool is the only one recognised as being the Diva's Champion, she is the only one with a right to a rematch. I'm not sure if I'm annoyed because of the match itself or how lazy the excuse to have this match came around.
I am not the most creative person but I can show some competence. Considering the waste of time that was Melina's challenge, the six weeks between TLC and the Rumble could have been used more effectively. McCool could have won a No. 1 contenders match early on. Layla could have had a match in the intervening weeks to get herself included into the contest. Hell, why not have her screw over Melina in a match thus making the situation a Fatal Fourway. It's the little things that matter.
I do not foresee a title change this Sunday, I believe this is purely filler for the much awaited Natalya Vs. Beth Phoenix match at WrestleMania. That's my guess anyway, besides I don't think the title could suffer another co-reign with any credibility intact.
Winner and Still Champion: Natalya
World Heavyweight Championship: Edge(c) Vs. Dolph Ziggler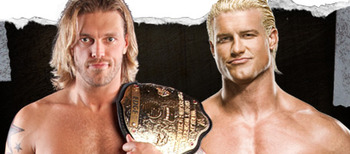 What I really like about the Rumble event is how its great for testing out mid-carders on the main event scene. With all the top players being entered into the Rumble match it leaves gaps in the title matches and Dolph Ziggler has capitalised on this occasion.
Edge on the other hand is now on his 10th World Championship reign since his first six years ago. Nearly averaging two reigns a year is not a good thing when the length is little more than a month each. Edge needs this one to last until WrestleMania at the very least. The problem is Smackdown's roster is volatile and the title picture can change in a heartbeat. Despite not being able to use The Spear this Sunday, I still think Edge is safe for this one as I don't see Ziggler being a major player just yet.
Ziggler has so far caught my attention in the feud and has done some good work to show he will be ready in the near future but not enough has been done to make him a credible threat to Edge in the build up. He lost the Intercontinental Championship and a major match with Randy Orton. Lest we forget he was pinned by Edge on the final SmackDown.
I also find it baffling as to why removing Edge's Spear gives Ziggler such an advantage. Doesn't he have about other finishing moves such as the Impaler DDT and Edgecator Submission? Maybe we could see the return of the Downward Spiral. Either way I think WWE recognised no one was believing Ziggler will win and this was one last curve to try and make it unpredictable.
Oh and the World Heavyweight Championship has never changed hands at the Rumble since it's first defense at the event in 2003.
Winner and Still Champion: Edge
WWE Championship: The Miz(c) Vs. Randy Orton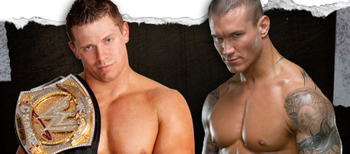 Considering Randy Orton didn't exactly lose his title match at TLC in the most convincing of manners I would have predicted that John Morrison's title shot was going to be used up on one of the episodes of Raw. Being one of the top faces in the company Orton needs a convincing reason to stop chasing the WWE title so the fans accept his quest is over. TLC did not offer that and despite the outcome of this match I think it will continue for another month.
The problem is that the next PPV in four weeks is the Elimination Chamber event where five people will be picked to fight for their brand's championship. It is almost certain these two will be in that match so we are pretty much guaranteed this match will be filler.
So lets cut straight to the chase. WWE Championship changes at the Rumble are rare even amongst well established stars. Since 1991 when the first WWE Championship match happened at a Rumble there have only been 6 handovers. Considering that the last decade only saw two World title changes when a majority of it saw two world champions defending at the event the luck is definitely against the challenger. If you're wondering which events saw changes here's the list:
1991: Sgt. Slaughter Def. Ultimate Warrior
1992: Ric Flair Won The Rumble Which was for the Vacant WWE Championship
1997: Shawn Michael Def. Sycho Sid
1999: The Rock Def. Mankind
2006: John Cena Def. Edge
2009: Edge Def. Jeff Hardy
I'm pretty sure Miz will walk away as champion once again as I currently have a Miz Vs. Cena match for WrestleMania, although I haven't counted out Orton Vs. Cena. What I am having trouble picking is whether Miz will get the win or DQ himself.
I know a lot of people rag on The Miz for not being World Champion material but I think that's the whole point of his reign. He is meant to be an unlikely champion and is meant to be hated because he holds the belt. So I think he will win but not by a clean pin. A Skull Crushing Finale on a Chair, a briefcase shot from Riley or even the simple feet on the ropes will keep Miz the belt.
Winner and Still Champion: The Miz
The Royal Rumble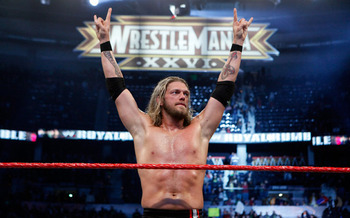 Is it me or has the Rumble just had no build up this year? The biggest problem with WWE today is that they have forgotten how to truly sell their PPVs. Just adding ten men and calling the event "The Biggest Rumble Ever" will sell a few tickets but I'm surprised at how little of the roster have come out to say they are going to win the match this year.
Too much of the six weeks in the build up to the event have been used to further feuds between the wrestlers but with little thought to the big event. Take New Nexus Vs. Cena for example. CM Punk has purely been focused on Cena and the general feeling I get from his promos is that Cena is the main target while the Rumble is a bonus prize.
The extra men is purely a catch to get extra buys. Still lets look at some the people many fans feel have a chance of winning it.
John Cena - Obviously the favourite going into this because WWE won't have a WrestleMania go by without the biggest selling wrestler being one of the three main events. He hasn't seen the belt since losing it last summer as he has been engaged with Nexus for most of 2010. With the last 8 Rumble matches being won by unique victors it is highly likely this year's winner will be someone who has won the event before. If Cena does win he better not use it up at the February PPV like he did last time. Getting a title match at WrestleMania is the biggest match in anyones career no matter how many time you have done it. It disrespects the match if you cash it in early.
CM Punk - Since Cena is the big favourite his current enemy has to also be high on the list of winners. I could easily see Cena winning the belt at Elimination Chamber and defending it against CM Punk. The Chicago Made Punk has had little success over the last year and a Rumble win would be good pick up.
Triple H (if he is present) - If The Game is present this year he has to be a favourite to get straight back into the title picture. I personally think he will appear but will purely eliminate Sheamus who will get back into the ring straight away and eliminate him back. I know Triple H is dubious for backstage politics but being out for almost 9 months only to win a main event spot at the biggest PPV of the year is a stretch to justify.
Alberto Del Rio - This man is on the verge of his World title match but I believe your first major 1-on-1 opportunity for a World Championship should never be at WrestleMania. This should be reserved for wrestlers who have given it their all for the last year. Del Rio has been good but I say put the Intercontinental Championship on him for a while. He will either be eliminated quickly or will have a good showing (maybe final four) but I personally feel he is not going to win the match.
Christian (if he is present) - For a large amount of fans Edge Vs. Christian for the World Championship is a dream match. The problem is this isn't a dream match for Vince McMahon. I don't see it ever happening at WrestleMania. Maybe at a PPV down the line, just not at the big spectacle. Besides I don't think Christian is recovered yet.
In the end I'm going to have to go with the safe option of John Cena. Punk is likely to get eliminated in a scuffle between Nexus and Corre. Triple H as I mentioned will be there to enhance his rivalry with Sheamus. Del Rio isn't ready and is either going to be eliminated quickly or have a good showing overall.
Winner: John Cena
Keep Reading