Oakland Raiders: Why 2011 Raiders May Look Like a Whole New Team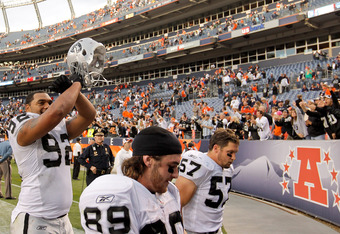 Justin Edmonds/Getty Images
Assuming there is football in 2011, this offseason could be one of the most important free agency years in Oakland Raiders history.
The team is coming off their first non-losing season since 2002, and it is important to the franchise and their fanbase to come back with a positive season in 2011.
Almost half of Oakland's roster is made up of potential free agents depending on the new CBA.
There are a lot of key players included in that list: Nnamdi Asomugha, Richard Seymour, Michael Bush, Michael Huff, Robert Gallery, Stanford Routt, John Henderson, Langston Walker, Zach Miller, Mario Henderson and Samson Satele are all on the list and started at least a game for the Raiders during the season.
Other longtime Raiders include Thomas Howard, Johnnie Lee Higgins, Hiram Eugene, Sam Williams, Ricky Brown, Charlie Frye and Bruce Gradkowski.
Continuity has been a big issue for the Raiders in the years past, especially on the coaching side. This year there will be yet another coaching change for the Raiders.
It's easy for everyone to hit the panic button and worry about the Raiders' chances of being a competitive team next season. It's natural because last season was the best season the Raiders have had since they lost in the Super Bowl in 2002.
The reality is this team is headed in the right direction, and Al Davis will do what he can to bring back the players that will be essential to the Raiders' rise.
Which Player is more important to the Raiders success in 2011?
In 2010 the Raiders may have improved on their record, but they didn't improve in the standings. They finished third in the AFC West and still missed the playoffs, despite winning all their division games.
The most important person to retain on the coaching staff this year was Hue Jackson and not Tom Cable. Jackson's offense was in the top 10 in the league, and it will be important for the Jason Campbell and the Raiders offense to be in the same system.
Jackson is a high energy, disciplined and influential coach. He will have the players playing physical football, but also have them playing smart.
The interesting thing to watch is who do the Raiders bring back on the players side and at what price?
Richard Seymour should be the Raiders top priority. They gave away this year's first-round pick for Seymour, so it is vital they bring him back. His influence on the whole team has been incredible.
It seems like every offseason in the past eight years, Davis went on a spending spree bringing players from other teams to Oakland. This year the primary focus is keeping as many players as they can in Oakland.
Also don't be surprised if Davis does bring players from other teams to Oakland. Chad Ochocinco is a very possible option. He was coached by Jackson in Cincinnati, but that story is for another day.
How do you feel the Raiders will do this off season?
There are a lot of different possibilities this offseason, and the Raiders may look like a totally different team in 2011 if there is football.
It is important that Oakland retains as many of their own as possible, but they won't be successful with all of them. According to multiple media outlets, Nnamdi Asomugha is as good as gone.
Of course all this is speculation, and anything could happen.
The most important thing to remember is that the Raiders are headed in the right direction, and next year they'll be in the playoff hunt, regardless of who stays.
If and when Jackson is hired, he'll be great for the Raiders. Don't underestimate the power of good coaching.
Good coaches know how to get results from all their players regardless of talent level. Look for all 53 men on the roster next year to come together and continue to take the team in the right direction.
If you love the Raiders, follow me on Twitter: http://twitter.com/Elias_Trejo
This article is
What is the duplicate article?
Why is this article offensive?
Where is this article plagiarized from?
Why is this article poorly edited?

Oakland Raiders: Like this team?