Vengeance: Which Teams Will Get Sweet Revenge In The 2011 Divisional Playoffs?
Geoff Burke/Getty Images
Division rivalries and rematches cover the schedule for divisional playoff weekend. In each matchup, the two teams involved left the game with something left to prove (except maybe the Patriots). This weekend gives them that one last chance on the road to the Super Bowl.
In this slideshow, I will predict who will win this set of grudge matches and why.
Ravens @ Steelers: Defensive Struggle Episode III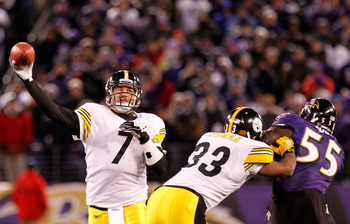 Geoff Burke/Getty Images
The defensive units in this game are both phenomenal against the run. In their two previous matchups, Pittsburgh held star running back Ray Rice to 20 and 32 yards respectively, and the Ravens held Rashard Mendenhall to 79 and 45 yards respectively. Neither team exceeded 100 yards rushing in either contest.
This leaves much of this game in the hands of the quarterback of each team in order to get enough points on offense to win this game. The statistics put up by both quarterbacks in the latter game (Backup Charlie Batch played in the first) were fairly similar. Roethlisberger threw for 253 yards, 1 TD, and 1 INT and Flacco threw for 266 yards, 1 TD, and no interceptions. Although these stats slightly favor Flacco, I believe Roethlisberger's experience and consistency will give him a slight advantage over Flacco in this game.
Between this and Pittsburgh's typical ability to be dominant at the line of scrimmage, I'm picking Pittsburgh to end the Ravens' Super Bowl road.
Who I want to win: Steelers
Who I pick to win: Steelers

Packers @ Falcons: Will Matt Ryan Get His First Playoff Win...Against Rodgers?
Kevin C. Cox/Getty Images
The storyline of this game has been touted since the moment the clock on the Packers-Eagles game expired. Matt Ryan vs. Aaron Rodgers. Atlanta barely escaped last time with a last second field goal set up by a face mask penalty on the Packers. Charles Woodson states, "[The Packers] feel like we left a lot of football out on the field in that [Atlanta] game." And so, the game is set. This is Green Bay's chance to prove they should have won in Week 12 and Atlanta's chance to prove it was no fluke.
The key to this game is going to be at the line of scrimmage. Which team can get more pressure on the quarterback? I believe Green Bay will be more successful in this department due to their ability to trust Tramon WIlliams on Roddy White. This will allow not only BJ Raji, Cullen Jenkins, and Clay Matthews to have their shot at Matt Ryan, but also Pro-Bowl corner Charles Woodson. In Atlanta's case, their lone sack on Rodgers in Week 12 came from John Abraham, and there is no reason to believe that he won't be the key lineman for the Falcons.
In their first meeting, Aaron Rodgers threw for 344 yards, 1 TD, and no interceptions. If the Falcon's pass rush continues to be hindered by the Green Bay offensive line, with the aid of rookie tailback James Starks, Rodgers probably will have a big day. Combine this with the strength of the Packers' defense and I believe Green Bay takes this one in Atlanta.
Who I want to win: Green Bay
Who I pick to win: Green Bay

Seahawks @ Bears: Another Upset In The Making?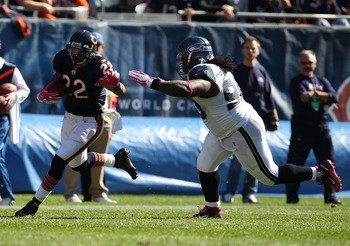 Jonathan Daniel/Getty Images
I was as happy as anyone to see the Seattle Seahawks prove their worth last Saturday. It seemed fitting, considering the poor treatment most people were giving the team (myself included). No one thought they could win, and so they made a point of shoving it in all of our faces.
Unfortunately, the magical journey ends now. The Bears have an excellent running defense that will not allow a repeat of Marshawn Lynch's miracle run last week. The Bears' pass rush will also limit the effectiveness of veteran quarterback Matt Hasselback as he attempts to reach another 4 TD day for the Hawks.
In the end, this will come down to the play of Jay Cutler, of whom I am quite the cynic. I believe Jay does just enough to win with the help of his excellent defense, but doesn't get away without nearly giving all the Bears fans at Soldier Field a heart attack.
Who I want to win: Seattle
Who I pick to win: Chicago

Jets @ Patriots: This Time It's Personal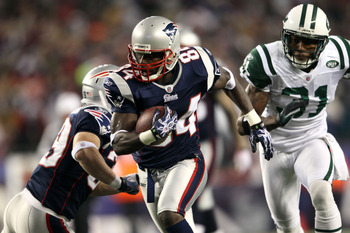 Elsa/Getty Images
The good news for Jets fans is that I don't believe that this will be a 45-3 blowout like their previous matchup. That being said, I just don't think the Jets defense has the ability to get it done against Tom Brady and the Patriots.
The Patriots' receiving corps is probably the second-best in football (first being the Packers). Brady can pretty much through the ball wherever he wants if he needs to and give any receiver a big day. Danny Woodhead, Wes Welker, Deion Branch, Aaron Hernandez, and Rob Gronkowski have all had excellent seasons and Darrelle Revis and Antonio Cromartie can't cover all of these guys at once. Tom Brady is going to be able to find a matchup in the secondary that he likes and soon enough, the Jets defense will unravel like in Week 16 against Chicago.
Mark Sanchez would have to have a breakout day and make virtually no mistakes to get a win in Foxboro on Sunday.
Who I want to win: New York
Who I pick to win: New England

My Record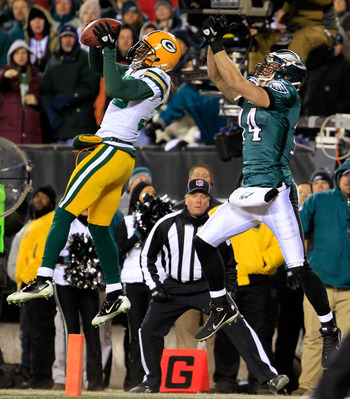 Chris Trotman/Getty Images
After Wild Card Weekend, I ended with a (2-2) record for the postseason. I picked the Packers and the Ravens as my correct picks. Hope you enjoyed the slideshow, enjoy the games this weekend!
Keep Reading

Green Bay Packers: Like this team?