Anil Kumble Bids Farewell To IPL, Will Be Chief Mentor To RCB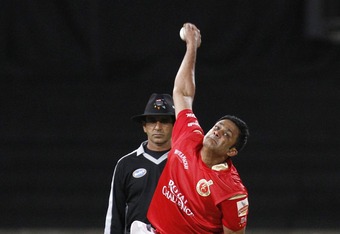 Gallo Images/Getty Images
Anil Kumble will not be on sale in IPL 4.
The former India captain and leg-spinner has withdrawn his name from the list of players for the Jan 8-9 auction.
The move, by itself, is not a surprise;its timing and suddenness has aroused speculation.
Jumbo is a busy man. He has a lot on his plate. He was recently elected President of Karnataka State Cricket Board. He is also a businessman and a keen wildlife photographer.
Kumble was the stellar performer in the Royal Challengers side garnering 45 wickets in 42 matches. He led RCB to the final in 2009, losing a closely fought match to the Deccan Chargers.
Though AK has cause to feel aggrieved with the RCB management at the cavalier treatment meted out(he was not retained by the side), that cannot be the sole reason for his withdrawal from the T20 tournament and the game.
It is no secret that more than one owner has expressed dissatisfaction with the performances of the big guns in the T20 tournament.
Franchise valuations depend on team performance.Owners have spent freely to ensure that cricketing operations are professionally run. They would like to see results for the top dollar invested in their resources.
The format of the IPL allows them to make a break from the past and begin afresh on a fresh slate.
Perhaps, there are bargains to be had.
Only the Mumbai Indians and Chennai Super Kings have opted not to go down that road.
It remains to be seen whether the all the prima donnas can be accommodated by the franchisees. It is a truism that resources are seldom infinite. Unbelievable as it may seem, the franchises too are limited by a budget of just $ 9 million, less if they have retained key players.
It is evident that the ace bowler ruminated a great deal before arriving at his decision. Jumbo would like to give his hundred per cent all the time. Yet with so many conflicting commitments, it is difficult to envisage him doing justice to every one of them.
The embarrassment of being selected for another team other than Bangalore would have been galling for a man heading the Karnataka administrative body. It is unlikely that Kumble would not have been a participant in the IPL. He has been a stand-out player for RCB. Other big guns may not be so fortunate though vocal fan support could still tilt the scales in their favour.
Jumbo may just be discovering the nuances of administrating.
Kumble has often been the forgotten man of Indian cricket. His low-profile nature has seen him overlooked for the captaincy. He was appointed skipper of the Indian side in the autumn of his career. He led from the front Down Under in 2008-2009 despite it obvious that he was easing a raw Mahendra Singh Dhoni into the role.
Gallo Images/Getty Images
A similar scenario played out with the Royal Challengers Bangalore.Rahul Dravid and Kevin Pietersen were unable to galvanise the franchise to higher heights in 2008 and 2009 respectively. It was only under Kumble's inspirational leadership that the Vijay Mallya's Kingfishers made the 2009 final and the 2010 semis.
Kumble's retirement from all forms of the game implies that Indian cricket fans will no longer enjoy watching Jumbo bamboozle opposition batsmen with his flippers and straight ones.
Kumble will continue his association with the Bengaluru team as Chief Mentor.
Adios, AK, and good luck!
Quote of the day:
I never guess. It is a capital mistake to theorize before one has data. Insensibly one begins to twist facts to suit theories, instead of theories to suit facts. – Sir Arthur Conan Doyle
This article is
What is the duplicate article?
Why is this article offensive?
Where is this article plagiarized from?
Why is this article poorly edited?