Sugar Bowl: Ohio State Coach Jim Tressel Should Set Precedent If NCAA Won't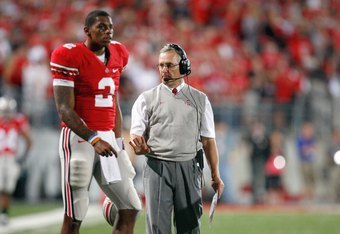 Gregory Shamus/Getty Images
By now, everyone not living under a rock has heard about the latest improper benefits scandal in college football, as Terrelle Pryor and the rest of the "Golden Pants Gang" were given a stern punishment for selling autographs and other memorabilia in exchange for money and discounted tattoos.
As such, you likely also know that Pryor and the other members involved will be suspended for the first five games of next season.
I repeat: NEXT SEASON!
Yes, missing almost half of the 2011 season is certainly fitting of the improprieties, but why then are the offenders eligible for the Sugar Bowl?
Certainly, if an offense is deemed egregious enough in the eyes of the NCAA to cause players to miss half of the next season, then not being eligible for their respective bowl game would also be included.
I know all about the lame excuse the NCAA issued, something along the lines of suspensions being delayed in the event of championships or bowl games, but we all know that was a loophole manufactured for the sole purpose of allowing marquee players to play in marquee—money-making—games.
For the NCAA to insinuate otherwise is a slap in the face to the vast majority of the American public.
Which brings me to my main point: If the NCAA won't rule these players ineligible, Jim Tressel should.
Football, in its simplest sense, is about fundamentals and discipline. Coaches preach ad nauseum about "doing the right thing," "knowing your assignment," etc.
Should Jim Tressel suspend Pryor and the other offending Buckeyes?
From the time players are 12 years old, they are taught to do well both on and off the field—stay in the papers for the right reasons, stay out for the wrong; misbehave and there are consequences.
Which is why Jim Tressel needs to suspend Pryor and friends for Tuesday's showdown with Arkansas.
Tressel, who was no stranger to run-ins with the NCAA during his time at Youngstown State, has stood by his players, going as far as to suggest that the persons involved were "attempting to help their families" and "didn't know" that they were violating any rules.
If anyone believes that, then I have some ocean real estate in Arizona you'll absolutely love. I mean, does anyone really believe a major Division I program doesn't adequately educate their players about such issues?
It's bad enough that the NCAA is standing by their decision to let these kids play; it's worse that the NCAA also accepted the "I didn't know" defense for a second time (see Newton, Cam for exhibit A).
Johnny Cochran has to be sitting somewhere, green with envy, for never thinking of that.
Essentially, the NCAA is setting the precedent that ignorance is an acceptable form of defense—which is ludicrous.
But this whole issue can go away with one simple statement by "The Sweater Vest."
If Jim Tressel were to suspend Pryor and the others, the flames of this firestorm would be extinguished immediately.
I would even suggest that Ohio State would be seen as a university with some integrity, one that values the original ideals of college football and the student-athlete, over those of the money-driven modern era.
But it won't happen, and instead Tressel is setting his own precedent: One that confirms the notion that certain players are bigger than the team.
This article is
What is the duplicate article?
Why is this article offensive?
Where is this article plagiarized from?
Why is this article poorly edited?

Ohio State Football: Like this team?