The 25 Biggest Temper Tantrums in Sports History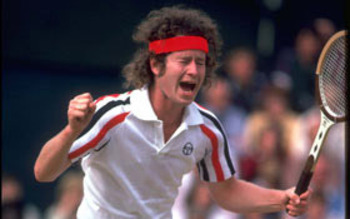 Whether it's a reaction to a bad call or a press conference meltdown, temper tantrums happen all too often in the world of sports.
Where grown men play, the child inside is on display. No one will shed a tear on this list, but you'll be crying with laughter after watching 25 fits of rage.
Here are the biggest temper tantrums in sports history.
25. Bobby Knight
It's called gamesmanship.
The goal was just to distract the free throw shooter, but he just mistimed the throw of the chair.
24. Robbie Ftorek
What's the biggest thing I can throw?! The bench!
Look at the guy to his left: "Hey, I was using that."
23. John McEnroe 1
John McEnroe: the king of the tantrum.
You guys are the absolute pits of the world...
22. Ryan Leaf
What could that guy have said to make Leaf explode like that?
Noting that the man didn't look like the aggravating type, I'd say:
1) Somebody has to lose.
2) There's always next year.
3) There's always Canada.
21. Dennis Rodman 1
Rodman head-butts a ref, gets ejected, takes off and throws his jersey, calls out the ref, knocks over the Gatorade...
And Phil Jackson is laughing his head off.
20. John McEnroe 2
What would McEnroe be known for if he played today with all the technology? The video camera is wrong!
When he asks a question, you give him the answer to that question and his next one.
19. Dennis Green
I love how Green seems semi-calm but then all of a sudden just melts down.
Classic phrase: "They are who we thought they were!"
18. Tim Belcher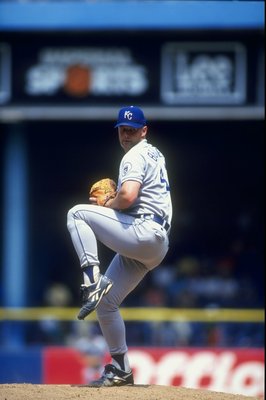 Rick Stewart/Getty Images
This was after giving up the game-winning home run in the playoffs.
After this video, I want to see Roger Clemens angry after giving up a game-winning home run.
17. Brent Sapergia
I know exactly what the owner saw in this coach when he hired him: resourcefulness.
I'm just surprised he didn't start taking the players' equipment off and throwing it.
16. John Chaney
I'll kill you!
To me, Chaney's outburst is surprising because he just looks like an innocent old man.
14. Mike Sanford
Watch your step.
The game's not over! We're not leaving the field!
13. John McEnroe 3
You can't teach an old dog new tricks.
This old !@#$%& dog doesn't need any new !@#$%& tricks!
12. Derek Anderson
That's fine, that's fine, that's fine, that's fine, that's fine.
Don't you dare laugh—it's not funny.
11. Carlos Perez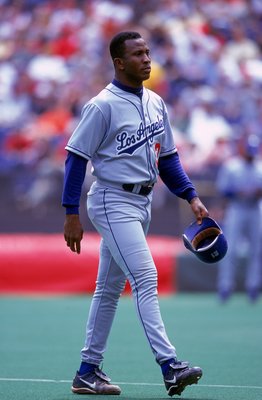 Harry How/Getty Images
That's a pitcher swinging that bat, folks.
He's in the National League for a reason: no designated hitter to take his at-bat.
10. Lou Piniella
Lou Piniella: an umpire's worst nightmare.
The third base umpire probably has more spit on his face than dirt on his shoes after the tantrum.
9. Delmon Young
Some people automatically laugh when they are tickled.
I automatically laugh when that bat hits the umpire.
8. Jim Everett
If you call me Chris one more time...CHRIS!
Jim Rome is the man.
7. Kevin Borseth
That has to be the greatest entrance to a press conference ever.
What else do you want to know?!
6. Mike Gundy
If I was that kid, I'd be more embarrassed after this press conference than after the article.
I'm a man! I'm 40!
5. Carlos Zambrano
Jonathan Daniel/Getty Images
Carlos Zambrano Temper Tantrum
Too bad there's no audio: It's always funny to hear someone that speaks a different language flip out.
Stupido! Stupido! Stupido!
4. Hal McRae
You want to clear a room? Just start throwing everything.
Put that in your !@#$%& pipe and smoke it!
3. Jim Playfair
I could make a pun out of his name, but that would be too corny.
Jim Playfair's pet peeve is unfair calls.
2. Joe Mikulik
Lou Piniella and Ozzie Guillen have a bad rep for their attitudes, but this guy takes it to a whole other level: perfection.
The PA announcers make the whole episode even funnier.
1. Phillip Wellman
Who is Phillip Wellman? He's the greatest manger in Atlanta Braves history.
Seriously though, what is it with minor league managers?
David Daniels is an NFL Featured Columnist and Writing Intern at Bleacher Report and a Syndicated Writer. Follow him at One Yard Short.com or on Twitter.
Keep Reading