Enough With The Gatorade Dousing
January 3, 2011
Eric Draper/Getty Images
ENOUGH WITH THE GATORADE DOUSING
Coach Gary Patterson just guided his TCU Frogs to an undefeated season and a victory over Wisconsin in what may be the closest and best bowl game of the year.
He was telling everyone that could hear him "No Gatorade shower! No Gatorade!"
So how was he rewarded? With Gatorade, of course. 
What does a guy have to do?
If you're the head frog and you say you don't want a bath where do the tadpoles come off dousing you?  Can't you get enough respect from having an undefeated year to have your players agree to your wishes? Is the desire to dump Gatorade greater than the coaches wishes?
Is the desire to dump greater than the desire not to be doused? We don't know but if God had intended for coaches to endure Gatorade showers, they would have been born with slickers on their headphones.
Isn't it time players celebrate with something different? Why not do the Globetrotter trick, chase the coach with a bucket and then douse him with confetti. Something for a change of pace—
Remember Coach Patterson? Luckily he was indoors when he received his dousing. Other coaches haven't been as lucky.
Let me remind you of cases when old coaches didn't need to be doused.
First, we'll hark back to December 6, 2003, Kansas State football coach Bill Snyder is celebrating the greatest victory of his coaching career, a Big 12 Championship shocker over mighty Oklahoma, when his players shower him with Gatorade—in 25 degree weather.

Snyder immediately becomes a high-fiving statue. "I can't feel my limbs," the 64 year old coach exclaims. Assistant coach Bret Bielema tries to straighten Snyder's arm but to no avail.
The trainers, seeing their coach stiffen by the moment and thinking alcohol will unfreeze him, quickly mix up a jug of Mai-Tais and dump it on the coach.
   
This doesn't work.
Not only does Snyder become a frozen drunk but little umbrellas are stuck in his hair. "Hey, guys, I'll save him." It's Darren Sproles, shifty running back and hero of the game, running with an ice pick in his hand.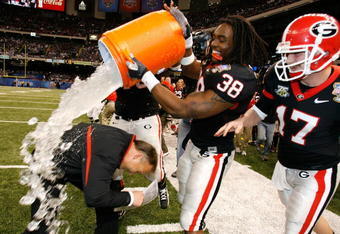 Kevin C. Cox/Getty Images


"No!….No!!" shriek some of the linemen as they see Sproles streaking across the fields toward their coach. They try tackling Sproles but he's too tiny and elusive. "I'll chip the ice off him,"screams Sproles as he's flying in toward Snyder.

One defensive back knocks Sproles off-line as his pick grazes Snyder's elbow. "My elbow, my elbow," Snyder tries to say, the words never escaping his mouth. "Pick it up—please."

"Oh, no," assistant coach Bob Elliott says, "Now Bill will be back wearing sports coats with elbow patches."

Okay, it never happened.
But it could have and it might someday.
George Allen, hall-of-fame coach of the Rams and the Redskins, coached at Long Beach State at the age of 68 and received a Gatorade shower after winning the final Long Beach game.
A few weeks later he died of pneumonia.
Think about it. He was in the warm weather of Long Beach, CA. If his team had doused him in the Kansas City 25 degrees, like Snyder received, Allen may have died on the spot.

The dousing the winning coach bit needs to stop.
It's salty.
It's sticky.
It's full of who-knows-what and—it's been done.
It's hackneyed—it's as tired as the Wave.
Folks, it dates back to last century.
Enough already.
Here's a few other facts about Gatorade and Gatorade dousings—

Florida University's nephrology department created the drink to combat dehydration and  sluggishness.
Stokely-Van Camp acquired the formula, made it a money maker, sold it and today Pepsico has over $ 4 billion in worldwide sales on this product. The nephrology team and the University share yearly royalties in the millions.

In 1985 New York Giant's coach Bill Parcells received the first Gatorade shower. I guess this is because gators like tuna. One of the next known dousings happened to Miami University coach Jimmy Johnson in 1986. Johnson then began wearing heavily fortified, helmet-like hair.

The most remarkable play of the Year 2002 involved a Gatorade dousing.
While Kentucky coach Guy Morriss was receiving his Gatorade shower, LSU quarterback threw a Hail Mary which was tipped three times until the receiver ran under it for a 75-yard touchdown as time expired for a 33-30 LSU victory.
Morriss, wiping Gatorade from his eyes and surely thinking he was hallucinating, finally got a clear view of Henderson scoring the touchdown.
We believe Morriss is another one who will agree—Enough already.