UFC 125: Fight By Fight Breakdowns and Predictions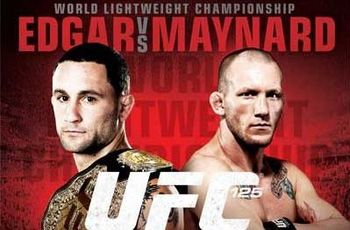 Headlined by a UFC Lightweight Championship fight between Frankie Edgar and Gray Maynard, UFC 125 will likely be one of the deepest cards of 2011 in terms of talent.
Initially, the card had been even more stacked, with UFC Featherweight Champion Jose Aldo set to defend his title for the first time against Josh Grispi. However, an injury forced Aldo out of that fight, leaving Grispi a fight with Dustin Poirier.
A fight between heavyweight contenders Shane Carwin and Roy Nelson had also been slated to take place at UFC 125.
Still, this is a can't-miss event to start the 2011 calender for the UFC.
Jacob Volkmann Vs. Antonio McKee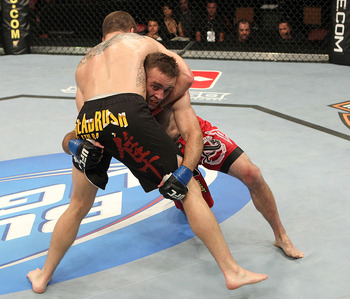 Jacob Volkmann was on the verge of being cut, with losses in his first two UFC fights. Since then, Volkmann has made a cut to lightweight and won two straight fights.
Volkmann's next opponent, Antonio McKee, will be making his UFC debut.
In Volkmann's most recent win, he completely outclassed Paul Kelly on the ground with his excellent wrestling. It is highly unlikely that Volkmann will be able to display that same level of dominance in wrestling against McKee.
Maybe McKee hasn't faced top-notch competition on a consistent basis over the course of his career, but he also hasn't lost in nearly eight years. That loss came by decision against Karo Parisyan, who was a rising star at that point in time.
With 30 professional fights, McKee holds a noticeable advantage in experience over Volkmann. Though, at 40-years-old, a step up in competition may be all it takes for McKee's age to finally show.
In the end, this fight will come down to which wrestling-based fighter will be able to excel on the ground. With the more explosive takedowns of these two fighters, McKee should be able to take a close decision as long as he avoids being reversed on the ground.
Prediction: McKee defeats Volkmann by unanimous decision
Daniel Roberts Vs. Greg Soto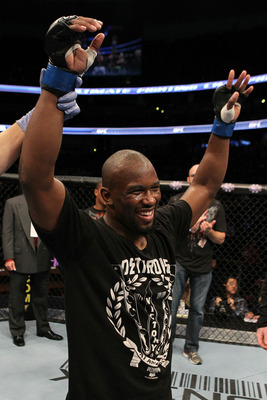 After a disappointing disqualification loss in his first UFC appearance, Greg Soto bounced back with an upset win over Nick Osipscak at UFC 118.
At UFC 125, Soto will attempt to improve his record to 9-1 with a win over Daniel Roberts.
Roberts, who also started his UFC career off with a loss, has rebounded with wins over Forrest Petz and Mike Guymon. Roberts was awarded Submission of the Night honors for his first round anaconda choke on Guymon at UFC 121.
Both of these fighters have excellent ground games. In addition to becoming an NAIA All-American, Roberts has world-class jiu-jitsu credentials. Meanwhile, Soto is a long-time trainee under Kurt Pellegrino.
Out of a combined 21 professional fights, these two fighters have won eleven by submission. In addition, neither fighter has been submitted.
While plenty of submissions are likely to be attempted in this fight, it is hard to imagine either fighter getting caught. The most likely result is a hard fight decision victory awarded to the fighter who spends the most time on top.
Prediction: Roberts defeats Soto by unanimous decision
Mike Brown Vs. Diego Nunes
Former WEC Featherweight Champion Mike Brown will make his UFC debut against Diego Nunes.
Brown has gone 2-1 since losing his title to Jose Aldo in November 2009.
Prior to joining the WEC, Nunes had finished all eleven opponents he had faced. Since becoming a WEC fighter, all five of Nunes' fights have gone to decision.
If any featherweight opponent in the UFC were to assist in ending Nunes' streak of fights ending in decision, it would probably be Brown, who has only had six of his 30 professional fights go to a decision.
Despite his recent history, Nunes does have the ability to finish opponents with submissions off of his back. Four of Brown's six losses have come by way of submission, so this could pose a problem for the former champion.
However, none of Brown's submission losses have happened within the past five years, so it appears that he addressed that hole in his game quite some time ago.
Anyways, Brown will probably elect to stand with Nunes. If he does, Brown has the strength and technique to stuff any takedown attempts by Nunes.
Prediction: Brown defeats Nunes by technical knockout in the first round
Brad Tavares Vs. Phil Baroni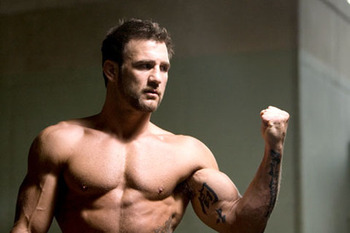 In the first fight of his return to the UFC, Phil Baroni lost to Amir Sadollah. Now, Baroni's UFC career will likely be on the line against another former participant on The Ultimate Fighter, Brad Tavares.
On The Ultimate Fighter, Tavares lost in the semi-finals to the eventual winner of season eleven, Court McGee. Tavares was then invited to participate in the TUF 11 Finale against Seth Baczynski. Tavares would take advantage of the second opportunity to fight in the UFC, defeating Baczynski by unanimous decision.
Baroni, who lost to Sadollah at welterweight, has decided to make a return to middleweight at UFC 125. Out of Baroni's thirteen career victories, nine have been a result of a first round finish. Additionally, Baroni has only won one fight that has gone further than two full rounds.
If Tavares can survive the initial aggression from Baroni, he should be able to come away from this fight with a win. Tavares has not faced anyone with Baroni's power thus far in his career, so it is hard to predict how he will react to the first round onslaught.
Even in his loss to McGee, Tavares has not shown any indication that he is a slow starter. For that reason, he should be able to play it smart early and take advantage of Baroni's sub-par endurance later on in the fight.
Prediction: Tavares defeats Baroni by unanimous decision
Josh Grispi Vs. Dustin Poirier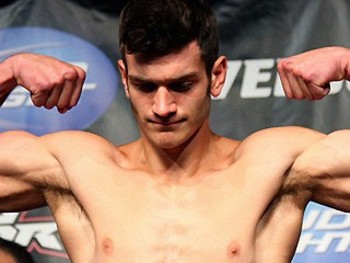 Originally scheduled to fight for a title in the co-main event on one of the biggest cards of the year, Josh Grispi will now be fighting on the preliminary card, which will air on Ion TV.
An unfortunate change of plans for Grispi to be sure, but he can rest easy knowing that he will probably be very close to fighting for the UFC Featherweight Championship if he is able to defeat Dustin Poirier at UFC 125.
At 14-1, all but one of Grispi's wins have come by first round finish. Similary, Poirier, who also has one loss in his career, has finished every opponent he has defeated.
Poirier throws powerful punches, but he can also throw technique to the wayside at times. Grispi has the ability to take advantage of any opening he is given. This fight could end a lot of different ways, but a highlight reel knockout for Grispi could be in the cards for his UFC debut.
Prediction: Grispi defeats Poirier by knockout in the first round
Marcus Davis Vs. Jeremy Stephens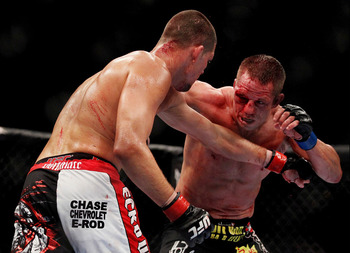 After fighting at welterweight for his entire career, 37-year-old Marcus Davis has decided that he wants to finish his career at lightweight. His lightweight debut will be against a much younger fighter, 24-year-old Jeremy Stephens.
Despite the age difference, both fighters have 24 professional fights. Of course, this is mainly because Davis had been a professional boxer before he decided to make the switch to MMA.
Surprisingly, despite his background as a boxer, more of Davis' wins have come by submission than knockout or decision. Still, Davis does prefer to stand and trade with most of his opponents.
Stephens, who has won Knockout of the Night honors twice in the UFC, will not be one to refuse a stand-up fight with Davis.
While Davis may be a more technical boxer, Stephens is quicker and his striking is more tailored to suit MMA. Stephens may out-strike Davis for three rounds. Even if he doesn't, he will still be smart enough to secure a few takedowns to ensure a decision victory.
Prediction: Stephens defeats Davis by unanimous decision
Clay Guida Vs. Takanori Gomi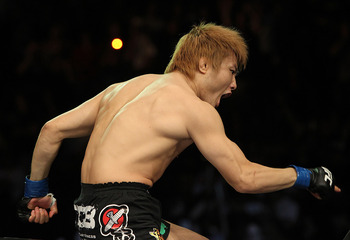 Takanori Gomi's UFC career got off to a rough start in March 2010 with a submission loss to Kenny Florian. Gomi returned to the Octagon with a vengeance, recording one of the most devastating knockout victories of 2010 against Tyson Griffin.
Likewise, Clay Guida is on the rebound from a submission loss to Florian. Since losing to Florian in December 2009, Guida has submitted Shannon Gugerty and Rafael Dos Anjos.
With both of these fighters coming off of impressive wins over noteworthy opponents, the winner of this fight could find themselves in the deep pool of lightweight title contenders.
Gomi is a knockout threat anytime he fights, but Guida has granite chin. In 38 professional fights, Guida has never been knocked out.
For that reason, this fight could come down to whether or not Gomi is able to defend against Guida's takedown attempts.
Gomi hasn't fought anyone that will relentlessly attempt takedowns like Guida most likely will. Eventually, Guida is bound to get this fight to the ground.
Guida has excellent top control, while Gomi isn't an overwhelming threat to submit his opponents off of his back. If Guida can secure a few takedowns, he shouldn't have much trouble taking a decision victory.
Prediction: Guida defeats Gomi by unanimous decision
Nate Diaz Vs. Dong Hyun Kim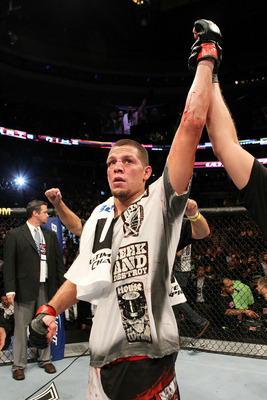 Aside from an early scare against Marcus Davis, Nate Diaz has looked very good in his first two fights at welterweight. However, Diaz's biggest test could be in front of him against Dong Hyun Kim.
The lone blemish in Kim's UFC career was a split decision loss to Karo Parisyan, which was later ruled a no contest.
Kim is an excellent grappler and has not been submitted, a combination that has posed major problems for Diaz in the past. For example, Gray Maynard and Clay Guida also fit that description, and both of those fighters defeated Diaz by decision.
Diaz will have an advantage when this fight is standing, but it might not stay standing for long.
In a bad match-up of styles for Diaz, Kim will likely grind out a decision victory.
Prediction: Kim defeats Diaz by unanimous decision
Thiago Silva Vs. Brandon Vera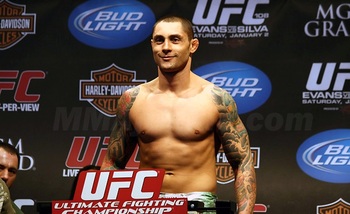 When Thiago Silva steps into Octagon at UFC 125, it will have been one day short of one year since his last fight. Silva lost by decision to Rashad Evans at UFC 108, the first UFC card of 2010.
Heading into this fight with two consecutive losses, Brandon Vera will hope to take advantage of any ring rust that Silva may have.
Silva, considered by many to be one of the more underrated light heavyweights in the UFC, may feel that he needs to prove himself with a win over Vera. Afterall, Keith Jardine and Houston Alexander, two fighters that were on the losing end of the most noteworthy wins of Silva's career, are now fighting outside of the UFC.
Vera, who is 3-5 in his last eight fights, will also be feeling the pressure to perform well at UFC 125.
After consecutive losses, the UFC tends to give their well-known fighters extremely winnable fights. Apparently, this is not the case with Vera. This leads one to wonder if Vera's worth to the UFC is being tested with this fight.
With the possible exception of being on his back, Silva has the advantage wherever this fight goes. For good reason, the only losses of Silva's career have come against former UFC champions. With eleven of his 14 wins coming by knockout, Silva is the much more dangerous striker in this fight.
As long as Silva is able to avoid Vera's clinch, he should be able to land a fight-ending punch early on.
Prediction: Silva defeats Vera by technical knockout in the first round
Chris Leben Vs. Brian Stann
Aside from a DUI, 2010 may have been the best year of Chris Leben's career. Many thought that wins over Aaron Simpson and Yoshihiro Akiyama in a two week span should have earned Leben a fight with one of the elite middleweights in the UFC.
Instead, Leben's next opponent will be Brian Stann. Stann is coming off of a submission win in his middleweight debut. The former WEC Light Heavyweight Champion decided to make the cut to 185 pounds after being dominated by Phil Davis.
These fighters could be considered similar in many ways. Each fighter has only been knocked out once, so they both enjoy trading punches. Both fighters also have underrated jiu-jitsu. Although, with both fighters coming off of victories by triangle choke, their ground games may have earned more respect.
Stann is smart enough to avoid getting into wild exchanges with Leben, but that might not matter against a fighter who doesn't think twice about walking straight through a barrage of punches with little or no head movement.
Leben's punches pack slightly more power, and he is more of a threat to end the fight on the ground. If the fight goes to decision, Leben's aggression could be the deciding factor. The method of victory is a toss-up, but all signs point to Leben as the winner.
Prediction: Leben defeats Stann by technical knockout in the second round
Frankie Edgar Vs. Gray Maynard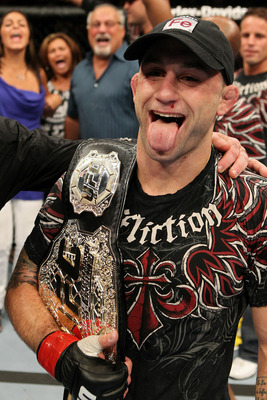 In what seems like one of the least hyped title fights in quite some time, Frankie Edgar will try to defend his UFC Lightweight Championship as an underdog for the second time. Despite defeating B.J. Penn to claim the title, Edgar was considered an underdog by many in an immediate rematch.
Now, Edgar will attempt to avenge the only loss of his career against Gray Maynard. Mostly because of his unpopular fighting style, Maynard had to take the long road to receiving his shot at the belt.
Both Edgar and Maynard are former-wrestlers who have added some solid boxing to their arsenal.
Edgar's style focuses more on speed and technique, while Maynard's style centers around his brute strength.
Standing, Edgar may be able to out-point Maynard, but he poses very little threat of a knockout. Maynard throws his punches with power, but he lacks the precision striking to land a knockout blow with Edgar's constant head movement.
The outcome of this fight hinges on whether or not Maynard is able to take Edgar down and control him. History says that Maynard should be able to overpower Edgar and control where the fight takes place.
Edgar's technique has improved since the last time these two fighters met, but his glaring disadvantage in strength still remains. Not to mention, Maynard's boxing has also only gotten more technically sound.
Prediction: Maynard defeats Edgar by unanimous decision
Keep Reading