Cleveland Browns: 10 Ways To Contend For the AFC North in 2011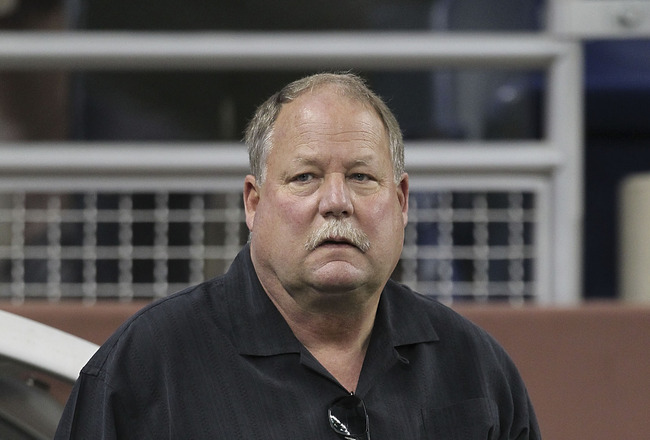 Leon Halip/Getty Images
2010 has been a season of ups and downs for the Browns and their fans. The Browns have drubbed playoff contenders like the Saints and Patriots, but they've also lost to cellar dwellers like the Bengals and Bills.
Amid the highs and lows, one thing is certain: this is a team on the rise, but they still have a lot of work to do.
This season will end without a playoff berth for the Browns, but 2011 may be a completely different story. Following are 10 key objectives that the Browns need to focus on in order to contend for the AFC North crown in 2011.
1. Proactive Strategy and Calculated Risk Taking From The Coaching Staff
Matthew Stockman/Getty Images
Eric Mangini and his staff have made some decisions this season that made them look positively brilliant. Unfortunately, correct coaching decisions are rarely the ones we remember, and the Browns' staff has made all too many of those more memorable poor coaching decisions.
There are a multitude of specific mistakes that happened this season which made all of us watching from the sidelines want to knock our heads off a goal post. Such errors in judgment happen to the best of coaches, but what the Browns seem to have a real problem with is not learning from these mistakes and making similar errors over and over again.
To contend in 2011, the coaching staff will have to learn to take some chances when the timing is right, improve their clock management, use substitutions more effectively, find creative ways to use players in new roles to diversify their options, and most importantly, dramatically improve at making in-game adjustments and changes so that wins don't continue to slip away in the waning minutes of close games.
2. Relieve Hillis Of Carrying The Burden Of Producing a Win All By Himself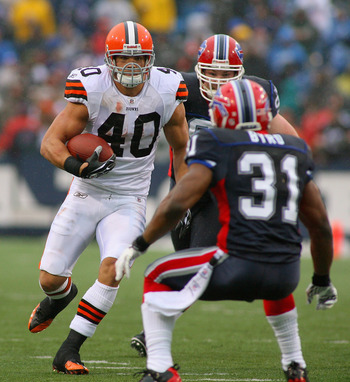 Rick Stewart/Getty Images
It's tough to complain about Hillis shouldering the bulk of the responsibility for wins, since he does it so well and without complaint. I know, I know, if it ain't broke and all...
Yes, his productivity is fantastic and he seems to be able to tough it out through all the wear and tear, but at the end of the day we all still have to acknowledge that the way the Browns have been using Hillis is exactly how you kill a 24-year-old running back by his 27th birthday.
Obviously any team that has had a truly great running back on its roster (and let's be honest, Hilis hasn't even been around long enough for us to know this is what he is yet) expects to see that person account for the bulk of their offensive yardage and touchdowns.
Heck, we've got our very own perfect example of this, if you're willing to go a little ways back in time: Jim Brown certainly was a one-man wrecking crew responsible for most of the Browns' offense during his playing days.
But remember, Brown had a supporting cast around him that allowed him to avoid having to be solely responsible for whether the team won or lost.
The 'out there all alone' approach isn't working at the moment with Hillis. He has done a tremendous job, there's no denying that. But he's banged up and tired physically, and he also bears the burden of being a 24-year-old who is expected to be the most responsible person on the field for bringing home a win each week.
We've talked about creating more balance on the team ad nauseam, and just for emphasis we'll talk about it some more in this column, but this is one specific situation where the idea of balance is of the utmost importance.
Hillis has proven he's able, at least for the most part, to carry the offense on his shoulders alone. But he shouldn't have to.
3. Draft Smart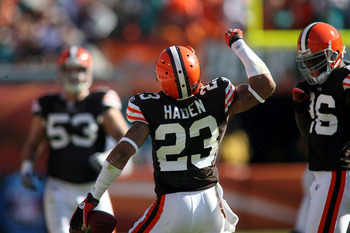 Marc Serota/Getty Images
Holmgren and Heckert did a fantastic job in the 2010 draft. Joe Haden, TJ Ward, and Colt McCoy have all done more than any of us dared to even hope for. Carlton Mitchell has great potential for the future, and Montario Hardesty could make a tremendous difference in the Browns' ground game once he's healthy.
There's virtually no way the Browns can improve upon the 2010 draft class in 2011, but it's essential that they at least come close to being equally successful. The 2010 draft plugged holes more effectively and earlier than expected, but there are still a lot of holes on the team that would be best filled through the draft.
For starters, the Browns need to look at an ILB and an OLB, and obviously we they need receivers. Some help on the right side of the o-line couldn't hurt, and some depth at tight end could prove useful as well.
4. Spend Wisely on Free Agents
Marc Serota/Getty Images
This is another area where the Browns' front office did a nice job in the 2010 offseason. Ben Watson, for one, was a tremendous pickup at a pretty good price.
There is some room for improvement here though, and the Browns absolutely must do at least as well as they did last season of signing a few players with experience at key positions.
The good news is that with the team looking like a potential contender in the very near future, luring free agents to Cleveland shouldn't be too difficult. The tougher part is that who will be available in free agency in the future is harder to predict in football than it is in say, MLB.
At the top of the list: The Browns must, must, MUST bring in veteran receiver with proven success. The receiving corps does have potential, at least in the case of some of the WRs on the roster, but it's a young and inexperienced group that could benefit greatly from some veteran presence.
A veteran running back to spell Peyton Hillis wouldn't hurt either, and with the likely departure after the 2010 season of several veteran defensive backs, the Browns could use some experienced players in the secondary as well.
5. Revive Josh Cribbs' Electricity On Special Teams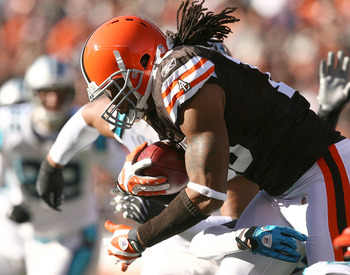 Matt Sullivan/Getty Images
There's something about a guy hanging out at the other end of the field waiting for a kick who has the potential to run that thing 80 or so yards back into the end zone that makes him one of the scariest opposing players an opponent can face.
Teams will go to great lengths to avoid taking the chance of facing down one of these guys even if it means they have to do something else on the play that isn't ideal.
Have a look at Devin Hester. For years now, opponents have been terrified of kicking a punt in his direction to such a degree that they often wind up sacrificing yardage on the kick just to keep it out of the guy's hands for fear of what he might do.
Josh Cribbs could be just like Devin Hester. In fact, Josh Cribbs WAS just like Devin Hester merely a year ago. Now he's just another ho-hum Browns receiver who can't seem to stop getting hurt.
I'm as hopeful as the next person that Cribbs can become an elite receiver on offense. But it appears that this may be asking too much. In his efforts to do that this season, he's sustained injuries that have not only squashed that dream, but hindered his effectiveness as a kick returner as well.
If all he can handle without being injured is special teams and a very occasional stint on offense, then that's how he should be used.
6. Improve Ability To Adjust on Opponents Broken Plays
Matt Sullivan/Getty Images
The Browns defense has done a good job of pressuring opposing quarterbacks and making them work for their money this season. The problem is that, as we've discussed before, they just can't seem to finish the play when they blitz or in any way attempt to go after the quarterback.
Every time they face a quarterback with scrambling ability, they find a way to pressure him but then give him too much time after initially penetrating his line to get rid of the ball.
They also make the mistake of sending too many defenders after the quarterback on such plays, so when he desperately dumps off the ball to a receiver or running back hoping for just a few yards, he actually often winds up with 5-10 extra yards because the players who should have been covering the ball carrier are all chasing that quarterback around in the backfield.
There were many obvious examples of this in 2010, particularly in the Jets game, which we all unfortunately remember so well that there is no need to relive them here. This is something that HAS to change next season, or teams with hot-footed quarterbacks will continue to victimize the Browns defense.
7. Consider Regular Use of a Two Tight End Formation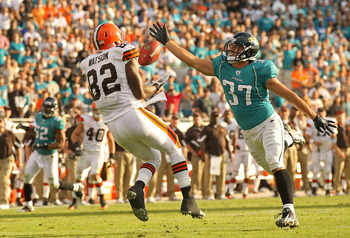 Mike Ehrmann/Getty Images
With the success Browns quarterbacks have had this season going to their tight ends for big plays and the shakiness of the wide receivers on the roster, the Browns might want to consider going to a two tight end formation with regularity in 2011.
Ben Watson signed a three-year deal before 2010. Evan Moore might be able to be his counterpart…IF he stays healthy and resigns with the Browns (He's an exclusive rights FA next year). One thing is certain; Robert Royal isn't the man for the job.
So, the Browns have to decide whether it is worth the money for a free agent or worth a draft pick to get another TE. It's tempting to bypass this in favor of more pressing needs, as they do have a productive TE in Watson already, but if the two TE formation appears to be the answer, then it would be well worth sacrificing something else to pick up a bookend for Watson.
8 Hail Mary!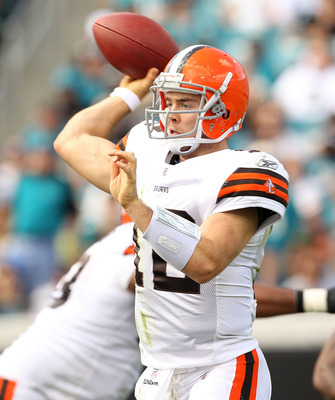 Mike Ehrmann/Getty Images
Clearly in a west coast style offense, bomb passes for huge yardage are not the go-to play. But a GOOD west coast offense (Think back to the early 1990s 49ers) can and does go deep when it needs to. We haven't seen much of this from the Browns at all.
Part of this is due to Mangini's conservative style and unwillingness to take chances on offense, and part of it is due to simply not having the weapons necessary.
Using the running back to buy time for the receiver to get downfield and open for his quarterback is something the Browns haven't been able to do. Their line is also not strong enough on the right side to allow for plays which call for the quarterback to hang onto the ball for an extended period of time.
Then there are the unknowns: does McCoy even have the arm to launch an 80 yard bomb? If not, is there a way to introduce a backup with a bigger arm into the equation in a situation where such a play is called for without making it obvious to the opposing defense what's about to happen?
Perhaps even more concerning, do the Browns even have a receiver capable of getting open on deep routes and making big catches with consistency?
These things will all have to be addressed for this to work, and it's critical that they are addressed. You can't live on short yardage alone, no matter how productive handing off to Hillis continues to be.
9 Keep Expectations Realistic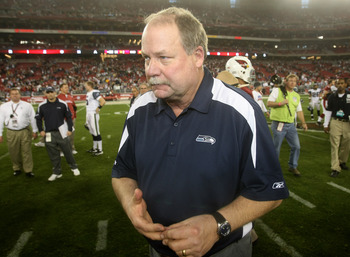 Stephen Dunn/Getty Images
No one is more guilty than I am of getting absurdly overexcited after, say, one preseason win, and announcing to anyone dumb enough to get within shouting distance that: This is the year the Browns will win the superbowl!
While the team itself (and 99.5 percent of the world) are better at tempering their expectations than I am, I can't help but feel that based on how the team overheated and sputtered out at the beginning of this season that they too got a bit overexcited.
Granted, if things continue to go as planned and as we've been promised by the Holmgren Machine, we will all have much more realistic reasons to be excited at the beginning of next season.
However, we still need to be careful to keep this in check. Playoff contention in 2011? A reasonable hope. A superbowl in 2011? If you believe that I've got a unicorn I'd like to sell you.
Let's not get over excited at the onset with unrealistic expectations. That will only serve to disappoint, and make it more difficult for the team to achieve even those more reasonable measures of success.
10. A Little Help From The Football Gods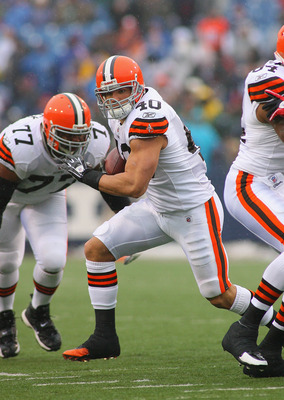 Rick Stewart/Getty Images
Good teams will always have winning records. But even the better teams in the league can't go deep into the playoffs without a little bit of luck. To make it to the post season, a team absolutely must have elite talent and execution, but to make it all the way to the big dance, they also need some luck.
Look at the 2008 Giants: great team. Completely deserved to make the playoffs. But the manner in which they actually put the icing on the cake and won the superbowl? It all came down to a play that worked out for them based largely on pure dumb luck.
Cleveland is a luckless town in every sport, so I'm sure it sounds insane to even throw the idea out there that we could use a little help from the football gods to have a few more things go our way for once.
After an eternity of horrible luck, I figure we're due. I know, I know, Cleveland has been due for a break for about 50 years. But it has to happen sooner or later, and it might just be the push the Browns need in 2011 to take things to the next level and finish the season atop the AFC North.
Let's all cross our fingers and hope the football gods are paying attention.
Keep Reading

Cleveland Browns: Like this team?