2010 Christmas Guest List: Cool Sport Personalities To Liven Up The Holidays
Uhhhhh ho ho uhhh...oh yeah ho.
Christmas has always been my favorite holiday, at least it was when I was a kid. Family, friends, and neighbors filter through your house depositing fruitcakes and sweets; then spend a few moments watching the end of It's a Wonderful Life or, a bottom of the barrel bowl game. In all, you get to spend quality time with people of endearment, interest and charm.
Then I grew up. The in-laws come over, the kid's friends make an appearance, the drunk next door comes over and livens things up briefly before he passes out on the sofa, and the grand-parents show up long enough to gas up the bathroom.
The mother-in-law announces that "this is the very last time" she will make the trip because of traffic. I quietly rejoice and pray she will make good on her promise. My mother sits in the corner and reminisces about the best ham she ever baked, and my wife sneaks shots of 18 year-old Scotch into her coffee as uncle Roy discusses his arthritis.
The kids make so much noise that it all runs together, sounding much like a swarm of bees, and forks raking over dinner plates. Like a deer lost in a forest fire, I look around in each direction confused and panicky.
Amidst the ragged pieces of wrapping paper and stray land-mines of plastic foot-killers, I make my way to the remote, and new television head-phones. I push the twelve year-old know-it-all away from the sweet spot on the love seat, and click on Sportscenter. The pixels come to life and off I go. As the colorful characters come to life, I wonder who would be the coolest athletes to invite over for Christmas.
Begin Slideshow

»
Bust a move big guy.
Shaq is just somebody you want to hang out with, period. And all jokes aside; the dude is way smarter than people give him credit for. He's currently working on a PhD in educational leadership. Do we have Principal or maybe Dean O'Neal in our future? Probably not any time soon; as long as icy-hot keeps that back moving he will keep swatting those rebounds.
Still, all that aside; he's an MMA, a deputy sheriff, actor, rapper (well kinda), and he can play a decent game of pick-up.
I hear he can also rustle up a mean plate of wings; as long as he doesn't try to stick in his wannbe superhero flick he can stay for the duration.
Mark Nolan/Getty Images
Is that reaaally coffee John?
Poor old John, he's had his share of troubles but at one time he was the rookie to fear; winning the PGA Championship in 91, hitting drives that looked unbelievable. Since then it has been trouble from every corner, but he keeps treading water. For his realism and honesty towards it all he deserves a spot on the couch.
Say whatever you like, I have to believe he would be great to watch sports with. Can you imagine the ensuing dialogue when Tiger makes an appearance?
"Yea that guy wouldn't even give a twenty for a lap dance. Do you know how many times I kicked him out of the rough, and this is the thanks I get. Got a light? Hey is that bottle for show? You got any Cheetos? Britsh Open my ass. Where's the can, that double-cheeseburger is screaming for an exit."
Merry Christmas big man; the egg nog is in the fridge.
What? You got a question too?
Wind him up and let him go.
Without ever having to open your mouth he would single-handedly cut everyone down to size before the first present was opened.
"Hey there darlin, that dress would look a helluva lot better if your mouth wasn't so ugly." "Does anyone know why the little fat kid keeps getting fed?" Oh John, didn't see you there, I bet if you curled your shoulder a bit you could over-ride some of that gut on the back swing." "Uhh grandma could you apply a little more fix-a-dent to those choppers, it sounds like somebody's tap dancing in here."
Nothing says Christmas like a good old fashion burn.
Snap the picture hot-rod, I gotta...WOOOOOOO!
Merry Christmas by God! WOOOOO! By God! WOOOOOO!
Christmas wouldn't be complete without a little over-the-hill strutting. If you don't know who Flair is, read his book, or ask him he'll gladly tell you, or better yet stick him in the corner next to your toupee wearing cousin that still thinks he can whip everybody's butt.
Just start him off with. "Nature Boy, what's it like to be an icon?" Move the coffee table out of the way and watch him go. If the wind is right you could hear one of these.
-"I'm a limousine ridin', jet flyin', kiss stealin', wheelin' dealin' son of a gun. WOOOO!!"
-"Space Mountain may be the oldest ride in the park, but it has the longest line."
-"Girls, you can't be the first, but you can be next."
If you're lucky enough maybe Ric will show cousin Todd the figure-four, or slap himself a few times until his forehead bleeds, call the cops and when they show up asking about the blood, blame it on Todd.
You drive em' crazy and we'll drive you wild....wait uhh.
No matter how she shows up, she still be attractive and intimidating enough to have every woman in the house ages eight-eighty complaining about her clothes, personality, and implied sluttiness.
While they're all complaining you could ask to hand out presents, and see if she still has that Go Daddy rear-end that she got paid big ol' fat dollars for.
Throw in last years recording of the Daytona 500 and let her rave about the drivers that she nailed or, she might tell you why her car still isn't set up right. It's just so sexist!
Maybe you can get her liquored up enough to con her into motocross. Just tell her one of the Andretti's said girls suck at it.
Wow! Maybe I am a sissy-boy.
"So that extra push-up hurts, huh? Know what really hurts? A hundred tons of H20 right across the gluteus maximus pal. Get over yourself, scrub."
A rumored response to some arobic actors filming a video on one of his favorite stretches of beach in Hawaii.
Laird has been surfing since the age of four; his skin is more tanned and leathered than George Hamilton and is probably bulletproof from all the lotion it's absorbed. Anyway what better way to keep you from woofing down your sixth piece of baclava than to have his chiseled body saunter up and down your living room floor. Then he'll really bring you down when he shrugs off Danica. "You know I'm married to Gabrielle Reece, right?"
As the wives grab extra napkins to wipe up the drool, you escort Laird and his bronze washboard abs to the door. Kowabunga you expletive- expletive.
I can still hit a ball, you better believe it.
She will go down in history as arguably the best women's tennis champion ever. Aside from that she had the guts to come out of the closet when many of her colleagues would not, male or female.
She withstood the slander, threats, and general bigotry from every walk of life and kept coming back. Who better to gain inspiration from; even now as she battles breast cancer, her back-hand is still hard enough to keep many off the courts.
Sit her next to Shaq, if you don't Spurrier will be telling her about his Heisman and keep asking if she want to play a round of golf.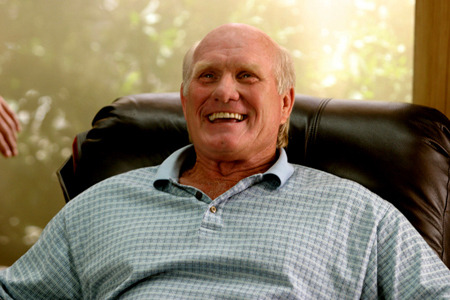 Yeah that's right! What? No, yeah that's right!
"I may be dumb, but I'm not stupid."
Just tell him Jimmy Johnson and Howie Long are hiding in the closet, and they've got squirt guns. He'll grin from ear to ear non-stop for the next three hours, and get real loud when he tells a good-un.
Remind him that Franco Harris was a helluva runner, then count the seconds until he starts rambling about how he beat Dallas.
I am sooooo hungry right now.
Well...I for one will not be taking the low road for a cheap laugh, it wouldn't be right. Anyway invite Ricky over to watch the Christmas cartoons. Seeing as it would be the easy thing to do, I mean maybe he could teach us yoga during the commercials.....nah never mind.
Just hand Ricky a plate of cookies and let him stand by the fireplace, in no time at all everyone will be laughing and enjoying the Christmas cheer...cough....cough.
Merry Christmas to all, and to all a good night!