Carolina Hurricanes vs. Anaheim Ducks Live Blog: Updates and Analysis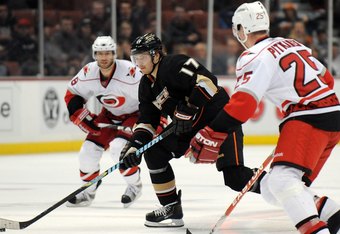 Harry How/Getty Images
The last time the Carolina Hurricanes and Anaheim Ducks met each other was November 25, 2009—that's 388 days ago. The Ducks won, 3-2, in the Honda Center, the second loss in what would become a four-game losing streak for Carolina just weeks after their incredible 14-game skid.
Back then, the two starting goaltenders for each side were Manny Legace and Jean-Sebastian Giguere. Neither of those two players start for the 'Canes or Ducks anymore, and, actually, neither of them start for any team anymore.
Two of the goal scorers in that contest were Tom Kostopoulos and Petteri Nokelainen, neither of whom play for their respective teams anymore. The two team captains were Scott Neidermayer and Rod Brind'Amour, both of whom are now retired.
As you can see, a lot has changed for both squads since November 25, 2009. They both missed out on the playoffs—two more disappointing seasons for two teams that have won the Stanley Cup relatively recently and went through some offseason changes.
One thing that hasn't changed in this matchup is the fact that the 'Canes haven't beaten Anaheim since October 29, 2008, and haven't defeated them at the RBC Center since December 29, 2006. Sure, there haven't been many meetings at all during that span due to the scheduling system, but a win tonight would certainly be a rarity for the Hurricanes.
Coming back to the 2010-2011 season, both teams are on a roll heading into tonight's game. Anaheim is 17-14-4 on the season, good enough for 38 points, which puts them at sixth in the Western Conference, and 4-1-1 in their last six games.
Carolina, though, has been equally good in their last six and sport their first three-game winning streak of the season at the moment. The 'Canes are 14-12-4 on the season, totaling up to 32 points, placing them in ninth in the Eastern Conference and four points out of a playoff spot. They have played five fewer games than the Ducks.
Two hard-hitting players in Anaheim's Lubomir Visnovsky and Carolina's Tuomo Ruutu are on fire heading into the game. Visnovsky has one goal and five assists in his last five games while Ruutu has put up two goals and two assists in his last four appearances.
Zach Boychuk, currently tied for second in the AHL with 32 points, will be making his season debut for the 'Canes, replacing injured Jiri Tlusty. Jay Harrison is also unlikely for Carolina. On the opposing side, Teemu Selanne is day-to-day and probably not going to play while Aaron Voros is out for up to a month.
The goaltending duel will also be interesting to watch. Cam Ward has stopped 28-of-29, 38-of-39 and 45-of-47 in three of his last four games and has started 11 games in a row. 2010 Olympian Jonas Hiller is third in the NHL with 15 wins to date and is 3-0-1 in his last four starts.
The Hurricanes and Ducks will be underway at 7 PM ET and will be providing live updates, analysis, insights and notes all night long. If you're a fan of either team, you can watch it on Fox Sports Carolinas or KDOC or listen on 99.9 FM The Fan (in Raleigh) or AM Channel 830 (in Anaheim).
Thanks to everyone for following us for this one. We all enjoyed this one, and if you didn't tune in, you missed a lot. Quite a game today in Raleigh, the final score - Carolina 4, Anaheim 2.
Good night.
For the opposing side, the captain Getzlaf had both Ducks goals, both set up by Corey Perry. Ryan and Visnovsky each get an assist of their own. Koivu and Selanne, two other stars, were both minus-two, though.
In the end, it's a solid all-around effort by the Carolina Hurricanes that will keep their streak going into next Monday in Tampa Bay. With Atlanta winning 7-1, Boston winning 3-2, and Tampa Bay leading 2-1, they'll need the two points.
For the visitors, there's no comfort on the horizon as this was just their first game of a five-game road swing. They won't appreciate wins by Dallas and Vancouver, either.
Hiller ended up stopping 29 of 32 shots put on him by the Hurricanes. The 'Canes penalty kill, led by upstart Ryan Carter, was the difference, killing off six of seven chances and, despite giving up one goal, saving the game for the home fans in the final minutes.
Staal will extend his team-leading points total to 33 through 31 games and up his goal total to 16. Corvo gets his sixth goal of the season with the empty-netter. Jokinen added two assists and Skinner, Cole, McBain, and Pitkanen each had one of their own. McBain now has a three-game point streak.
Final Score: Hurricanes 4, Ducks 2
Ward made 43 saves on a flood of 45 shots recorded by Anaheim, Eric Staal had a natural hat trick in just over one period, and Carolina now has a four-game winning streak.
It's a good goal, they're just investigating the penalties assessed in the skirmish, as it turns out.
Canes Goal - Too many saves to count by Ward and Corvo has iced it for Carolina, lifting it from his own end into the gaping goal with nine seconds left. Corey Perry got his avenge on Corvo seconds later, wrestling him to the ice. Sutter, then, didn't like that, and landed a few haymakers. Quite an interesting finish here in Carolina.
Wait, it's under review. An update coming in a minute.
Robbery by Cam Ward - you'll see that on the highlight reel. Just snared a shot from one foot out.
6-on-3 now with Hiller pulled for Anaheim. 1:14 to go.
Getzlaf's powerplay goal assisted by Visnovsky and Perry.
Ducks goal - It had to go in sometime. Ryan Getzlaf with his second of the night after a million saves by Ward. It's going to come down to the wire with 2:14 to go and a lot of 5-on-3 left. Timeout by the Ducks - no kidding.
Ward is the only player who's keeping the Canes in this one. ANOTHER penalty, cross-checking to Eric Staal. And endless 5-on-3 now for the Ducks. Message from fans: "Ref, You Suck!"
Bad things are happening to Carolina. Brandon Sutter closed his hand on the puck in the crease - it's now a 5-on-3 for Anaheim for a very, very long 1:46.
Bad decision by Joe Corvo. With the lead late in the game, he nailed Perry with the stick and then the body. Perry is hurt, but Corvo is headed to the penalty box with 3:01 left.
Washington has now lost eight games in a row with a 3-2 defeat in Boston.
Two great saves by Ward on a long cycle by Anaheim. They're beginning to get desperate, but Ward stays stellar. 3:44 to go in regulation.
Spectacular saves on Jason Blake, twice, by Cam Ward. Blake has had a good quantity of chances tonight and has been, perhaps, Anaheim's most underrated player. The Hurricanes are 4:50 away from victory if they can hold the lead.
On the ice, the game is losing a little bit of excitement. Anaheim now has five icings since I last vented my angers on Carolina's icing habit. Under seven minutes to go now, the Hurricanes regaining some momentum. Shots are 33 to 29 for Anaheim, and the score is 3 to 1 for Carolina.
Jonas Hiller is stiffening up, too. Three good saves on Cole, Carter, and Skinner. Caniacs are trying the "You Suck!" tactic. Incredibly, two icings on Anaheim now...don't they understand, just because Carolina is beating you, it doesn't mean you should copy them in everything they do.
And another icing... Canes color analyst says the 'Canes have iced the puck a couple times lately. A couple?!
Anaheim has the edge so far in the third period. They now lead in shots 33 to 23, but they still can't get anything past Ward.
And yet another icing by Carolina. This is getting rediculous! Despite their success on the scoreboard so far, up 3-1, they need to work at this. This last one is literally knocking their game total into double-digits.
Message to Paul Mara: Don't mess with Tuomo Ruutu. He got Ruutu stuck between a rock (him) and a hard place (the boards), but then the Finn decided to give him a taste of his own medicine just moments later.
Another icing by Carolina. Again.
Great Ward saves on Visnovsky, Getzlaf, and a airborne bat-in by Selanne. For the second time tonight, Ryan Carter almost sets up a shorthanded goal by Chad LaRose at the end of the Ducks powerplay. The Canes PK is 4/4 tonight.
Gleason makes a great play clearing the puck out of the crease just inches from a Ducks sniper, swiping at the puck from his knees. Corvo takes a penalty that he's not happy about after another icing on Carolina, something they did a lot in the first but kicked the habit in the second. Fourth powerplay for Anaheim upcoming.
Hurricanes might be on their way to their best game, in terms of faceoffs, of the season. They're dead last in the NHL heading into tonight in that regard but have out-drawn Anaheim 28-18 just seconds into the third period. They've also out-hit the Ducks 27 to 14 and out-scored them 3 to 1 despite being outshot 26 to 22.
Checking back in on some out-of-town scores we mentioned at the first break, Washington has crept to a 3-1 deficit agains the Bruins, while Atlanta still leads the Devils by three goals, now 4-1.
The Isles have taken the lead on Phoenix, 2-1, and the Stars and Blue Jackets continue to be knotted at one. Vancouver has added another goal on the Leafs to make it 2-0.
Los Angeles has jumped out to a 4-1 lead in Nashville, still in the first period there. San Jose has scored first in St. Louis, and Tampa Bay and Buffalo are scoreless in the second period.
We'll be back for the third period after a little break.
Carolina has only won 22% of the games where they didn't score first, but it's Anaheim that's now in a heap of trouble. Carolina has the 3 to 1 edge on them at the second intermission, adding one goal in the middle period to Anehim's zero, and the Ducks have yet to win a game when trailing after the second period. On the other hand, the Hurricanes has yet to lose one when leading after 40 minutes of play.
Staal already has the natural hat trick and leads all forwards with 10:37 of time on the ice.
This article is
What is the duplicate article?
Why is this article offensive?
Where is this article plagiarized from?
Why is this article poorly edited?

Carolina Hurricanes: Like this team?