Great NBA "What-If" Line Ups: A Tribute To Don Nelson
December 18, 2010
Ezra Shaw/Getty Images
Don Nelson's basketball philosophy challenged several fundamental assumptions about the game.
He didn't just coach the team; he changed the DNA of the entire franchise.  He took his unique brand of "Nellie-ball" around the league for over 30 years, with stops in Milwaukee, Golden State (twice), New York and Dallas.
The all-time leader in wins for an NBA coach, he is not in the Basketball Hall of Fame, mainly because he never actually won a championship.  
But what he understood, and what many of the voters did not, is that he was probably never going to win a championship, no matter what he did.
His formative basketball experience came as a player on the tail-end of the Boston Celtics' dynasty.  
Nelson won five championships while learning under the feet of legendary coach Red Auerbach, and became one of the first "sixth men", a player with the talent to be a starter who was sent to the bench so that he could generate points against the opponent's reserves.
With one minute left in Game 7 of the 1969 NBA Finals, he hit a jumper from the top of the key which clinched Boston's 11th NBA title in 13 years, and gave Bill Russell one last final win over his long-time nemesis Wilt Chamberlain.
** Considering the level of vitriol around the "rivalry" between Kobe and LeBron, I can only imagine what the Internet would make of Chamberlain vs. Russell.  Not only did they play the same position and face off in the NBA Finals consistently for almost a decade, but they represented two different philosophies about how to play the game.
The only individual rivalry that comes close in the modern era is Tom Brady vs. Peyton Manning.  But they are basically the same player: 6'5 pocket passers in spread offenses who pick apart defenses with cannon-like arms.  
That's what made Brady's 2007 season so impressive; he had essentially "solved" the game of football.  Unless you hit him in the pocket (New York Giants), his team had so many offensive weapons that you could not stop all of them, and Brady would make the correct read every single time. **
As a coach, Nelson was a true innovator.  He understood three basic things:
1) Basketball is just a game of three-dimensional chess.  And it's not a very complicated game at that: it's a bunch of guys running around on wood floors in tanktops throwing a ball through a cylinder.
2) Since the closer you get to the cylinder, the easier it is to score, the team that controls the area immediately around the cylinder is in a great position to win.  (This would be called "the high ground" in a battle).  Whoever has the tallest and most athletic dude will control that area, and that team is going to win nine out of ten times. To paraphrase Vince Lombardi, size isn't everything; it's the only thing.
3) So if your pieces are not as good, if they are not as fast and as tall and as skilled, you will never win by playing by the other guy's game.  You have to play a different game, with a different set of assumptions behind it.
NBA coaches can be understood as generals: deploying personnel in an attempt to control the key strategic territory (the paint) and "win" a contest.  As in most wars, one side usually has a personnel advantage over the other.  So what should the inferior side do?
Sun Tzu's The Art of War sums up "Nellie-ball" in one brilliant phrase:
If he (the enemy) is superior in strength, evade him. If his forces are united, separate them. Attack him where he is unprepared; appear where you are not expected.
So, if he didn't have that once-in-a-lifetime athletic back-to-the-basket center, what was he going to do?
"Nellie-ball" is just a form of asymmetric warfare.  When Mao was trying to drive the Japanese out of China in WWII, he knew he didn't have the Army or Navy that could defeat the Japanese empire in head-to-head combat.  So he never gave them the chance to fight him conventionally.  
And when Don Nelson played someone like Shaq, he knew he couldn't defeat him straight up.  So he invented "hack-a-Shaq" and he tried to find 6'11+ shooters like Raef LaFrentz and Dirk Nowitzki to force Shaq to run around the perimeter contesting threes.
** Throw morality aside: one of my best friends works across from Ground Zero and it is one of the most haunting places I've ever seen.  If you want to defeat your enemy, you MUST know his goals.  Osama Bin-Laden doesn't "hate us for our freedom," well maybe he does, but it's not his driving motivation, he wants to re-establish a Muslim caliphate from Pakistan to Morocco.
But the US currently has hundreds of thousands of troops in that region, and we've had them there since the first Gulf War.  We're not going to let that happen.  Osama lives in a cave and doesn't even have access to Netflix, so what could he do about it?
He decided to draw the American Empire into his region of the world, an inherently ungovernable area known as "the graveyard of Empires" since the days of Alexander the Great.  He even told CNN his goal : to bankrupt the US and get us so "war-weary" that we throw our hands up and leave the Middle East.  
My guess is he underestimated just how important oil is to the American economy (and therefore our resolve to stay), but if he manages to pull it off, it will go down as one of the greatest victories in the history of asymmetric warfare. **
When he was given the keys to the Dallas Mavericks in the mid-1990's, they were the Clippers South, one of the most hopeless franchises in the NBA.
He had Michael Finley, an All-Star caliber shooting guard, but not much else.  That all changed in the 1998 NBA Draft, when Nellie found the player he was born to coach: a gangly seven-foot German developed from the ground-up by a similarly unorthodox basketball mind.
** The Time Magazine article on Holger Geschwindner, Dirk's "Mr. Miyagi" basically, linked to right above is fascinating.  Holger's take on the perfect jump-shot: He has developed a series of formulas that may reveal the optimum arc for jump shots, using a combination of player height, arm length and release point.
"Take differential and integral calculus. Make some derivations and create a curve," he recently said. "Everybody can do it."  Hey ESPN, let's get someone like this on the telecast, he might have something interesting to say! **
Nellie was never afraid to think for himself.  So he didn't just dismiss something he had never seen before.  He genuinely thought about it: this guy is seven feet tall!  He has a technically perfect release that he shoots from behind his head!  How is anyone supposed to contest his shot?
Dirk Nowitzki is going to go down as one of the top 25 players in the history of the NBA. And no Hall of Famer owes his career to his first coach more than Dirk.
Nelson believed in him when no one else did, declared that he would be the "Rookie of the Year" and then stuck with him after he put up 8/4/2 on 40.5% shooting in his first year.
Most importantly, in the 2003 Western Conference Finals, with the best team he had ever coached squared up with the weakest of Tim Duncan's championship squads, he made one of the most unselfish decisions I've ever seen a coach make.  Nowitzki had torn ligaments in his knee in Game 3, and he still wanted to suit up.

The fans, the coaches and Mark Cuban were pushing hard.  This would be Nelson's last and best chance at winning a title and securing his legacy, but he wouldn't buckle.
He was more concerned about Dirk's Nowitzki's long-term health, more worried about fulfilling a promise he made to Dirk's parents when he drafted him, that he would look out for him as if he was own son.
He told Dirk: "He must feel he's totally 100 percent for me to play him again this series.''
Cuban, like the fans, was incensed.  This was the Mavericks best chance at a title! The Spurs were right there for the taking!
Now that I'm older, I can see how right Nelson was, and how hard it must have been for him to make that decision.  Even if Dirk hadn't gotten hurt again and the Mavs had won a championship in 2003, it just wasn't worth the risk he would permanently destroy his knee.  
Dirk is about to pass Larry Bird on the all-time scoring list, and has been the centerpiece of an unheard of 10-straight 50+ win teams in Dallas.  None of those things I would give up, not even for a championship.
** With the Mavericks at 19-5 with a +5.7 point differential and awaiting the return of second-year sensation Rodrigue Beaubois, Dirk has now been the centerpiece of three completely different elite teams: the Nash/Finley/Dirk team, the Josh Howard/Devin Harris/Dirk team that went to the '06 Finals and now the Chandler/Kidd/Dirk team.
The team has rebuilt itself from the ground up twice in less then a decade without a significant drop in quality, quite a testament to the owner (Cuban) the GM (Donnie Nelson, Nelson's son) and Dirk. **
At the end of the day, Nellie understood that it was just a game.  And he wasn't going to risk the career and legacy of his surrogate son for a game, no matter "how important" it might be.
Of course Nellie's Mavs never did win a championship, but they played some of the most consistently entertaining basketball of the last decade.  
The 2003 squad had Steve Nash, Nick Van Exel, Michael Finley, Dirk and Raef LaFrentz spread around the three-point line taking turns driving at the basket.
In 2004, the Mavs added Antawn Jamison and Antoine Walker to the "Big Three," fulfilling Nellie's wild dream of assembling a squad comprised entirely of 1-on-1 isolation scorers capable of putting up 20 points, none of whom with the ability (or inclination) to play much defense.
Nellie was never afraid to try something different, probably because he didn't take the game all that seriously.
So in his honor, here are a few line-ups NBA coaches should try.  They might work or they might not, but as fans, wouldn't you enjoy seeing them tried?
Nellie-ball 2010: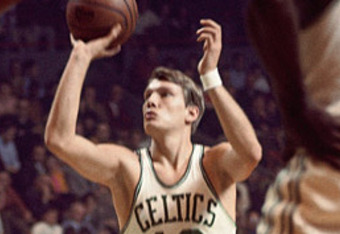 A Lakers 2-3 zone:
The Lakers best players are Pau Gasol, Kobe, Andrew Bynum, Lamar Odom and Ron Artest.  Why not play all of them at once?  A zone with a back-line of Odom (7'4 wingspan), Bynum (7'6) and Gasol (7'5) would be almost impossible to navigate.
It would minimize the Lakers' weaknesses with fast guards, and allow them to save Artest and Kobe's legs too.  On offense, Kobe and Lamar Odom could handle the point guard duties, and the other four players can space the floor around Bynum.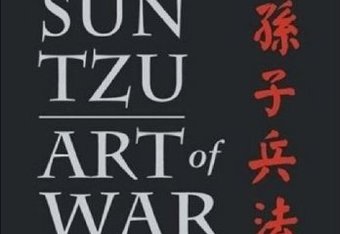 A super-sized Dallas front-court:

With Tyson Chandler's much improved jump-shot and free-throw shooting motion, he can play the 4 in spot minutes.  On offense, Dirk's shooting means he can play from any spot on the floor.  So why not make this happen by throwing them in a zone similar to LA's, with Brendan Haywood, one of the longest and most athletic centers in the NBA, patrolling the middle?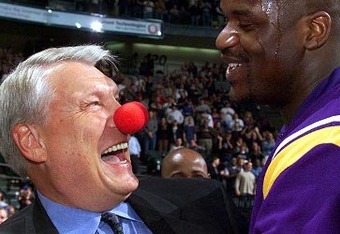 A Bosh/LeBron front-court:
The Heat's centers are, to put it kindly, "inadequate".  So if you can't defend Dwight Howard or Shaq or Pau Gasol anyway, why not make them try to defend you?
Bosh has a 7'4 wingspan and LeBron has a 7'0 wingspan, this line-up would dominate 90% of the teams in the NBA, and would be the best chance to stop a "Boston/LA III" NBA Finals.
** That is, unless the Heat can pull a rabbit out of their hat at the center position.  Courtesy call for a Rasheed Wallace?  Mr. Wallace, are you there? **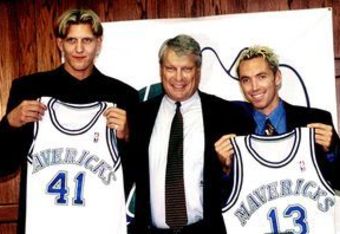 A completely inter-changeable Charlotte team:

With a surfeit of 6'7+ guys with excellent ball-handling skills (Livingston, Stephen Jackson and Diaw) and no real low-post threat, the Bobcats might be better off speeding up the game with a line-up of five 6'7-6'9 athletic perimeter players: Livingston/Jackson/Wallace/Diaw/Tyrus Thomas.  They might start looking like the Hawks, a team currently ahead of them in the Southeast Division.
A super-sized back-court in Memphis:
With Rudy Gay, Zach Randolph and Marc Gasol in the front-court, three high-usage guys comfortable scoring off of isolations, the Grizzlies don't really need a traditional point guard.  
OJ Mayo and Xavier Henry would be an excellent defensive back-court, while still being capable of dribbling the ball past half-court and spotting up off Memphis' big men.  
This would be big because of Memphis' lack of a shot-blocker inside; they really can't afford to allow much penetration.
A super-small back-court in Boston:

There's a reason ESPN ranked Avery Bradley above John Wall before their freshman years of college.  With a 6'7 wingspan and a 37' vertical, Bradley is a defensive terror who can guard players much bigger than him.  Offensively, he has a great handle and a smooth outside stroke.  
He fell in the draft because at 6'2 he is not a pure point and because he was an unfortunate bystander caught in the midst of the complete collapse of the 2009 Texas Longhorns, who went from 17-0 and a No. 1 ranking to a meek first-round exit in the NCAA Tournament.
Bradley, with his ability to knock down 3's, will be a perfect fit next to Rajon Rondo: two super-fast freakishly long guards with the ability to ball-hawk 94 feet.  
For more, check out the FanTake Blog: Get Buckets. Follow on Twitter at:     GetBucketsFT. Follow on Facebook: Get Buckets