Silliman's Nine Favorite Well-Acted Boxing Movies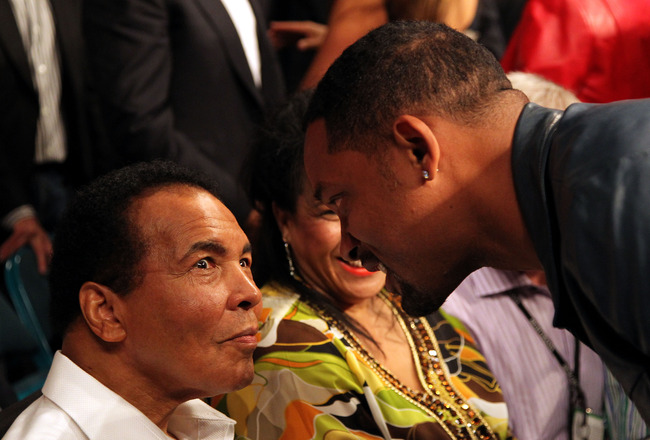 Muhammed Ali and Will Smith
Jed Jacobsohn/Getty Images
"Yo, Adrian, I got your boxing movies... right here!"
"I coulda been a contender..."
"The first rule of Fight Club is to never talk about Fight Club."
"Hey, Ray! I'm still standing, Ray. You never knocked me down."
Boxing movies almost always feature top-notch acting. It's not only a mental grind to do these scenes over and over again, remembering lines and choreographing punches, but it is as physically demanding as anything an actor is asked to do.
To be a boxer in a boxing movie you have to look the part, you have to train almost as hard as a regular boxer, you have to put yourself in to the kind of shape your body was never accustomed. The dedication to get in shape and look the part is partially the reason so many boxing movies garner Academy Awards.
Add unusual story lines, gritty scenes and close up shots most fans never see in a real boxing match and you understand why the well-acted and directed boxing movie may top the real thing. The movie, in most cases, gives you better fight scenes than the actual match.
Follow along with me on my list and besides movie videos we'll toss in an actual boxing vid. Believe me, you'll prefer the movie scenes, 10-to-1.
Enjoy the slide show.
The Harder They Fall
I saw this movie in the theater. My stomach knotted up watching it, feeling sorry for the giant boxer based on Primo Carnera. Based on a story by Budd Schulberg. Mark Robson directs.
Everything is dark. You can smell the locker room. You can feel the angst in the broke sportswriter Eddie Willis' soul after his newspaper went under and he's forced to work for crooked boxing promoter Nick Benko (Rod Steiger).
Seriously, this is Bogie's last movie. Count the wrinkles in Bogart's face while you ride through the seedy, ugly, disagreeable underbelly of the boxing promotion business.
Talk about great actors, this movie has it: Bogie, Rod Steiger, Jan Sterling, Nehemiah Persoff (one of my favorites), Jack Albertson, Carlos Montalban. Boxers in the movie include Max Baer and Jersey Joe Walcott.
Here's a line from the movie, with Eddie Willis shouting at Nick Benko: "The man lies in hospital with a broken jaw. He took the worst beating I ever saw in my life! You want me to go back there all he gets is a lousy $ 49.07 for a broken jaw? How much would you take?"
The Great White Hope—1970
I'm listing well-acted boxing movies. James Earl Jones as Jack Jefferson (based on Jack Johnson) and Jane Alexander as Eleanor Bachman. Both actors were nominated for Academy Awards. Both lost.
Set between 1910 and 1915, the movie was filled with race tension and implications. It was about the search for someone, preferable a white boxer to beat Jack Jefferson. No small task, hence the title.
Check out Hal Holbrook in the clip and the greatest stage voice of the '70s. If Darth Vader was coming to beat you up, wouldn't you run?
Million Dollar Baby
Clint, Morgan Freeman and Hilary Swank! That's a buttload of actors in a movie that swept the 2004 Academy Awards.
Freeman got Best Supporting, Hilary, Best Actress and the movie took Best Picture. And like I said, the actors went through hell to make you buy in to this movie. Swank gained twenty pounds of muscle and with all her boxing workouts she could defend herself well.
Morgan Freeman had this line: "If there's magic in boxing, it's the magic of fighting battles beyond endurance, beyond cracked ribs, beyond ruptured kidneys and detached retinas. It's the magic of risking everything for a dream that nobody sees but you."
If you haven't this movie, do so. Comment about it. Enjoy the clip.
Somebody Up There Likes Me
The year was 1956. Same year as "The Harder They Fall." What a year for boxing movies. Everybody jumped in when they saw how well "On the Waterfront" in 1954 was received.
This is the story of World Middleweight champion Rocky Graziano. James Dean was set to play the part but when he died the part was given to Paul Newman.
The movie was true to the book showing a potential thug redeemed through boxing. Is that a tear I see? Weep not for the Rock. He survives. Everyone loves him and a good-looking guy plays him in a movie. What more could a former juvenile delinquent want?
Requiem For a Heavyweight
I was still a teenager when I saw this movie. Great acting, sleazy characters and the fantastic Anthony Quinn.
If you don't rent this movie for Quinn as the washed up pug Mountain Rivera, (you always wonder Is this where Geraldo found this name?) rent it for Jackie Gleason. Jackie can do sleazy manager. For a sweet guy, Jackie can sure do villain.
Mickey Rooney is the trainer. Does every boxing movie trainer have to be a Mickey? Is that a requisite?
Here's the kicker: they need a real boxer to come in an whip up on Quinn for authenticity. Guess who they choose? An unknown named Cassius Clay. He was an up-and-comer, not yet Muhammed Ali.
I chose these movies based on the acting. If you don't cry for Anthony Quinn, you have no heart.
Rocky (1976)—Original
"Rocky" has some of the best-choreographed boxing scenes ever. Some of the other movies had better acting but not a better underdog story, or grit, or heart-wrenching emotion.
Give Sylvester Stallone his due. This movie took Best Picture, Director and Film Editing in the Academy Awards. It also had possibly the best music of any boxing movie.
Cinderella Man
James Braddock was an early day Rocky. He was an inspiration in the '30s, a possibly washed-up boxer, who had no choice but to return to the ring and fight for his family.
Top notch acting with Russell Crowe as Braddock, Renee Zellweger as his wife and Craig Bierko, as Max Baer and Paul Giamatti as Joe Gould. There's three Academy Award actors in that cast.
Some boxing purists argue that Max Baer was portrayed unfairly, as someone who showed little remorse for killing a boxer in the ring. It was done to heighten the the drama. Take your complaints up with Richie Cunningham ... er ... I mean Ron Howard. He had to do it for drama's sake.
As far as the real fight, the movie is tons better than the actual. The actual will put you to sleep, seriously. You don't believe me? I'll run the clip on the next slide.
Braddock Vs Baer (Real Fight)
Yes, this film was from near the end of fight and both fighters are dead tired BUT they're giving us much. You see a better fight in the movies most of the time.
Fat City
Again, we're categorizing great acting in a boxing movie. "On the Waterfront" has very little boxing, wasn't really about boxing so while Brando's acting was superior, it doesn't make the list.
"Fat City" does.
It was "The Wrestler" of boxing movies. It was depressing and dark like "The Wrestler" and it exposed the less glamorous aspects of being a low rent fighter.
Stacy Keach and Jeff Bridges were the feature actors, one as a boxer on his way out and one on his way up.
Do we have another "Mick" as a trainer? No, we have "Nick" in the person of Nich Colasanto, who played "Coach" on Cheers.
For every "Rocky" who gets the chance to box a champ on the big stage there's a hundred fighters toiling in the small stages, in the back of a rural casino or at a truck stop hotel ring for a few hundred dollars. Takes place in Stockton, California. Directed by Jon Huston in 1972.
Raging Bull
De Niro sacrificed his body for this movie. Muscled up, got fat, dropped weight, took real punches. That's dedication in acting.
"You never got me down, Ray!"
Keep Reading