MMA Aftermath: 5 WEC 53 Notes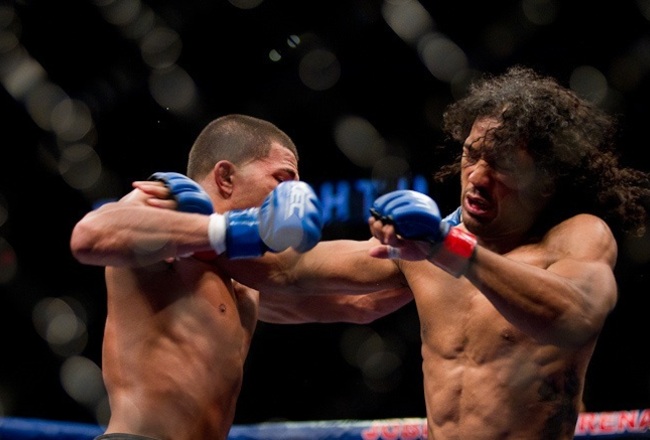 Thursday night, the WEC bid the public farewell with a tremendous 53rd event before being officially absorbed into the UFC. As with most every WEC event, the show was action packed from beginning to end, capped off with back-to-back title fights.
In the co-main event, Dominick Cruz defended his bantamweight championship against tough contender Scott Jorgenson, while Anthony Pettis snatched away the WEC lightweight title and No. 1 contender spot in the UFC from Ben Henderson in the main event.
It was a fitting end to a great run from the promotion and a perfect way to kick-start the new divisions in the UFC.
As with every MMA event, there was plenty to take away from the experience.
Bonus Note: Brittney Palmer Is a Welcome Addition to the UFC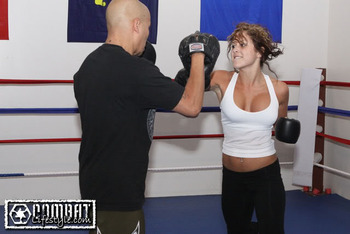 Thank god someone was smart enough to invite WEC ring-card girl Brittney Palmer over to the UFC. My guess is it wasn't the same person that has kept Chandella Powell under Zuffa employment, but it's good to see somebody has good taste over there.
Don't get me wrong, Chandella is hot if I were to run into her at the grocery store or something, but the UFC has established a standard of hot chicks to fill in the blanks between violence that is tough to live up to.
Brittney fits the bill. Let's just hope she doesn't go the way of Natasha Wicks and Logan Stanton. I still miss them.
5. No Major Screw Up, but Incompetent Judging Always Lurks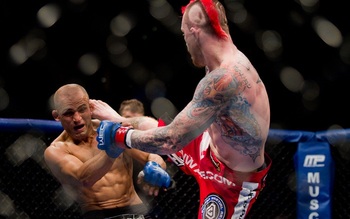 Kamal Shalorus and Bart Palaszewski opened up the telecast with a fairly entertaining three-round scrap. Shalorus dominated the first half of the fight, but Palaszewski showed his superior conditioning by taking over in the third round.
From the start of the third frame, Palaszewski knew he had to do something drastic to have a chance at winning the contest. And, he certainly upped his tempo because of it, landing a series of punches, kicks and knees.
The only semi-serious offense Shalorus was able to accomplish in the third was a takedown that had Palaszewski on his back momentarily, but no damage was inflicted. It was as easy a round to score as you will find in the game; a one point advantage for Palaszewski.
Still, one judge found a way to give it to Shalorus, favoring a single takedown over an onslaught of strikes from Palaszewski.
Nonetheless, the correct guy got the nod, but as part of the newly created Name That Judge campaign, all horrific scores must be noted.
The only problem is that I haven't been able to get the judge's name. If anyone here can identify the culprit, please post it in the comments section.
4. This Is a New Era of MMA
One thing that stuck out the most to me on Thursday night was how well-rounded all of the noted "strikers" on this card were.
Dominick Cruz rarely missed a takedown against a decorated collegiate wrestler in Scott Jorgenson.
Anthony Pettis showed amazing takedown defense and even mentioned he has been working with Bellator welterweight champion Ben Askren to improve his wrestling.
Donald Cerrone finished his fight with Chris Horedecki with his tremendous jiu-jitsu off of his back.
The sport is entering a new era where the young guys can do it all.
Gone will be the days of strikers complaining about the rules being fit for wrestlers to simply stall for a decision. If you want to be a champion in MMA, you have to develop everything.
Wrestling clearly takes the longest amount of time to master out of all the major aspects of MMA. It is not simply just technique, it is the physical strengths that are impossible to duplicate with any other discipline or exercise. The younger these fighters start, the better their wrestling strength will be.
It is exciting to see such well-rounded fighters blossoming in the sport. It feels like a whole generation of George St. Pierres are on their way.
The rules don't need to change, the pedigree does. And it is.
3. MMA Crowds Are Still Spoiled Bastards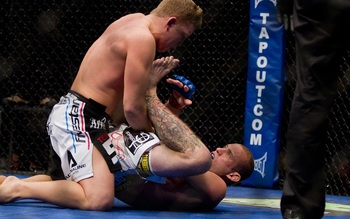 Oh, MMA crowds. How unpleasant you can make things.
There are few things I hate more than being at a fight I have been looking forward to and sitting next to loud, obnoxious, uncontent spectators.
I never understand what they were expecting when they bought the tickets.
Even though five of the seven preliminary fights on Thursday night ended dramatically in the first round, the crowd had no problem booing for extended portions of each round during the first fight of the broadcast. And by no means was this a boring fight
Why must MMA crowds have no class? To me, booing at a fight just seems so childish and rude. Especially when the fights are as action packed as these.
I always appreciated the Japanese audiences where you could hear a pin drop in the middle of a fight.
This is a trend in American MMA that I hope one day stops.
2. Dominick Cruz Is One of the Best Pound-For-Pound Fighters in MMA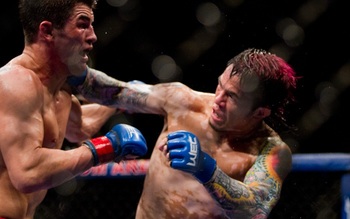 What a 2010 Dominick Cruz has had.
After forcing Brian Bowles to quit on his stool after the second round for the bantamweight championship, Cruz has gone on to defend the title twice against the top two contenders in the division.
His first defense was a split-decision win—that should have clearly been a unanimous decision—against Joseph Benavidez. It was a tough fight that saw both fighters take some hits, but Benavidez is clearly one of the most talented fighters in the sport, and for Cruz to now have two wins over him is nothing short of remarkable.
But, Thursday's performance over Scott Jorgenson pushed Cruz to another level. Many were picking the rugged and strong wrestler in Jorgenson to take the title from Cruz, but he never came near winning even a second of the fight.
Cruz has stated that his favorite fighter is Muhammed Ali, and on Thursday, he looked like the MMA version of Ali. His unorthodox movement and mind-boggling striking is, by no exaggeration, one of a kind.
He keeps his opponents guessing whether it will be a kick, a punch or a takedown coming at any time.
Now, I really hope Zuffa decides to use him and Uriah Faber as coaches for the next season of The Ultimate Fighter. It would be a great season and a huge matchup. If Cruz could win there, he would be a superstar of the sport.
1. The WEC Will Be Missed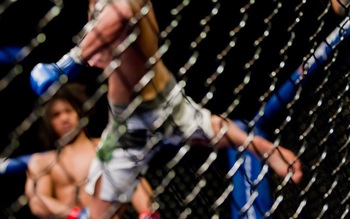 The WEC set a standard for itself in the past few years for having all-out action from top to bottom at every one of their events.
Some credited the smaller weight classes for pushing the pace. Some pointed to the slightly smaller cage for forcing the combatants into confrontations. I always suspected they were putting something in their food to make them non-stop killing machines.
But, whatever the reason, the WEC rarely disappointed.
So many of their great fights will long be remembered in the history books as ultimate classics of the sport. Fights like Faber Vs. Pulver, Torres Vs. Mizugaki and Garcia Vs. Sung Jung.
And the WEC will always be credited for bringing the smaller guys to the forefront of the sport. By making stars out of Urijah Faber and Miguel Torres, they made the fans care about fighters below 155 pounds.
It is a shame to see the WEC go, but it is an era that will not be forgotten.
Keep Reading