WWE TLC 2010 Preview: Harrison's Look Back at TLC 2009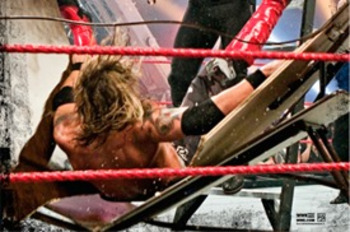 Ouch.
Hello everyone, Andre Harrison back at it with another not-so-nostalgic look back at a Main Event of yesteryear. Sorry for the delay in writing new content. It's what happens when university comes back and kicks you in the teeth. Anyway...
Here's a review of December 2009's WWE Tables, Ladders and Chairs debut PPV, featuring a Tables Match for the WWE Championship between John Cena and Sheamus, a Chairs Match between The Undertaker and Batista for the World Heavyweight Championship, a Ladder Match for the ECW Championship between Christian and Shelton Benjamin, and a Tables, Ladders AND Chairs Match between Triple H and Shawn Michaels vs Chris Jericho and The Big Show for the Unified Tag Team Championship. As you can see, a pretty stacked card, eh? Let's get going, here on The Harrison Analysis!
Christian Vs Shelton Benjamin (Ladder Match for the ECW Championship)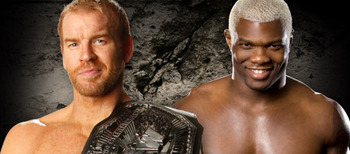 I THINK these two know something about Ladders...
Match Result: Christian wins by Title Retrieval, after frog splashing Shelton through a Ladder.
Match Length: 18:05
Harrison's Analysis: Shelton Benjamin, the one-man resurgence of the Ladder Match. Considering how experienced these two are in Ladder Matches, many expected it to steal the show...And it DID. Very good effort from these two, with some absolutely insane spots in there thrown in. It's a real shame the WWE treated these two like minors, because I'm sure not the only one who thinks these two could Main Event with their level of ability. Great match, would have been four stars if it wasn't for the blood at the start being cleaned up, as it hurt the flow of the match.
Harrison Match Rating: *** ¾ Stars
John Morrison Vs Drew McIntyre (Intercontinental Championship Match)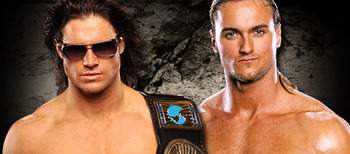 We're pushing him whether you like it or not!
Match Result: Drew McIntyre wins the Championship after hitting Morrison with a Scot Drop
Match Length: 10:17
Harrison's Analysis: They tried, but McIntyre was still as green as my freshly cut grass lawn at this point. But man, I have to give Morrison some credit, he's so innovative in the ring, and easily managed to (and probably still is to this day), Drew McIntyre's best performance in a WWE ring to date. Morrison tried speed and sold for Drew like a champ, and McIntyre's power moves looked good. Good stuff, if a little sloppy.
Harrison Match Rating: *** Stars
Michelle McCool Vs Mickie James (Women's Championship Match)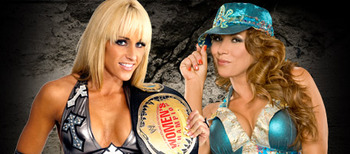 Wait...This was good?!
Match Result: Michelle McCool retains with a Big Boot.
Match Length: 7:34
Harrison's Analysis: For a female match, this was damn good. The build before actually made this seem important, as controversial as it was, and it was also given time to make it look like a big deal. Great performance from both gals, and one of the best WWE female matches of 2009.
Harrison Match Rating: ** ¾ Stars
John Cena Vs Sheamus (Tables Match For The WWE Championship)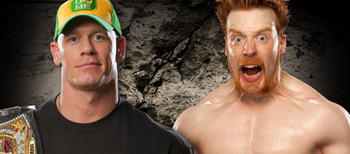 Match Result: Sheamus wins the WWE Title after shoving John Cena through a Table
Match Length: 16:25
Harrison's Analysis: A lot of people were comparing Sheamus to Desmond Wolfe's push in TNA at the time. Here's my thoughts on it and why it's not a fair comparison. Sheamus was a lower midcarder on ECW, having trouble beating Goldust back then, and then he was plucked and forced onto RAW to look like a star. You just can't be shot up the card so damn fast like that.

Desmond Wolfe (aka Nigel McGuinness), was a proven star in ROH, as well as in other countries like Japan, Europe and down under. And also, he was treated like a big deal as soon as he stepped through the door in TNA. Reminds me of when The Great Khali pinned The Undertaker when he debuted. He was treated like a big deal right from the get-go. Anywho...
Arguably the most shocking moment of 2009 as the up and comer Sheamus becomes WWE Champion. The announcers did a terrible job of making Sheamus' title change look legitimate, like they were blunting a knife or something. Match was pretty solid. I've just never really been a big fan of Tables Matches because of those breaks where they're setting the tables up, as it slows the pace of the match down. Good stuff though.
Harrison Match Rating: *** Stars
The Undertaker Vs Batista (Chairs Match for the World Heavyweight Championship)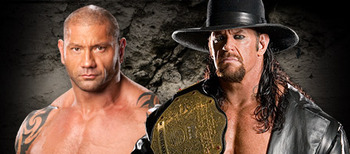 Match Result: The Undertaker retains via a Tombstone Piledriver
Match Length: 14:45
Harrison's Analysis: The booking here was off-the-chart levels of stupid. Firstly, it's a Chairs Match, a match with weapons. Why the heck do we still have disqualifications and count-outs? Second of all, did we REALLY need a screwjob finish as an excuse not to put the World Championship back on Batista? I don't think his credibility would be hit too hard if he lost clean. The action was solid, but just illogical, because if it's a Chairs match, you should really be aiming for the head, logically. However, I am glad that they didn't for the most part, just because it's safer that way. Good match, ruined by the booking, as Batista and The Undertaker have pretty good chemistry together.
Harrison Match Rating: ** ¾ Stars
Randy Orton Vs Kofi Kingston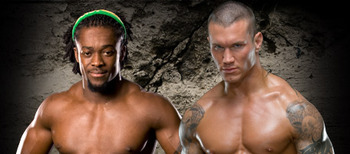 Match Result: Randy Orton wins via an RKO
Match Length: 13:13
Harrison's Analysis: And that, my friends, marks the end of the Kofi Kingston experiment. Very nice match between them. Kofi Kingston wasn't quite there yet, but he can very much hang with the best the WWE has, and that's quite a statement. One of the better matches tonight. I liked it very much, just a shame the Kofi Kingston push got killed off so abruptly afterwards.
Harrison Match Rating: *** ½ Stars
DX Vs Jerishow (Tables, Ladders and Chairs Match For The Tag Team Championships)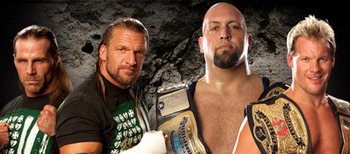 Match Result: D-Generation X win the Tag Team Championships by climbing half a ladder!
Match Length: 22:50
Harrison's Analysis: This wasn't your normal TLC, if you can describe such a thing as 'normal'. Instead of mainly killer spots, this was a match where they had some nice spots, sprinkled in with good storytelling, and that's what this match was. You sort of had to expect that considering the average age of the guys in the ring was 41. Still a very watchable match and quite fun. Big Show was booked like a giant (which is what he SHOULD be booked like) and there was always a good sense of teamwork involved. Great stuff all round.
Harrison Match Rating: *** ¾ Stars
Harrison's Final Analysis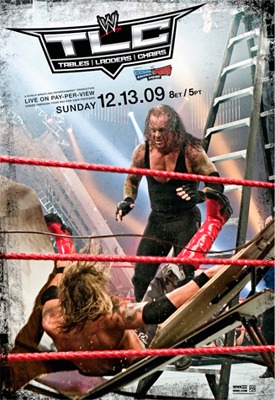 The Harrison Hitlist and Overall Show Thoughts

Damn good show. Damn good show. Nothing really broke the glass ceiling in terms of match quality, but the average match rating here was three and a quarter stars. That's great, and there was very little for me to criticize here. Every match was good to great, and the Ladder Match stole the show. Everyone put in good performances and I'd recommend this to most people. One of the best WWE shows in 2009 and a fine debut for the concept. I've been Harrison101 and that was your analysis, thank you very much for reading and Sayonara!

+ Christian vs Shelton Benjamin
+ D-X vs Jericho's TLC Match
+ Kofi Kingston vs Randy Orton
+ Michelle McCool vs Mickie James
+ 6 out of 8 Matches are 3 Stars+

- Booking in the World Heavyweight Championship Match

Harrison's WWE Tables, Ladders and Chairs 2009 Rating: 8.25 out of 10 - Great
Keep Reading