WWE TLC Preview: 5 Reasons Natalya and Beth Phoenix Will Lambaste LayCool
Diva table match at TLC, photo copyright to WWE.com
Well, folks, WWE's TLC pay-per-view is just around the corner, and with it comes a brand new match we've never seen before—a tag team divas table match! We will be witnessing Divas champion Natalya and "The Glamazon" Beth Phoenix taking on LayCool in this historic contest.
Today, I bring you five reasons why Natalya and the Glamazon will lambaste Michelle McCool and Layla in the match. Kick back, read on and enjoy!
LayCool Cannot Match Strength With Natalya and Beth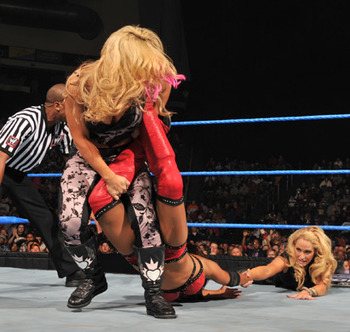 Natalya puts the sharpshooter on Layla and Michelle tries to help her partner, photo copyright to WWE.com
Although both members of LayCool are skilled ring competitors, there is no way they can match up to Natalya or Beth Phoenix in the strength department. In addition, the Divas champion and the Glamazon are powerhouses!
In a match of this caliber, the objective is to put your opponent through a table, and the table has to break. Unless the apparatus is set up in the turnbuckles, one would have to lift their opponent and set them on top of it. Can you honestly picture Michelle McCool bodyslamming Beth Phoenix through a table?!
I rest my case.
Beth Phoenix Has Already Won in a Similar Match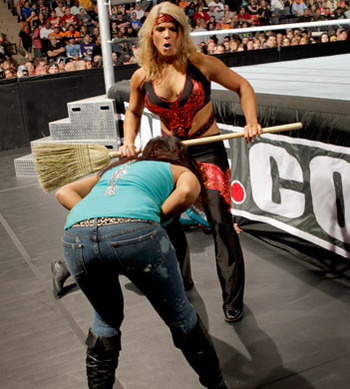 Beth Phoenix and Layla, photo copyright to WWE.com
The Glamazon has already tasted victory in a somewhat similar match when she faced Michelle McCool for the Women's Championship at Extreme Rules in an extreme makeover match earlier this year. Although the only table in sight during the event was on the outside and meant to hold loads of makeup for the divas' use, it did come into play.
I believe this gives Beth Phoenix in particular—and her partner Natalya as well—a definite advantage going into the match.
LayCool Have Been on a Bit of a Losing Streak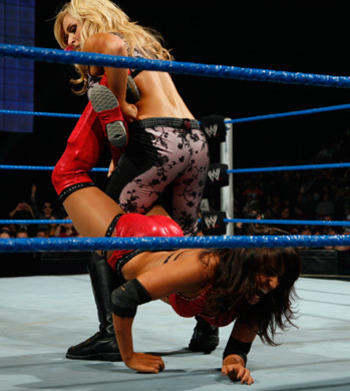 Layla locked in the Sharpshooter, photo copyright to WWE.com
Aside from Michelle McCool winning the battle royal to determine the Slammy award for Diva of the Year this past Monday on RAW, and the match Layla won against Rosa Mendes on SmackDown nearly two weeks ago, LayCool have been on a losing streak. This has been going on since they dropped the Divas Championship to Natalya at Survivor Series last month.
They seem to have lost momentum. I don't see them picking things up in a tables match, of all things, and against the champion and Beth Phoenix, at that.
Natalya Has to Win Her at First Pay-Per-View Since Becoming Champion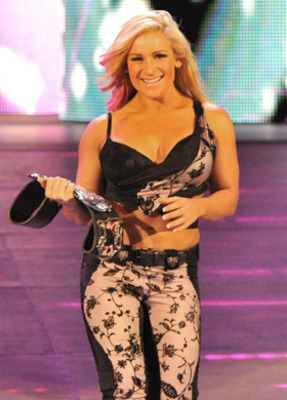 Natalya with her Divas Championship, photo copyright to WWE.com
Natalya only just became Divas Champion at the last pay-per-view, Survivor Series. Therefore, she should be strong at her first pay-per-view match since winning the title, right?
A true champion, especially one with heart like Natalya, has plenty to prove—their worth as titleholder, and how they are the best in the world.
Natalya has the momentum going into this match, and she has an ace on her side in the form of Beth Phoenix in addition to that. I wouldn't count on her losing.
The Babyfaces—Especially the Glamazon—Have to Settle the Score!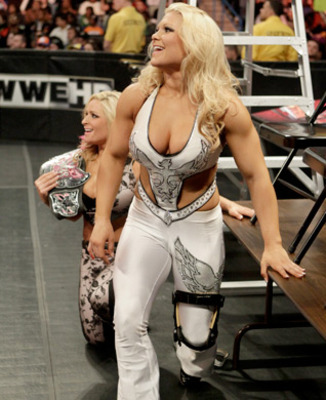 Beth Phoenix and Natalya are all grins, photo copyright to WWE.com
Finally, both Natalya, and especially Beth Phoenix, have scores to settle with LayCool!
The past two times Natalya met up with McCool and Layla on RAW, she either suffered a beatdown or came up short in a match when she seemed on the verge of victory. Her win against Layla last week on SmackDown wasn't exactly evening things out.
Likewise, the Glamazon still has huge revenge to exact on LayCool. After all, they were the ones who took her Women's Championship earlier this year, and put her on the shelf for months with a knee injury. Sure, Beth has nailed both Michelle and Layla with GlamSlams, but it just hasn't been enough, especially when it hasn't even been in a match. She will be looking to settle the score, and the tables match on Sunday would be a perfect way to accomplish that.
Well, that does it for my slideshow. I hope everyone enjoyed it, and enjoy TLC if you see it!
Keep Reading