UFC 124 Results: Is Georges St. Pierre the Most Complete Champion in MMA?
Jeff Zelevansky/Getty Images

Georges St.-Pierre shut up Josh Koscheck, and walked away with another dominating victory on Saturday night.
St.-Pierre (21-2) won their much-anticipated rematch, and it appears a fight with Jake Shields looms next year. But the talk has turned to a mega-fight with middleweight champion Anderson "Spider" Silva. UFC President Dana White hasn't ruled out the possibility, and a catch weight has been thrown about. St.-Pierre has also said if he moves up in weight, he'll want to remain there.
The question now exists: Is GSP the most complete champion?
It's definitely a compelling argument. The only other fighter who could enter the discussion is Silva, but many will say he's lost his aura after miraculously beating Chael Sonnen this summer.
Arguing this is almost like debating whether Kobe's better than Jordan, or whether you'd pick Peyton Manning or Tom Brady as the best quarterback in the NFL. You're splitting hairs.
But let's go at it. Here are five reasons why GSP is the most complete fighter, and five reasons he isn't:
Begin Slideshow

»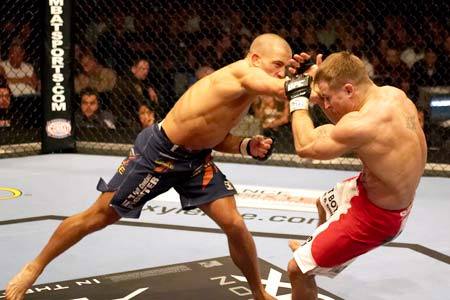 With Saturday's victory, St.-Pierre has extended his UFC-record streak of 30 straight rounds he has won.
"...Not only does he not lose rounds," writes Yahoo's Dave Meltzer, "he doesn't even have close rounds."
Here's something frightening: St.-Pierre may still have room for improvement. That's what John Danaher, St.-Pierre's Brazilian jiu-jitsu instructor, told ESPN.com.
"Georges is far from what he's capable of," Danaher said. "If that sounds scary, it is. When I think about it myself I think it's crazy. He's the most dominant mixed martial arts athlete in the world and he's running at 65 to 70 percent of his potential."
He's got the physique and natural talent, but St.-Pierre's greatness comes from his analytical approach to the game, and how to best defeat each opponent.
Jeff Zelevansky/Getty Images

UFC President Dana White has jumped into the fray, and still puts Spider Silva ahead of GSP when it comes to pound-for-pound rankings.
"I love Georges, I've been up here talking to everyone about him for a week," White said. "But Anderson Silva is the pound-for-pound best in the world."
Others quickly knock the debate, and point out that Silva's fights against James Irvin, Thales Leites, Chris Leben, Demian Maia and Patrick Cote aren't near the same skill level as GSP's matches with BJ Penn, Jon Fitch, Thiago Alves and Koscheck.
Alexandra Wyman/Getty Images

What makes GSP so great is his ability to mix all his skills together, and not lose his effectiveness, something other UFC fighters pointed out entering Saturday's rematch. You'll often see some fighters lean on one strength, but then that opens a weakness elsewhere. Not the case here.
Jon Kopaloff/Getty Images

Koscheck's eye at one point became swollen shut on Saturday, but St.-Pierre wasn't able to finish him off. That was his goal, and St.-Pierre said he was disappointed he didn't achieve that.
"...Think of Silva and think of the killer instinct he shows whenever he senses even the least little bit of an opening. St. Pierre had his openings, but he chose to be wary, to think of defense first, and he was unwilling to take even a little risk," Yahoo's Kevin Iole writes.
"That will win him a lot of fights and keep him as the champion perhaps for as long as he's interested in holding the belt, but it's hard to make an argument that you're the best fighter in the world when you can't put a one-eyed, beaten-up opponent away."
Dave Sandford/Getty Images

There was a story that came out recently about how St.-Pierre visited Manny Pacquiao at his gym while he was training. The irony of it is both possess the same quality when it comes to beating opponents: They can switch it up.
"St. Pierre, whether he's finishing or not, has displayed the most complete understanding of MMA to date: he can wrestle at a level that embarrasses NCAA champions and can strike with enough efficiency to harm others without coming to harm himself," writes Jake Rossen of Sherdog.com. "There's not much more you can ask of an MMA fighter."
Jon Kopaloff/Getty Images

How do you separate St-Pierre from Silva? On one hand, St.-Pierre's wrestling skills and striking give him an edge, but Spider can also strike and has great defense, and obviously is great at jiu-jitsu. St.-Pierre is a consummate strategist, but Spider could also have trouble knocking out GSP like others he's faced.
"I've always said that I think Georges, pound for pound, has proven himself to be the best, and I think he's got good enough striking that he could overcome the distance that Silva has," Nate Marquardt told mmafighting.com. "And I think if Anderson makes a mistake Georges will put him on his back, and Georges is so strong on top that I think he would dominate him."
Jon Kopaloff/Getty Images

When you're at the top of your sport, anyone will find the smallest problem to criticize, which is what St.-Pierre faces, says White.
"Unless you go in there and absolutely destroy people and knock them out Tyson-style, you're going to get criticized," he said.
Jon Kopaloff/Getty Images

The debate will be settled when Spider Silva and Georges St.-Pierre meet in the octagon. Both will likely have fights before then, but they've taken on all challengers.
"Every time a guy goes in and fights, there's always somebody there," White told MMA Junkie. "There's always going to be new guys popping up, but when do you say the division is finally (cleaned out)?"
Jon Kopaloff/Getty Images

Right now, yes, St.-Pierre is the most complete champion out there.
Could you make a case for Silva? Of course, but he needs to prove something in his next fight after what happened the last time out. GSP doesn't.